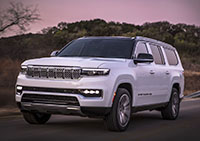 It was only a matter of time before Jeep gave the extended wheelbase "L" treatment first offered for the then-new 2021 Grand Cherokee L to its more luxury-lined Wagoneer and Grand Wagoneer models, so as expected a 305-mm (12-in) longer and more accommodating version of the 4×4 brand's full-size family hauler showed up at February's New York International Auto Show (NYIAS).
Overall, the Wagoneer L/Grand Wagoneer L now measures a sizeable 5,758 mm (226.7 in) from bumper to bumper, which makes it even lengthier than the Chevrolet Suburban/GMC Yukon XL twins, albeit not by much. In fact, the ultra-long Jeep is just 25 mm (1-in) longer than the 5,733 mm (225.70 in) Chevy, and an even greater 38 mm (1.5 in) more than the 5,720 mm (225.20 in) GMC, while at least as importantly the new Wagoneer L/Grand Wagoneer L's wheelbase grows a significant 178 mm (7 in) over the regular-length variant, now measuring 3,302 mm (130 in) from axle to axle.
Jeep's largest ute provides more space behind the third row than Chevy's Suburban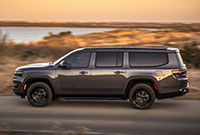 While 104 mm (4.1 in) down on the two GM SUV's wheelbases, which span 3,406 mm (134.10 in) apiece, the Wagoneer L and Grand Wagoneer L offer 1,252 litres (44.2 cu ft) of cargo space behind the third row for a surprising gain of 77 litres (2.7 cu ft) over the Suburban/Yukon XL when measured behind the third row. Unfortunately, the advantage wanes when comparing cargo volume behind the second and first rows, the Wagoneer L and Grand Wagoneer L's 2,514-litre (88.8 cu-ft) capacity being 142 litres (5.0 cu ft) shy of the big GM haulers with respect to the former, whereas its 3,707 litres (130.9 cu ft) of maximum cargo space is 390 litres (13.8 cu ft) less accommodating.
What will matter more to Jeep fans is the size difference when comparing Jeep to Jeep, or rather Wagoneer and Grand Wagoneer to Wagoneer L and Grand Wagoneer L, with the longer version gaining 447 litres (15.8 cu ft) of additional cargo volume behind the third row than the standard-wheelbase Wagoneer/Grand Wagoneer, which is about 50 percent more, while 510 litres (18.0 cu ft) can be had behind the second row, and lastly 1,039 litres (36.7 cu ft) when both rear rows are folded flat (take note that a large hump interferes with loading floor space in models that incorporate a fixed centre console in the second row). Of note, "Trail Rails" can be added to strap cargo down in back.
Extra curb weight offset by new twin-turbo inline-six with up to 510 hp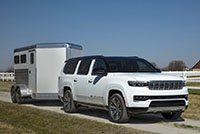 The extra length adds about 90 kilograms (200 lbs) to the Wagoneer L/Grand Wagoneer L's overall mass, which isn't all that much considering the extra volume, plus it shouldn't be all that noticeable on the road thanks to a new available 3.0-litre twin-turbocharged inline six-cylinder engine, dubbed internally as "Hurricane".
This new engine will be standard fare in extended L models, with a total of 420 horsepower in the Wagoneer L and a whopping 510 hp in the Grand Wagoneer L, while torque figures are 468 and 500 lb-ft respectively. The two models share towing capacities of 10,000 lbs (4,536 kg) with the shorter wheelbase variants, much due to their robust body-on-frame Ram 1500 donor chassis, while Jeep claims a 15-percent improvement in fuel economy when comparing the less potent version of the inline-six to Chryco's current 5.7-litre Hemi V8, the latter putting out a substantive 392 horsepower with its eTorque drivetrain, while it's rated at 13.8 L/100km combined city/highway in the 2022 Wagoneer.
Of note, the regular-wheelbase Wagoneer will keep the 5.7-litre Hemi as its base engine for 2023, while the shorter Grand Wagoneer will also continue to come standard with the optional 6.4-litre V8, that engine incidentally good for 471 hp and 455 lb-ft of torque.
New inline-six shares 8-speed auto and AWD with lesser variants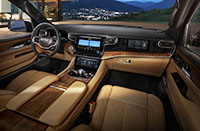 According to Jeep, 96 percent of the new twin-turbo six-cylinder engine's components are interchangeable between 420 and 510 hp versions, which of course reduces costs that can be passed down to consumers. Increased power therefore comes from boost and compression differences, while more power is reportedly available for future upgrades.
What's more, the new engine can be paired with a plug-in hybrid system, so we can probably expect a more formidable, more fuel-efficient and cleaner electrified version in the near future, while this engine can also be fitted to any current rear-wheel drive model, making it ideal for other models in the Jeep, Dodge, Chrysler or Ram lineup.
All of the above noted engines come mated to Chrysler group's well-proven eight-speed automatic transmission, while each model and trim benefits from four-wheel drive in Canada.
We can expect a limited supply of new Wagoneer L and Grand Wagoneer L models to arrive in Canada later this year, although serious buyers may want to consider ordering as early as possible, considering expected continuations of supply chain interruptions.
Story credits: Trevor Hofmann
Photo credits: Jeep