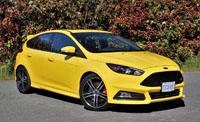 The original Focus ST dates back to the model's first-generation when it became the blue-oval brand's VW GTI killer in 2005, but like so many fabulous cars offered in other markets it was never brought across the Atlantic to play in our sandbox. Sure we had the 2002–2004 SVT Focus with a significant 170 horsepower, but that was still 52 ponies shy of the KKK-Warner turbocharged Euro version, whereas the ST variant of the Focus ZX4 built from 2005–2007 hardly deserves mention due to just 151 horsepower.
We'd have to wait a total of six years after ex-Boeing CEO Alan Mulally took the reigns in Dearborn so that his "One Ford" strategy could be more fully implemented before the 2013 Focus ST made its U.S. and Canadian debuts, followed quickly by the equally entertaining 2014 Fiesta ST (ironically the year Mulally was ousted).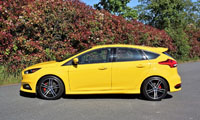 Forget for a moment that the both small Fords are some of the most outdated models in their respective classes, or maybe I should call them two of the oldest models in their subcompact and compact car segments, because despite being in our market for five and four years apiece they're still more advanced than many of their peers.
It's just that they're up against a phenomenally good new Honda Civic (that now comes in four body styles as well as a duo of new high performance Si models and an ultra-aggressive Type R), a much-improved Hyundai Elantra (in sedan and GT hatchback trims), and a better-than-ever Toyota Corolla (now with the Scion iM joining its ranks), while most others in the class than have been redesigned more recently.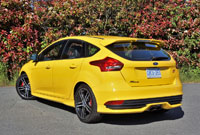 Nevertheless, one glance at the 2017 Focus ST ¬(or its insanely powerful Focus RS sibling—another previously Euro-only model introduced here last year, but available since 2002 in Europe) and you probably won't care, as it looks fabulous, comes stuffed full of two of the best Recaro sport seats in the entire compact class, and scoots like someone lit its tail on fire.
I half expect to see flames thrown from its tailpipes in between shifts when I see one burning up the street in my import-tuner and supercar dominated neighbourhood, and yes the Focus ST should be considered an import despite wearing a decidedly domestic badge due to the cooperative group of global Ford performance divisions that came up with the idea, incubated it, brought it to life, kept it on life support when bean counters wanted it killed, and resuscitated it for this current generation. Let's hope it remains, along with the aforementioned RS, to top off the next-gen Focus, which is expected sometime next year.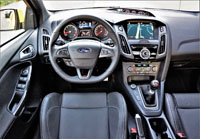 Before sharing most of the reasons why I love the Focus ST in an upcoming review of this exact car, let me fill you in on some cold, hard facts: 252 horsepower, 270 lb-ft of torque, a 2.0-litre turbocharged, direct-injected Ecoboost I-4, a short-throw six-speed manual gearbox, a unique lightweight fully independent sport suspension design, lightweight 18-inch alloys on low profile summer performance tires, and a 1,462-kilo (3,223-lb) curb weight. Does that sound like something that's got what it takes to get a move on? You betcha!
Strap yourself into those deeply sculpted leather Recaro sport seats, grab hold of its leather-wrapped flat-bottomed sport steering wheel, give a firm tug on its carbon-fibre trimmed parking brake lever, take hold of its carbon-fibre and leather-clad shift knob, find your footing on its ideally placed aluminum pedals, glance over at its trio of ancillary mini-gauges with turbo boost pressure atop the dash (just for fun), and don't forget to select your favourite tunes on the 10-speaker Sony audio system. You're now ready to rhumba! Believe me, it may not be the 350 horsepower Focus RS, but time well spent with a Focus ST won't be forgotten anytime soon.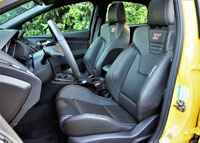 Keep in mind the $33,698 2017 Focus ST is also $14,720 more affordable than the RS, so you'll still have enough to buy a new Fiesta for a family member or friend. Seriously though, it's a great value as far as brilliantly fun super hatches go. Plus it's not exactly all go and now show either.
As mentioned earlier, its unique front grille and fascia, extended rocker panels, larger rear rooftop spoiler, and redesigned rear bumper cap with exclusive centre-mounted chromed tailpipes totally set the Focus ST apart, while other standard exterior features include auto on/off LED signature enhanced HID headlamps, black bezeled fog lights, heated power-adjustable side mirrors with integrated turn signals, and more.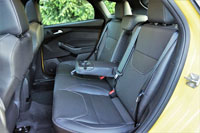 Proximity-sensing keyless access gets you inside while pushbutton start gets the little turbo-four percolating, the Focus ST receiving most of the items previously mentioned as standard equipment, as well as the nicer soft touch interior panels of the Focus Titanium, plus metal "ST" branded scuff plates, ambient lighting, one-touch up/down powered windows all-round, a 4.2-inch high-resolution colour TFT multi-information display, cruise control, variable intermittent wipers, a heated steering wheel rim, heatable front seats, an eight-way powered driver's seat, leather upholstery, an overhead console, a powered moonroof, and dual-zone auto climate control, while the carbon-fibre trim mentioned earlier can also be found on the door grab handle inserts and the bezel surrounding the dash-top mini gauges.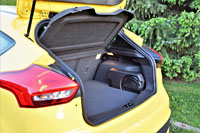 Tech fans will love the ST's standard 8.0-inch centre stack-mounted touchscreen incorporating a backup camera with active guidelines and Ford's new Sync 3 infotainment interface featuring tap, pinch and swipe capability, plus Apple CarPlay and Android Auto phone connectivity, the previously noted Sony audio system, enhanced voice recognition, satellite radio, dual smart-charging USB ports, etcetera.
Additionally, standard safety features include a perimeter alarm, hill start assist, tire pressure monitoring, sport-tuned ABS, traction and stability control, a full assortment of advanced airbags including one for the driver's knees, plus plenty more.
My tester is fully loaded, which means navigation with detailed mapping adds $800, the machine-finished alloys with black painted pockets are an additional $600, and that eye-searing Triple Yellow paint increases the bottom line by $550, the total options coming to $1,950.
You might gather from my enthusiasm that I'm in for a very good week, so if you don't hear much from me in the coming days you'll know why. I'll have a full review on this sensational little road rocket soon…