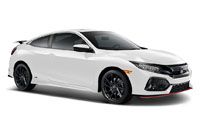 How do you make the new Civic Si even better than it already is? The Si is legendary and this new 10th-generation the most exciting version yet, but despite already offering superb stock sport compact performance, Honda has decided there's room for improvement. 
Enter the new Civic Si HFP. Yes, Civic Nation will already be well aware of the Honda Factory Performance moniker, because the Japanese automaker offered "HFP" branded aerodynamic body kits, performance-tuned suspension components, and larger, lighter alloy wheels for the eighth- and ninth-generation Civics, and likewise for the subcompact Fit hatchback.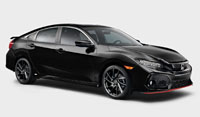 With respect to the current 10th-generation Civic, a recent Honda Canada press release says the Honda Factory Performance package adds a bevy of "aesthetic and dynamic enhancements." The former includes a new bright red front lip spoiler for "a subtle, yet fierce look," which is "complemented by side skirts designed to improve downforce." 
The new Si HFP also gets unique 19-inch HFP matte black alloy wheels wrapped in Michelin Pilot 4S maximum-performance category rubber, these an inch larger than those on the standard Si and specified for both daily use and racetrack capability. Lastly, red and black Civic Si HFP badging gets added to the sides and rear of the car, warning regular Civic Si owners to back off.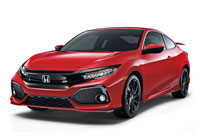 Why? No doubt those sportier wheels and tires make enough of improvement on their own, but nevertheless, behind their matte black goodness and below all that sharp looking bodywork is an upgraded HFP sport suspension with modified active dampers that not only improves ultimate performance on road and track, but also enhances the Si HFP's ride quality over its conventionally sprung sibling. 
The Honda Factory Performance package also benefits the interior by adding a new leather-wrapped shifter with red stitching, as well as an eye-catching set of red and black HFP branded floor mats.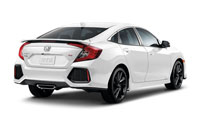 The rest of the Civic Si HFP is stock Si, which means the interior is wholly more impressive than any previous Si, with two of the most comfortable and supportive sport seats in the class, plus refinement levels amongst the compact segment's most impressive, not to mention some of its best digital interfaces. 
While Honda refers to the Civic Si HFP upgrades as a "Honda Factory Performance package" in its press release, it's more accurately an entirely new trim level, as it's delivered complete from the factory and shown on the brand's retail website "Build" configuration tool. What's more, this track-ready model is exclusive to Canada.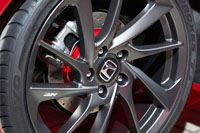 Like the regular Si, the new Si HFP is available in both Sedan and Coupe body styles, while behind its glossy black grille is the same turbocharged 1.5-litre four-cylinder engine as in the standard Si, which is once again good for 205 horsepower and 192 lb-ft of torque, while one of the industry's best six-speed manual transmissions continues to take care of shifting duties and a limited slip differential makes sure all that power gets down to the road. 
Civic Si HFP pricing starts at $34,390 for the Sedan and $34,790 for the Coupe, adding $5,700 on top of regular Si suggested prices, with colour choices being White Orchid Pearl and Crystal Black Pearl for the four-door and White Orchid Pearl, Crystal Black Pearl and Rallye Red for the two-door.