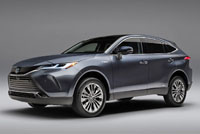 Remember the Venza? Toyota was fairly early to the mid-size crossover utility party with its 2009–2015 Venza, a tall five-door wagon-like family hauler that was a lot more like a CUV (Crossover Utility Vehicle) or tall wagon than an SUV. Despite decent sales for its first four years, and Toyota's need for a mid-size five-passenger crossover SUV, the Japanese brand discontinued it without a replacement after six years on the market.
Fortunately for Toyota and all who appreciate the brand for its excellent reliability and better than average resale values, the Toyota Venza will make its return to the Canadian market for the 2021 model year as a new mid-size utility, with standard all-wheel drive and an even more unexpected standard hybrid drivetrain.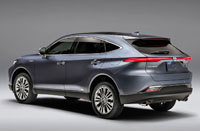 With the Venza, Toyota is following through on its commitment to electrify its entire lineup by 2025, this new hybrid joined by a completely redesigned Sienna for 2021, which will also be available exclusively with a hybrid electric drivetrain. Other Toyota vehicles sold with the brand's full hybrid drive system include the iconic Prius, now with available with AWD-e four-season control, the Corolla Hybrid, the Camry Hybrid, the RAV4 Hybrid, and the Highlander Hybrid, while the Prius Prime offers plug-in capability and 100-percent electric mobility for short commuting distances at city and highway speeds, plus last but hardly least is the Mirai fuel-cell electric that's powered by hydrogen.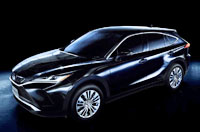 Since the original Venza's departure, Toyota has lacked a two-row crossover SUV in the mid-size segment (the 4Runner is an off-road capable 4×4 that competes more directly against Jeep's Wrangler Unlimited), which means that it's been missing out on one of the more lucrative categories in the industry. Arch-rival Ford, for instance, sells its Edge in this class, along with the ultra-popular three-row Explorer that goes up against Toyota's Highlander. The Edge was number one in Canada's mid-size SUV class last year with 19,965 deliveries compared to the Highlander's 13,811 new buyers. Collectively the Edge and Explorer were good for 29,632 sales during 2019, which is an impressive sales lead yet, but this doesn't factor in that 2019 was a particularly bad year for the larger Ford due to the slow rollout of its redesigned 2020 model. Ford claimed the problem had to do with production issues, but either way the result was a disastrous 47-percent plunge in year-over-year Canadian deliveries.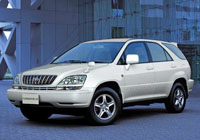 As it is there are five two-row mid-size SUVs that regularly sell better than the Highlander in Canada's mid-size segment, with Ford's Edge joined by the Hyundai Santa Fe (now only available with two rows due to the new Palisade) that sold 18,929 units in 2019, the Jeep Grand Cherokee that pulled in 18,659 new buyers last year, the Kia Sorento (now only sold with two rows due to the new Telluride) that was good for 16,054 sales during the same 12 months, and the entirely new Chevrolet Blazer that found 15,210 Canadian owners in 2019. When Nissan finally redesigns its Murano it'll probably attract more buyers than the larger Highlander too, being that its 12,000 deliveries aren't all that far behind the bigger Toyota and five-seat crossover SUVs mostly do better than seven- and eight-seat variants, so the new 2021 Venza will soon fill a sizeable void in the brand's SUV lineup.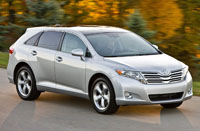 Choosing to only offer a hybrid drivetrain is a bold move for Toyota, but as long as pricing is competitive it should be well received. After all, Toyota initiated the modern-day hybrid market segment with its original 1998 Prius (2001 in Canada), and its various hybrid-electric drivetrains have garnered bulletproof reputations for reliability along with plenty of praise for their fuel economy.
While official Transport Canada five-cycle fuel economy figures have yet to be announced, the new 2021 Venza has been estimated by Toyota to achieve 5.9 L/100km in combined city and highway driving. Active grille shutters, which automatically open and close electronically to provide system cooling or enhanced aerodynamics as needed, help Toyota achieve this impressive number. All said it should become the most fuel-efficient mid-size SUV in Canada when available, and if pump prices continue to rise across the country, as they have been recently, it could very well be a strong selling point.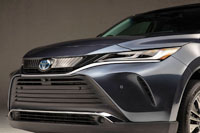 For a bit more background, the original Venza shared its underpinnings with the Japanese domestic market Toyota Harrier (amongst other Toyota/Lexus products like the Camry and Highlander), which was even more closely aligned with our Lexus RX (the first-gen Harrier was sold here as the barely disguised 1999–2003 Lexus RX 300). The five-plus years without the Venza in this country, spanning from 2016 until now, saw a third-generation Harrier come and go in Japan, while the fourth-gen Harrier is now nearly identical to the new 2021 Venza.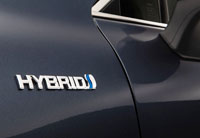 Those familiar with Toyota's 2.5-litre Atkinson-cycle four-cylinder hybrid powertrain used in the Camry Hybrid, RAV4 Hybrid and Highlander Hybrid (plus the Avalon Hybrid in the U.S.) will be happy to hear the new Venza hybrid will utilize the same well-proven powertrain, as will the redesigned 2021 Sienna mentioned earlier. In Venza form the powertrain's combined system output equals 219 horsepower, which makes it identical to the RAV4 Hybrid while more potent than the Camry Hybrid (208 hp) and not quite as formidable as the Highlander Hybrid (240 hp).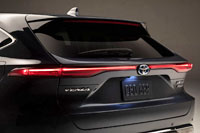 The updated Toyota Hybrid System II uses a new lighter lithium-ion battery that also improves performance, while the Venza's two electric motors deliver strong near-immediate torque as well as advanced Electronic On-Demand All-Wheel Drive, the rear-mounted motor powering the back wheels when slippage occurs during takeoff or on slippery road surfaces. The drive system can divert up to 80 percent of motive force to the rear wheels, in fact, although take note the system is designed to utilize the front wheels most often in order to limit fuel usage.
To this end Toyota includes an Eco mode that "changes the throttle and environmental logic" to maximize efficiencies says Toyota, but both Normal and Sport modes, the former "ideal for everyday driving" and the latter sharpening "throttle response," are also part of the package, while an EV mode will allow limited use of all-electric battery power at "low speeds for short distances," just like with other non-plug-in Toyota hybrid models.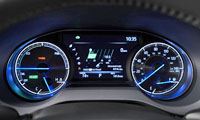 Toyota says the Venza's regenerative brakes, which capture electricity caused by braking friction before rerouting it to the SUV's electrical system, provide greater control than in previous iterations, and can actually be employed for a "downshifting" effect via the sequential gear lever's manual mode. Each downward shift increases regenerative braking in steps, which "fosters greater control when driving in hilly areas," adds Toyota, while the hybrid system also improves ride comfort by "finely controlling the drive torque to suppress pitch under acceleration and deceleration." This is called differential torque pre-load, and is especially useful when starting off or cornering on normal or slippery roads. The feature also helps enhance steering performance at higher speeds, plus straight-line stability and controllability on rough roads. Toyota is also employing new Active Cornering Assist (ACA) electronic brake vectoring in order to minimize understeer and therefore enhance driving dynamics further.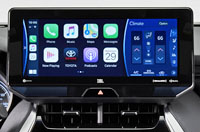 The new Venza rides on the Toyota New Global Architecture K (TNGA-K) platform architecture that also underpins the 2018–present Camry, 2019–present Avalon, 2019–present RAV4, 2020 Highlander, and new 2021 Sienna, plus the 2019–present Lexus ES and future Lexus NX and RX SUVs, which in a press release is promised to deliver an "intuitive driving experience" with "greater driving refinement" including "comfortable urban and highway performance" plus "predictable handling, and low noise, vibration, and harshness (NVH)" levels. The new platform incorporates extensive high-strength steel for a more rigid construction that improves the front strut and rear multi-link suspension's ride comfort and handling, not to mention safety overall.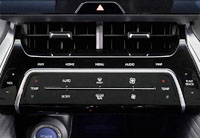 The 2021 Venza LE rolls on 18-inch multi-spoke two-tone alloy wheels, while XLE and Limited come standard with 19-inch multi-spoke super chrome finished alloy wheels.
Take a peek inside a near loaded Venza XLE or top-tier Limited and along with sophisticated touch-sensitive capacitive controls that replace physical buttons on the centre stack you'll likely first notice the premium-sized 12.3-inch centre infotainment touchscreen, but even the standard 8.0-inch centre display in the base LE is large for an entry-level head unit.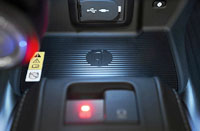 The larger uprated system features a premium 12-channel, 1,200-watt, nine-speaker (with a sub) JBL audio system that Toyota describes as "sonically gorgeous," as well as embedded navigation with Destination Assist and switchable driver or front passenger operation, while both systems include Android Auto (including Google Assistant) and Apple CarPlay (with Siri) smartphone integration, plus Bluetooth wireless connectivity, and the list goes on.
Speaking of cool tech, a fully digital instrument cluster is optional, as is a 10-inch colour head-up display unit that projects key info (such as vehicle speed, hybrid system details, and TSS 2.0 safety and driver assist functions) onto the windscreen, while an electronic rearview mirror with auto-dimming capability and an integrated HomeLink universal remote provides a more expansive view out the back, especially helpful if rear passengers or cargo is blocking the rearward view. The mirror can be switched between conventional and digital operation by the flick of a switch, while parking can be further enhanced by a move up to Limited trim that also incorporates an overhead camera system dubbed Panoramic View Monitor. The standard camera gets "projected path" active guidelines as well as an available "rear camera cleaning system [that] sprays washer fluid to clear away water droplets, mud, snow, and snow-melting road treatments from the lens," says Toyota.
Toyota is also leading most competitors by making wireless phone charging available on the majority of its models, so therefore this handy feature will be optional on the Venza, while additional upgrades include ventilated seats, a proximity-sensing Smart Key System that works on all four doors as well as the liftgate, the latter also providing hands-free powered operation, while plenty more features are available.
On the subject of more, an innovative new feature dubbed "Star Gaze" is a fixed electrochromic panoramic glass roof capable of switching between transparent and frosted modes within a single second via a switch on the overhead console. Toyota says the frosted mode "brightens the interior while reducing direct sunlight, giving the cabin an even more open, airy, and inviting feeling."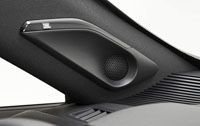 All Venza trims come standard with Toyota's TSS 2.0 suite of advanced safety and driver assistive features including pre-collision system and automatic emergency braking with pedestrian and cyclist detection, blindspot monitoring, lane departure assist, rear cross-traffic alert, lane tracing assist, automatic high beam assist, and full-speed adaptive cruise control.
As far as interior roominess goes, expect a passenger compartment similarly sized to the first two rows in a Highlander, which makes it more accommodating than the RAV4. The Venza's dedicated cargo compartment measures 1,027 litres (36.2 cubic feet) behind the rear seatbacks, which is in fact 32 litres (1.1 cu ft) less than the RAV4's 1,059-litre (37.4 cu-ft) capacity behind the second row, and 1,010 litres (35.6 cu ft) less than the Highlander when its third-row is lowered.
The 2021 Venza will arrive in Toyota Canada dealerships this summer with pricing to be announced closer to its on-sale date.
Story credits: Trevor Hofmann
Photo credits: Toyota