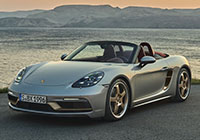 Few sports car concepts excited the motoring masses like the original Porsche Boxster prototype did when debuting at the Detroit auto show in 1993, and not many cars introduced 25 years ago have been as successful, or are even around anymore.
In order to mark the occasion, Porsche has made a new 2021 718 Boxster 25 Years edition available for order now. The new model combines classic design elements from the original concept with the myriad upgrades found on the sportiest version of today's 718 variant, resulting in a much more modern yet very classy little two-seat roadster.
For those who like the classic look of a traditional sports car, the new 25 Years edition will be all upside, until they find out that it's limited to only 1,250 units. Alas, you'll need to be ultra-quick to claim yours, especially if you want to choose the metallic silver version that's most closely related to the original Boxster show car.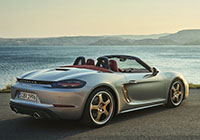 The new 2021 version comes in three colours, black and white also on the menu, but gold highlights complement the front fascia, side engine vents, and "25" year insignia fixed to the rear bumper cap beside to the usual "Boxster" script. Porsche sprayed the gorgeous set of five-spoke alloys in gold too, while the race-inspired aluminum gas cap unfortunately hides from view beneath a cover, instead of being fully exposed like the original.
Just like the original Boxster, the new commemorative model's powered fabric roof is finished in a deep red and boasts embossed "Boxster 25" script on each front outside section so that it's displayed when folded down. This rich red colour makes up the majority of the interior, which includes unique leatherwork and special red carpeting. What's more, the dash trim inlay on the passenger's side provides a base for this special edition model's "Boxster 25" plaque, which comes with 0000/1250 numbering, while another "Boxster 25" badge adorns each floor mat.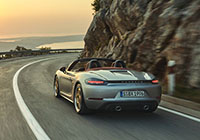 The new 718 Boxster 25 Years provides a sharp contrast to the car that underpins it, Porsche's 718 Boxster GTS 4.0 that's blackened all of the usual bright and brushed metal bits, including the wheels. At the heart of both cars is a 911 GT3-inspired naturally aspirated 4.0-litre flat-six good for 394 horsepower and 309 lb-ft of torque when mated to the standard six-speed manual, 317 lb-ft of twist when hooked up to the seven-speed dual-clutch automated PDK.
With its Sport Chrono Package that paddle-shift actuated transmission will get up and go from standstill to 100 km/h in 4.0 seconds flat, while the DIY shifter will take 0.5 seconds longer to achieve the same feat. Likewise, the manually shifted 718 drop-top moves off the line to 160 km/h in 9.2 seconds, whereas the PDK version once again slices a half second from the same sprint for an 8.7-second time, all ahead of respective top track speeds of 293 and 288 km/h.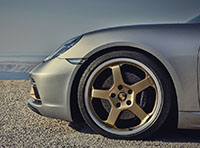 The GTS 4.0, 25 Years and all 718 Boxster models for that matter, rival the mighty 911 when it comes to performance, especially when it comes to handling, and out-manoeuvre their competitors as well, which is one of the reasons the entry-level Porsche has had so much success over the decades. Such steady sales chart performance is rare amongst its sports car contemporaries, with the number of discontinued rivals littering the automotive landscape.
Names like XLR (or Allanté) won't likely be offered on the new market again, while other premium drop-tops to fall by the wayside include Buick's 1990-1991 Reatta Convertible, Volvo's 1996–2013 C70, Chrysler's 2004–2008 Crossfire, Tesla's 2008–2012 Roadster, and Mini's 2012–2015 Roadster (the regular convertible is still available). Not all of these were two-seat roadsters, and some didn't compete directly with the Boxster, but that doesn't mean there haven't been casualties amongst the entry-level Porsche's more direct challengers.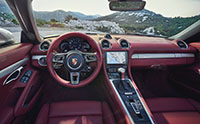 The Boxster was introduced in 1996, just three years after Alfa Romeo's classic Spider was eliminated from our continent. The stylish German was joined that year by Mercedes' SLK, both of which followed BMW's Z3 that initiated the compact luxury two-seat roadster renaissance a year earlier. Audi's TT followed in 1998, combining for Teutonic dominance in the segment. After initial popularity and a relatively successful three-generation run overall, the TT will be discontinued at the end of its current model cycle, this move following the SLC (the SLK's successor) being dropped at the end of 2020.
BMW's Z4 (the Z3's successor) will be the only luxury roadster nameplate that remains when the SLC disappears, 718 Boxster aside, but the wholly new fourth-gen model now shares components with Toyota's Supra, so it's not fully German, let alone European. The latter comment is a nod to Jaguar's F-Type, a slightly larger rival that entered the market in 2013 and was fully updated for 2021, competing with the Boxster in its entry-level turbo-four and V6 variants.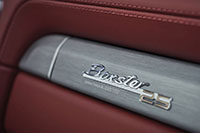 Discount pricing and available deals for all of the cars named above can be found by following highlighted links to CarCostCanada, which is currently showing factory leasing and financing rates from zero percent for 2020 and 2021 718 Boxster models. CarCostCanada members can also benefit from manufacturer rebates when available, plus dealer invoice pricing that can save you thousands when purchasing a new vehicle, so be sure to find out how the CarCostCanada system works, and download their free app while you're at it.
Those wanting to get their hands on a new 718 Boxster 25 Years shouldn't expect to get a discount, although the special financing rate should be available. You'll need to apply it to a pricier 718 Boxster however, the usual $96,900 base price of Porsche's GTS 4.0 raised to $106,500 when adding all the 25 Years updates. Anyone serious about purchasing should stop reading and call their local retailer now, leaving the rest of us to enjoy the complete photo gallery above and four videos below.
Boxster 25 Years: Walkaround (6:29):

Boxster 25 Years: Forever Young (1:37):

The Boxster at 25: An Homage to its Inception (4:59):

Boxster 25 Years: Boundless Driving Freedom (1:27):

Story credits: Trevor Hofmann
Photo credits: Porsche