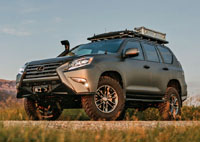 An off-road Lexus? To some this might sound like an oxymoron, but in reality two of Lexus' priciest luxury SUVs started life as ultra-capable go-anywhere Toyota Land Cruisers. 
The Land Cruiser name is legendary, and in many markets considered a premium sub-brand of the world's second-largest automaker. While most Canadians conjuring mental images of iconic Land Cruisers will look back to the now classic 1960–1984 FJ40 series, the larger and longer 1967–1980 FJ55 followed by the much more popular 1980–1989 BJ60, or the most recent 2008–present J200 that does double-duty as the Lexus LX 570, the model shown here is based on the 2009–present J150, or Land Cruiser Prado.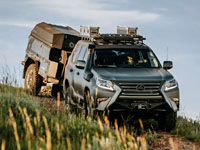 Known North American luxury consumers as the Lexus GX 460, this somewhat long-in-tooth albeit still very capable mid-size three-row 4×4 also shared underpinnings with the current Toyota 4Runner and FJ Cruiser (the latter no longer available in North America) in its previous third-generation J120 design (2002–2009), which should help anyone familiar with those no-holds-barred SUVs believe in this Lexus' off-road prowess. 
It's no wonder, therefore, that 4×4 enthusiasts looking to add luxury to their off-road lifestyle have opted for the GX 460, so now Lexus is paying homage to these faithful fans with this special creation, and even giving them partial credit for bringing the new GXOR Concept to life.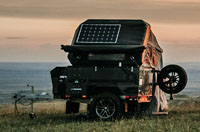 "Concept vehicles are typically created to generate excitement for the enthusiasts, but sometimes, it's the enthusiasts and their vehicles that give life to the concept," stated Lexus. "The Lexus GXOR Concept (GX Off-Road) is fueled by the passionate Lexus GX owners that have discovered and embraced the SUV's perfect combination of ultimate luxury and unrivaled off-road capability." 
No wonder the Japanese luxury brand chose to launch the new GXOR Concept at the annual FJ Summit in Ouray, Colorado, the 12th of such events having taken place from July 17–21 this year. Similar in concept to a Jeep Jamboree, the FJ Summit provides an opportunity for Toyota 4×4 owners to test their personal driving skills as well as their Toyota/Lexus 4×4's prowess on challenging trails, gives classes taught by experienced off-road instructors in order to hone those driving skills, and much more.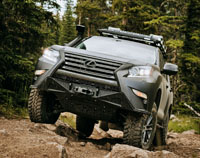 Despite the GX 460's impressive capability off-road, and its passionate group of diehard followers, its popularity with the general SUV-buying public has faded in recent months and years, with Q2 2019 sales down 25.41 percent compared to the same six months last year, resulting in only 138 buyers for last place in the mid-size luxury SUV segment (other than the now discontinued Lincoln MKT), while all 12 months of 2018 only found 376 customers after a high of 662 units in 2015. 
To be fair, plenty of competitors have been losing ground this year, with Q2 2019 Tesla Model X sales off by 30.00 percent for 840 units, Audi Q7 deliveries down 36.13 percent to 1,674 units (possibly due to the new Q8's arrival), the Mercedes-Benz GLS-Class dropping 36.66 percent to 762 units, and the same German luxury brand's GLE-Class plummeting by 42.00 percent to 2,413 units. Even the mighty Lexus RX (and new long-wheelbase RX L) saw a sales drop of 8.50 percent through Q1 and Q2, but its 3,982 deliveries kept it well in front of the entire mid-size luxury SUV pack.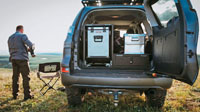 To put the GX' 2018 calendar year sales of 376 units and 2015 high of 662 units into perspective, Lexus sold 9,329 RX crossovers last year, which was its second-best result after a high of 9,402 units in 2017. The RX also outsold Lexus' next-most-popular NX compact luxury crossover, which had its best sales of 7,859 units last year. Hence, anything that could potentially spur on GX sales would be helpful. 
Enter the GXOR, which while only a concept makes the luxury model's 4×4 credentials clear to those who might not be in the know, while its ardent fans could potentially build something similar from all of this prototype's available aftermarket components.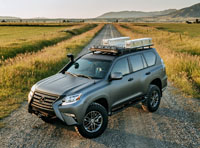 On that note, the GXOR's plentiful upgrades include a custom CBI Stealth front bumper with an integrated Warn 9.5 XPS winch, a Safari snorkel for feeding air to the engine while wading through deep water, Lexus F Sport 18-inch alloys wrapped in General Tire Grabber X3 275/70 all-terrain rubber, a raised Icon 2.5 CDC suspension with remote reservoirs plus billet control arms with delta joints, full underbody armour skid plate protection, CBI frame sliders, a Redarc Tow-Pro brake controller, and lastly an EEZI-AWN K9 roof rack that comes complete with a Rigid 50 LED front light bar, a 160-watt Overland solar panel power supply, Alu-Box storage cases, and Maxtrax recovery boards. 
Inside, the GXOR Concept keeps the GX 460's already luxurious finishings while adding an Icom 5100A ham radio up front for remote communication, whereas the cargo area is partially filled with a Goose Gear custom drawer system featuring storage compartments and a slide-out National Luna refrigerator.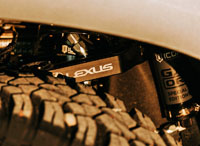 Finally, the GXOR Concept is shown towing a Patriot Campers X1H trailer featuring a power-operated pop-up tent, a hot water system, and more, while its electrical components are powered via the just-noted solar panel. 
On that note, Lexus doesn't say whether or not the GXOR Concept's 4.6-litre V8 keeps the production model's 301 horsepower and 329 lb-ft of torque or receives some performance upgrades, but it certainly should be strong enough to haul the hefty looking trailer either way. 
"To all of the GX enthusiasts that use their rigs to escape on epic adventures, and proudly share the #GXOR, this concept build is for you," added Lexus to its GX 460's fan base. "Thank you for inspiring us to Experience Amazing." 
As with all concepts and prototypes, the question of potential GXOR production needs to be addressed. Considering how successful Mercedes-Benz has been with its rugged G-Class, and similarly how Land Rover Defender enthusiasts have been getting excited about that model's upcoming arrival, something like this GXOR Concept could find reasonable sales traction if offered in production trim, or at least as a dealer-installed kit. The latter would allow retailers to modify unsold GX 460s, which might bring some much-needed attention to the model. 
Until this happens (or doesn't), enjoy our complete gallery of GXOR Concept photos above, plus a video that Lexus provided below. Also, to find out how affordable the 2019 Lexus GX 460 is, check out CarCostCanada where you can see complete pricing of trims, packages and individual options, plus learn about available rebates and dealer invoice pricing that could save you thousands. 
Lexus GXOR | GX Off-road Concept Build (2:45):