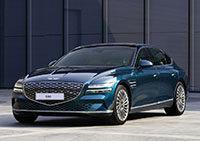 Hyundai Motor's premium Genesis brand will be introduced to European markets this summer, starting with two mid-size luxury models, the G80 four-door sedan and GV80 two-row crossover SUV.
Genesis Motor, which initiated sales in 2015, is currently sold in South Korea, the United States, Canada, China, Russia, the Middle East, and Australia. After its launch into Europe, which was delayed due to the global health crisis, it will be introduced to other markets in Asia.
Genesis chose to launch its G80 first in Europe because a new plug-in electric version will be part of the lineup for 2022.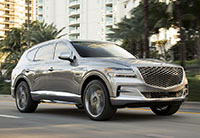 "The Electrified G80 will be the first all-electric Genesis to arrive in Europe," stated Genesis Motor Europe in a press release. "A further two battery electric cars will follow, providing European customers with a choice of three Genesis zero-emission cars within the first year."
Shortly after the initial two mid-size models arrive in European dealerships for June, Genesis will introduce its smaller G70 sedan and GV70 crossover SUV, the latter being an entirely new model within each of the brand's markets this year.
Genesis has enjoyed generally positive reviews and luxury market acceptance in most markets, particularly those in North America, arguably achieving greater perceived prestige than some of its Japanese competitors that have been struggling to make their marks since the 1980s.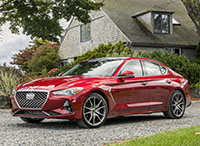 For instance, Genesis hit the market with a full-size luxury sedan, the G90, complete with potent V6 and V8 powertrains, while Honda's Acura brand and Nissan's Infiniti marque have discontinued their full-size luxury sedans after poor sales, the former brand's RLX cancelled last year, and the latter having nixed its Q45 way back in 2006. Likewise, Infiniti discontinued its mid-size Q70 and long-wheelbase Q70L in 2019, its compact Q50 now being the only four-door sedan model available.
Genesis has a compact four-door of its own to compete with the Q50, Acura's TLX, and a whole host of other challengers including BMW's 3 Series, Mercedes' C-Class, Audi's A4, and the list goes on, while the brand promises a sports coupe will join the fray soon.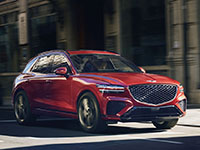 In fact, Genesis showed off a stunningly beautiful new sports coupe prototype this year, dubbed X Concept. What's more, according to reports the brand trademarked the names GT60, GT70, GT80, and GT90 in 2017, some of which will more than likely provide competition to the BMW 4 and 8 Series models, Mercedes C- and E-Class coupes, the Audi A5 and A7, Infiniti Q60, and others, while four-door coupes and convertibles will probably be part of the automaker's GT line as well.
Even more important to the brand's sales growth, the aforementioned mid-size SUV will soon be joined by the GV70 compact crossover SUV, which appears ready to do battle against BMW's X3, Mercedes' GLC, Audi's Q5 and others, including Acura's RDX, Infiniti's QX50, and Lexus' NX.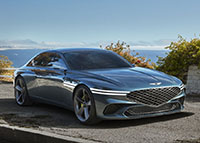 The latter brand is probably Genesis' most targeted rival, being that it's easily had the greatest success of the three Japanese luxury vehicle brands introduced in the 1980s. Toyota's premium contender continues to offer a full-size luxury sedan, the LS, a market segment that's still important from a prestige standpoint, as well as competitive models in most of the key luxury categories.
It's difficult to guess how the various European markets will accept Hyundai's luxury brand, but if Genesis can come close to duplicating the growth it's experienced in North American markets, the brand's leadership should be satisfied. Sales more than doubled from January through March of 2021 when compared to the same quarter last year, while Q1 year-over-year deliveries in its South Korean home market were up 165 percent. Genesis has only been available in China since last month, so time will only tell how Chinese buyers respond.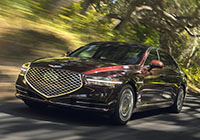 Canadian Genesis sales grew from 229 units in Q1 of 2020 to 628 sales in the same three months of 2021, representing 174 percent year-over-year growth. This beat the previous quarter's YoY increase of 171 percent, but Q4 sales totalled a whopping 935 units, which was the best three-month stretch yet for the fledgling brand.
Of course, manufacturer incentives always help to spur on sales, and right now Genesis is offering zero-percent factory leasing and financing rates across the entire line. What's more, CarCostCanada members are saving an average of $2,666 on the 2021 Genesis G70, plus saving an average of $10,000 when purchasing the 2021 G90.
CarCostCanada provides its members with otherwise hard to get dealer invoice pricing, which means they have a massive advantage when negotiating a fair price. Find out how it all works now, and also make sure to download the free CarCostCanada app from the Google Play Store or Apple Store, so you too can have all of this important info at hand when it comes time for you to buy your next vehicle.
Story credits: Trevor Hofmann
Photo credits: Genesis