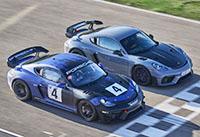 Just in case Porsche's new 2022 718 Cayman GT4 RS isn't intense enough for you, a new Clubsport model adds a handy helping of track-ready components after almost completely gutting the interior, resulting in one of the most enticing OEM race cars the auto industry has ever produced.
Let's face it. The 718 Cayman GT4 RS is already one of the best road-going performance cars available, thanks to a lightweight mid-engine layout, plenty of 911 components, and a 4.0-litre horizontally opposed six pulled from the fabulous GT3 RS, this mill good for a sensational 500 horsepower and 343 pound-feet of torque. The engines spins to a stratospheric 9,000 rpm, makes peak thrust at 8,300 rpm, maximum twist at 6,000 rpm, and comes with a special six-speed manual transmission that's said to be pure bliss to shift.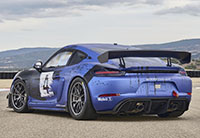 The new Clubsport version does away with the DIY gearbox, however, substituting it for a quicker shifting seven-speed dual-clutch PDK with paddles, which is more ideally suited for track use, while additional racecourse-ready performance parts include a gargantuan swan-neck rear wing that teams can adjust for optimized downforce or increased straight-line speed, while under this special Cayman are two-way adjustable shocks as well as a set of anti-roll bars that can be tweaked individually too. Likewise, the Clubsport's ride height, toe, and camber can also be adjusted as required, plus teams can opt for one of three pre-set spring rates with either the front or rear axle.
Clamping down on velocity, performance calipers bite into sizeable 15.0-inch front rotors that are actually cooled by the big NACA vents atop the 718 Cayman GT4 RS Clubsport's hood, while enhancing braking control and handling further is race-tuned stability control system.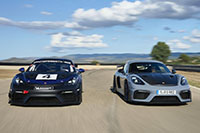 A quick peek inside shows an interior devoid of the types of leather, microsuede, carbon fibre and electronics normally found in a 718 Cayman GT4 RS, instead replaced by white painted metal for most surfaces, along with a welded-in roll cage, one sole Recaro driver's seat with a six-point racing harness, and a fire extinguisher. The Clubsport gets a built-in air-jack too, while an optional 138.2-litre (30.4-gal) fuel cell can be included for longer races.
All added up, it only makes sense that removing the high-end hides, metals and electronics should decrease the price, right? Hardly. In fact, all the Clubsport fittings nearly double the window sticker, from a base of $160,600 for the 2022 718 Cayman GT4 RS, to $229,000 USD, or approximately $293,400 CAD for the race-spec version.
The new Clubsport is nevertheless considered a good value within racing circles, however, something you'll know all too well if you're actually considering buying one. Everyone else would be better served behind the leather-wrapped wheel of a regular 718 Cayman GT4 RS, and currently Porsche is offering factory leasing and financing rates from zero percent, while CarCostCanada members are saving an average of $1,000 off of retail. Check out how the CarCostCanada system works, and remember to download their free app from the Google Play Store or Apple Store.
The new 718 Cayman GT4 RS Clubsport (12:18):

Story credits: Trevor Hofmann
Photo credits: Porsche