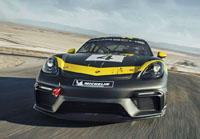 A significant coup for last month's Canadian International Auto Show was the introduction of the new Porsche 718 Cayman GT4 Clubsport, a car rooted in the legendary brand's racing heritage. The track-only Cayman, which was revealed in January at the Daytona International Speedway, made its first official motor show appearance at the Toronto event. 
The updated 718 Cayman GT4 Clubsport is now in its second generation, the first arriving on the motorsport scene in 2016 sans "718" script on the rear deck lid. Unlike the previous version, the new GT4 Clubsport can be had in two forms: first as a "Trackday" car set up for "ambitious amateur racing drivers," and second as "a 'Competition' variant for national and international motor racing," the latter to notably be used for this year's GT3 Cup Challenge Canada series.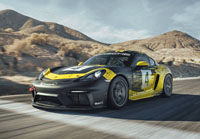 Ahead of pointing out differences, both 718 Cayman GT4 Clubsport models receive an updated version of the old 3.8-litre flat-six "boxer" engine, now good for 425 horsepower at 7,800 rpm, a 40-horsepower improvement over the previous 2016 car, while torque is now 4 lb-ft greater, to 313 lb-ft at 6,600 rpm. 
Of note, this is the first six-cylinder 718 Cayman application since the car's 2017 model year debut, due to the current 982-generation only using a turbocharged four-cylinder in various states of tune, causing some pundits to question whether a road-worthy Cayman with a horizontally opposed six-cylinder positioned just ahead of its rear axle will bolster the 718 Cayman ranks.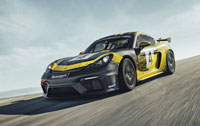 That new GT4 Clubsport flat-six, which feeds on 98 octane Super Plus unleaded gasoline, packs a 12.5:1 compression ratio, integrated dry sump lubrication, racing-optimized engine and transmission water cooling with thermal management, four-valve technology with adjustable camshaft phasing and VarioCam Plus variable valve timing, a racing-optimized Continental SDI 9 electronic engine management system, plus more. 
Where the previous GT4 Clubsport shifted gears through a short-throw six-speed manual transmission, the new 718 version will solely utilize Porsche's dual-clutch PDK automated gearbox, albeit with only six forward gears instead of the usual seven. The new model also features a reinforced dual mass flywheel, a racing-optimized electronic control unit, a racing-optimized mechanical rear axle differential lock, plus an internal pressure oil lubrication system boasting active oil cooling.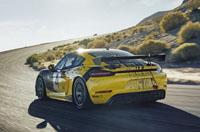 Additional modifications over road-going 718 Caymans include implementation of the 911 GT3 Cup car's lightweight spring-strut front suspension; front and rear height, camber and track adjustable dampers; fixed shock absorbers with the Trackday car, or three-way racing shocks with rebound and two-stage high- and low-speed compression adjustment for the Competition; front and rear forged suspension links with optimized stiffness, double shear mountings, and high-performance spherical bearings; a three-hole design anti-roll bar up front; an adjustable blade-type anti-roll bar in the back; and five-bolt wheel hubs. 
The new rims are single-piece forged light alloy wheels wearing a new "weight-optimized" design, and rolling on 25/64 front and 27/68 rear Michelin transportation rubber, while Michelin also supplies the slick/wet tires that measure 25/64-18 and 27/68-18 front and rear, too.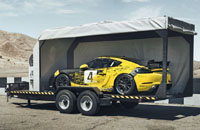 What's more, behind those wheels and tires are racing-spec brakes that feature four multi-piece, ventilated and grooved steel discs measuring 380 millimetres in diameter, plus racing brake pads, aluminum mono-bloc six-piston front and four-piston rear racing calipers with "Anti Knock Back" piston springs, plus a brake booster with the Trackday version or brake balance adjustment via a balance bar system with the Competition model. 
Despite the GT4 Clubsport's factory-installed (FIA Art. 277 certified) safety cage, plus its 911 GT3-inspired front spoiler and sizeable fixed rear wing, which appear mostly carryover from the previous Clubsport, the race-spec Cayman weighs in at just 1,320 kilos, making it lighter than the outgoing model.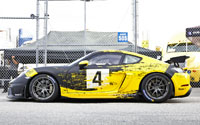 Mass in mind, the GT4 Clubsport's body structure is comprised of aluminum-steel composite and therefore light in weight; while additional features include a hood and rear deck lid fastened in place via quick-release latches; an (FIA Art. 275a certified) escape hatch in the roof; an FT3 fuel safety cell that measures 80 litres with the Trackday or 115 litres with the Competition model, both featuring an FIA-compliant "Fuel Cut Off" safety valve; pre-installed mounting points for a three-piston air jack system for the Trackday, or a factory-installed three-piston air jack system with the Competition; and FIA-certified towing loops front and rear. 
Also, a motorsport centre console with "enhanced functionality and adapted usability" gets added to the instrument panel, a six-point safety harness is included with its single Recaro race bucket driver's seat, which also includes two-way fore and aft adjustments as well as an adjustable padding system, and lastly provisions are made for a safety net.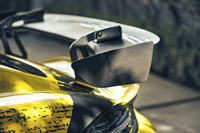 While safety is critical, and improving performance paramount for any new racing car, with Porsche having clearly claimed that its new 718 Cayman GT4 Clubsport improves overall drivability and therefore should provide faster lap times than its predecessor, it's surprising that Porsche also put time and effort into its environmental initiatives, not normally a key issue in this class of sports car. The end result is a production-first racecar technology that could potentially find more widespread use: natural-fibre composite body parts. 
The 718 Cayman GT4 Clubsport's door skins and rear wing (specifically the wing flap, sideblades, and "swan neck" mounts) are actually formed from an organic fibre mix that's sourced from agricultural by-products such as hemp or flax fibres. Porsche says the new age components weigh approximately the same as if made from carbon-fibre, while their strength is also similar.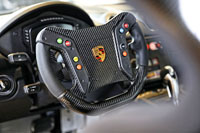 Specific to each model, the 718 Cayman GT4 Clubsport Trackday gets fixed shock absorbers, plus ABS, ESC, and traction control assistance systems for easier control at high speeds, the latter of which can all be deactivated. Improving comfort and safety respectively, the Trackday also includes air-conditioning and a handheld fire extinguisher, while it can be serviced at Porsche Centres throughout Canada. 
You'll need your own team of mechanics for the Competition model, however, and one of them will need to be well versed in three-stage shock adjustment, while you'll need to figure out how to adjust the front/rear bias of the brake balance system yourself. Additionally, your pit stop team will be able to change the tires quickly thanks to its aforementioned integrated air jacks, and the larger safety fuel cell will make sure time off the track will be kept to a minimum.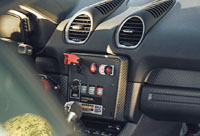 Safety features not yet mentioned include an automated fire extinguishing system, and a quick release race steering wheel pulled from the 911 GT3 R. 
Priced considerably higher than a street legal 718 Cayman, which starts at just $63,700, the 718 Cayman GT4 Clubsport Trackday model can be had for $216,500, whereas the same car with the Competition package starts at $242,000. 
Interested parties should contact Porsche Motorsport North America in Carson, California, or alternatively your local Porsche retailer, which no doubt would be happy to put you in touch. 
For those who'd rather watch than take part, or simply don't have a spare $200k and change available, enjoy the complete photo gallery above and two videos below: 
Perfectly Addicting: The new 718 Cayman GT4 Clubsport (2:02):

Setting a New Standard with the New Porsche 718 Cayman GT4 Clubsport (1:23):