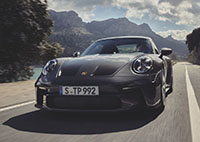 If you want the purist of 911s, look no further than the fabulous GT3 coupe (we covered in detail here). While not as ultimately fast as the previous-generation GT2 RS, that turbocharged super-coupe once again winning bragging rights at the famed Nürburgring Nordschleife just a week ago, this time chopping a sizeable 4.747 seconds from the Mercedes-AMG GT Black Series lap time on its way to claiming fastest production car status, the naturally aspirated GT3 nevertheless churns out 502 horsepower and 346 lb-ft of torque from its 4.0-litre six-cylinder engine, and makes beautiful 9,000-rpm music while doing so.
How does the GT3 stack up on the track? Of the top-10 fastest production cars to ever course through the old 20.8-km portion of the Nürburgring track, which incidentally is known affectionately as "The Green Hell" due to its forested, mountainside surroundings, 300 metres of elevation, 73 turns, and legendarily challenging nature (racing legend Sir Jackie Stewart originally coined the phrase), five are Porsches and two are GT3s. Sitting in eighth is the current-generation (992) GT3 RS, with a lap time of just 6:55.34 minutes, while the ninth-placed car is a previous-generation (991.2) GT3 RS.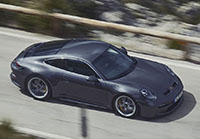 While the GT3's track exploits are praiseworthy to say the least, it's a race-ready supercar that can be easily seen as such by passersby (including the constabulary) while also purposely lacking a few modern-day 911 refinements, with an obvious leaning toward sport, rather than luxury. Porsche hopes its new Touring Package, available at no additional cost to 2022 GT3 buyers, will help those wanting to fly under the radar escape scrutiny, without being forced to give up on owning one of the most sought-after 911 models available.
Visually separating the regular GT3 from the new Touring Package-equipped variant is a switch to the more conventional deployable rear wing used on most other 911 models, which pops up out of rear deck lid when needed and otherwise hides away. This provides a more classic 911 coupe profile that attracts a lot less attention than the super-sized carbon fibre reinforced plastic (CFRP) one found on the original, but of course doesn't deliver the same level of ultimate downforce, therefore reducing high-speed stability through corners. It's a trade-off that some buyers won't mind, however, especially when laying eyes on the specially designed rear grille. Additionally, the front fascia on Touring Package cars is body-colour, while high-gloss anodized silver-tone aluminum trim surrounds the side windows and polished metal highlights the tailpipes (Satin Black is an option for both).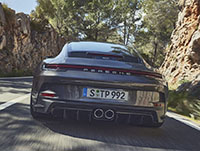 The Touring Package doesn't swap out the regular GT3's CFRP hood and front spoiler for lesser variants of each, fortunately, and doesn't mess with anything under that just-noted rear wing either, although a seven-speed PDK dual-clutch transmission can now be had with either GT3 model, and like the Touring Package itself, is a no-cost option.
Silver-painted versions of the same 20-inch front and 21-inch rear forged alloy rims come shod in respective 255/35 and 315/30 ZR performance rubber with the new Touring Package, once again encircling Satin Black centre locking caps with regular Porsche crests rather than "GT3" logos.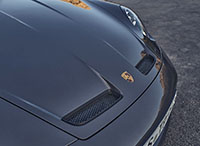 If you choose a subtler exterior colour when for your Touring Package-equipped GT3, like Agate Grey Metallic or GT Silver Metallic, rest assured GT3 badging will still be part of the ownership experience. Still, along with the new rear engine grille, Porsche revised its designation to read "GT3 touring". Of note, this wide-body 911 is still available with every exterior colour and shade offered for the regular GT3, including Chalk and more outlandish hues like Lava Orange, Python Green and Shark Blue.
The Touring Package interior gets upgrades too, including an extended black leather upholstery package that enhances the steering wheel rim, gear lever, centre console lid, door panel armrests, and door grips, while edging the dash and both door uppers with a special embossed surface treatment.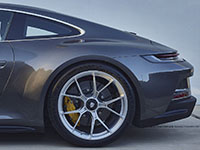 This said, quick glance at the racing-style seats in the Touring Package might make you believe they're unchanged, but closer inspection shows a unique fabric used for their centre panels, plus embossed Porsche crests in place of the usual GT3 logos on the headrests. Finally, Touring Package door sill guards receive a brushed black aluminum treatment that's also applied to some dash and centre console components.
It should be noted that GT3 Touring Package buyers can also opt for multiple two-tone cabins that add coloured leather to the interior's lower half.
Those wanting to upgrade their GT3 Touring Package-equipped car even further will be happy to know that most regular GT3 options can still be had, including all wheel colours, the Porsche Dynamic Light System and Porsche Dynamic Light System Plus, every driver assistance system, Porsche Ceramic Composite Brakes (PCCB), Smart Front Axle Lift, and all the same alternative seats, while an available Bose Surround Sound System is on the menu too, plus, of course, the Sport Chrono package.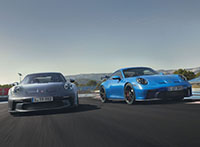 Any added weight (which is not accounted for on Porsche's retail site or in any press releases) hasn't impeded performance, with both regular GT3 and Touring Package-equipped models sprinting from 0 to 100 km/h in only 3.9 seconds when fitted with the six-speed manual GT Sport transmission, or 3.4 seconds with the standard paddle-shift-operated seven-speed PDK transmission. Likewise, terminal track speeds remain identical at a respective 320 km/h (199 mph) and (318 km/h (198 mph), but it's possible that removing of the larger rear wing could allow Touring Package-equipped cars a slightly higher top speed, possibly even 322 km/h (200 mph).
The two GT3 models incorporate identical suspension setups as well, including Porsche Active Suspension Management (PASM) with ride-height lowering (by approximately 20mm). Therefore, both should provide near identical handling, although once again, elimination of the fixed rear wing will make a difference at high speeds, not to mention when scrubbing off speed via both GT3s' sizeable 408 mm front and 380 mm rear brakes.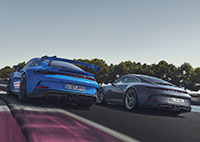 For a bit of history regarding the "Touring Package" name, it first came in use for a version of the 1973 911 Carrera RS, likewise providing a more luxurious trim upgrade for a model that could be seen as the GT3 of its generation. The Touring Package name was also revived for the sixth-gen 991-based GT3 in 2017.
If you'd like to bring your GT3 Touring Package experience into the office or back home, a special Porsche Design chronograph watch can be had as well. It boasts a sophisticated mechanical movement with a flyback second hand function, plus its winding rotor, seen through a caseback window, shares styling cues with the car's wheel design. The rotor is even available in six different versions to correspond with your car's personal configuration.
Each dial bezel is finished in Agate Grey Metallic, however, plus all dials receive a matte black surface, but each chronograph hand matches the bright luminous yellow colour of the GT3's tachometer needle for another nice tie-in to the actual car. Attaching the beautiful watch head to your wrist is a strap made from the same embossed leather as that used in the Touring Package-equipped GT3, along with some black decorative stitching. This new chronograph is made in Porsche Design's own Swiss watchmaking factory, and is only available to GT3 customers.
This means in order to qualify for the watch you'll need to ante up at least $180,300 for either the regular GT3 or Touring Package-equipped version. Notably, Porsche is offering 2022 911 models with factory leasing and financing rates from zero percent, so be sure to check out the 2022 Porsche 911 Canada Prices page at CarCostCanada for more details, and remember to download the free CarCostCanada app from the Google Play Store or Apple Store in order to have all their benefits, including dealer invoice pricing, on your device when needed.
The New Porsche 911 GT3 with Touring Package (2:13):
Story credits: Trevor Hofmann
Photo credits: Porsche