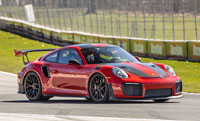 It was just last fall that we reported on the sensational Porsche 911 GT2 RS MR setting a street-legal lap record at the famed Nürburgring Norschleife, which only remained beaten by Porsche's own 919 Hybrid EVO modified World Endurance Championship (WEC) race car, and now the world's most successful sports car manufacturer has set a new production vehicle record on the highly challenging Road America circuit in Elkhart Lake, Wisconsin. 
The 6.5-km (4.04-mile), 14-turn road course combines plenty of high-speed straights, radically sharp corners and a fair number of elevation changes, and is therefore the perfect play area for any Porsche 911, although it's even more ideal for the track-dominating 2019 911 GT2 RS.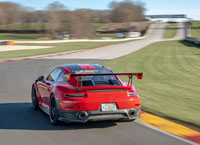 In an attempt to remove the Road America lap record mantle from a GT2 RS privateer that laid down a scorching 2:17.04 banker last year, the 700 horsepower GT2 RS stole the limelight with a new record-setting time of 2:15.17 minutes, slicing almost two seconds (1.87 sec) off the previous lap record. 
Making the day even more interesting, Porsche also showed what its 911 GT3 RS could do on the same track with the same driver, 24 Hours of Daytona and Le Mans class winner David Donohue. Despite being almost 200 horsepower less potent than the GT2 RS, yet given an even more alluring soundtrack thanks to a higher revving engine that nears 9,000 rpm at full song, the 911 GT3 RS pulled off a Road America lap time of 2:18.57 minutes, and needed just three laps to do so, which was one lap shy of what the GT2 RS required.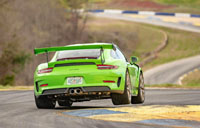 While tracking nearly four seconds off the pace would certainly look like a massive gap if the two cars were racing each other simultaneously, the GT3 RS' ability to stay as close as it did on a track with such long straights and numerous 90-degree turns says a lot about its cornering prowess. 
Both the GT2 and GT3 RS were shod with road-legal, Porsche-approved Michelin Pilot Sport Cup 2 R N0 tires, which are optional upgrades for RS owners, while this event's lap time was recorded and validated by Racelogic, as was the vehicle telemetry.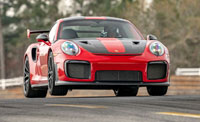 Also notable, this 911 GT2 RS set another production car racetrack record at the even more circuitous Road Atlanta circuit in Braselton, Georgia last month with Randy Pobst at the wheel, this time delivering a lap time of only 1:24.88 minutes, which outpaced the previous record-setting Corvette ZR1 by almost 2 seconds, as well as the previously noted Porsche 911 GT3 RS by 1.36 seconds. 
It seems like Porsche is smashing global track records at an unprecedented pace lately, no doubt because of this car's eventual retirement when the all-new 2020 911 arrives later this year. Then again, being that a new GT2 RS based on the redesigned 911 is probably not going to arrive anytime soon, we'll likely see more broken track records by the current model in the coming months.  
While we're waiting for these to make news, make sure to check out our comprehensive photo gallery of the 911 GT2 RS and 911 GT3 RS on the Road America and Road Atlantic tracks above, plus in-car videos of these record-breaking events below: 
Porsche 911 GT2 RS sets production car lap record at Road America – David Donohue onboard camera (2:25):
 

 
911 GT3 RS completes Road America lap in just 2:18,57 minutes (2:28):
 

 
Porsche 911 GT2 RS Record Lap at Road Atlanta – Highlight Film with Randy Pobst Onboard Camera (2:18):
 

 
Porsche 911 GT2 RS sets production car lap record at Michelin Raceway Road Atlanta (1:39):
 

 
Onboard video of the 911 GT3 RS at the Michelin Raceway Road Atlanta (1:36):