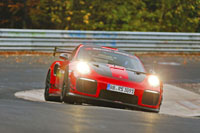 This isn't the first time a street-legal Porsche broke a lap record on the famed Nürburgring-Norschleife, and we're pretty sure it won't be the last either. 
Back in April of this year we reported on the amazing new Porsche 911 GT3 RS breaking the seven-minute mark with a time of 6:56.40, but on Thursday, October 25 it was the even more formidable GT2 RS MR lapping the 20.6-km (12.8-mi) circuit in a mere 6:40.33 minutes, knocking 6.95 seconds off the September 2017 lap time of the non-MR tuned GT2 RS. 
Lars Kern, the 31-year-old development engineer and race driver who first piloted the 911 GT2 RS to its now broken record, was once again at the wheel, which makes this most recent result a more accurate representation of the two cars' performance thanks to taking some driver discrepancy out of the equation.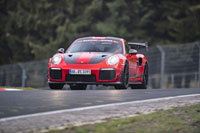 "The drive was great fun," said Kern, who is very familiar with the 'Ring' due to plenty of test drivers, record runs and VLN races. "The balance of the car is also very good with the new package. I did not have to take any great risks to be fast. But I only had one attempt because it was already getting dark. It worked out first time though." 
Both 911 GT2 RS models produce the same incredible 700 horsepower, making this model the most powerful and fastest production 911 of all time, but the MR was set up by Manthey-Racing specifically for tackling the Nürburgring-Norschleife, and the 160-plus strong motorsports team knows a lot about shaving seconds from the popular German racetrack near the Belgian border. 
"We are very proud," said Manthey-Racing CEO Nicolas Raeder. "It was a great challenge to make the already tremendously fast Porsche 911 GT2 RS even faster." 
Of course, conditions were dry, allowing Kern to make the most of his record lap run. Esso supplied the fuel, while the only major modification made to the car was the addition of a racing-spec driver's seat that can be ordered from Manthey-Racing if choosing to upgrade to their GT2 RS MR club sport and track day special. According to Porsche the seat was only fitted to alleviate safety concerns, and didn't subtract any weight from the stock GT2 RS.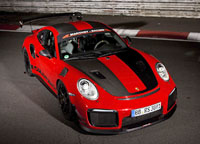 "We kept our eye on the weather all day and thought hard about whether such a drive was possible. We would not have taken any risks if it was raining or if the track was slightly damp," says Dr. Frank-Steffen Walliser, Head of Motorsport and GT Cars.  
Of note, the otherwise stock 911 GT2 RS featured Manthey-Racing's new performance kit that includes minor chassis and aerodynamics modifications. Thanks to being set up specifically for the Nürburgring-Norschleife circuit's characteristics, this MR-specified model became the fastest road-legal vehicle to ever lap 'The Green Hell' track. 
"In this test drive, we simply wanted to assess the potential of the vehicle once more," added Walliser. "The result is quite impressive. It really is a fabulous time. This shows again very clearly the exciting possibilities of this sports car."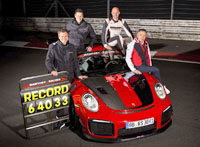 The stock GT2 RS, which debuted in June 2017 at the Goodwood Festival of Speed in West Sussex, England, uses a twin-turbo 3.8-litre version of Porsche's legendary horizontally opposed six-cylinder engine to make 700 horsepower at a lofty 7,000 rpm (that's an astonishing 184.2 horsepower per litre) and 553 lb-ft from 2,500 to 4,500 rpm. 
Thanks in part to weighing just 1,470 kilograms (3,241 pounds) the rear-wheel drive GT2 RS is capable of sprinting from standstill to 100km/h in a shocking 2.8 seconds, can achieve in-gear acceleration from 80 to 120 km/h in just 1.5 seconds, and attain a top speed of 340 km/h (211.2 mph). Amazingly, this road-going production GT2 RS is capable of a very reasonable 15.4 L/100km in the city, 11.3 on the highway and 13.5 combined, important for a car that also gets used for endurance racing. 
The new Porsche 911 GT2 RS is now available from $334,000 (see all 2018 Porsche 911 pricing including the 911 GT2 RS at CarCostCanada, plus access money saving rebate info and dealer invoice pricing that could save you thousands). 
Before you go, make sure to check out our photo gallery as well as some incredible video footage of the entire record-setting lap from within the 911 GT2 RS MR cockpit:
New record: 911 GT2 RS MR laps the Nürburgring Norschleife in 6:40.3 minutes. (7:14):