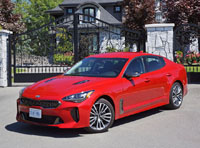 It seems every time I've had opportunity to get behind the wheel of Kia's new Stinger something has come up. Either the car was damaged by a wayward journo or got decommissioned before I could get my hands on it, the latter usually due to me being out of town, but just a few days back from my regular winter sojourn in the tropics has me eyeing up a lovely California Red painted Stinger GT-Line in my driveway. 
As premium as this car looks, complete with standard automatic dual-function LED headlights, LED daytime running lights, LED positioning lights, body-wide bar-type LED taillights, cool dark chrome exterior trim with the same dark chrome used for the side mirror caps, these additionally adorned with LED signal repeaters, not to mention sharp looking 18-inch machine-finished alloy rims on 225/45 rubber, plus chromed dual exhaust and more, it's hard to believe this GT-Line is actually the model's most basic of trims.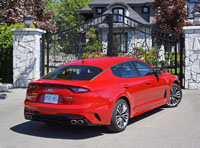 Of course the Stinger starts at a fairly substantive $39,995 plus freight and fees, but despite its somewhat bargain basement Kia nameplate it borders closer to premium territory than most anything else in the mid-size class. And yes, the Stinger is a mid-size sedan. I've seen some refer to it as a compact because it rides on the same underpinnings as the Genesis G70, which is a compact luxury competitor that goes up against the BMW 3 Series, Mercedes-Benz C-Class, Audi A4, etcetera, but despite having similar wheelbase lengths at 2,910 mm (114.4 in) to 2,835 mm (111.6 in), both longer than the Kia Optima's 2,805-mm (110.4-in) wheelbase, the Stinger's 4,830 mm (190.2 in) overall length stretches 145 mm (5.7 in) farther than the G70, and only comes in 20 mm (0.8 in) shorter than the Optima.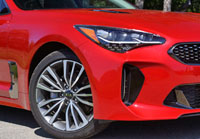 Likewise, at 1,870 mm (73.6 in) the Stinger is 20 mm (0.8 in) wider than the G70 and 10 mm (0.4 in) narrower than the Optima, while its height measures 1,400 mm (55.1 in), which is identical to the G70 and 70 mm (2.7 in) lower than the Optima. Those still wanting to call the Stinger a compact will need to take note that it measures a full 190 mm (7.5 in) longer than the Forte sedan (a fairly large compact) with a 210-mm (8.2-in) longer wheelbase, while it's also 70 mm (2.7 in) wider. In other words, it's clearly a mid-size model, with a longer wheelbase and more width than the Toyota Camry and Honda Accord too, albeit slightly less overall length and height.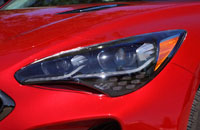 Its long, low and wide dimensions lend to its four-door coupe-like stance, a sporty profile that's backed up by dramatic styling and a pampering cabin, at least for its mainstream volume brand status. This isn't Kia's first foray into premium territory either, nor is it the South Korean brand's most lavish. Look no further than the Mercedes S-Class/BMW 7 Series-sized K900 for such pretensions, a car that might only be upstaged for all out luxury by the Volkswagen Phaeton amongst non-premium brands, but like that outlandish VeeDub the K900 didn't gain enough sales traction to merit continued availability in Canada, and therefore is now finished in our market (it's still available south of the 49th mind you).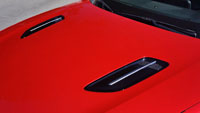 While the K900 was truly impressive, it was nowhere near as viable in Canada as this Stinger, which is considerably more affordable, targets a more popular market segment, and focuses more on performance than luxury. In fact, amongst its mid-size competitors I would've previously said it comes closest to targeting the Dodge Charger than anything else available, until the Volkswagen Arteon arrived earlier this year. The Arteon, which is based on the European Passat, has effectively replaced the old CC four-door coupe. Other than being smaller and mostly lighter in weight than the near full-size domestic challenger, the two near identically sized and similarly powered imports are basically going after the same performance-oriented buyer (in the Stinger's base trim at least), although with a single-trim base price $8k higher than the Stinger the new Arteon is pushing quite a bit further into the premium market.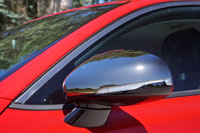 Incidentally, the Stinger's curb weight ranges from 1,729 – 1,782 kilos (3,812 – 3,929 lbs) with its as-tested 2.0-litre turbocharged four-cylinder, or 1,873 – 1,889 kg (4,129 – 4,165 lbs) with its optional V6, while the Arteon weighs in at 1,748 kg (3,854 lbs) and the Charger hits the scales at 1,823–1,980 kg (4,021–4,530 lbs). While lighter than the Dodge, the all-wheel drive Kia and VW models are nevertheless quite a bit heavier than the aforementioned mid-size front-drivers, giving the Stinger, at least (I've yet to test the Arteon, which is booked for late August), a more substantive and therefore premium feel.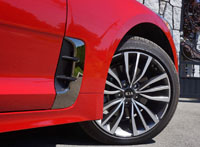 It really does reach to a higher level inside, with luxury brand details such as fabric-wrapped A, B and C roof pillars, a soft-touch dash with a really nicely finished padded instrument panel, plus soft door uppers front and back. All of the switchgear is nicely fitted with good damping, some even aluminized for an upscale look and impressive feel, while the perforated leather is certainly good for a base model from a volume brand. 
Now that I'm talking features, standard kit includes a heatable leather-wrapped flat-bottom sport steering wheel that's sized ideally for performance and feels good in the hands, plus a leather and chrome adorned shift knob (ditto), piano black interior trim, comfortable and supportive heated eight-way power-adjustable front seats with four-way powered lumbar, an auto-dimming rearview mirror, power-folding side mirrors, dual-zone automatic climate control, LED interior lighting, ambient mood lighting, and a 7.0-inch touchscreen that's really my only point of contention, being that it's a bit small and doesn't fit flush within its fixed upright mounting and therefore looks outdated.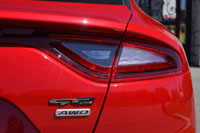 It incorporates the usual rearview camera, Apple CarPlay and Android Auto smartphone integration, and Kia's exclusive UVO Intelligence connected car services bundle, while the nine-speaker audio is pretty decent for a base system, even including standard satellite radio, and the wireless phone charger is a mighty impressive standard item too. 
A proximity-sensing key fob gets you inside and a silver metallic button ignites the engine, again all standard kit, while the electromechanical parking brake releases automatically. The aforementioned backup camera joins standard rear parking sensors and rear cross-traffic alert to make sure the Stinger's glittering paint remains scratch free, the latter item packaged together with standard blindspot detection. Once facing forward, simply choose the most fitting Drive Mode Select setting from Smart, Eco, Comfort, Sport or Custom, leave the eight-speed Sportmatic automatic transmission in Drive or slot the lever into manual mode to make the most of the standard steering wheel paddles, which is the best way to get all 255 horsepower and 260 lb-ft of torque out of the direct-injected turbocharged 2.0-litre four-cylinder. 
It's just the base powertrain, but thanks to 100-percent of its torque coming on at just 1,400 rpm, and all four wheels engaging the tarmac simultaneously the base Stinger pulls strongly from standstill right up to highway speeds and beyond. Its dual exhaust makes a nice rorty note, complementing the engine's sonorous tone, the Stinger providing an enjoyable audio track to go along with its rapid acceleration. Certainly the base engine isn't as intensely satisfying as the optional twin-turbo 3.3-litre V6, that beast making 365 horsepower and 376 lb-ft of torque (no optional powertrain is offered in the Arteon), but the turbo-four is a compromise I'd be happy to live with, especially when factoring in its much friendlier fuel economy of 11.1 L/100km in the city, 8.1 on the highway and 9.7 combined, compared to 13.6, 9.6 and 11.8 for the V6 respectively, both incidentally aided by auto start/stop technology.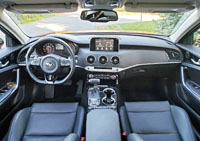 The last thing you'll be thinking about when coursing down a circuitous mountainside road is fuel efficiency, the Stinger's fully independent MacPherson strut front and multi-link rear suspension setup, with gas shocks and dynamic dampers, tautly sprung for a firm ride that grips like a sports car, yet despite this athleticism it's hardly punishing, the suspension plenty compliant. 
Braking is strong too, four-cylinder models utilizing 320 mm (12.6 in) vented discs up front and 314 mm (12.4 in) solid rotors in the rear, with the upgraded powerplant receiving a more robust Brembo braking system featuring 350 mm (13.8 in) vented discs in front and 340 mm (13.4 in) vented discs in back.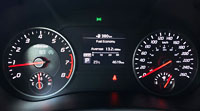 The Stinger's long, lean shape not only splits the air easily for maximizing high-speed aerodynamics, it also provides a decent amount of rear headroom (about three inches above my five-foot-eight frame) while lending itself nicely to non-traditional cargo access, at least for the mid-size sedan segment. Where the Optima and most everything else in the class use a conventional lidded trunk, the Stinger follows the raked liftback lead provided by four-door coupe forerunners such as Audi's A5/A7 Sportback, BMW's 4 Series, Porsche's Panamera, Aston Martin's Rapide, and back down to reality, the Arteon, this Kia's sizeable opening making the most from 660 litres (23.3 cu ft) of capacity behind the rear seats, or for that matter expanding on the rearmost volume to a total of 1,158 litres (40.9 cu ft) when those 60/40 split seatbacks are folded down.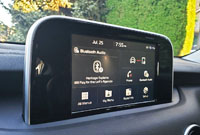 Yes, the Stinger is as practical to live with as it's great to look at, wonderful to drive, and impressively finished. I'll need to spend a week with the new Arteon to see if its higher price brings anything more than a German label, but its interior detailing will need to be mighty impressive to upstage this base Stinger GT-Line, and if recent experience with the Passat is anything to go by it may fall a bit short. With all options added the Arteon hits the road at just over $53k, which is more than even the highest priced GT Limited 20th Anniversary Edition of the Stinger that slots in at $51,495 and comes with special 19-inch alloy wheels, carbon-fibre inlays, red Nappa leather upholstery, plus red-stitched "Stinger" floor mats, whereas the mid-range GT starts at $44,995 and the regular GT Limited at $49,995 (check out the prices of all 2019 Stinger trims, packages and options at CarCostCanada, plus find out how you can save hundreds and even thousands through manufacturer rebates as well as dealer invoice pricing).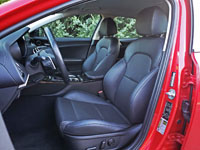 These latter two trims get unique 19-inch wheels, an upgraded suspension with Dynamic Stability Damping Control (DSDC), sound-reducing front side door glass, auto-dimming side mirrors, stainless steel door scuff plates, stainless steel sport pedals, carbon-fibre-like inlays (replacing the piano black interior trim), shift-by-wire transmission control (which replaces the base model's shift-by-cable system) a powered tilt and telescopic steering column, driver's side memory, an under-floor storage tray, a large "full-width" sunroof, a gesture-control powered liftgate, and a luggage net.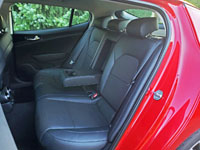 Lastly, the top-line GT Limited adds exclusive cornering headlamps, rain-sensing wipers, aluminum finish décor trim (in place of the carbon-fibre), a black headliner, a 7.0-inch Supervision LCD/TFT instrument cluster, a head-up display (HUD) unit, a HomeLink universal garage door opener, premium Nappa leather upholstery, ventilated front seats, heatable rear outboard seats, an upgraded driver's seat with a four-way "air cell" lumbar support system, power-adjustable bolsters, and a powered lower cushion extension, a one-inch larger 8.0-inch centre touchscreen (that should be standard) with a 360-degree surround camera monitoring system and navigation, a 15-speaker Harman Kardon audio upgrade, adaptive cruise control, autonomous emergency braking (that's normally standard), lane keeping assist, and driver attention alert.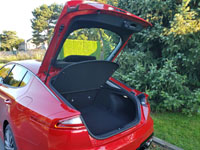 So there you have it, another great car from a brand that deserves much more respect and success than it gets. Year-over-year sales of the Stinger have dropped off a bit over the first half of 2019, down 14.38 percent with 750 units down Canadian roads, but it's getting pretty close to the Optima that's (yikes) down 44.67 percent over the same two quarters at 872 deliveries. In case you're wondering how it measures up to regular front-drive mid-size models, the Camry kills in this class with 8,586 unit sales over the same period (up 12.87 percent), while the Accord came in second with 5,837 deliveries (down 9.71 percent). As for the Arteon, it only found 184 customers so far this year, but it only went on sale this spring so we'll have to wait in order to find out how well it does. The Passat, incidentally, only sold 474 units through Q2, which put it down 75.55 percent year-over-year.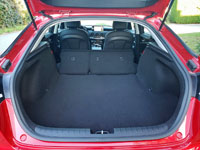 Of the 14 models competing in the mid-size class (Stinger and Arteon included, and Charger considered a full-size/large car), nine have lost ground, one hasn't been around long enough to quantify, and four have increased sales, while the Stinger's small drop in popularity is much less worrisome than most peers, and more resultant of the entire segment's downturn than disinterest in the car itself. I experienced just the opposite during my test week, with plenty of long smiling stares and positive nods as I drove by. The Stinger gets plenty of respect, and over the long haul should do a lot to raise Kia's overall brand image. If you're in the market for a great looking, sporty four-door with the practicality of a hatch, you should take a long look and a quick ride in the Kia Stinger.