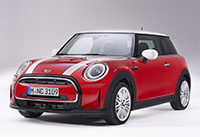 After almost eight years in its present form, Mini has simultaneously taken the wraps off a mid-cycle upgrade of its Hatch and Convertible models, and while both are still infused with brand identity that's unmistakable from any distance, significant changes have been made.
Following a trend that's laudable to some and lamentable to others, Mini's grille will grow significantly for 2022, but its visual presence will be less noticeable on more basic Cooper and Cooper S trims than on the sportiest John Cooper Works (JCW) version, the former receiving a large body-colour bumper section within, and the latter getting a fully blackened mesh opening, along with a much more aggressive lower front fascia in black as well.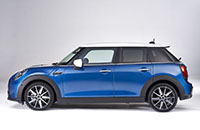 Another unorthodox move was to replace the classic circular fog lamps found on all previous generations with a set of vertical creases that draw nothing from this retro brand's past, these looking more like brake ducts than anything enlightening—the headlamps now integrate the fog lamps. The new JCW expands on the corner vent brake duct theme, and arguably looks better for it.
It's nevertheless unlikely Mini's risky new forward-thinking design language will be all that acceptable to long-time fans of the brand, despite a press release attesting to the new design's "purist look". Those two words are referring to a grille surround that's a bit closer to the original car's shape than anything offered since the brand's 2001 remake, but other than this loosely hexagonal borderline, the ovoid headlamp clusters to each side, and the car's curvy shape overall, very little pulls from Mini's storied past.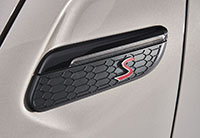 In fact, Mini's new front fascia may become just as polarizing as the elongated twin kidney concoction found on BMW's chunky new 3 and 4 Series models, which have caused a plethora of digital artists to fix a "problem" that hadn't existed since such renderings were only done with pencil and pastels on paper. Ugly might be too strong a word for such a cute and cuddly British brand, but it's difficult to fathom why the curators of this legendary marque allowed an overzealous design team to run roughshod over its past.
The difficulty with any retrospective model is the regular need to make updates in order to maintain a fresh, new look, as must be done with any vehicle, yet the inability to stray too far from the original inspiration's design character, which might run the risk of destroying the special charm, unique character, or je ne sais quoi of said model, tampering with the very essence of what it is. Multiply this issue by an entire brand and the problem gets exacerbated.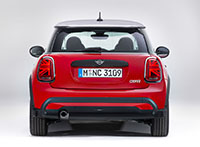 Up until this point, Mini has taken on this challenge admirably, expanding on an iconic British model that, dune buggy-style Mini Moke, Mini pickup truck, Marcos sports car and Wildgoose RV aside (the latter two only using the classic Mini as a donor model and produced by independent firms), was only initially offered as one single city car with varying lengths and rear window/door configurations (albeit under seven different brands with unique fascia treatments) throughout its forty-plus-year tenure (1959-2000).
As part of BMW's 1994 takeover of Rover group (formerly British Leyland) from a conglomerate partially owned by British Aerospace (BAe) and Honda (at that time the Rover brand was comprised of an assortment of rebadged Honda models, one of which, an Acura Legend renamed Sterling 800 Series, was sold here), the German automaker eventually discontinued the original Mini in October of 2000 (then in its Mk IV generation) and brought out the all-new (Mk I) model in 2001, as mentioned a moment ago, along with a wholly revitalized MINI brand (Mini initially became its own standalone brand in 1969).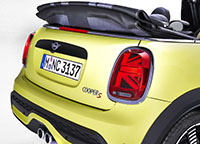 A base "One" trim was (and still is) the least expensive way to get into the Mini Hatch for the European market, while the Cooper and Cooper S arrived in 2001 as well, albeit globally. The performance-oriented JCW joined the family soon after, while the convertible was added for 2005, followed by the second-generation hatchback two years later, and the updated drop-top for 2009, one year after the extended-wheelbase Clubman arrived. Mini's subcompact SUV, the Countryman showed up in 2010, whereas the short-lived two-seat Mini Coupe arrived for 2011 and equally impractical Mini Roadster in 2012, both selling poorly and therefore killed off in 2015. The Countryman-based Paceman was only offered from 2013 to 2016, being discontinued just as the second-generation Countryman arrived for 2017.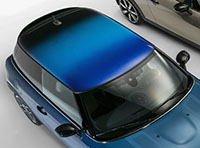 The considerably larger and more accommodating third-generation Mini Hatch arrived in 2013 for the 2014 model year, along with the somewhat controversial yet very practical five-door version, while the revised convertible joined the family in 2015, and a new Clubman, now with six conventional doors for true compact utility (the two in back hinged at each side), was made available for 2016, a year prior to the current Countryman.
While your mind might now be ablur after this quick rundown of the modern Mini brand's 20-year existence, there's a key reason for the historical reminder. Mini's caretakers have already proven to be quite daring with the brand's retro identity, but even so they haven't truly messed with the secret sauce that makes a Mini a Mini. A quick glance at today's 2021 model lineup and the brand's heritage is clear, but as already said its visual lineage appears somewhat muddled moving into 2022. This could either make or break a brand that hasn't exactly been tearing up the sales charts over the past decade.
Not to be confused with a true fourth-generation redesign, the 2022 model is only an extensive mid-cycle makeover. This said, despite its near eight-year tenure, most feel the current Mini Hatch is all it needs to be, and then some. Ask anyone to name a hot hatchback and the Mini name enters the conversation more often than not, especially if luxury is part of the equation. Such talk should ramp up this year, much thanks to the controversial new frontal design.
Where the front clip shows radical change, it's easier to see the 2022 model's third-generation roots from the side profile and rear design. The only update to the former are new front "side scuttle" fender garnishes that now feature thin LED turn signal light strips, whereas the car's rear design merely gets a restyled bumper cap minus the rear fog lights and reflectors, plus some other minor details. Up top, Mini now offers a Multitone Roof that uses a cool gradient effect to mix Soul Blue, Pearly Aqua and Jet Black.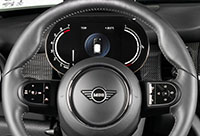 Moving inside, the only notable change is a new standard digital gauge cluster, as first seen on the electrified Mini Cooper SE and ultra-sporty John Cooper Works GP. The steering wheel framing those primary instruments is new too, now offering a heatable rim, while the centre air vents are now better integrated within the dash panel.
A new 8.8-inch infotainment display now comes standard across the line as well, complete with updated graphics, plus new and improved features, including satellite radio and Apple CarPlay, but Google Android phone users will need to rely on Mini's proprietary system as integration of this more popular smartphone is still not possible. Tech in mind, lane-departure warning will be standard, while the adaptive cruise control system will include stop-and-go functionality. Lastly, Mini has revised the cabin's ambient lighting system.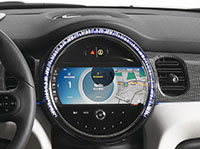 After a brief hiatus during the 2020 model year, Mini Canada smartly added its six-speed manual gearbox back to the 2021 3-Door, 5-Door and Convertible, and will continue to do so for 2022. This is important for such a performance-oriented brand that previously had up to 45 percent of its U.S. Cooper S 3-Door buyers opting for the DIY alternative, while its quick-shifting seven-speed double-clutch automatic with paddles remains optional.
Engine output remains 134 horsepower and 164 lb-ft of torque for the base Cooper's 1.5-litre turbocharged three-cylinder engine, while the Cooper S's 2.0-litre turbo-four continues to produce a rev-happy 189 horsepower and 207 lb-ft of torque. Likewise, the JCW's output remains an energetic 228 horsepower and 236 lb-ft, and the plug-in SE once again sports 181 horsepower and 199 lb-ft of torque.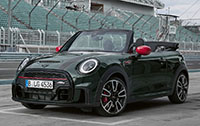 Pricing for the all-new 2022 Mini 3-Door, 5-Door and Convertible has yet to be announced for Canada, but when production begins in March, we can expect slight increases across the board due to the aforementioned upgrades to standard trims.
For those who'd rather buy a new 2021 Mini or possibly a 2020 model, take note the automaker is currently offering up to $1,000 in additional incentives for the former and $3,000 off the top of the latter, as per CarCostCanada's 2021 and 2020 Mini 3 Door Canada Prices pages; up to $1,250 or $2,500 off of 2021 or 2020 5-Door models; and $1,500 in incentives knocked off either 2021 or 2020 Mini Convertibles. CarCostCanada provides members with information about the latest manufacturer rebates, factory financing and leasing deals, and dealer invoice pricing that could save you thousands when negotiating. Make sure to find out how a membership can benefit you, and remember to download the free CarCostCanada app from the Google Play Store or Apple Store.
Story credits: Trevor Hofmann
Photo credits: Mini