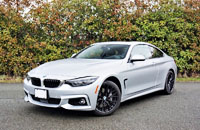 After doing an exhaustive preview of the 2021 G80 M3 Sedan and G82 M4 Coupe that introduced the brand's polarizing new bucktooth grille design, which BMW quickly followed up by revealing their near equally maligned regular 4 Series G22, G23 and G26 Coupe, Cabriolet and Gran Coupe five-door liftback, I thought it would be fitting to say so-long to the lovely 2013-2020 F32, F33 and F36 Coupe, Cabriolet and Gran Coupe 4 Series trio that most BMW fans have now grown even fonder of.
Unfortunately, I didn't have a 2020 Gran Coupe available for this review, so instead I'll point you back to a 2015 BMW 428i xDrive I previously reviewed, and on that note the two cars featured in this road test are actually 2019 models that fell between the cracks, so allow me some creative license as these two were not fundamentally changed from model years 2019 to 2020, and reviewing them now allows the opportunity to point out where aesthetic updates and trim modifications were made.
This last point is fairly easy, with the only changes made from 2019 to 2020 being colour options, the Coupe losing Glacier Silver and Melbourne Red metallics and thus reducing its exterior colour count to two standard solid shades and three metallic options. The same seven interior motifs are available, and there are no changes with its myriad option packages. The Cabriolet loses its alternative black mirror caps in base trim (at least from the factory) and drops the same two hues as the Coupe, but adds a new metallic called Sunset Orange, while swapping Tanzanite Blue for Tanzanite Blue II. Lastly, the Gran Coupe eliminates Glacier Silver too (it didn't have Melbourne Red), while adding Aventurine Red II Metallic, plus it trades the same two Tanzanite hues while swapping Frozen Silver for Frozen Dark Grey. And that's it.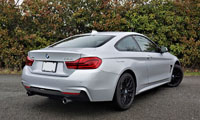 My two testers were painted in $895 optional Glacier Silver and Estoril Blue metallics, by the way, the latter getting plenty of looks with the top down thanks to beautifully contrasting Ivory White leather clad interior. It's hard to believe that BMW no longer offers three of its sportiest models in Germany's official racing livery, but the brand was never part of the silver arrows era anyway, its chosen colour in motorsport always being white with mostly blue accents. It nevertheless looks good in classic silver, especially with the blackened trim and wheels.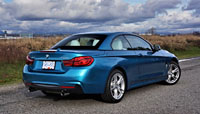 Both testers were near fully loaded, being 440i powered and xDrive controlled. Base 4 Series models come with the 430i powerplant, which denotes BMW's 2.0-litre turbo-four with 248 horsepower and 258 lb-ft of torque, resulting in lively performance albeit par for the course in this class, whereas 440i models receive the automaker's turbocharged 3.0-litre inline-six good for a much more spirited 326 horsepower and 332 lb-ft of torque. The only model available without all-wheel drive is the 440i Coupe, but a quick glance at the back of my tester reveals the BMW's "xDrive" emblem, which meant mine was not one of these rare rear-drive beasts.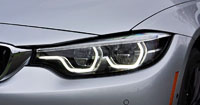 Much to my chagrin, BMW didn't include its wonderful six-speed manual in either car, although it is (was) available in the 440i Coupe (only). Was? Yes, this time of year you'll need to take whatever you can get, meaning snap up a rear- or all-wheel drive 440i Coupe with a manual if you can find one, because there are obviously no more factory orders for this now updated car, and only M4s will offer manuals hereafter.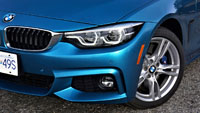 Alas, BMW has abandoned both the manual transmission and silver, no less at a time when we should all be considering investing in precious metals. What could be next? I'll point you to my exhaustive overview of the new M3 and M4 for some of those details, at which point you'll clearly appreciate that the German brand's twin-kidney grille remains at large for 2021, or rather larger than life, which, I reiterate, is a good reason any available 2020 models will be hot commodities right about now. Let's face it, while BMW deserves kudos for bravery, its significant stretch from conservatism hasn't been universally praised to say the least.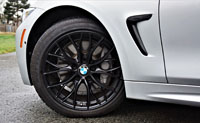 I, for one, happen to love these two cars' styling, and might even appreciate the outgoing Gran Coupe more. They're all elegantly balanced designs with classic BMW cues as well as more visual muscle than any predecessors, plus they combine the most impressively crafted interiors, highest levels of technology, and best overall performance offered in any non-M-branded compact BMW ahead of the new 2021 models.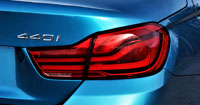 The 440i's cabin is at a level of quality and refinement above most everything in this class. Along with the expected soft-touch synthetic surfaces normally found in this segment, BMW covered the entire dash-top and door uppers of the Cabriolet in rich, high-quality French-stitched leather, while the door panels received gorgeous white diamond-pattern leather inserts. The Coupe was less opulently attired, preferring a sportier black on black interior with a regular pliable composite dash and a tighter diamond pattern for its leather door inserts. Either way, both 4 Series doors wore premium soft-touch surfaces right to their very bottoms.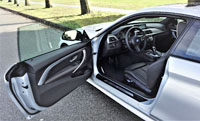 Both cars' seats were exquisitely detailed in perforated hides, the Coupe's even sporting contrasting light grey piping and stitching, whereas the Cabriolet's creamy leather was sewn together with black thread. Plenty of satin-finished aluminum and piano black lacquered trim highlighted key areas in both models, while the instrument panel, lower console and doors were enhanced with a tasteful array of glossy dark hardwood in the Cabriolet and ideally suited patterned aluminum inlays for the Coupe. The switchgear in both cabins was once again of the highest quality, BMW cutting zero corners in this respect.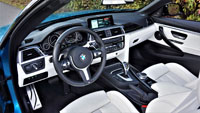 Moving up to 2021 4 Series models will allow for a fully digital primary gauge cluster, which for some will be a worthwhile expense, and while I've enjoyed playing around with such devices from other brands, I'd have no issue staying put with the outgoing 4's mostly analogue dials. They're classic BMW kit after all, with a small full-colour, high resolution multi-information display at centre, but all infotainment features, such as navigation mapping, audio details, phone queries, car setup functions, parking camera, etcetera are best done from the widescreen display atop the centre stack.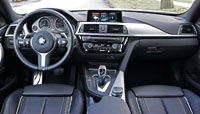 Again, there are more advanced infotainment systems in the industry, particularly in the new 4 Series, but this setup is easy on the eyes, fully featured and responds to inputs more than fast enough. I like BMW's tile layout that allows finger swiping from function to function or modulation from the console-mounted rotating iDrive controller and surround quick-access buttons. This is well sorted and should be easy for anyone to learn how to use, given some time and practice.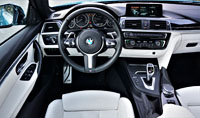 Tooling around town is a wholly different experience depending on which model you purchase. The 440i Cab made for a wonderful winter reprieve, almost causing me to feel as if summer was back and the good times of evening drinks on patio bistros were around the corner. Yes, that thought might seem masochistic to contemplate amid our current health crisis, but personal luxury cars like this 4 Series Coupe and Convertible are ideal for getting away from all the madness, whether during your daily commute or on a weekend retreat. The well-insulated retractable hard-top made it feel coupe-like as well, and it takes barely a moment to lower, plus can be done while on the move.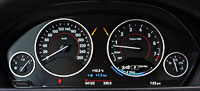 Getting off the line and ahead of packed traffic is no issue when the "440i" emblem is stamped on the rear deck lid, each car's ability to shoot forward from standstill smile inducing to say the least. Then again, the 430i Coupe doesn't give up much forward momentum, scooting from zero to 100 km/h in just 5.8 seconds compared to the all-wheel drive Coupe's 4.9 and rear-drive version's 5.1 seconds. Yes, four-wheel traction matters more than the extra 39 kilos of curb weight, but mass does cut into the 200-kilogram heavier Cabriolet's performance with less energetic times of 6.4 and 5.4 seconds for the 430i and 440i variants respectively. The Gran Coupe merely adds 0.1 seconds to each all-wheel drive Coupe sprint, resulting in 5.9 and 5.0 seconds from 430i to 440i. All 4 Series models are limited to a 210-km/h (130-mph) top speed.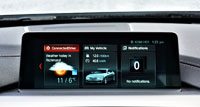 Likewise, I could feel the Cabriolet's heft in the corners, but not so much that it became unwieldy. In fact, if I had never driven the Coupe before I'd be wholly satisfied, as its handling is wonderfully predictable and oh-so capable when coursing through serpentine stretches at high speeds. The Coupe is just that much better, its lighter curb weight and stiffer body structure providing a more playful attitude that seems to always want to please.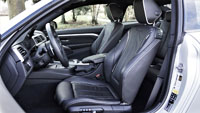 This side of an M4, the only way to make the 440i Coupe better would've been the six-speed manual, but the eight-speed auto was impressive as far as commuter transmissions go, shifting quickly in its sportiest mode, when the steering wheel-mounted paddles came into play, yet smooth all the time.
Likewise, both cars' suspensions soaked up road imperfections well, and never unsettled my forward trajectory, even when pushing hard over some poorly paved sections of curving backroad. They were a pleasure to drive around town too, their comfortable seats, both featuring extendable lower cushions, wonderfully supportive.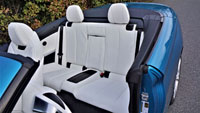 The Cabriolet is about as practical as this class gets in back, which isn't all that much, but the Coupe offers room enough for two adults and the Gran Coupe more so. The same goes for cargo space that ranges from 220 litres in the Cab to 445 litres in either hard-top car, while all cars get a 40/20/40 split-folding rear seat with a particularly wide and accommodating centre pass-through.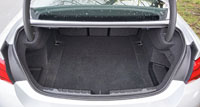 Now that I'm being pragmatic, fuel economy is actually quite good in all of the 4 Series models, the best being the base 430i Coupe and Grand Coupe that share a 10.2 L/100km city, 7.2 highway and 8.8 combined rating, whereas the 430i Cab is good for a claimed 10.6 city, 7.3 highway and 9.1 combined. The thriftiest six-cylinder 4 Series is the rear-drive automatic 440i Coupe at 11.2 L/100km in the city, 7.3 on the highway and 9.4 combined, followed by the both the 440i xDrive auto Coupe and Gran Coupe with ratings of 11.4 city, 7.6 highway and 9.7 combined. The 440i Cab achieves a respective 11.8, 7.9 and 10.0, and lastly the two manually-driven Coupes come in at 12.8, 8.8 and 11.0 for the rear-drive model and 13.0, 8.5 and 11.0 for the xDrive version. All require pricier premium fuel, but that's par for the course with German luxury vehicles.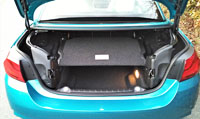 Now that I've lulled you to sleep, I should wake you up by mentioning that BMW is currently offering up to $10,500 in additional incentives for 2020 4 Series models, one of the most aggressive discounts I've ever seen offered by any manufacturer on any car, so you might want to head over to the CarCostCanada 2020 BMW 4 Series Canada Prices page to learn more. You can build each model right down to their 20-plus options and aforementioned colours, plus you can learn about any manufacturer leasing and financing deals, available rebates and dealer invoice pricing that will give you a major edge when negotiating your deal. Find out how the CarCostCanada system works, and make sure to download their free app so you can have all of this critical info with you when you're at the dealership.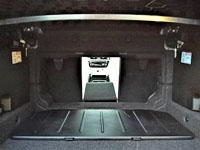 I can't look into the future to guess whether or not the new 2021 4 Series models will eventually be accepted by pre-owned BMW buyers in order to predict their future resale values, because it really will take some time for fans of the brand to make up their collective minds. I don't even want to think too far ahead regarding my own future tastes, but I can say for sure this most recent 4 Series design has weathered the test of time well. I see it as a future classic, and would be more inclined to pick one of these sure bets up instead of risking my investment on its unorthodox replacement. All I can say is, get one while you can.
Story and photos by Trevor Hofmann