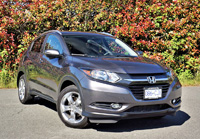 Two years ago Honda hadn't even staked their claim in the burgeoning subcompact SUV category, but after its first seven months of availability the HR-V shot right up to the top of its class in the Canadian market with 8,959 sales compared to the next-best Chevy Trax that had 12 months to achieve its 8,156-unit final tally.
What about 2016? With a full year under its belt the little Honda SUV became the only segment challenger to break five figures with final sales of 12,371 units compared to 9,354 deliveries from the the next-bestselling Mazda CX-3.
The subcompact SUV segment almost doubled in 2015, thanks to two additional models added alongside the HR-V and CX-3. The all-American Jeep Renegade and its Italian Fiat 500X cousin haven't fared as well as the two Japanese entries in Canada at least, ranking seventh and eighth respectively last year with sales of 3,962 and 766 units apiece, the third through sixth positions filled with the Trax (9,072), Mitsubishi RVR (6,196), Buick Encore (5,533), and Nissan Juke (4,442), with the final ninth spot in the category filled by Mini's (arguably premium-level) Countryman (694).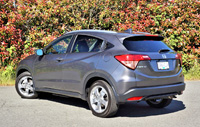 Interestingly, things are very different in the U.S. where the Renegade was number one last year with 106,606 deliveries, the HR-V number two with 82,041, Trax a close third with 79,016, Encore an even closer fourth with 78,565, Outlander Sport (RVR) a distant fifth with 33,067, Juke even further away with 19,577, CX-3 unfairly relegated to the lower ranks with just 18,557 (for some reason Mazda sells poorly in the States), the Countryman with 12,706, and the 500X still getting no respect with a mere 11,712 sales. The common denominator? The HR-V rocks both sales charts.
So how is it doing now? With five months of 2017 down the road, the HR-V is so far ahead in Canada it could get quite embarrassing for the others, thanks to 6,627 sales compared to 3,867 for the CX-3, 3,379 for the Encore (a mid-cycle update is boosting its sales), 2,787 for the Trax, 2,687 for the RVR (it's update wasn't so well received), 1,645 for the Renegade (up one position), 1,103 for the Juke, 773 for the 500X, 690 for the new Toyota CH-R (after just one month no less), 411 for the Countryman, and 191 for the new Nissan Qashqai (also after its first month).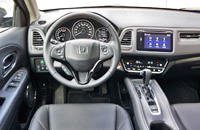 The two new entries make the subcompact SUV class 11 competitors deep, with the Ford EcoSport yet to make its North American debut. Consider for a moment that calendar year 2014 only found five in this category, while there were just three competing in 2011 and only two going head-to-head in 2010 (the Juke and RVR in case you were wondering). That a newcomer arrived on the scene and managed to steal most of the thunder is shocking, but it will all make sense to anyone who's lived with the amazingly practical little runabout.
We Canadians are particularly practical when it comes to buying small vehicles, which we do more often than our friends to the south. Next to big Ford Series trucks (that derive much of their sales from the commercial market), our bestselling car is Honda's Civic, which sold 64,552 units in 2016 and already found 30,450 buyers this year. The Honda CR-V fares well in the compact SUV segment too, in a constant battle with Toyota's RAV4 that sees one ahead of the other depending on the month (the RAV4 took top sales honours last year and is slightly ahead again now), while the subcompact Honda Fit hatchback was second-most popular in its class last year, although has experienced an uncharacteristic plunge to sixth over the first five months of 2017.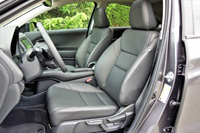 This must have something to do with its availability at the dealer level, because the current third-generation Fit (second in our market) is three years younger than the segment's long-in-tooth albeit bestselling Hyundai Accent, and by my experience remains one of the best in the class. On that note a mild refresh is expected later this year as a 2018 model, so it could be that Honda is slowly phasing out this 2017 version so that its dealers don't end up with too many in stock when the new one arrives.
Then again it could be this very HR-V that's cannibalizing the Fit's sales. As you may already know, the HR-V is based on the Fit and is therefore similarly sized and equally efficient in its packaging. It's quite a bit pricier with a base of $21,050 compared to $15,050, which puts it out of reach of price-sensitive first-time car buyers that normally shop in the subcompact car class, but some that come shopping for a Fit might very well be upsold to the HR-V. We'll just have to see how the Fit story pans out as the year unfolds, but either way the really big story will be the HR-V and how it continues to dominate its class.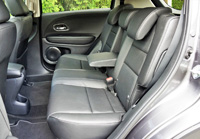 The HR-V rightly gets no significant changes for 2017, with only two items on the list. The first is the cancellation of the lovely Misty Green Pearl hue (a dark forest green) that coated the exterior of the 2016 HR-V AWD EX-L Navi I tested and reviewed last year (I reviewed the 2016 HR-V EX-2WD as well). Therefore, the only difference between this 2017 HR-V AWD EX-L Navi is its stealthy Modern Steel Metallic grey.
This means Honda now provides six exterior HR-V colours to choose from including this nice shade of grey, Crystal Black Pearl, White Orchid Pearl, Deep Ocean Pearl (a dark blue), Milano Red, and Mulberry Metallic (a dark aubergine purple).
The second change is another subtraction, the elimination of the six-speed manual on mid-grade EX trim. This might cause a small handful of HR-V fans to grimace, but if there were going to be a major outcry they wouldn't have done it. As it is, only the base LX model gets the wonderful DIY gearbox for 2017, all other trims making do with Honda's efficient continuously variable transmission (CVT).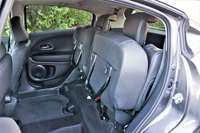 From the outside it's difficult to figure out exactly which trim level you're driving, mostly because the HR-V is so nicely featured in base trim. All come with the same sizeable 17-inch five-spoke alloys on 215/55 all-seasons, body-coloured side mirrors, and body-coloured rear rooftop spoiler, while the headlights are multi-reflector halogens and taillights filled with LEDs. Lastly, matte-finish black plastic cladding trims out the lower front fascia, wheel arch edges, side skirts, and the bottom half of the rear bumper in typical SUV fashion. The move up to EX adds circular fog lamps up front and LED turn signals within the side mirror housings, while the top-line EX-L Navi gets a set of silver roof rails to make it stand out.
I could see would-be buyers loving or loathing the HR-V's styling, a theme that I've witnessed firsthand while living with Honda's latest designs. People are either enamoured with the modern, edgy, origami look or they won't be caught dead in one, which is certainly a different strategy than the mainstream volume brand has played for most of its existence. I've always loved Honda's engineering, but been lulled to sleep by its styling, so I can hardly complain after they've spiced things up. I can't say I'm in the enamoured camp, but I'm hardly frothing at the mouth in rabid rage either.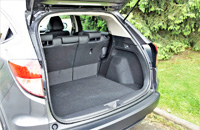 For me the optimal looker in the segment is Mazda's CX-3. It's one of the best to drive too, but if forced to decide between styling and performance or overall practicality, I'd probably lean towards the latter.
I'll get into what makes the HR-V best in class in my upcoming road test review, at which point I'll run over more of its standard and optional features, performance, fuel economy, etcetera. As good as it is the HR-V is not perfect, so I'll dissect these issues at length as well. Make sure to come back for all the sordid details soon…