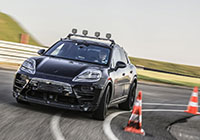 After Porsche's intelligent choice to enter the electric vehicle market with a practical four-door coupe, and following the Taycan up with an even roomier Cross Turismo version, which even offers crossover SUV-like design elements and an off-road package, the performance-oriented brand will soon be anteing up with a full EV version of its best-selling Macan compact luxury SUV, and thanks to some early photos and info, we're starting to catch a glimpse of what we can expect.
The all-electric Macan, as Porsche refers to it, is planned for a 2023 launch, which allows plenty of time to get it right. So far the German brand has been digitally and physically testing it on the proving grounds of its Weissach Development Centre, but now it's about to enter the public domain wearing camouflage to hide its second-gen Macan body panels.
"Testing in a real-life environment is now getting underway – one of the most important milestones in the development process," said Michael Steiner, Member of the Executive Board, Research and Development, at Porsche AG.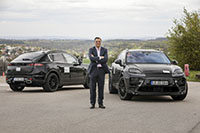 Porsche is targeting 3,000,000 km of global testing in all types of conditions before the new Macan EV arrives in dealerships, and that doesn't even include the "countless" virtual km the model has accumulated before and since the prototypes shown in the accompanying photos started hot lapping the proving ground's track.
Developing the electric SUV digitally saves money and time, plus of course it minimizes environmental impacts. Instead of running actual prototypes, a digital computational model replicates the types of true-to-life "properties, systems and power units of a vehicle to a high degree of accuracy," stated a Porsche press release. Porsche utilized 20 digital prototypes to simulate various development categories, such as aerodynamics, energy management, operation and acoustics.
"We regularly collate the data from the various departments and use it to build up a complete, virtual vehicle that is as detailed as possible," commented Andreas Huber, manager for digital prototypes at Porsche, and one of the first aerodynamics engineers to ever work with digital prototypes. "This allows previously undiscovered design conflicts to be swiftly identified and resolved."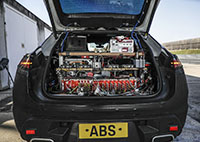 Lowering aerodynamic drag will help the all-electric Macan achieve its EV range targets. Even small flow enhancements can make a big difference.
"We started with a flow-around model when the project first started about four years ago," said Thomas Wiegand, Director of aerodynamics development.
Porsche's team of engineers use simulations to fine-tune every surface of the SUV, with particular attention paid to the various air ducts used for cooling. These calculations help the engineering team arrange each component to optimize efficiencies, while also providing the necessary data used for estimating variances in real-world temperatures. In fact, Porsche claims the new testing procedures allow for a very precise simulation of both aerodynamics and thermodynamics.
"The digital world is indispensable to the development of the all-electric Macan," continued Wiegand.
Back to air ducts and cooling, the Macan EV's motive electric system incorporates a totally different cooling and temperature control concept than the conventionally-powered version of the SUV. To clarify, the various internal combustion engines in the regular Macan need 90- to 120-degree (Celsius) temperature range, while the new electrically-powered model's power unit electronics and high-voltage battery require a temperature window between 20 and 70 degrees.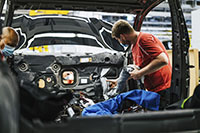 Also unique to the EV, where a combustion engine might increase its temperature when starting and stopping in heavy traffic, a battery-powered vehicle requires the most cooling during high-power charging, especially in warm weather. Porsche is overcoming this problem by calculating and digitally optimizing "position, flow and temperature" with the same virtual prototypes noted earlier.
The use of virtual prototypes can start early in a vehicle's developmental stages. Porsche has created a wholly new driver interface for its second-generation Macan, which of course features a revised driver display. Once ready for testing, Porsche brought it to life in a "seat box" capable of simulating the driving environment.
"Simulation allows us to assess displays, operating procedures and the changing influences during a journey from the driver's point of view," says Fabian Klausmann of the Driver Experience development department. "Here, the 'test drivers' are not just the specialists themselves but also non-experts. This allows all interaction between driver and vehicle to be studied down to the last detail, enabling selective optimization even before the first physical cockpit has been built."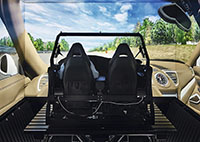 The first physical Macan EV prototypes were created out of the information garnered from the digital prototypes, at which point those running examples provided yet more data back to the digital prototypes. This allowed Porsche's engineers to continually update both digital and physical prototypes, refining each element of the SUV along the way.
"Endurance testing on closed-off testing facilities and public roads in real-life conditions is still indispensable to ensure that the vehicle structure, operational stability and reliability of hardware, software and all functions meet our high-quality standards," added Steiner.
The all-electric Macan continues to undergo a demanding test program, in which it endures climate extremes and all types of topographical conditions. This includes the real-world charging and conditioning of its high-voltage battery, with a focus on everyday reliability plus segment-leading performance.
"Like the Taycan, the all-electric Macan, with its 800-volt architecture, will offer typical Porsche E-Performance," continued Steiner, citing development goals like the model's long-distance range, high-performance fast charging, and targeted best-in-class performance. "The all-electric Macan will be the sportiest model in its segment."
The Macan EV must be as efficient as possible, after all, which is why it will be first in Porsche's lineup to utilize the new Premium Platform Electric (PPE) architecture. Nevertheless, being that most Macan buyers will continue choosing a conventional internal combustion engine over the electric alternative for the time being, especially in markets where consumers aren't penalized for doing so, gasoline-powered models will continue.
"In Europe, demand for electric vehicles continues to rise, but the pace of change varies considerably across the world," said Steiner. "That's why we're going to launch another attractive conventionally-powered successor to the current Macan in the course of 2021."
A new second-generation Macan will be launched later this year, with a full assortment of gasoline-powered engines to choose from. The Macan EV will follow, but only after its digital and physical prototypes have accumulated millions of km in tests.
Until then, the current 2021 Macan starts at $57,800 and can be had with factory leasing and financing rates from zero percent. Make sure to check out every available trim, configure the ones you're interested in with every option and colour, and then use the CarCostCanada system to maximize your savings via dealer invoice pricing, which can save you thousands when negotiating your best deal. Find out how the CarCostCanada system works, and be sure to download the free CarCostCanada app at the Apple Store or Google Play Store too, so you can have all of their money-saving info at your fingertips when you need it most.
Story credits: Trevor Hofmann
Photo credits: Porsche