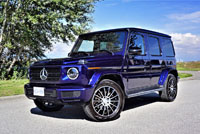 Icons can be a blessing and a curse, as so many auto manufacturers have learned. From Volkswagen's rear engine, rear-drive Beetle that was reincarnated as the front-engine, front-drive New Beetle and saw reasonable short-term success from mostly gender-specific non-enthusiasts, and British Leyland's Mini that eventually became BMW's entry-level Mini brand, even incorporating a subcompact SUV and accepted by regular consumers and diehard petrolheads alike, to Ford's Mustang that, after going through some dark years is once again the quintessential muscle car, and Porsche's 911 that has quite possibly been the best managed icon of all, gracefully transitioning through the decades with its only blight being the somewhat awkward looking 1998–2005 996 variant.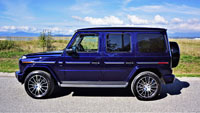 That last example shows how important it is not to mess with the secret sauce that makes an icon iconic. In Porsche's case it came down to replacing the 911's 34 years of circular headlamps with Boxster/RSK-inspired teardrops, which, along with the demise of the air-cooled flat-six and a totally revamped interior, caused near "New Coke" levels of outrage.
Land Rover's Defender 90 and 110 fall into iconic territory as well, which is why many have criticized the British brand's entirely new Defender, that shares no similarities with its predecessor. Like Ford's Bronco, the Defender has been gone from the market for long enough that enthusiasts may not only allow it to live, but might possibly become its defenders (sorry for the pun). This said, Mercedes doesn't have to worry about such issues with respect to its new second-generation G-Class, because no one will mistake this SUV for anything but the real deal.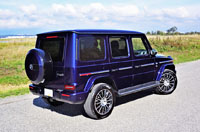 Like anything, whether you love it or loath it is personal. I happen to love it. I'm more of a classic Geländewagen fan, mind you, but only because it can be had with a fuel-saving, torque-rich diesel, it wouldn't be worth crying over if scratched when out in the woods, and it falls within the realm of possibilities with respect to my personal budget, but 4×4 capability aside, the recently updated G 550 I'm reviewing here has very little in common with the original civilian 460 or military-spec 461 that arrived in 1979, or for that matter those made in the '80s that added a four-door option along with an automatic transmission, plus more comfortable Mercedes sedan seats, air conditioning, power windows, luxury trimmings, and much, much more. In fact, this new W463 is monumentally improved over first-generation examples I tested just a few years back, even if those less familiar with this SUV won't notice its many visual updates.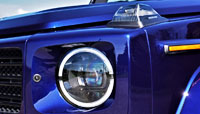 The new second-gen G-Class launched in 2018 as a 2019 model, in both G 550 and sportier AMG G 63 trims. The more trail-spec'd 2017-2018 G 550 4×4 Squared and the even more performance-oriented 2016-2018 AMG G 65 have yet to appear in this new generation, nor has the outrageous six-wheel variant, so we'll just have to wait and see if Mercedes wants to take this latest version to similarly extreme levels. Updates include many new body panels, completely fresh lighting designs (that most notably don't deviate too far from the original), and trim changes all around. The SUV's boxy, utilitarian shape remains intact, which means its numerous fans remain faithful.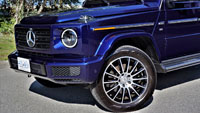 Unlike the exterior design that only appears different to the trained eye, the renewed G-Class is dramatically redesigned inside. It now incorporates the level of refinement and jewel-like finishings found in Mercedes' other offerings, not to mention renewed electronic interfaces that completely change the cockpit's look and usability. On that last note, Mercedes installed its latest MBUX digital instrument cluster/infotainment touchscreen design that houses twin 12.3-inch displays behind one long, cool, sheet of transparent glass-like surfacing.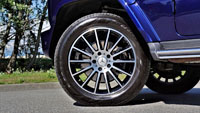 The left display isn't touch-capacitive, but amongst other switchgear it's controlled by a micro-pad on the left steering wheel spoke, just like the infotainment system's otherwise touch-sensitive screen can be actuated via the usual fingertip-activated palm rest/scrolling wheel combination as well as an identical Blackberry Trackpad-like controller on the right-side steering wheel spoke. It all works brilliantly, making this one of my favourite multi-information/infotainment system setups, which incidentally comes filled with all the functions expected in this class.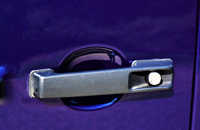 Most other buttons and switches are made from satin-finish or knurled aluminum for a truly upscale environment, which as noted earlier is nothing new for Mercedes, but some of these details majorly upgrade the G 550. Knurled metal can be found elsewhere in the cabin, as can plenty of additional satin-finish aluminum, the beautifully drilled Burmester surround sound speaker grilles amongst the nicest I've seen, while gorgeous open-pore hardwood envelopes the primary instrument/infotainment binnacle as well as the lower console surface and door armrest trim.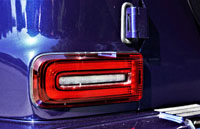 Some harder plastics exist, but I wouldn't sound an alarm for centre console side panels that don't quite measure up to pricey expectations, especially when the door panel and seat upholstery leatherwork is so rich, supple and finely detailed. My tester wore a lovely chocolate brown hue that worked well against its electrifying blue exterior paint, the combination doing a great job of pulling off bold and daring while coming across almost conservative, if that's even possible.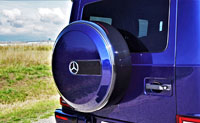 The driver's seat has excellent side bolsters and most of the adjustments I'd want if purchasing as an everyday commuter, only missing an extendable thigh support. This said the static lower cushion cupped nicely below my knees, which while potentially problematic for shorter drivers was nice and comfortable for me. Mercedes makes no such mistakes with its lumbar support, however, which is four-way powered and therefore should be a perfect fit for most body types. The G's tilt and telescopic steering column provided more than enough fore and aft adjustability too, leaving me with a great driving position in spite of my shorter-torso, longer-legged body.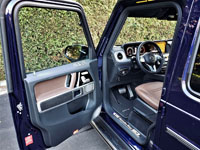 Mercedes has importantly added much more rear legroom behind the G's front seats, so that even tall rear passengers can stretch out comfortably. In addition, the upgraded back seats are almost as supportive as those up front, with those sitting next to the window ultra-easy on the backside. The centre position is best left for smaller folks, with anyone placed there crowding all three rear passengers. Such is the reality with an SUV designed for negotiating tightly treed trails, or narrow rocky crevices, depending on where you're tackling the wild. Let's not forget, especially this time of year, that the G-Class was designed for military and rescue purposes first and foremost, and even put into service by our Canadian armed forces.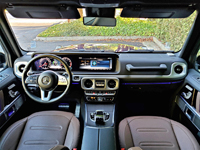 Before anyone starts complaining about taxpayer dollars funding six-figure SUVs for our military elite, CAF-spec'd models are utilitarian at best, and don't cost anywhere near a 2020 G 550's base price of $147,900 plus freight and fees. On this note, CarCostCanada is currently reporting factory leasing and financing rates from zero-percent, which can certainly go a long way to making a new G-Class affordable. The zero-interest rate deal appears to apply to the $195,900 G 63 AMG too, which is a lot of paper for Mercedes to carry.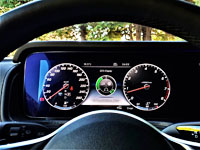 This is a good time to point out that CarCostCanada also provides Canadian consumers with information about manufacturer rebates, when available, as well as dealer invoice pricing that can give you a significant edge when negotiating on any new vehicle. Find out more about how the CarCostCanada system works so you can take advantage of the savings that could put thousands back into your pocket, and while you're at it, download their free smartphone app from the Google Play Store or Apple Store.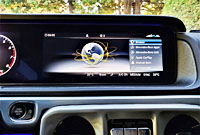 There's no need to spend all those savings on aftermarket 4×4 gear if you're at the wheel of a G 550, as this ute is about as capable off-road as anything on the market. I've had plenty of fun guiding this tank of an SUV into and out of otherwise unsavoury situations over the decades, including swampy marshes, even swampier mud holes, fast-running creeks, loose rocky embankments, solid rock abutments, and more, and can attest to its unwavering abilities. This said I wasn't willing to risk damaging my G 550 tester's stylish set of 14-spoke alloy wheels on hardly off-road spec 275/50 Pirelli Scorpion Zero tires, at least anywhere near my usual 4×4 playgrounds. This one was set up for the street, where most G-Class owners will spend the majority of their driving time.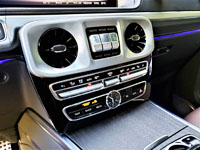 Even with these lower-profile performance tires, the G 550 rides sublimely. Really, those who think truck-based SUVs are less refined than their car-based unibody alternatives need to spend some time in a new G-Class, because its tight body structure, rigid frame and ample suspension travel result in one very comfortable riding utility. I found it ideal for city traffic, its suspension reducing deep ruts, bridge expansion joints and other pavement imperfections to minor intrusions while its towering height allowed for superb visibility all-round.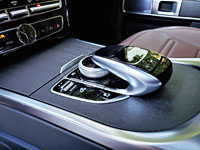 The G 550 was equally adept on the open highway, and while I never tested its 7,000-pound trailer rating I have no doubt it's up to the task, especially considering its 2,650-kilo (5,845-lb) curb weight. That heft adds to its ride quality while keeping it planted nicely in its lane at high-speed, not even allowing sharp wind gusts to push its slab-sided body around. It performs well through curves too, those aforementioned Pirellis providing a nice, wide contact patch for what would've been surprisingly adept manoeuvrability if I hadn't already experienced just how capable the G-Class can be on the road. I'd previously experienced an AMG-tuned G 63 on California's circuitous coastal highway system, not to mention the fabulous Laguna Seca racetrack, so believe me when I tell you that this SUV is much more fun to drive on pavement than its brick-like profile makes one assume, although arriving at the famed downward spiralling Corkscrew turn from such great heights is akin to plunging down the initial drop on Vancouver's Playland 'Coaster (or, I can imagine, while riding the even larger classic wooden Wilde Beast at Canada's Wonderland—or the Toronto-based theme park's 16 other roller coasters). The G 550 won't deliver the same handling agility as the AMG version, but it's more than capable through the corners, while its braking is impressive as well.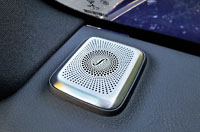 Stopping power is critical in such a heavy SUV, particularly one that can get up to speed so quickly. While the 416-horsepower G 550 can't sprint from zero to 100 km/h in the 577-hp G 63's 4.5-second time frame, it is capable of a relatively quick 5.9 seconds, all thanks to a 4.0-litre twin-turbocharged V8 capable of 450 lb-ft of torque and a quick-shifting eight-speed automatic sending power down to all four wheels, not to mention a really reactive Sport mode.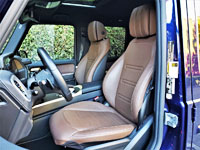 This is where it might even be too jarring for some peoples' tastes, the G 550's snap off the line so responsive that the backside of my head met up with the comfortably padded headrest more abruptly than expected, albeit only when slamming right foot to throttle in Sport mode. I tried adjusting this more aggressive driving style by delicately feathering the go-pedal during quick takeoffs, but alternatively found it was easier to maintain a smoother response while still being fast after selecting the SUV's Eco setting, and trust me it was still plenty quick in this more environmentally sensitive setup.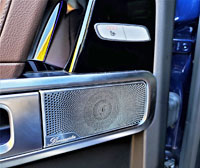 Going green in mind, there's really no way to get past the G 550's previously mentioned mass and just-noted power, resulting in a Transport Canada fuel economy rating of 18.0 L/100km in the city, 14.1 on the highway, and 16.3 combined. This is no worse than many other full-size, V8-powered SUVs, nor is its thirst for pricier premium fuel, but there's a reason military-spec models still come with turbo-diesel powertrains.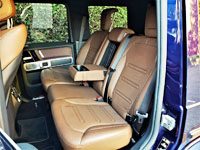 Just a side note for diesel-lovers like me, earlier examples came with Rudolf's highly efficient, torque-rich creation, and while kind of expensive for decades-old 4x4s, they're reasonable considering their cult-like collector status, ultimately dependable service and off-road capability. This is where I would personally look for a future G wagon, because it's possible to get into an early '80s two-door 230 GE or 280 GE in the mid-$20k range. I'd prefer one of the 5-door LWB station wagons, but take heed even older version will likely sell for more than $30k, with really nice ones sporting the larger 300 GD engine going for more than $40k. Do some searching and you'll quickly find more advanced V8-powered G's from the early 2000s for similar prices, even some AMGs, but you'll need a thick wallet to keep these fancy beasts on the road, as their reliability is not as bulletproof as the earlier diesels, and they require sophisticated diagnostic equipment to source problems.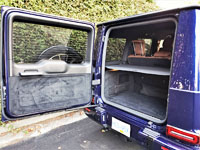 Now that I'm talking practical issues, all G-Class models come up a bit short on cargo space when compared to full-size American alternatives like Cadillac's Escalade, Lincoln's Navigator or their less luxurious volume-branded counterparts. G's fare better when put up against similarly equipped premium Europeans, however, with the 1,079-litre (38.1 cu-ft) luggage area behind my tester's rear seats a significant 178 litres (6.3 cu ft) more accommodating than the full-size Range Rover's dedicated gear-toting maximum, and both SUV's top load-carrying capacity identical at 1,942 litres (68.6 cu ft). I certainly could live with that.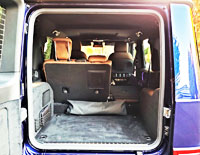 In the end there's not much I can complain about with Mercedes' new G-Class update. Sure, I was initially a bit miffed at the smallish powered glass sunroof overhead, at least in these days of expansive panoramic light emitters, but in truth I could care less if there were no sunroof at all, and a larger one would likely weaken the SUV's body structure and potentially crack under pressure. I would've appreciated a wireless phone charger, mind you, and would install one if these were my long-term ride.
I'm also hoping to enjoy future forays into the wild green (and brown) yonder in a modernized gen-2 G 550 4×4², previous examples of which incorporated portal axles like Mercedes' outrageously capable Unimogs, but in most every other respect I'm over the moon about this impeccably crafted luxury ute, and I'm especially grateful that Mercedes stayed true to its iconic 4×4 roots. This, to me, is the ultimate off-roader, and I'd purchase one today if money were no object.
Story and photos: Trevor Hofmann