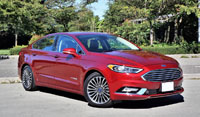 As nice as the 2018 Fusion Hybrid Titanium is to look at, and as enjoyable it is to live with, we'd better deal with the gargantuan elephant in the room before delving into any details. 
As most will already know, earlier this year Ford announced that all of its cars except for the legendary Mustang and a new compact crossover wagon dubbed Focus Active will be cancelled in North American markets by 2020, which means the car I'm reviewing right now is living out the rest of its life on borrowed time.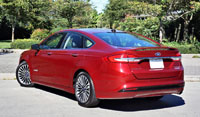 Whether or not losing its substantial market share in the subcompact, compact and mid-size classes is a good idea is a monologue probably best left for another time, and to be fair none of us on the outside can truly know what's best for the Dearborn-based automaker, so any criticism about such a seismic shift in product offerings wouldn't be worth mentioning. 
Facts are facts, however, and Ford will be giving up third place in the mid-size segment in the Canadian market and fourth in the U.S., with the Fusion's 2017 totals being 9,736 and 209,623 respectively. While selling hundreds of thousands of any model might initially sound great, it's also important to point out that 2016 to 2017 year-over-year Fusion sales plummeted by 32.5 percent in Canada and 21.1 percent in the States, while the Canadian deliveries have dropped by 51.6 percent since the Fusion's high five years ago in 2013, while U.S. popularity has contracted by 31.7 percent since that market's high in 2014. This of course has much to do with the rise in popularity of SUVs and simultaneously shrinking car market, but nevertheless some competitors haven't fallen as far.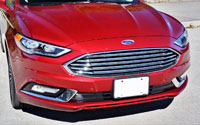 Now matter how you slice it losing the Fusion is a shame (particularly in Hybrid, Energi and Sport trims), as it is to say goodbye to the fun little Fiesta (especially in ST guise), and the once very popular Focus (which finally gets an update for 2019, and ditto re the ST and RS). This said I won't miss the aging C-Max or the equally dated Taurus, although the new Lincoln Continental that's based on the latter is extremely good and will be a loss to the value-oriented luxury sector, while the MKZ is pretty good too, especially in Hybrid trim. I'll soon be publishing reviews of some of the above, so stay tuned as they remain worthy contenders that deserve your attention.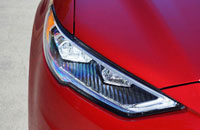 Such is the case for this 2018 Fusion Hybrid Titanium. Ford gave the entire Fusion line a mid-cycle makeover last year and I really like the changes made, especially the grille that looks more like the Mustang and sporty Focus ST's design and less like a ripped off Aston Martin. Ford added some shape to the headlamps and modified the lower front fascia as well, while the strip of chrome trim spanning the rear trunk lid and striking through each reworked taillight totally changes the look of the car's rear end. They've gone from a focus on sporty to classy, while once again creating a more original look. All round, the visual changes are good.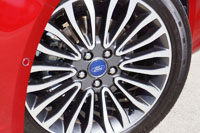 Like with most refreshes, changes to the Fusion's interior weren't so dramatic. The most notable update would be to the lower centre console that swapped out the old shift lever for a much more modern and up-to-date rotating gear selector, this even rimmed in stylish knurled metal edging for a premium appearance and impressively substantial high-quality feel. As far as unconventional transmission controllers go, I prefer this dial design much more than others, including Lincoln's heritage-inspired pushbutton layout. It's simply a more natural progression, and intuitively falls to hand.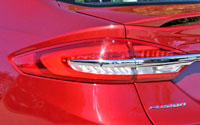 As with the previous Fusion, this renewed version is nicely finished with good quality materials, especially in Titanium trim that's near top-of-the-line for the Hybrid (top-tier Platinum is downright ritzy). There are plenty of soft-touch surfaces, plush leathers, metallic accents and high-quality switchgear. 
Specifically, Specifically, along with the dash top, door uppers, inserts and armrests, Ford covers the sides of the centre stack and lower console in high-grade padded pliable plastic, even wrapping the soft stuff around the backsides of the centre stack buttresses. The quality of the centre stack and lower console surfacing is excellent too, and much denser than most others in this class. The same can't be said for the solidity of the metallic trim surfacing, but still it looks very nice and is well put together. Where this car differentiates from its Lincoln counterpart is in the hard plastic used for the glove box lid and much of the door panels, but like the MKZ its graphic interfaces are superb.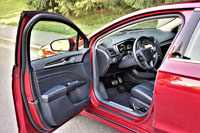 This latter attribute has been a Ford strongpoint for years, the automaker leading most rivals in infotainment thanks to money well invested in its much-lauded Sync interface, this latest Sync 3 design one of the best in the industry. Graphically its modern and attractive, while more so it executes functions quickly, is easy to figure out, can be used with tablet-style gesture controls including tap, pinch and swipe, and comes filled with the types of features most users want, such as Apple CarPlay, Android Auto, all the usual climate and audio controls, apps galore, plus more.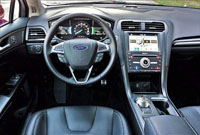 Ford improved the Fusion's convenience and safety offering by making some of the latest advanced driver assistance systems (ADAS) available prior to last year's mid-cycle update, such as automatic high beams, lane keeping assist, and blindspot monitoring with rear cross-traffic alert, all available on the 2018 model when adding the $1,950 Driver Assist Package that also includes rain-sensing wipers, a heatable steering wheel, and Sync Connect. Of note, all of these systems and more come standard as part of a suite of ADAS features dubbed Ford Co-Pilot360 for the 2019 Fusion, which also gets a mild restyle. Back to 2018, adaptive cruise control with stop-and-go, which also includes pre-collision assist with pedestrian detection, can be chosen separately for another $1,500, as can semi-autonomous park assist for an additional $600, while inflatable rear seatbelts improve rear passenger safety for $250.
Incidentally, all of the pricing shared in this review, including the 2018 Fusion Hybrid S model's $29,588 base price, can be found at CarCostCanada.com, as can dealer invoice pricing (yes, the actual cost the dealer pays) and key information about rebates that could save you a lot of money at purchase.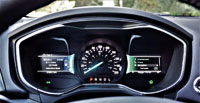 Before getting too far ahead of myself, standard features with the $34,988 Fusion Hybrid Titanium (currently offered with a $1,500 delivery allowance to help offset the $1,750 freight fee, plus a $3,737 as-tested Ford Employee Pricing Adjustment) include 18-inch machine-finished alloys, LED headlamps with LED signatures, LED fog lamps, LED taillights, extra chrome trim, a rear spoiler, remote engine start, Ford's exclusive SecuriCode keyless entry keypad, proximity-sensing access with pushbutton ignition, ambient interior lighting, aluminum sport pedals, an electromechanical parking brake, auto-dimming rearview and driver's side mirrors, a leather-wrapped multifunction steering wheel, two 4.2-inch colour multi-information displays within the primary instrument cluster, heatable 10-way powered leather sport seats with two-way driver's memory, dual-zone auto climate control, a rearview camera, 12-speaker Sony audio with satellite and HD radio, a household-style 110-volt powerpoint, rear parking sensors, a capless fuel filler, individual tire pressure monitoring, Ford's MyKey system, SOS Post-Crash Alert, all the usual active and passive safety features including dual front knee blockers, and more.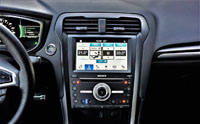 Ford offers the no-cost choice of Ebony black or Medium Soft Ceramic cream/beige interiors as well as seven base colours plus three optional hues, my tester finished in $450 Ruby Red over Ebony, while additional options include voice activated navigation for $800, three-way cooled front seats for $528, a powered moonroof with a garage door opener for $1,250, etcetera.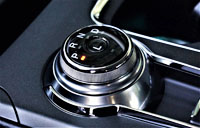 Where some other Fusion models are focused more on performance, Sport trim immediately coming to mind, the Hybrid Titanium is more about smooth, refined comfort. Truly the ride is sublime and eCVT automatic transmission is wonderfully linear in operation, both promoting a more relaxed driving style. That's not to say it won't move off the line quickly when prodded, its 2.0-litre Atkinson-cycle four-cylinder and electric motor combo good for a reasonable 188 net horsepower and 177 lb-ft of torque resulting in a zero to 100km/h run of about nine seconds. It'll push through corners adeptly too, the Hybrid actually feeling quite sporty when putting your foot into it, but that's clearly not its priority, while if you don't try to extract everything from the throttle and push the envelope amid curves you'll likely never know it has any go-fast performance capabilities hidden deep within. Therefore, other than for testing purposes, I drove it like a grandpa on his way to church (not late for church, mind you) and thoroughly enjoyed a leisurely week, always comfortable in its extremely supportive driver's seat, and fully appreciative of the laid back state this car put me in.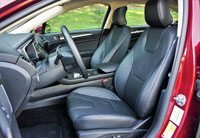 I was also appreciative of the $8 in fuel I used all week, and it wasn't due to a lack of driving. The Fusion Hybrid's claimed Transport Canada rating is a very stingy 5.5 L/100km city, 5.6 highway and 5.6 combined, which is shockingly good considering its size, mass and luxury equipment load. Factor in fuel costs that float around the mid-$1.40 to $1.50 range in Vancouver, which are highest in our history, and the Fusion Hybrid is more relevant today than ever. I only hope Ford applies this technology to its upcoming Focus Active and some of its SUVs, as it can really make a difference to the bank balance.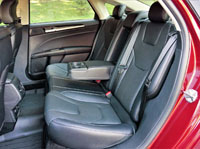 The Fusion's cabin is slightly smaller than some of its more recently updated Japanese competitors, particularly in the rear, but it should be large enough for most body types and I found it thoroughly comfortable from front to back. Its cargo capacity is limited somewhat too, due to the lithium-ion motive battery encroaching on trunk space. Ford doesn't try to hide this issue, the battery pack jutting up to partially block some of the 60/40 split rear seatback's passageway, but some capability of loading in long items is appreciated just the same. This said at 340 litres (12.0 cubic feet) it holds more volume than some competitors, but those considering a Hybrid over a conventionally powered Fusion might want to consider life with a 113-litre (4.0 cubic-foot) decrease in golf bag hauling capability.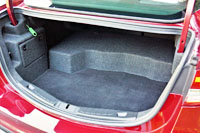 This and its declared demise are the only two knocks I have against the 2018 Fusion Hybrid Titanium. It's a handsome, well built, comfortable, amply featured, smooth riding, ultra efficient mid-size sedan that deserves its third-place Canadian standing, making it all the more disheartening that its end is near. Being that it won't be collectable after three or so years (or ever), you'll need to factor its cancellation into its resale value, which will most likely negatively affect your overall cost of ownership. Then again the car represents good initial value, which could alleviate some of the financial pain. In other words, if you've got your heart set on a new Fusion, bargain hard and voice concerns about its cancellation during negotiations. I think your local Ford retailer will be more than happy to give you a very good deal on what is essentially a very good car.