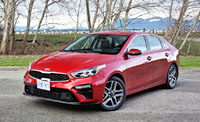 The redesigned 2019 Forte is one handsome looking compact sedan, with clean, simple, modern lines that, while new and fresh, might appeal more to a conservative buyer than something like the avant-garde Honda Civic or Toyota's visually complex 2020 Corolla. 
Where both the Civic and Corolla succeed for being very good cars wearing extremely well respected nameplates, their styling is a bit more hit and miss. Obviously they appeal to enough peoples' tastes to have become Canada's best-selling and second-most popular cars (not including trucks and crossover SUVs), at least with respect to their four-door variants, but I personally believe the new Forte is easier on the eyes.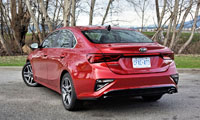 This is true for the entire Kia lineup. Unlike both Honda and Toyota that have regularly been called out for design misses (Honda more for the bizarre and Toyota for the bland), Kia has long been making news for styling hits, with this latest Forte definitely holding its own in a crowded compact segment. Rather than making up for an awkwardly proportioned three-box layout with acres of plastic body cladding, the Forte starts off with a leaner, more sweptback profile that doesn't need as much embellishment to look good. Certainly there's some nice attention to detail from front to back, but the sporty upgrades on my top-line Forte EX Limited enhance this sedan's overall design instead of overwhelming it.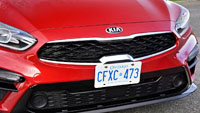 Some noteworthy styling features start with a fresh version of the brand's bisected oval trademark grille, filled with a sporty gloss-black insert above yet more glossy black detailing within an even sportier lower front fascia, this bookended by deeply sculpted corner vents incorporating horizontal LED fog lamps. A truly interesting set of available "X" accented LED headlights are positioned above, offsetting comparatively conventional taillights at the other end, albeit infused with complex LEDs within and connected in the middle by a rather nice narrow reflective centre lens. 
The rear deck lid, with its subtly integrated spoiler, is nicely done, while at the base the Forte's hind end is yet more gloss black trim on the rear bumper cap, formed into triangular bezels housing the rear fog and backup lights, which hover over a diffuser-style lower garnish incorporating a chromed exhaust finisher, while the entire package rides on a smart looking set of twinned five-spoke machine-finished 17-inch alloy wheels with black-painted pockets.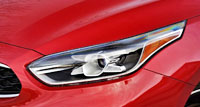 Inside, the new Forte is more upscale and European-like than its predecessor and a number of compact competitors, its design coming across as conservatively tasteful, similar to what you might find in a premium brand. Most of the dash top an instrument panel is finished in high-quality soft-touch synthetics, as are the front door uppers, the door inserts, and armrests front to rear. I'm not going to say that Kia covers more surfaces in premium-level composites than average for this class, but the brand is well respected for being one of the first to push compact models into near-premium territory with respect to refinement and features, with most others now catching up.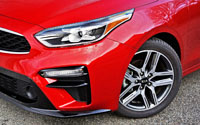 Features in mind, EX Limited trim includes perforated leatherette upholstery that feels a lot more realistic than most fake animal hides, the perforations necessary up front to allow forced three-way ventilation to seep out. This trim also gets rear seat heaters for the outboard positions, while three-way front seat heaters are standard, as is a leather-wrapped heated steering wheel. 
Yes you heard me right. The Forte's standard steering wheel rim is leather-wrapped and heatable. Consider for a moment that Toyota doesn't even provide Canadians with an option for heating a Camry's steering wheel, even in top-line trim that costs nearly $24k more than the Forte's $17,195 base MT trim, and $13k more than this top-tier $28,065 Forte EX Limited, while not offering ventilated front seats or heatable rear cushions either (make sure to find out about all 2019 Kia Forte pricing, including trim levels, packages and options at CarCostCanada, as well as rebate info and dealer invoice pricing that could save you thousands).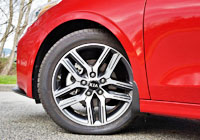 I don't know about you, but after the last few winters we've experienced I don't want to use my fingers for warming a steering wheel when embedded elements are readily available, and my rear passengers certainly shouldn't be forced to freeze their butts off either. What's more, why shouldn't I be able to cool my derriere during July, August and the first half of September? Fortunately, Kia doesn't cause us to ask such questions, but instead makes the first of these comforting features standard in one of their most affordable cars, and the latter two available (to be fair, the 2020 Corolla sedan offers a heatable steering wheel rim with an upgrade package, but no ventilated front seats or heated rear seats).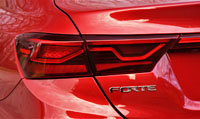 Back to some other 2019 Forte improvements, Kia upgraded its stylish automatic shifter with a leather-clad palm rest overtop a satin-silver metallic grip, while surrounding it all in a stitched-leatherette boot that's encircled by the same satin-silver surfacing. The Forte uses this classy matte silver treatment for the steering wheel spokes too, as well as for a decorative strip across the instrument panel and the trim around each corner vent bezel, not to mention the inner door handles and as an embellishment for the power window and side mirror switchgear, plus even for the handbrake's thumb release button.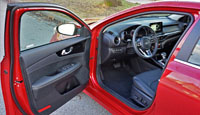 Yes, a handbrake seems somewhat archaic in today's world of electromechanical sophistication, but really it's nothing I thought twice about during two weeks of testing. In fact, I only noticed this throwback to simpler times when taking notes on the last day. It exists for the base Forte's six-speed manual, a transmission I wish was available in trim lines further up the car's price range, like sister company Hyundai does with its impressive 200-horsepower Elantra Sport, a worthy Civic Si competitor that also gets suspension and styling upgrades. This said, if you don't mind waiting another model year, last November Kia announced a new GT trim for the upcoming 2020 Forte that will provide all of the same performance updates as the Elantra Sport, but of course in Kia's unique way. I'll do my best to get into this car as soon as one is made available.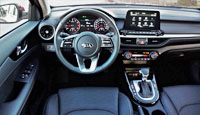 Unlike that Elantra, the new Forte uses one single 2.0-litre four-cylinder engine, a carryover from last year that continues to dole out 147 horsepower and 132 lb-ft of torque. While a relatively competitive engine in this class, this lone mechanical offering is not only a far cry less varied than the three engines Toyota is providing for its latest Corolla sedan (one now a hybrid), or the trio of powerplants available in Honda's Civic Sedan (one being a 205-horsepower dynamo in the just-noted Si, and a realistic fourth powertrain being the hybrid used in the new Insight that's little more than a face-lifted Civic Hybrid), it's also not going to attract performance-oriented buyers.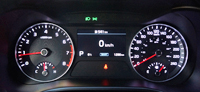 In the previous second-generation Forte sedan, Kia offered Canadians two engine choices, the outgoing option being a more advanced direct-injected version of the 2.0-litre four-cylinder just mentioned, albeit dubbed 2.0 GDI and producing a considerably more robust 164 horsepower and 151 lb-ft of torque. Earlier, when writing my "Garage" preview of this new 2019 sedan, I mused about this more potent engine possibly becoming a late arrival along with the redesigned Forte5, but Kia now shows this renewed five-door hatchback in 2020 form (set to arrive later this year, although for the time being it remains suited up in its previous 2018 gen-2 design) in the "Upcoming Vehicles" category of their retail website, with no sign of the upgraded GDI engine's availability, but with the same base "2.0L MPI" powerplant as used for this sedan, plus last year's (and the still current) top-line turbocharged 1.6-litre four-cylinder as an option, still making 201 horsepower and 195 lb-ft of torque, while mated to a paddle shift-actuated seven-speed dual-clutch automated gearbox.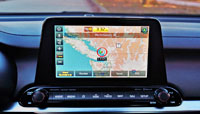 It's understandable why Kia chose to simplify the Forte's engine lineup when last year's sales only came to 14,399 units (including the just-noted Forte5 hatchback), down 12.1 percent from 2017, which compares poorly to the Corolla's 48,796 deliveries throughout 2018 (including its Corolla Hatchback—an excellent car, by the way), and the Civic's leading 69,005-unit sum over the same 12 months (which included the Civic Sedan, Hatchback, and Coupe). 
I should probably also make mention of the previously noted Hyundai Elantra's sales too, this highly popular model (that's new in sedan form for 2020) finding a respectable 41,784 new Canadian customers last year (currently in sedan, Sport sedan, and five-door GT trims), albeit this was a 9.4-percent drop from the year prior. 
Another reason Kia may have solely gone for the less formidable powerplant comes down to the Forte's base price and ongoing running costs, the Korean company probably assuming correctly that buyers in this price-sensitive segment wouldn't want to pay a larger sum initially if the only engine offered was the more advanced GDI powerplant, nor more at the pump, being that the chosen MPI engine is more efficient. Looking back at 2018 Transport Canada fuel economy figures, the base MPI engine had a rating of 8.0 L/100km in the city, 6.1 on the highway and 7.1 combined, whereas the more powerful GDI was rated at 9.4 city, 6.8 highway and 8.3 combined. That's a significant difference in a compact market segment that's ultra-sensitive to seemingly ever-increasing pump prices.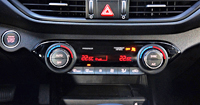 While we're talking fuel economy, I should also point out that Kia has made considerable headway with its MPI engine in the new 2019 model, with the new six-speed manual-equipped base trim achieving a claimed Transport Canada rating of 8.6 L/100km city, 6.4 highway and 7.6 combined, compared to last year's numbers of 9.4, 6.8 and 8.3 respectively. Not quite as impressive yet still allowing for a noticeable improvement is this year's all-new Hyundai/Kia-developed continuously variable transmission (CVT) when compared to last year's six-speed automatic, with the 2019 model receiving a 7.7 L/100km city, 5.9 highway and 6.9 combined rating, and the 2018 car only capable of 8.0, 6.1 and 7.1 respectively.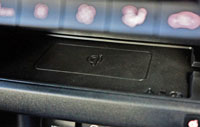 That CVT, which Kia smartly calls an Intelligent Variable Transmission (IVT) in order to separate it from the deluge of CVTs taking over this market segment, is a $2,500 option with the base LX model and comes standard with all other trims, while it does almost as good a job of putting power down to the front wheels as it does at saving fuel. That's high praise for a CVT, by the way, this being one of the better variations on the theme I've had the pleasure of driving in this class, and easily up to the task required by a comfort-oriented compact sedan. 
The Forte takes off quickly and smoothly enough, with both engine and transmission providing smooth, linear performance, plus not too much noise from ahead of the firewall. The powertrain works well in its Normal default mode, or for that matter its Eco, Sport and Smart "Drive Mode Select" settings, my preference being Smart mode as it automatically adjusts all of the above to maximize fuel economy, performance or any capability in between.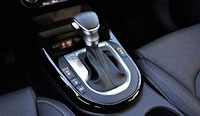 The Forte's ride is smooth and comfortable too, while its handling is sharp and responsive unless pushed extremely hard through bumpy backroads. Unfortunately it utilizes a less sophisticated torsion beam rear axle than either the Civic or new Corolla, the latter finally receiving an upgrade to its underpinnings for 2020, but Kia's suspension tuning team deserves credit for making the most of this less appealing package, as its wonderfully smooth most of the time, and its rear tires don't get unglued until those just-noted extreme limits are met. 
Keeping the Forte within its lane are the usual active safety features such as stability and traction control, while some nearly standard advanced driver assistance systems (they're standard when upgrading to the CVT) include Forward Collision-Avoidance Assist (FCA), Lane Keeping Assist (LKA), and Driver Attention Alert (DAA).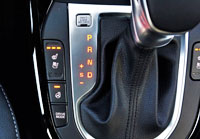 Additionally, on top of everything already mentioned both manual- and CVT-equipped LX models include auto on/off projector headlamps, splash guards, body-colour mirror caps and door handles, heated side mirrors, air conditioning, a really nice new fixed tablet-style 8.0-inch touchscreen infotainment display with tap, pinch, and swipe capability in some applications (plus immediate response to finger gestures), Apple CarPlay and Android Auto smartphone integration, a rearview camera with helpful dynamic guidelines, an AM/FM/MP3 radio, Bluetooth hands-free connectivity with audio steaming, USB audio input and charging ports, cruise control, Hill-Assist Control (HAC), 60/40 split-folding rear seatbacks that expand on a sizeable 434-litre (15.3 cu-ft) trunk, and more.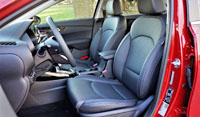 If you'd rather have 16-inch machine-finished alloys instead of 15-inch steel wheels with covers you'll need to upgrade to $20,995 EX trim, which also includes the noted LED headlamps, LED daytime running lights, LED positioning lights, turn signals integrated within the side mirror housings, a gloss black grille with chrome accents, chrome window trim, aeroblade wipers, a chrome exhaust tip, satin chrome interior door handles, a supervision LCD/TFT primary instrument cluster, a wireless device charger, rear climate ventilation, a rear centre armrest, tire pressure monitoring, and Blind Spot Detection (BSD) with Rear Cross Traffic Alert (RCTA).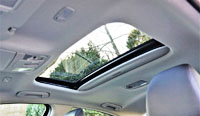 The move up to $22,495 EX+ trim includes all of the above while adding 17-inch machine-finished alloys, LED taillights, LED interior lighting, and a powered moonroof, whereas $25,065 EX Premium trim also features High Beam Assist (HBA) for the LED headlights, proximity-sensing access with pushbutton ignition, adaptive cruise control, an eight-way power-adjustable driver's seat, SOFINO synthetic leather upholstery, dual-zone automatic climate control, satellite radio, UVO Intelligence connected car services, a Smart release trunk lid that automatically opens when you've been standing behind it for three seconds with the key fob in your pocket or purse, Advanced Forward Collision-Avoidance Assist (FCA), and more.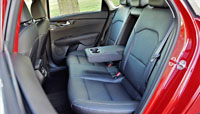 Lastly, my $28,065 EX Limited tester came with everything already noted as well as the ventilated front seats and heatable outboard rear seats I've gone on and on about, plus an upgraded multimedia infotainment interface with an accurate and easy-to-use navigation system, and finally a great sounding Harman/Kardon premium audio system. 
I should also mention that the driver's seat was especially comfortable and, while only offering two-way powered lumbar instead of four, it neatly fit the small of my back ideally and was therefore quite helpful in minimizing lower back pain. What's more, when set up with the Forte's standard tilt and telescopic steering column, the car provided excellent ergonomics, even for my unique longer leg and shorter torso body type. On that note I've often had problems properly fitting into Toyota products, including the outgoing 2019 Corolla, because it didn't provide enough telescopic reach for me to set its driver's seat far enough rearward for optimal comfort and control, but no such problems with the Forte.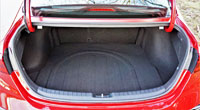 Sitting behind the driver's seat when it was set for my long-legged five-foot-eight height left me plenty of space to get comfortable, including more than enough room for my feet, approximately five inches ahead of my knees, another three and a half or so above my head, plus about five between the window ledge and my shoulder, and four beside my outer hip. The dual cupholder-infused folding centre armrest was ideally positioned for resting adult arms, but this is hardly unusual in this class, nor were dual rear vents fed through the backside of the front centre console, or the webbed magazine pocket behind the front passenger seat, but of course the previously noted rear outboard seat heaters, which kept my derriere comfortably warm, were much appreciated while taking notes. I also liked the tiny rear quarter windows that provided a little more light and visibility for rear passengers than some cars in this class that leave the C-pillars blocked off despite showing black glass on the outside.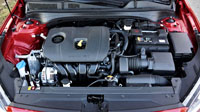 So, there you have it. The latest 2019 Kia Forte isn't perfect, but it's the best this model has ever been, and if it weren't for lacking some optional power and a multi-link rear suspension it might just have earned best-in-class status. This said, the Forte addresses the majority of compact sedan buyers' requirements, such as attractiveness, spaciousness, comfort, and safety, while going way above par when it comes to standard and optional features. Those who want more performance can currently opt for the sportier 2018 Forte5 hatchback and will be able to get into a redesigned version and the new Forte GT sedan in 2020 guise. Regular Forte sedans will still lack the power of some mainstream rivals and the high-speed handling benefits of an independent rear suspension, but the value-oriented way Kia is approaching this compact class seems like a good compromise from a smaller market player, and reason enough for anyone to consider this impressive compact sedan.