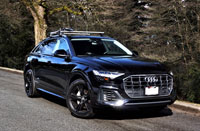 Everyone knows Lexus SUVs are amongst the most reliable in the luxury sector, but just one look at Audi's Q8 and I don't give a rip. Certainly, today's RX is an attractive crossover that deserves its place atop the sales heap, but the Q8 is downright gorgeous, which can't be said about the majority of utility vehicles this side of a Lamborghini Urus. It's no coincidence, therefore, that the ultra-hot Lambo shares much of its underpinnings with the top-tier Audi, not to mention Porsche's Cayenne Coupe and, through its Q7 roots, Bentley's Bentayga, too.
Yes, I just named two of today's five available exotic SUVs, and while the Cayenne might not be considered exotic, it arguably sits higher in the ultra-premium pecking order than anything from BMW, Mercedes-Benz and, yes, Audi. The rest of the super-SUV segment is made up by Maserati's Levante (that's only exotic because Ferrari's upcoming Purosangue hasn't arrived yet), Aston Martin's DBX, and the Rolls-Royce Cullinan, in order of exclusivity. Two out of five super-SUVs, all based on the Q7/Q8 (which is actually VW's MLB platform) is impressive to say the least, so therefore we need to agree that the comparatively affordable Q8 Technik 55 TFSI Quattro shown here plays in a rarified, prestigious crowd.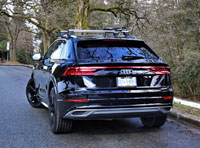 Speaking of affordable, the Q8's price hasn't changed much over the three years it's been available, with CarCostCanada showing a base sticker of $81,200 in 2019, $82,350 in 2020, and $82,550 for the upcoming 2021 model. Even better, Audi is currently offering up to $4,000 in additional incentives for 2020 and 2021 models, so keep that in mind while perusing this review.
The Q8 was introduced for the 2019 model year, incidentally, and except for a handful of tech features that have made their way to base Progressiv trim in newer versions, 2019, 2020 and 2021 models pretty well the same. Fortunately, the Q8 Technik being reviewed here included most everything Audi had on offer when tested, and thus all that's available for 2021.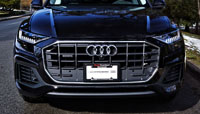 You wouldn't be alone if you're wondering how the Q8 fits into Audi's SUV lineup, because in effect it's the two-row, five-seat version of the three-row, seven-occupant Q7, yet costs more. Audi seems to be targeting sportier SUV variants like BMW's X6 and Mercedes' GLE Coupe, even though the Q8 is only slightly less practical than the just-noted German brands' respective X5 and more upright GLE, not to mention the five-passenger Lexus RX mentioned a moment ago.
Specifically, the Q8's 605 litres of dedicated cargo volume is down 90 litres when compared to the RX, although at 1,719 litres total it has 140 additional litres of gear-toting space than the Japanese alternative when their rear seats are folded flat. Likewise, the Q8 has 40 litres less area behind its second row than the X5 and 25 more than the X6, although gets pragmatically walloped by a sizeable 328 litres when laying the bigger BMW's seats down. Still, it's 194 litres more accommodating than the X6 when fully optimized. As for Mercedes' GLE and GLE Coupe entries, they're both more commodious in the cargo area, with the former up 85 litres behind the second row and 336 litres when those seats are lowered, and the latter improving on the Q8 by 45 litres and 1 litre respectively.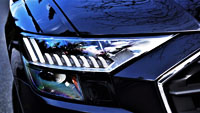 How did I go from comparing the Q8 and Lamborghini's Urus to talking about cargo carrying mundanities? I might as well of started off talking about fuel economy, which is (I can't help myself) rated at 13.8 L/100km city, 11.7 highway and 12.7 combined. Now that I've completely lost your interest, my boring, pragmatic point is that despite being on a more performance-focused mission than, say, the Q7 that comes standard with a 248-horsepower turbo-four in base trim and can't be had with the Q8's top-line 591-horsepower RS powertrain, my sporty looking tester's 335-horsepower V6 hardly challenges anything from Sant'Agata Bolognese.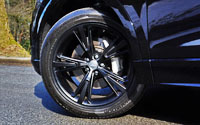 With 369 lb-ft of torque available, the 3.0-litre V6-powered Q8 is quick, mind you, or at least quicker than most will require more often than not, and if you absolutely must have more when needed, Audi offers the 500 horsepower SQ8 that puts 568 lb-ft of torque down to tarmac, and the already mentioned RS Q8 that incidentally puts out a formidable 590 lb-ft.
The most potent variety is good for a 3.8-second run to 100 km/h, which in fact mirrors the straight-line performance produced by Bentley's W12-powered Bentayga, but still comes up 0.2 seconds shy of the Urus' 3.6-second run. This said, if you can tell the difference from the seat of your pants I'll be impressed. As for the mid-range SQ8, it's good for a 4.3-second rip from standstill to 100 km/h, while Audi claims 6.0 seconds for the same feat in my tester's 55 TFSI Quattro configuration. That's pretty damn fast for a luxury SUV, by the way, so while this is the slowpoke of this very speedy bunch, it's by no means a snail.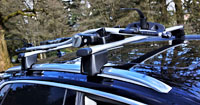 Part of the go-fast equation is ZF's well-proven eight-speed automatic that does double-duty in the Q7 as well as plenty of other luxury models in and out of the Audi family. It's as effortlessly smooth during everyday driving and as brilliantly quick-shifting when pushed hard as in the Q7, while Quattro continues Audi's all-wheel drive leadership with sensational traction no matter the road conditions. The Q8 includes Comfort, Auto, Dynamic (sport), Individual and Off Road "drive select" modes too, the sportiest of which make the most of the SUV's direct electromechanical steering setup and capably tuned five-link front and rear suspension design, resulting in a luxury crossover that's as comfortably docile as required, or as entertaining as most could want, at least this side of a more performance-oriented trim.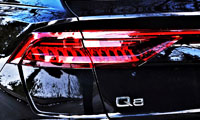 Truly, as enjoyable as I found the Q8 to drive, this base model is more about comfort than speed. This is immediately noticeable when looking inside, where one of the industry's most attractive interior designs is joined by Audi's renowned materials quality and build execution. Like the Q8's exterior styling, the cabin features a stylish array of sharply shaped soft and hard surfaces organized within a horizontal layout that visually enhances the SUV's width, resulting in a very spacious look, feel and reality; the expansive panoramic sunroof overhead doesn't hurt matters either.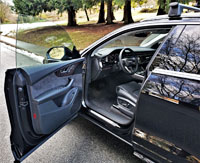 My tester's interior was mostly charcoal grey except for large sections of piano black surfacing across the instrument panel and lower console, which melded perfectly with various integrated electronic displays, plus the warming addition of some brown to the otherwise grey-stained open-pore hardwood inlays found on the outside of the same lower console as well as the doors.
While hardly the type of traditional warmth still provided by some luxury brands, the Q8's cabin is far from austere, helped out significantly by Audi's usual tastefully applied aluminum accents and the just-noted electronic screens, which colourfully brighten the gauge cluster and centre stack.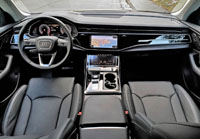 Not just high in resolution, these are clear, colourful, graphically stimulating high-definition displays filled with functionality, starting with Audi's "Virtual Cockpit," a fully digital gauge cluster that's like no other, and followed up by two touchscreens on the centre stack, the main infotainment interface up top and a smaller secondary unit dedicated to the heating and ventilation system below.
I've gone on at length about Audi's Virtual Cockpit in previous reviews going back years, initially blown away with its "VIEW" button-actuated capability of expanding multi-information features to encompass the entire display, except for tiny primary driving dials that remain in each lower corner. Now, a number of competitors provide similar functionality, but Audi's remains one of the slickest operators for its ease of use and ample personalization capability.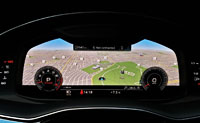 I especially like expanding the navigation map within that gauge cluster, as it's not only an eye-popping conversation starter when friends are riding along, but really helpful when wanting to focus on the road ahead. Better yet, utilizing a larger multi-information display for such functions frees the main infotainment display for front passenger use, while the HVAC controls are always close at hand.
Certainly, the latter effect is much the same as with cars that keep analogue HVAC controls in similar positions, but the Q8's slick-looking, nicely organized interface modernizes the entire experience, while also preventing coffee spills and food crumbs from slipping between the cracks of buttons, knobs and switches, therefore maintaining a cleaner and more hygienic environment.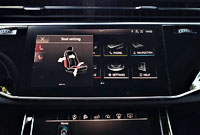 By the way, the aforementioned "drive select" modes are incorporated into a narrow, touch-sensitive strip just below the HVAC interface, which also includes a button for cancelling traction and stability control, switching on the hazard lights, and choosing defog/defrost settings. This switchgear, and all others in the Q8's tidy cabin, is extremely well made.
Such attention to detail is expected from Audi, as is interior comfort. Number one with me is a vehicle's driving position, because my legs are longer than my torso, so once I've moved my seat rearward enough to accommodate the former, I need more reach from the telescopic steering column than some vehicle's offer in order to comfortably hold onto the rim of the wheel, without cranking my seatback to a near vertical position. This is critical for control too, because the ability to lay one's wrist over the top of the wheel is optimal, allowing relaxed, bent elbows when the hands are positioned at the 9 and 3 o'clock positions. To make a short story long, the Q8's driving position is near perfect, making it the perfect companion for all situations.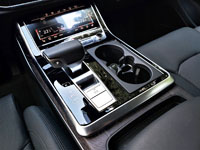 The driver's seat also included plenty of adjustments, including a lower cushion that could be extended to cup below the knees, one of my favourite features, while along with the usual fore/aft, up/down, recline, and four-way lumbar, was a comprehensive massage feature providing wave, pulse, stretch, relaxation, shoulder, and activation modes, plus a trio of intensity levels, while the usual three-way warming cushions were accompanied by three-temperature cooling.
When my seat was pushed back far enough to accommodate my long-legged five-foot-eight frame, I still had ample room overhead, which makes sense being that Ingolstadt's team of product planners live amongst a relatively tall Germanic population. Likewise, for all other directions, of course, not to mention the SUV's rear quarters that are very generous as well. In fact, I could almost fully stretch out in back, which is unusually good even for the luxury class.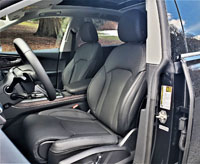 When the third passenger stays home, rear occupants benefit from a wide, comfortable fold-down centre armrest, complete with dual cupholders, as well as power-operated side sunshades that can both be modulated at either side of the cabin. The climate control system is four-zone, so Audi provides another touch-capacitive control interface on the backside of the front console, complete with switches for the rear outboard seat warmers, all of which sit just under a set of HVAC vents that combine with one more on the rear of each B-pillar.
I spoke about cargo capacity at the beginning of this review, so at the risk of banging on about even more dimensional specs, suffice to say it should be roomy enough for most peoples' needs while providing an extremely well-finished, fully-carpeted compartment with an attractive aluminum protective plate on the door sill, bright metal tie-down hoops, and a neat little webbed storage area, while the seatbacks are configured in the optimal 40/20/40 split-folding configuration, allowing longer items like skis to be stored down the middle while rear passengers enjoy the more comfortable heated window seats.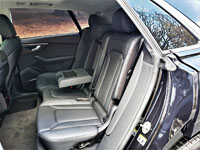 The top-line 2020 Q8 Technik 55 TFSI Quattro trim I tested starts at $90,200 plus freight and fees, which was a big move up from the previous year's price of $88,800, but not quite as dear as the $91,200 needed for a 2021 model. I suppose needed is not quite the right word, being that once again Audi is providing $4,000 in incentives for those wise enough to take advantage, with all of the information needed to do so found on either CarCostCanada's 2020 Audi Q8 Canada Prices page or the 2021 Audi Q8 Canada Prices page.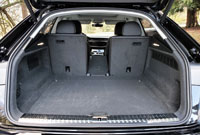 Incidentally, CarCostCanada's ultra-affordable membership provides inside information about any available manufacturer rebate, all manufacturer financing and leasing deals, as well as dealer invoice pricing that gives you a significant edge when negotiating your deal. Be sure to find out how it works, and while you're at it download the free CarCostCanada app so you can have all the most critical info you need at your fingertips when shopping for your Q8, or any other new car, truck or SUV.
This said, the Q8 is a good place to start shopping. From its handsome design and beautifully finished interior, to its strong performance and many practical elements, such as its strong set of standard and optional features, its superb comfort front to back, and its all-round generous accommodations, the Q8 is hard to beat.
Story by Trevor Hofmann
Photos by Karen Tuggay