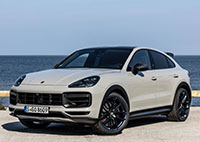 With a maximum of 631 horsepower, the new Cayenne Turbo GT isn't the most powerful super-SUV on the planet, but it's nevertheless quickest off the line and fastest over one lap on the legendary Nürburgring Nordschleife racetrack.
Porsche has clearly marked its territory. The 20.8-km mountainside racetrack, otherwise known as the "Green Hell," is one of the most challenging road courses on earth, and Porsche currently owns the top podium for every sector it sells in.
Sports cars? The outgoing (991.2) 911 GT2 RS recently claimed title to fastest production car with a single lap of 6:38.835 minutes, putting Mercedes-AMG back on the defence with its GT Black Series.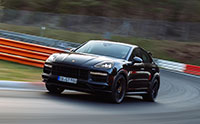 Sport sedans? That honour belongs to the Panamera Turbo, which ran the 'Ring in 7:29.81 minutes, while Porsche's all-electric Taycan four-door coupe is the record-holder for EVs with a time of 7:42.34 minutes, leaving the next-best Tesla Model S a full minute and 7.66 seconds behind in the process.
With the introduction of the new Cayenne Turbo GT, available solely in the Cayenne's Coupe body style, Porsche has once again taken the top spot away from another automaker, this time Alfa Romeo that claimed the position from the last-generation Cayenne Turbo S (958.2) last November, its Stelvio Quadrifoglio managing the feat in just 7:51.7 minutes. The new top-tier Cayenne didn't just shave a few milliseconds off the tricked out Stelvio's lap time, however, but in fact chopped a 12.775-second chunk from its pride, with a new SUV lap record of 7:38.925 minutes.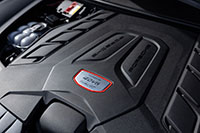 There's more to making a winner that simply bolting a more powerful 4.0-litre twin-turbocharged V8 onto its mounts in the engine bay, although upgrades to the powerplant certainly helped. Porsche upgraded the crankshaft drive, turbochargers, direct fuel injection system, induction system, and intercooler, plus specifically revised the crankshaft, connecting rods, pistons, timing chain drive, and torsional vibration dampers after starting with the regular Cayenne Turbo Coupe's V8. The net result is 631 horsepower and 626 pound-feet of torque, for a respective 90 hp and 59 lb-ft gain.
Porsche also added a faster-reacting eight-speed Tiptronic S automatic gearbox, plus a new water-cooled transfer case for its Porsche Traction Management all-wheel drive system, the latter improving the drivetrain's thermal capacity under heavier loads.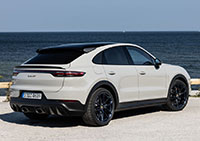 Next is a centrally-mounted sports exhaust system tailpipes, unique to the Cayenne Turbo GT. It's made from lightweight, heat-resistant titanium, made even lighter by eliminating the centre silencer.
Despite not putting out as much power as some other performance SUVs, such as the Dodge Durango SRT Hellcat (710 hp), Jeep Grand Cherokee Trackhawk (707 hp), and Lamborghini Urus (641 hp), not to mention Porsche's own Cayenne Turbo S E-Hybrid (670 hp), Porsche's engineering team managed to make it quickest off the line overall, with its standing start to 100 km/h taking only 3.3 seconds. Sure, it might be a scant 0.1 seconds quicker than the Urus, but it's multiple seconds faster than the others, that is until recording top track speed.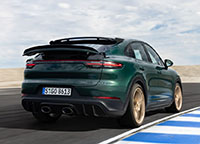 That's where the Urus is dominant at 305 km/h, just whisking past the Cayenne Turbo GT's 300-km/h terminal velocity. Audi's RS Q8 and Maserati's Levante Trofeo claim faster top speeds too, but not by much, and we're curious whether they can keep up with the new Cayenne over the quarter mile, where it scores an official 11.6-second run.
Keeping the Cayenne Turbo GT in constant contact with the pavement are Pirelli P Zero Corsa performance tires wrapped around exclusive 22-inch GT Design alloys, these connected to a 15-percent stiffer three-chamber air suspension, which not only receives upgraded performance-oriented control software, but also incorporates a special damper calibration of Porsche's Active Suspension Management, as well as an improved Power Steering Plus system and a revised rear-axle steering system. Active Porsche Dynamic Chassis Control is also standard, as is a 17-mm reduction in ride height when compared to the Cayenne Turbo Coupe, while Porsche's Ceramic Composite Brake (PCCB) system provides stronger stopping power with less fade for yet more racetrack capable performance.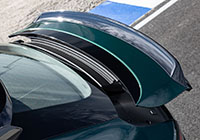 As always, aero plays a big part in the Cayenne Turbo GT's road-holding too. To that end the new model gets a redesigned front apron featuring a more aggressive lip spoiler, plus bigger side cooling air intakes. Following the front fenders rearward, past the standard LED-Matrix headlights, shows muscular black composite wheel arch extensions, while a contoured roof feeds flowing air below a rooftop rear spoiler that pushes it down the rear glass onto a 25-mm larger rear wing, which once again deploys as speed increases, adding up to 40 kilos of extra downforce. Meanwhile, a sizeable rear diffuser directs air traveling below the Cayenne Turbo GT away from its rear end, all combining for one very well-engineered aero package.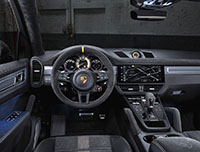 That rear diffuser, the larger wing, the end plates of the rooftop spoiler, and the entire roof are made from lightweight carbon fibre reinforced plastic (CFRP), as are the side mirror housings.
CFRP isn't the go-to theme inside, however, although illuminated carbon fibre door sill guards, floor mats, and owner's manual wallet are available. Rather, Porsche applies a matte black finish to key trim areas, while some other unique features include a yellow leather stripe at the 12 o'clock position of the Alcantara-clad steering wheel rim, the latter part of an extended Alcantara package that comes standard. This includes perforated centre panels for the upgraded eight-way powered front sport seats and bucket-styled sport seats in back, while contrasting accents are available in Neodyme or Arctic Grey, and "turbo GT" script is added to the headrests.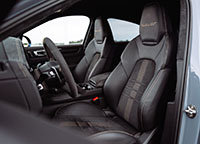 Additionally, Cayenne Turbo GT owners will be first to experience Porsche's updated PCM 6.0 infotainment system, which gets an updated user interface, a faster operating logic system, and full integration of Apple Music and Apple Podcasts via Apple CarPlay. On the other side of the smartphone spectrum, Android Auto is finally part of the package.
Those wanting a new 2022 Cayenne Turbo GT can order now, but you'll be waiting until early next year for delivery. The price is $200,700 plus freight and fees, making it the most expensive SUV in Porsche's ever-growing fleet.
On that note, Porsche is currently offering factory leasing and financing rates from zero percent on all 2021 models, including the Cayenne. Check out CarCostCanada to learn more, plus be sure to download their free app for access to dealer invoice pricing that can save you thousands off your next new car purchase, plus much more.
Global dynamic premiere of the new Cayenne Turbo GT (1:03):

The New Porsche Cayenne Turbo GT (2:40):

New Performance Cayenne Sets Nürburgring Record (2:21):

Nürburgring Lap Record: Onboard the Cayenne (9:15):

Story credits: Trevor Hofmann
Photo credits: Porsche