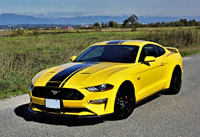 You're looking at the only car in Ford's lineup not scheduled for cancellation within the next two years. What a bizarre thought. Many correctly guessed that Lincoln's MKZ and Continental would eventually get the axe, or for that matter Ford's own C-Max (already gone) and Taurus, but eliminating blue-oval favourites like Focus and Fusion, not to mention Fiesta, is something few outside Ford's inner circle would likely have considered. Yet here we are, and only time will tell whether this decision from Dearborn's upper management is shortsighted or eventually revered as sage-like wisdom. 
Of course, I'm happy they chose to save the Mustang amid such blue-oval carnage, but don't think I missed the irony of it being the sole car in Ford's lineup not to wear a blue-oval badge. In fact, there's no mention of the automaker at all, from the galloping stallion within the front grille and "5.0" engine designation on the front fenders, to the big "GT" model insignia taking centre stage at the rear, you'd be hard pressed to know its parentage if the car weren't so legendarily Ford.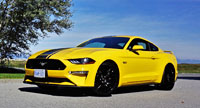 Likewise inside, where the same airborne steed crests the steering wheel hub, and in my particular example "RECARO" takes claim to the sculpted front sport seats, there's no sign of the brand behind this iconic symbol of American ingenuity. 
The Mustang was the first pony car after all, and continues to lead its rivals by a wide margin in prestige and sales. In fact, it doesn't just lead its small contingent of pony car challengers (pun intended), but out muscles every other sports up the sales chart car as well.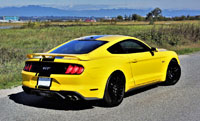 Of course, sales leadership is nothing new for Ford, with its boldly branded F-Series pickups dominating the light truck market, its Edge and Explorer collectively controlling the mid-size crossover SUV category, its Expedition outselling everything else in the large SUV segment, its Transit on top of the commercial van industry, and its Escape consistently amongst the top three compact crossover SUVs. If you're shaking your head in disbelief, you owe it to yourself to drive one of the above, as each is worthy of its success. 
Likewise, if you haven't taken a Mustang for a spin in a while, you're in for an even greater treat. And I didn't mean spin a Mustang literally, being that it's a lot more difficult to get the rear end sideways now that Ford has fitted a highly stable independent rear suspension (IRS) between the rear wheels.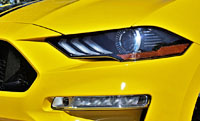 That change came as part of an exhaustive 2015 model year redesign, and the move caused a great deal of controversy amongst diehard Mustang fans that loved the old car's lighter weight live rear axle and its benefit to drag racing, but for the majority of sports car fans, who'd rather go fast around corners instead of just in a straight line, it was a gift from the mechanical gods, or at least a bunch of blue-oval engineers. 
It was and still is the most hooked up Mustang in history, something I previously claimed in a 2015 Mustang GT Premium Convertible review, not to mention subsequent road tests of a 2016 Mustang Ecoboost Fastback, 2016 Mustang GT Convertible, and a 2017 Mustang GT Convertible, and something I attest to again with this 2018 Mustang GT Premium Fastback.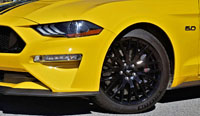 Take note the 2018 model saw a new optional 10-speed automatic in both turbocharged 2.3-litre Ecoboost four-cylinder trims and 5.0-litre V8-powered GTs, the former of which I recently tested in 2019 Premium Fastback guise, while this GT, priced from $47,288, and the base Mustang, which starts at just $28,988, come with a six-speed manual gearbox. 
And by the way, I sourced all of my pricing at CarCostCanada, where you'll find detailed trim, package and option pricing, as well as info on available rebates and otherwise hard to get dealer invoice pricing that could save you thousands.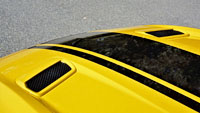 Other 2018 updates include a meaner looking new grille that melds ideally with a more aggressive hood design, while stylish LED headlights are now standard across the entire Mustang lineup. Additionally, new LED taillights provide a fresh take on the Mustang's classic triple vertical lens design, while these are underscored with a new bumper and lower fascia. 
A number of changes improve the Mustang's interior too, highlighted by upgraded materials quality including contrast-stitched leather-like soft-touch synthetics used for most of the dash top, each side of the centre console and much of its top surfacing, plus the door uppers, inserts and armrests, engine turned-style medium-grey metallic inlays across the entire instrument panel, some really upscale satin-metal detailing brightening key points throughout the cabin, and a new fully digital TFT primary gauge cluster.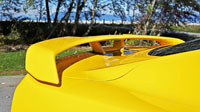 The high-resolution display is plenty colourful, especially on the left dial where the temperature gauge shows a light blue for cool, aqua blue/green hue for medium and red for too hot. The same aqua gets used to highlight the area just below the tachometer needle, while just to the right an orange line represents the highest engine rev point from your most recent acceleration run (mine boasting 7,200) just ahead of all the red markings noting the engine's no-go zone. The centre area houses a multi-information display that's filled with functions.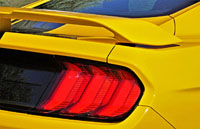 Ford places a sweet looking set of analogue meters on top of the centre stack for oil pressure and vacuum (in turbocharged trims it gets substituted for a boost gauge), the latter useless unless you're mechanically inclined, but cool looking for sure. 
Just below is Ford's Sync 3 touchscreen interface, which remains one of the better infotainment systems within the mainstream volume sector despite others catching up, complete with a clear rearview camera featuring dynamic guidelines, accurate navigation with detailed mapping, climate settings, apps and much more, while you can adjust the dual-zone automatic HVAC system's climate settings from analogue switchgear just below too, or perform other functions from a slick row of aluminized toggles just underneath. It all melds retro and modern nicely, while all of the buttons, knobs and switches fit together well and are properly damped for a quality feel.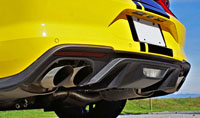 The Recaro-sourced front seats noted earlier are sensational, with excellent support in all the right places. When combined with the tilt and telescopic steering column I was able to adjust everything for near perfect comfort and control, which is critically important in a car that can go a quickly as this GT. I was actually surprised the rear seats had enough room for smaller sized adults, because most 2+2 sports cars don't. Likewise the trunk is a decent size for a sports coupe, and includes 50/50 split-folding rear seatbacks for stowing longer cargo. 
Practicality is one of the reasons the Mustang sells so well, however, drool-worthy styling aside, most ante up to this GT for its performance benefits. Certainly the previously noted base four-cylinder turbo is plenty quick for its low entry price, with 310 horsepower and 320 lb-ft of torque on tap, the GT's 460 horsepower and 420 lb-ft of torque is hard to argue against, nor is the soul-soothing gurgle emanating from its twin tailpipes.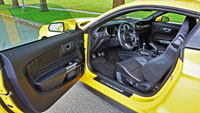 Does it make sense to buy a car just for the sound of its exhaust? If so, the Mustang GT is probably your best choice this side of an Aston Martin Vanquish S. Of course, along with its delectable sounds the GT provides insanely fun straight-line acceleration, superb high-speed stability and sensational handling. It locks into its lane like no previous pony car, Mustangs feeling a lot lighter and nimbler than their competitive stable mates that comparatively seem to overdose on muscle with less finesse, which is the key reason I'd opt for a GT over one of its rivals. This choice is personal for sure, so I can appreciate why someone might choose a Challenger or Camaro, but sales numbers speak for themselves, and I believe the Mustang keeps winning the pony car popularity contest for good reason.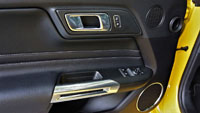 Still, it's not perfect. Remember that row of aluminized toggle switches on the centre stack? The rightmost one swaps driving modes from a Normal mode that defaults automatically, to Sport Plus mode that merely takes a flick of the toggle upward. One more toggle up chooses Track mode, while another is optimized for the Drag Strip, or in other words it removes all traction and stability controls. Flick the toggle upwards again and you'll access a mode for Snow/Wet conditions, before it all goes back to Normal, and you can start all over again as desired.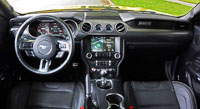 Sounds good so far, right? While seemingly smart on paper, in application this setup is anything but. The problem lies in execution, with Ford having chosen to only allow the system to toggle upwards. This means you'll need to flick through all of the performance modes that remove traction and stability control when trying to optimize the driveline for slippery conditions. Crazy huh? What would happen if you were having some fun at high speeds in Sport Plus mode when coursing through a winding riverside road at lower elevations and then, when the road started to climb and snow appeared on the pavement, you needed to access Snow/Wet mode, forcing you to pass through Track and Drag Strip modes along the way? That might actually be quite dangerous. All Ford needs to do to remedy this is provide downward movement to the toggle, which would let you go from Sport Plus to Normal and then Snow/Wet mode in two easy steps. Seems like a simple enough idea to me.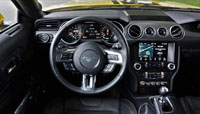 Now, regarding Dearborn's shortsighted or sage-like decision over its car lineup. I think we can all agree that the Mustang should stay, and not just because it's legendary, iconic, brilliantly fun to drive, fabulous to look at, and so on. As mentioned a moment ago, similar accolades will be claimed by fans of the Mustang's key competitors, which could be reason enough to keep the Challenger and Camaro in the respective fleets of Dodge and Chevrolet, but as usual truth lies in those just noted sales numbers along with the long-term viability of the various plants that produce them.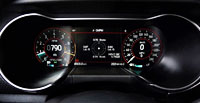 At the close of Q3 2018, year-to-date U.S. sales of this trio registered 61,619 units for the Mustang, 52,313 for the Challenger, and 39,828 for the Camaro, while Mustang deliveries in Canada were actually stronger per capita at 7,298 units, and Camaro beat out the Challenger north of the 49th with 2,320 units compared to just 1,966. 
While Canadian pony car sales don't look too bad compared to U.S. numbers, YTD Q3 2018 Mustang sales are actually down 4.6 percent compared to the same nine months of last year, whereas Camaro deliveries have dropped by 8.0 percent and the Challenger has lost a whopping 32.0 percent of year-over-year sales. Comparing calendar year 2017 sales numbers to modern-day highs forces us back to 2005 for the Mustang when it found 10,045 new buyers in Canada, which is a 16.9 percent drop compared to 2017's 8,348-unit tally, while comparing Camaro's high of 4,113 units in 2010 and 2,952-unit 2017 total reveals a popularity pullback of 28.2 percent. Interestingly, 2017's total of 3,422 units is the newest Challenger's all-time high, which would be a good sign if it weren't for sales south of the border.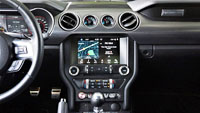 Ford sold 166,530 Mustangs in 2006 (still a far cry from the 607,568 they built in 1966), which makes its 81,866 total in 2017 seem paltry by comparison and represents a 50.8-percent pummeling over the past dozen years, while Chevy's 88,249-unit Camaro tally in 2011 shows a less drastic fall of 23.0 percent thanks to 67,940 deliveries last year. When it comes to percentages the Challenger looks best, with its 66,365-unit all-time high merely 2.7 percent healthier than its 2017 number of 64,537.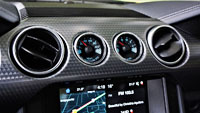 Whether or not a pony car lives or dies in today's SUV-crazed market might actually come down to where it's built. The Mustang gets a pass thanks to its Flat Rock, Michigan assembly, a plant that will become even more available when the aforementioned Continental goes the way of the dodo in 2020. That Ford is planning to replace the Conti's spot on the line in 2021 with an autonomous EV should mean there will be plenty of room for the Mustang to flourish well into the future, being that EVs are microscopically small sellers at best, but who really knows what the future will truly bring.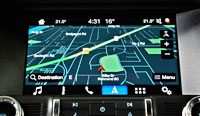 As for the Camaro, its Lansing Grand River Assembly plant appears to be on shaky ground due to sharing space with two discontinued Cadillacs, the ATS and CTS, so who knows where Chevy will build it if they retool the plant for new SUVs as is being suggested, or shutter it completely as some in the rumour mill are touting. The Challenger may be in even worse shape, mind you, being that it suffers from two challenges, sharing space and underpinnings with the Chrysler 300 that most expect will be cancelled (although a recent upsurge in sales might change FCA's mind), and being built here in Canada where very real tariff issues and trade uncertainties are causing automakers to rethink their production strategies. No doubt even Ford hopes these two muscle car competitors survive, as competition is critical in the pony car paddock.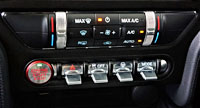 With such business out of the way, all that's left to do is hightail it down to your Ford dealer in order to snap up one of the last few 2018 Mustangs left or one of the new 2019s. Being that you'll probably find more of the latter, don't expect to see my tester's Triple Yellow paint, a $550 option that's no longer on the 2019 menu. It's not the only colour nixed from the new model year, with Lightning Blue having made way for Velocity Blue, and beautiful $450 Royal Crimson substituted for loud and proud Need for Green, a no-cost option.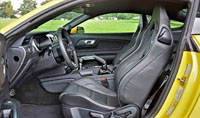 You can add various stripes if you want, and "upgrade" the transmission to the aforementioned 10-speed auto for either year, but take note the GT's six-speed manual is rev-matching capable for 2019, so you'll sound like a pro when swapping cogs. I should also mention the GT's variable active exhaust is now available with the 2.3-litre Ecoboost four, while California Special and Bullitt trim packages add style and substance, the latter available in special Highland Green paint, just like Steve McQueen's original.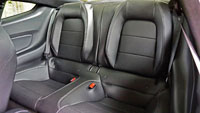 I won't go into detail about all of the higher-end performance trims for either model year, but suffice to say the sky's almost the limit when it comes to upgrading your future Mustang, so study up and ask lots of questions when visiting your local dealer. Trust me when I say that this pony car can dramatically change its persona from trim to trim, so you'll want to figure out which version is best for you before deciding. Have fun making up your mind.