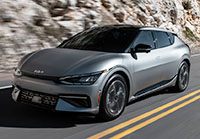 To say the electrical vehicle market is heating up would be an understatement of monumental proportions. As of calendar year 2021's close, zero emission vehicle (ZEV) ownership in Canada is up to 5.6 percent, which is a considerable 1.8-percent higher than it was this time last year.
BC leads the charge with 13 percent of all-new car registrations being zero emission over the past year, Vancouver being slightly higher at 15 percent, whereas Montreal came in second with a 10.7-percent ZEV take-rate in 2021, and Toronto third with 4.3 percent.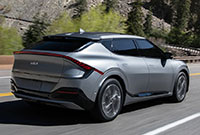 While Tesla is far and away the battery electric vehicle (BEV) leader in Canada, with more than 32,000 cars and crossovers currently registered, others are nibbling away at the U.S. firm's dominance. Porsche's new Taycan showed strength in the premium sector by overtaking Tesla Model S deliveries last year (732 deliveries to 602), while Tesla's Model 3 (at 12,800 units) made up almost 62 percent of Canada's entire dedicated electric vehicle market.
The Model Y (with 4,352 unit-sales in 2021) placed fourth behind Chevy's regular Bolt and new Bolt EUV (which achieved combined sales of 4,675 units last year), and that was despite GM halting sales for most of Q4 due to battery recall issues, while the top-10 list finished off with Nissan's Leaf in fifth (with 1,224 units), Tesla's Model X in sixth (with 997 units), Porsche's Taycan in seventh, Audi's E-Tron in eighth (with 731 units), Tesla's Model S in ninth, and finally Volkswagen's ID.4 in 10th (with 536 units).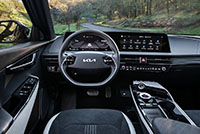 The new 2022 EV6, Kia's first dedicated BEV, probably competes closest with VW's ID.4 and Nissan's Leaf, for size, while some potential Mazda MX-30 prospects (a model that sold 148 examples over the last quarter of 2022) and Bolt EUV customers might also cross-shop these small crossover SUVs. This said it directly targets Hyundai's new Ioniq 5 (which sold 232 units in Q4 of 2021) that shares the South Korean automaker's new E-GMP (Electric-Global Modular Platform) architecture, which will also prop up the new Genesis GV60 luxury crossover.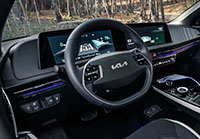 Of note, the 2022 Kia EV6 is priced almost identically to the Ioniq 5, both of which will be significantly more affordable than the GV60's expected MSRP. The EV6 starts at $44,995 for the base Standard Range RWD version, with prices increasing to $52,995 for the Long Range RWD, $54,995 for the Long Range AWD, $57,995 for the Long Range AWD with the GT-Line Package 1, and $61,995 for the Long Range AWD with GT-Line Package 2. Comparatively, the base 2022 Ioniq 5 Essential RWD starts at $44,999 (which is $5 more than the EV6), while the same model's top-line Preferred AWD Long Range trim with its Ultimate Package is available from $59,999 (which is $1,996 less than the top-tier EV6).
The differences in the just-noted trims include more performance and range, starting with the base RWD EV6 that includes a 58.0 kWh battery with a 125kW rear motor capable of up to 373 km of range; which is followed up by Long Range RWD trim featuring a 77.4 kWh battery with a 168kW rear motor for up to 499 km of range. The other two AWD power units utilize the same 77.4 kWh battery as the latter model, but the first trim incorporates a 74kW front motor and a 165kW rear motor for up to 441 km of range, whereas the most potent combination boasts a 160kW front motor and a 270kW rear motor for up to 499 kms of range.
Speaking of trims, the EV6' standard centre display measures 12.3 inches diagonally, while Canadian buyers will also benefit from a heat pump system for maintaining range during cold winter conditions.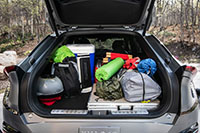 Of course, plenty of advanced driver assistance and convenience systems will be included too, such as forward collision avoidance assist, blind spot avoidance assist, automated parking assistance, driver attention warning, intelligent speed limit assist, highway driving assist, navigation-based smart cruise control-curve, and high beam assist.
The new EV6 also includes ultra-fast DC charging at 800V and 400V, without the need for a separate controller, which allows the battery to be topped up to 80 percent in just 18 minutes.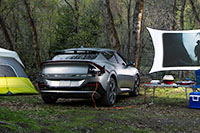 Additionally, campers, do-it-yourselfers, and the like, will appreciate the EV6' available Vehicle to Load (V2L) feature, which transforms the new SUV into a direct power source for just about anything, from personal electronics and appliances, to even the ability to charge another BEV.
The new 2022 Kia EV6, which will arrive at Canadian Kia dealerships next month, will qualify for the $5,000 national iZEV rebate thanks to being priced below $45,000. Provincial rebates may decrease its price even further, with Quebec's $8,000 incentive dropping the point of entry below $32,000.
Robo Dog | The All-Electric Kia EV6 (1:10):

The Kia 2022 Inspiration Journey | Kia EV6 (1:41):

The Kia EV6 used to break the world record (1:47):

18-Minute Charge Time | The Kia EV6 (0:15):

Up to 300 Mile Range | The Kia EV6 (0:15):

All-New Electric Kia EV6 GT-Line AWD Race Inspired | 2022 Kia EV6 (0:30):

All-new Electric Kia EV6 GT-Line AWD Jet | 2022 Kia EV6 (0:30):

Story credit: Trevor Hofmann
Photo credits: Kia