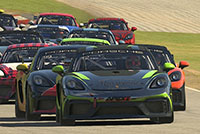 To many sports fans, esports aren't actually counted as sport. Certainly, esports require high levels of stamina and skill, not to mention finite concentration, coordination and a modicum of intelligence to reach the top echelons of a given game, which are all attributes of top-tier athletes, but as anyone who's driven a car on a track knows, merely mastering a simulator doesn't make for a competitive racer in the real world.
This said, every modern-day Formula One driver spends countless hours at the controls of their teams' high-end simulators, virtually tackling every track on the calendar in order to hone their race craft and likewise prepare their team for what they may be facing ahead of an F1 weekend. The same can be said for most any professional car racing series, which makes esports particularly relevant in the motorsport community. In fact, F1 drivers and other series competitors have gone head-to-head in the digital arena, especially this year before cars took to the track, putting the e-drivers that took part in Porsche's new Esports Sprint Challenge in rarified company.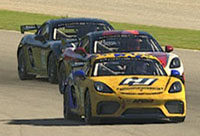 Porsche doesn't compete in F1, or for that matter in sports prototype racing series at tracks like Le Mans anymore, its 919 hybrid having taken the overall win at that renowned 24-hour event three years in a row from 2015 through 2017. Porsche also holds title to the winningest brand at the famed circuit, while special race prepped versions of its road cars are fielded by many teams in other FIA sports car categories and additional series, plus the performance brand is now heavily invested in Formula E, the FIA-sanctioned all-electric racing series. Now we can add esports to Porsche's motorsport activities, thanks to the Porsche Esports Sprint Challenge Canada one-make virtual race series.
The Esports Sprint Challenge Canada series was launched in May, 2020, together with renowned online games company iRacing.com. iRacing, which is best known for its "Grand Prix Legends" and NASCAR 2003" games, created a game that pitted virtual 718 Cayman GT4 Clubsport cars against each other on popular race tracks, the final at the famed Circuit Gilles Villeneuve in Montreal.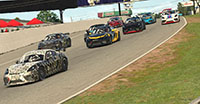 While 30 contestants took part, the series was dominated by Brandon Hawkin from Lindsay, Ontario, who won every race.
"The series was organized very professionally and it was a pleasure to race with everyone – what a fantastic experience," commented Hawkin. "It will be extremely memorable based on how competitive the series was with lots of track battles."
William Levesque ended up second in the Esports Sprint Challenge Canada championship, with Giovanni Romano taking a respectable third place. Along with the pride of winning and the series trophy, Hawkin will join Porsche Canada at an actual race track for the Porsche Experience program, an opportunity of a lifetime for any sports car enthusiast.
"Driving a Porsche on track is something I've wanted to do since I was a child," added Hawkin. "I'm so excited and thankful that I'll now get that chance and join the Porsche Track Experience program!"
Porsche provided alternative prizes for the 29 contestants that trailed Hawkin, while iRacing provided credits to take part in online games.
"It was incredible to see the group of talented sim racers we have across Canada push each other in the virtual racing world," stated Marc Ouayoun, President and CEO, Porsche Cars Canada, Ltd. "Congratulations to all the competitors, especially to Brandon Hawkin, as he will have the chance to bring his skill sets to life at Porsche Track Experience in the very near future."
Story credits: Trevor Hofmann
Photo credits: Porsche