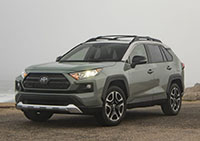 There's no hotter segment in today's car market than the compact crossover SUV. Having started in 1994 with the Toyota RAV4, a model that was joined by Honda's CR-V the following year, and Subaru's Forester in 1997, this category has been bulging at the seams ever since.
To be clear, in this top-five overview we're focusing on the best-selling compact crossovers, not including off-road-oriented 4x4s such as Jeep's Wrangler or Ford's new Bronco (the smaller Bronco Sport, which is based on the Escape, does qualify however), and also excluding smaller subcompact SUVs like Hyundai's Kona and Subaru's Crosstrek.
Toyota RAV4 dominated with 67,977 sales in 2020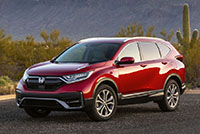 Not long ago, Honda's CR-V owned this segment, but Toyota's RAV4 has ruled supreme since introducing its hybrid variant in 2015 as a 2016 model. This allowed Toyota to stay just ahead of the popular Honda, although introduction of the latest fifth-generation RAV4 in 2018, which now even comes in an ultra-quick plug-in RAV4 Prime variant, has helped to push the roomy RAV4 right over the top.
With deliveries of 67,977 examples in 2020, the RAV4's sales dwarfed those of the next-best-selling CR-V by 17,842 units, plus it more than doubled the rest of the top-five contenders' tallies last year.
Interesting as well, Toyota was one of only three models out of 14 compact crossover SUV competitors to post positive gains in 2020, with total deliveries up 4.18 percent compared to those in 2019.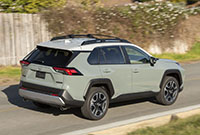 Without doubt, the new RAV4's tough, rugged, Tacoma-inspired styling is playing a big role in its success, not to mention duo-tone paint schemes that cue memories of the dearly departed FJ Cruiser. Likewise, beefier new off-road trims play their part too, as well as plenty of advanced electronics inside, a particularly spacious cabin, class-leading non-hybrid AWD fuel economy of 8.0 L/100km combined when upgrading to idle start/stop technology (the regular AWD model is good for a claimed 8.4 L/100km combined), and nearly the best fuel economy amongst available hybrids in this segment at 6.0 L/100km combined (not including PHEVs).
Another feather in the RAV4's cap is top spot in J.D. Power's 2021 Canada ALG Residual Value Awards for the "Compact Utility Vehicle" category, meaning you'll hold on to more of your money if you choose a RAV4 than any other SUV on this list.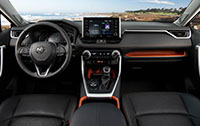 This feat is backed up by a 2020 Best Retained Value Award from the Canadian Black Book (CBB) too, although to clarify the Jeep Wrangler actually won the title in CBB's "Compact SUV" category, with the runners up being the Subaru Crosstrek and RAV4. The fact that these three SUVs don't actually compete in the real world gives the RAV4 title to CBB's Best Retained Value in the compact crossover SUV category, if the third-party analytical firm actually had one.
The RAV4 was also runner-up in the latest 2021 J.D. Power Vehicle Dependability Study (VDS) in the "Compact SUV" class, while the RAV4 Hybrid earned the highest podium in Vincentric's most recent Best Value in Canada Awards, in the Consumer section of its "Hybrid SUV/Crossover" category, plus the same award program gave the RAV4 Prime plug-in a best-in-class ranking in the Fleet section of its "Electric/Plug-In Hybrid SUV/Crossover" segment.
The 2021 Toyota RAV4 starts at $28,590 (plus freight and fees) in LE FWD trim, while the most affordable RAV4 Hybrid can be had for $32,950 in LE AWD trim. Lastly, the top-tier RAV4 Prime plug-in hybrid starts at $44,990 in SE AWD trim. To learn about other trims, features, options and pricing, plus available manufacturer financing/leasing rates and other available rebates and/or dealer invoice pricing, check out the CarCostCanada 2021 Toyota RAV4 Canada Prices page and the 2021 Toyota RAV4 Prime Canada Prices page.
Honda claims a solid second-place with its recently refreshed CR-V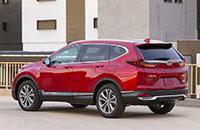 Lagging behind arch-rival Toyota in this important segment no doubt irks those in Honda Canada's Markham, Ontario headquarters, but 50,135 units in what can only be considered a tumultuous year is impressive just the same.
This said, experiencing erosion of 10.42 percent over the first full year after receiving a mid-cycle upgrade can't be all that confidence boosting for those overseeing the CR-V's success.
Too little, too late? You'll need to be the judge of that, but the CR-V's design changes were subtle to say the least, albeit modifications to the front fascia effectively toughened up its look in a market segment that, as mentioned a moment ago, has started to look more traditionally SUV-like in recent years.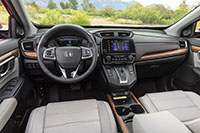 Of note, the CR-V took top honours in AutoPacific's 2020 Ideal Vehicle Awards in the "Mid-Size Crossover SUV" category, not that it actually falls into this class. Still, it's a win that Honda deserves.
The CR-V is also second-most fuel-efficient in this class when comparing AWD trims at 8.1 L/100km combined, although the Japanese automaker has chosen not to bring the model's hybrid variant to Canada due to a price point it believes would be too high. Hopefully Honda will figure out a way to make its hybrid models more competitor north of the 49th, as an electrified CR-V would likely help it find more buyers.
The 2021 Honda CR-V starts at $29,970 in base LX 2WD trim, while the top-line Black Edition AWD model can be had for $43,570 (plus freight and fees). To find out about all the other trims, features, options and more in between, not to mention manufacturer rebates/discounts and dealer invoice pricing, go to the 2021 Honda CR-V Canada Prices page at CarCostCanada.
Mazda and its CX-5 continue to hang onto third in the segment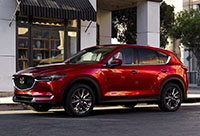 With 30,583 sales to its credit in 2020, Mazda's CX-5 remains one of the most popular SUVs in Canada. What's more, it was one of the three SUV's in the class to post positive growth in 2020, with an upsurge of 10.42 percent.
Additionally, these gains occurred despite this second-generation CX-5 having been available without a major update for nearly five years (the already available 2021.5 model sees a new infotainment system). This said, Mazda has refined its best-selling model over the years, with top-line Signature trim (and this year's 100th Anniversary model) receiving plush Nappa leather, genuine rosewood trim, and yet more luxury touches.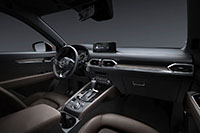 Its Top Safety Pick Plus ranking from the U.S. National Highway Traffic Safety Administration (NHTSA) probably helped keep it near the top, an award that gives the CX-5 a leg up on the RAV4 and CR-V that only qualify for Top Safety Pick (without the Plus) status.
At 9.3 L/100km combined in its most basic AWD trim, fuel economy is not the CX-5's strongest suit, but Mazda offers cylinder-deactivation that drops its city/highway rating to 9.0 flat.
The CX-5's sleek, car-like lines buck the just-noted new trend toward truck-like ruggedness, while, as noted, its interior is arguably one of the most upscale in the segment, and overall performance very strong, especially with its top-tier 227 horsepower turbocharged engine that makes a commendable 310 lb-ft of torque.
The 2021 Mazda CX-5 is available from $28,600 in base GX FWD trim, whereas top-level 2021 100th Anniversary AWD trim starts at $43,550 (plus freight and fees), and the just-released top-line 2021.5 Signature AWD trim can be had for $42,750. To learn more about all the trims, features, options and prices in between, plus available no-haggle discounts and average member discounts thanks to their ability to access dealer invoice pricing before negotiating their best price, check out the CarCostCanada 2021 Mazda CX-5 Canada Prices page.
Hyundai holds onto fourth place despite slight downturn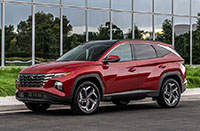 With 28,444 units sold during the 12 months of 2020, Hyundai is so close behind Mazda in this category that its Tucson might as well be tailgating, and that's despite losing 5.42 percent from last years near all-time-high of 30,075 deliveries.
Sales of the totally redesigned 2022 Tucson have only just started, however, so we'll need to wait and see how well it catches on. Fortunately for Hyundai fans, and anyone else who appreciates things electrified, a Tucson Hybrid joins the fray in order to duel it out with Toyota's mid-range RAV4 Hybrid.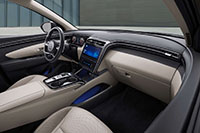 This last point is important, as the conventionally-powered 2022 Tucson AWD is only capable of 9.0 L/100km combined, making the Tucson Hybrid the go-to model for those who want to save at the pump thanks to 6.4 L/100km. Of note, a new 2022 Tucson Plug-in Hybrid is now the fourth PHEV in this segment.
Another positive shows the new 2022 Tucson receiving a Top Safety Pick Plus award from the NHTSA, as does the fifth-place 2021 Nissan Rogue, incidentally, plus Subaru's Forester, and Ford's new Bronco Sport. Now that we're on the subject, lesser Top Safety Pick winners that have not yet been mentioned include the Chevrolet Equinox, Ford Escape, the outgoing 2021 Tucson, and Kia's Sportage.
The 2022 Hyundai Tucson starts at $27,799 in its most basic Essential FWD trim, while the conventionally powered model's top-level N Line AWD trim is available from $37,099. Moving up to the 2022 Tucson Hybrid will set you back a minimum of $38,899 (plus freight and fees, before discount), while this model is substitutes the conventionally-powered N Line option for Ultimate trim, starting at $41,599. The model's actual ultimate 2022 Tucson Plug-in Hybrid trim starts at $43,499 in Luxury AWD trim, while that SUV's top-level Ultimate trim costs $46,199. To find out about all the trims, features, options, prices, discounts/rebates, dealer invoice pricing, etcetera for each of these models go to CarCostCanada's 2022 Hyundai Tucson Canada Prices page, 2022 Hyundai Tucson Hybrid Canada Prices page, and 2022 Hyundai Tucson Plug-In Hybrid Canada Prices page.
Nissan Rogue sees one of the biggest sales losses in the segment for 2020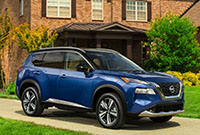 While top-five placement from 25,998 sales in 2020 is nothing to sneeze at, Nissan's Rogue is a regular top-three finisher in the U.S., and used to do just as well up here as well.
The last full calendar year of a longer-than-average six-year run saw the second-generation Rogue's sales peter out in 2020, resulting in a year-over-year plunge of 30.73 percent. In fact, the only rival to fare worse was the Mitsubishi Eclipse Cross that lost 40.66 percent from the year prior, and that sportier model isn't exactly a direct competitor due to its coupe-crossover-like profile. On the positive, that unique Japanese crossover earned best in its Compact XSUV class in AutoPacific's 2021 Vehicle Satisfaction Awards, which is something Mitsubishi should be celebrating from the rooftops.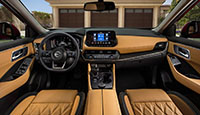 Fortunately, an all-new 2021 Rogue is already upon us, and was doing extremely well over the first half of this year, with Q2 sales placing it in third. That model provides compact SUV buyers a massive jump in competitiveness over its predecessor, especially styling, interior refinement, ride and handling, electronics, plus ride and handling, while its fuel economy is now rated at 8.1 L/100km with AWD.
The new Rogue's overall goodness was recently recognized by the Automobile Journalist's Association of Canada (AJAC) that just named it "Best Mid-Size Utility Vehicle in Canada for 2021", even though it falls within the compact camp.
The 2021 Nissan Rogue is available from $28,798 (plus freight and fees) in base S FWD trim, while both 2021 and 2021.5 Platinum AWD trims start at $40,798. To learn more about all trims, features, options, prices, discounts/rebates, dealer invoice pricing, and more, check out the CarCostCanada 2021 Nissan Rogue Canada Prices page, plus make sure to find out how the CarCostCanada system helps Canadians save thousands off their new vehicle purchases, and remember to download their free app from the Apple Store or Google Play Store so you can have all of their valuable information at your fingertips when you need it most.
How the rest fared during a challenging 2020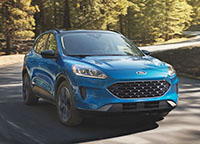 For those who just need to know, sixth in this compact crossover SUV segment is Ford's Escape at 23,747 unit-sales, although deliveries crashed by a staggering 39.89 percent from 2019 to 2020, and that's after a 9.37-percent loss from the year before, and another 9.0 percent tumble from the 12 months prior. Back in calendar year 2017, the Escape was third in the segment, but for reasons that are clearly not related to the Escape Hybrid's best-in-class fuel economy of 5.9 L/100km combined, the Escape Plug-in Hybrid's even more miserly functionality, or for that matter the industry's recent lack of microchips that seem to have crippled Ford more than most other automakers, the blue-oval brand is losing fans in this class at a shocking rate.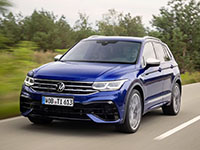 And yes, that last point needs to be underlined, there can be many reasons for a given model's slow-down in sales, from the just-noted chip shortage, as well as the health crisis that hampered much of 2020, to reliability issues and the age of a given model's lifecycle, while styling is always a key factor in purchasing decisions.
All said, Volkswagen's Tiguan sits seventh in the compact SUV category with 14,240 units sold in 2020, representing a 26.02-percent drop in year-over-year deliveries, while the aforementioned Forester was eighth with 13,134 deliveries over the same 12-month period. Chevrolet's Equinox was ninth with 12,502 sales after plummeting 32.43 percent in popularity, whereas Kia's Sportage capped off 2020's top 10 list with 11,789 units down Canadian roads after a 6.71-percent downturn.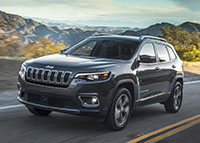 Continuing on, GMC's Terrain was 11th with 9,848 deliveries and an 18.09-percent loss, Jeep's Cherokee was 12th with 9,544 sales and a 30.27-percent dive, Mitsubishi's Outlander (which also comes in PHEV form) was 13th with 7,444 units sold due to a 30.43-percent decline, and finally the same Japanese brand's Eclipse Cross was 14th and last in the segment with 3,027 units sold and, as mentioned earlier, a sizeable 40.66-percent thrashing by Canadian compact SUV buyers.
Ford's Bronco Sport newcomer already making big gains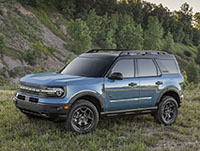 The Rogue wasn't the only SUV to shake up the compact SUV class during the first six months of 2021, incidentally, with the second honour going to the Bronco Sport that's already outselling Jeep's Cherokee at 2,772 units to 2,072, the Cherokee being the SUV the smaller Bronco most specifically targets thanks to both models' serious off-road capability.
The Bronco Sport was actually ranking eighth overall when this year's Q2 closed, beating out the Sportage (which will soon arrive in dramatically redesigned form) despite its two-position move up the charts, this displacing the Forester (which dropped a couple of pegs) and the Equinox (that's currently ahead of the Forester).
The Cherokee, in fact, moves up a place due to sluggish GMC Terrain sales, but to be fair to General Motors, both its Chevy and GMC models (which are actually the same under the skin) would be positioned in eighth place overall if we were to count them as one SUV, while the Hyundai–Kia pairing (also the same below the surface) would rank third overall.
Make sure to check out the gallery for multiple photos of each and every compact crossover SUV mentioned in this Top 5 overview, plus use the linked model names of each SUV above to find out about available trims, features, options, pricing, discounts (when available), rebates (when available), financing and leasing rates (when available), plus dealer invoice pricing (always available) that could save you thousands on your next new vehicle purchase.
Story credits: Trevor Hofmann
Photo credits: Manufacturer supplied photos