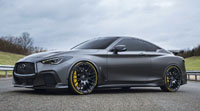 With 2017 coming to a close, we're taking a look at some of the year's more intriguing concepts, with a sharper focus on those that have a better chance of being produced than the whimsical dream cars that more often than not fill the front pages of buff magazines.
Infiniti's Project Black S fits that bill to a T. And it doesn't hurt that it's based on a car already in existence, the beautiful and formidable Q60 Red Sport 400.
The Project Black S first hit the stage at the 2017 Geneva auto show earlier this year, with a matte grey paint job plus stunning gloss black and yellow highlights that paid homage to the Renault Sport Formula One team.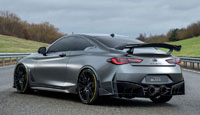 F1 fans will know that Infiniti is a Renault Sport Formula One team sponsor, its branding prominently displayed on each side of the race car's cowl induction unit (the big air scoop above the driver's head—in Renault's case Nico Hülkenberg and Carlos Sainz Jr.). Along with sponsorship, Infiniti also confirms it contributes "knowledge in hybrid technology and additional engineering resources" to the Renault Sport Formula One initiative.
Readers well versed in the automotive industry will also know that Infiniti is the luxury division of Nissan, and that Nissan is part of a three-brand Franco-Japanese strategic partnership known as the Renault–Nissan–Mitsubishi Alliance (Renault–Nissan having purchased a controlling stake in Mitsubishi last year), this group responsible for one out of every 10 cars sold worldwide.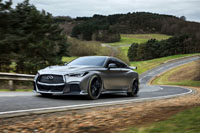 With that backgrounder out of the way, the Renault Sport Formula One-inspired Infiniti Project Black S makes a great deal of sense, especially after appreciating just how much F1 technology gets infused within this proposed road car's power unit.
"Power unit" is the appropriate term, because the direct-injected and twin-turbocharged 3.0-litre V6 borrowed from Infiniti's Q50 and Q60 Red Sport 400 models gets an electrified power boost that goes beyond any hybrid ever seen on public roads, unless we're talking single weekends each year in Sochi, Monte Carlo, Montreal (between the Pavillon du Canada and the Cosmos Bridge), Baku, and Singapore—street races on the F1 calendar.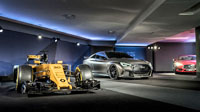 "Infiniti is leading the way with innovative new powertrain technology for consumers, such as the award-winning 3.0-litre twin-turbo V6 engine, and VC-Turbo, the world's first production-ready variable compression ratio engine," said Francois Bancon, Vice President, Global Product Strategy, Infiniti. "With Project Black S, we are looking at how a unique performance hybrid energy recovery system could be adapted from Formula One for use on the road."
Certainly the Q50 Hybrid and Q70 Hybrid sedans offer a considerable performance advantage over their base counterparts, thanks to 360 net-horsepower from a 3.5-litre V6 and 50kW electric motor combination, but the Project Black S not only utilizes the much more advanced VR30DDTT engine noted above, its "instant, significant, lag-free acceleration" comes via a dual-hybrid heat energy recovery technology unique to Formula One, increasing the Red Sport 400's peak output by 25 percent to a whopping 500 horsepower.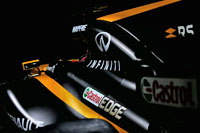 Breaking down the tech, most hybrid cars, like the Q50 Hybrid and Q70 Hybrid, utilize some form of regenerative braking system, which redirects kinetic energy from brake friction to a battery normally used for running ancillary features. This is similar to a Formula One car's MGU-K unit, MGU standing for motor generator unit, and K for kinetic. The Renault Sport Formula One car's MGU-K unit regenerates kinetic energy from braking and feeds it into a high-rate discharge lithium-ion battery used in turn to spin the engine's crankshaft and exhaust turbocharger's turbine blades quicker, resulting in more power. The second part of an F1 car's dual-hybrid system is an MGU-H unit that harvests "heat" energy from exhaust gases to do the same thing as the MGU-K, more or less doubling the energy fed into the battery and subsequently the crank and twin turbines.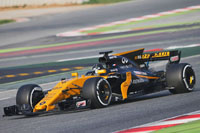 The MGU-H is much lauded by forward thinking tech devotees albeit somewhat loathed by F1 fans, as it's a common cause of power unit failures. Of course, the Project Black S road car's internal combustion engine is nearly twice the size of the F1 car's 1.6-litre V6, while it's certainly not asked to rev to 15,000 rpm in order to make upwards of 870 horsepower, so therefore it's nowhere near as stressed and should theoretically be easier to achieve reliability.
This said the MGU-H has never been used in a production car before, and therefore if Infiniti were to build something along the lines of the Project Black S it would be an industry first. That F1 rivals Mercedes and Ferrari haven't done so already is testament to the difficulty of the task, but considering that the ERS' (energy recovery system's) raison d'être in F1 is a form of road car relevance, necessary to attract big name engine builders like the Renault–Nissan–Mitsubishi Alliance (and Infiniti), integrating the MGU-H portion of the equation into a production vehicle is not only fitting, but important.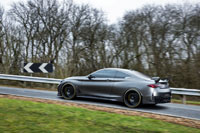 As part of the Renault Sport Formula One team's motorsport technology transference, Project Black S also sheds curb weight from extensive use of carbon-fibre, which is nothing new to both motorsport and performance road cars. F1 cars are mostly made from advanced composite materials, whereas the Project Black S uses carbon fibre reinforced plastic (CFRP) for its large reshaped front splitter, rear diffuser, fenders and side skirts, "while ultra-thin aero 'blades' in the side sills ahead of the rear wheels channel air around the lower body of the car." The sizeable rear wing, designed to increase rear downforce at speed, is also made from CFRP.
There's function to all the new forms too. The large frontal air intakes effectively channel cooling air into the engine compartment and onto the brakes, while new hood vents allow heat to escape. The Project Black S' rear body panels are shaped to allow circulating air to flow away from the car as quickly and efficiently as possible, enhanced by vertical aero foils as well as the aforementioned rear wing.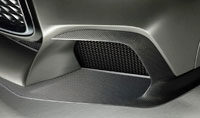 Along with all the lightweight CFRP components, a set of forged 21-inch aluminum wheels also reduces weight while providing a larger contact patch to improve mechanical grip from wider, lower profile performance tires. Additionally, modified chassis settings improve high-speed stability and overall handling, while a high-performance titanium twin exhaust system increases flow and reduces yet more weight. These items, plus all of its tastefully applied aero elements penned by Infiniti's Paddington studio in London, England, combined with the already beautiful new Q60 sports coupe, have resulted in a sensational looking road-going prospect.
"Project Black S is a daring and elevated representation of Infiniti's performance DNA," said Alfonso Albaisa, Executive Design Director, Infiniti. "It expresses our desire to create cars that are designed to perform, marrying the potency of a high-performance powertrain with a muscular new design. This project has given us the opportunity to experiment with advanced materials to create a performance-inspired aesthetic that draws on Infiniti's motorsport ties through the Alliance."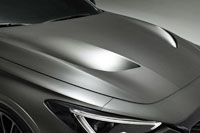 Despite rolling on a modified Q60 Red Sport 400, Project Black S seemed more concept than reality when unveiled at Geneva in March, but when reintroduced at the Montreal Grand Prix in June, together with exclusive F1 tire supplier Pirelli, which came on as a new Project Black S partner responsible for supplying specially designed and constructed bespoke performance tires, its road-going prospects brightened.
Pirelli announced its intention of supplying the Project Black S with a unique set of P Zero performance tires, from the brand's F1-inspired Coloured Edition. F1 uses bright colour markings on its tire sidewalls in order to let fans and FIA (Federation Internationale de l'Automobile) marshals (the sport's governing body) know which tires they're running (tire use is regulated during each race), the 2018 "Pirelli Rainbow" tire lineup including Super hard (orange), Hard (light blue), Medium (white), Soft (yellow), Supersoft (red), Ultrasoft (purple), Hypersoft (pastel pink), Intermediate (green – used for light rain), Wet (blue – used for heavier rain), and now Pirelli has capitalized on this by offering road car customers hundreds of tire colour options to match their vehicles.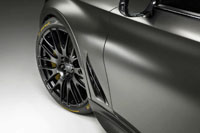 "We are very excited about our 'Project Black S' and the work we are doing with Renault Sport Formula One Team on performance hybrid technology," said Tommaso Volpe, Director of Infiniti Global Motorsport. "Having another key Formula One player involved is proof of the interest it generates and will add even more focus on performance delivery. As we explore the feasibility of 'Project Black S,' Pirelli's input and knowledge – both motorsport and automotive – will be invaluable. We couldn't be happier to have them onboard."
To be clear, Project Black S has been touted as a possible production car from its onset, with the initial Geneva press release stating the car "explores the potential for a new Infiniti performance grade" that Infiniti hoped would help "gauge potential interest in high-performance derivatives of Infiniti cars."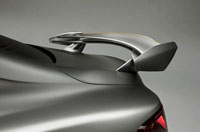 "We were fascinated with 'Project Black S' since Infiniti unveiled it at the Geneva motor show earlier this year," added Paul Hembery, Motorsport Director for Pirelli. "We simply had to get involved. 'Project Black S' is the ultimate expression of innovation and cutting-edge technology transfer, which is in our DNA, so we couldn't let this opportunity go by. We are thrilled to be a part of it and to support Infiniti on this project."
Does this mean a Project Black S-like Infiniti Q60 is destined for future production? Let's say a dual-hybrid KERS motivated road car is more likely than the GT-R-powered Eau Rouge, which came too close to treading on Godzilla's tracks. As it is, racing (and hopefully one day winning) on Sunday and selling on Monday is right up Infiniti's alley, and no doubt Renault–Nissan would love to recoup some of the substantial F1 investment more directly than the global brand recognition it's currently receiving. Only time will tell if a production version is imminent, but either way the Infiniti Q60 Project Black S is a concept car with a very interesting ongoing story.
For more, check out the gallery above, as well as the following video of its Geneva motor show introduction by Roland Krueger, President Infiniti Motor Company, and Jérôme Stoll, President Renault Sport Racing: