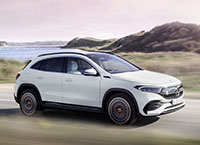 With the goal of achieving a "Carbon Neutral" model line by 2039, Mercedes continues to expand its all-new EQ electric vehicle lineup with a model that may become its most important overall, if only because its entry-level position within the German brand's EV hierarchy has the potential to usher in an entirely new group of buyers.
The EQA will likely be the least expensive way to own a Mercedes' EV when it finally arrives in Canada, although we shouldn't expect it before calendar year 2022, after the larger EQC arrives, which was recently delayed from its initially reported 2021 launch date to 2022 as well.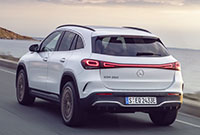 The EQC will follow the new EQS mid-size luxury sedan, which was prioritized for North American markets. The large coupe-shaped four-door Tesla Model S and Porsche Taycan fighter was moved ahead of the much-anticipated GLC-based EQC compact luxury crossover EV that we reported on at length back in October of 2018.
Brian Fulton, Mercedes-Benz Canada President and CEO, told journalists attending the Montreal International Auto Show in January of 2019, that the EQS, EQC and this EQA will initiate a 10-model EQ line of new EVs, two others including an EQB, based on the new GLB subcompact, and the EQE, riding on modified mid-size GLE SUV architecture.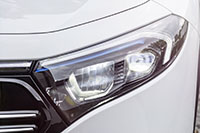 Where the EQC's twin electric motors will produce 300 kilowatt (402 horsepower) and 564 lb-ft of torque, the smaller SUV's first available EQA 250 trim will feature a single 140-kW (188-hp) electric motor focused on efficiency first and foremost. Still, a more potent model is said to produce about 200 kW (268 hp) via a second electric motor driving an opposing set of wheels, resulting in AWD. The thin battery is spread out under the floor to maximize interior room, improve weight distribution, and low the SUV's centre of gravity for optimal handling.
With respect to the all-important range issue, Mercedes is claiming about 500 kilometres on a single charge, based on Europe's highly optimistic NEDC and WLTP standards, which means this number will certainly shrink when the EQA arrives on our market. Helping users make the most of stored energy, the EQA will use an intelligent navigation system to plot out the most efficient routes possible after considering real-time traffic, terrain, weather conditions, driving style, and charging requirements.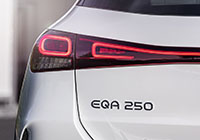 Efficiency in mind, Mercedes has integrated a standard heat pump to channel warmth generated from the electric powertrain to the passenger compartment, thus increasing range. An Eco Assist system helps reduce battery usage as well, while a plethora of advanced driver assistance and electronic safety tech has been designed to protect the EQA's most precious cargo.
Mercedes appears to have used wind tunnel testing to achieve the EQA's slippery 0.28 drag coefficient, but in fact the little SUV's impressive aerodynamics were entirely achieved digitally, a first for the German automaker. The result includes a very smooth outer skin, boasting a near flush grille and headlamps, a smooth, arcing coupe-like roofline, wind-cheating alloy wheels, and a mostly enclosed underbelly.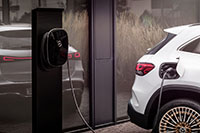 This said, the EQA retains the general shape of the recently redesigned gasoline-powered 2021 GLA that it shares architectural hard points with, Mercedes having chosen the appearance of a conventional grille in order to maintain brand identity, and simultaneously avoid the stylistic blandness found on vehicles with no defined grille.
Adding yet more personality, Mercedes has infused the headlamps with blue accents, which should be quite the light show at night. Additionally, an LED light strip visually connects those headlights with a set of daytime running lamps that stretch across the grille, a theme that's followed in back where organically shaped LED outer lamps connect via a narrowing band across the entire hatch, adding visual width to the otherwise GLA-like rear design.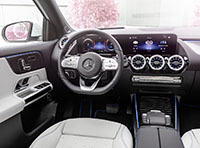 The EQA's interior will look familiar to those that have been inside a modern-day Mercedes model, highlighted by the brand's MBUX two-in-one mono-display incorporating a fully digital primary instrument cluster on the left and infotainment touchscreen to the right, the latter also controllable via a touchpad and switchgear on the lower centre console. Along with the usual functions, the two EQA displays will get a host of EV-specific interfaces, including the upgraded navigation system noted earlier.
The German brand uses ambient lighting to underscore key interior design elements too, while materials quality should be up to par with the already impressive GLA. An available rose gold trim package will be popular with many, the classy colour also featured within the infotainment display for added measure.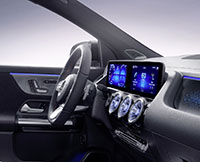 Considering its more approachable expected price point, the EQA could do very well in the Canadian market, which traditionally favours smaller cars and SUVs than its American neighbour. The GLA is already a top-three seller in its subcompact luxury SUV segment, although its 3,566 pre-health crisis sales in calendar year 2019 were less than a third of the GLC's 10,883 best-in-class deliveries, but that shouldn't cause Mercedes' Canadian executive team to hold off on the smaller model. The EV market can respond in untraditional ways, after all, so it's possible a smaller, more affordable alternative could be what the market actually needs.
As it is, Mercedes' EQS, EQC, and EQE will respectively target Tesla's Model S, Model Y and Model 3 directly, which has proven to be a formidable task by other EV makers. The EQA and EQB, on the other hand, will occupy niches Tesla hasn't filled yet, giving the German brand an advantage in an EV sector dominated by the American tech giant.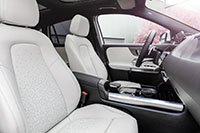 Currently, Volvo's XC40 Recharge is the only EV competitor in the subcompact SUV class, with Lexus' UX merely satisfying Canadian hybrid buyers so far (it's all-electric UX 300e is not slated for Canada). The electric-gasoline theme continues with the Range Rover Evoque, a mild-hybrid that's unfortunately not available in Canada, while Mini ups the ante with a plug-in version of its Countryman. Likewise, Audi and BMW will soon offer plug-in hybrids of their own, dubbed Q3 45 TFSI e and X1 xDrive25e respectively, while Audi reportedly has the Q4 e-tron EV coming too, but it's larger than the Q3, EQA, and other subcompact SUVs.
A fully electrified Mercedes-Benz lineup will certainly add variety to the Canadian EV market, with Mercedes appearing to be leading the charge amongst established luxury brands.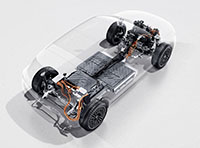 Mercedes' EQA isn't available to purchase just yet, but for those wanting a subcompact luxury SUV that still offers plenty of efficiency, take note that remaining 2020 versions of the brand's GLA-Class are now available with up to $5,000 in additional incentives, whereas redesigned 2021 models can be had with up to $750 in incentives. Visit CarCostCanada's 2020 and 2021 Mercedes-Benz GLA Canada Prices pages to learn more, and also remember that a CarCostCanada membership can provide additional savings from manufacturer rebates when available, factory leasing and financing, as well as dealer invoice pricing that can save you even more. Find out how the CarCostCanada system works, and make sure to download their free app from the Google Play Store and the Apple Store.
Story credits: Trevor Hofmann
Photo credits: Mercedes-Benz