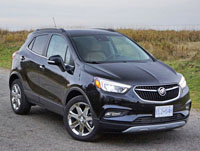 Buick might be the world's most global brand. Yes, Buick, General Motors' problem child that only continues to exist due to its relevance in China. Granted, it's been part of the Chinese market since emperors ruled, while the brand more recently positioned itself well as a purveyor of true premium products that suited Chinese market tastes to a tee, both stylistically and luxuriously, but China isn't the only reason Buick can claim such jet-setting status.
The Regal GS (see the latest version here) I most recently reviewed, for instance, was designed cooperatively by GM's German and Australian divisions, with input from its Chinese and North American operations, and assembled in Rüsselsheim, Germany, and Shanghai, China, for the Chinese market, the latter factory also producing the LaCrosse that I tested and reviewed way back in 2017 (see the 2019 LaCrosse here), although our version of Buick's flagship sedan is built in GM's Detroit/Hamtramck Assembly.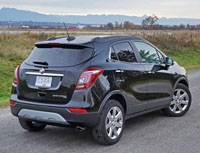 Even more exotic, the compact Envision crossover SUV (see the updated version here) I covered the same year, while related to the Chevrolet Equinox and GMC Terrain, was mostly designed and produced in China, and is actually the first mass-produced vehicle to follow that Chinese production path (not without ever-changing regulation challenges).
The only American-made vehicle to remain under the Buick brand after the LaCrosse is discontinued later this year will be the mid-size three-row Enclave SUV (see the redesigned Enclave here), produced in Lansing, Michigan. Even the upcoming mid-size five-passenger Envoy, based on the new Chevy Blazer, will likely hail from GM's Coahuila, Mexico facility, where the Blazer is currently built, but it's possible the new Enspire, slated to fit between the Encore and Envision, will be built at the GM Fairfax plant in Kansas, being that initial plans to bring it over from China aren't looking as appealing as they once did.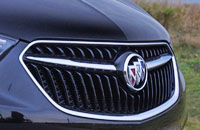 Lastly, the Encore being reviewed here is the product of GM's South Korean enterprise that resulted from taking over Daewoo, and is built in Bupyeong-Gu, Incheon alongside the Chevy Trax, which is virtually the same vehicle under the skin.
The Encore will be completely redesigned for 2020, although we won't see it until spring. The current model hasn't changed noticeably since it was given a thorough and attractive refresh for 2017, with its basic underpinnings remaining unchanged since it first came on the scene in 2012. I've tested it all the way through the years, and always enjoyed it for what it was and still is, a comfortable yet surprisingly quick, highly fuel-efficient, well-featured, roomy little urban runabout with decent all-season capabilities.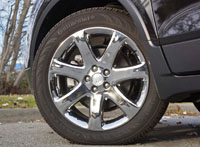 For the reasons just stated, I think the Encore is one of the smarter vehicles to buy in its subcompact near luxury class, at least for those of us who prefer a bit of premium pampering. The 2019 model starts at a mere $26,400 plus freight and fees, and tops out at just over $41k with all options and most useful accessories added, which is where most others in the luxury subcompact SUV class start off, but to be fair to the BMW X1, Mercedes-Benz GLA, Audi Q3 et al, the little Buick is not fully in this class.
First off, it's a Buick, and outside of China the name doesn't conjure up as much prestige as Cadillac, which unfortunately doesn't wow the neighbours as much as one of those just-noted German brands, or for that matter Lexus. Lexus just entered this market with a model that more closely targets the type of comfort/efficiency-first buyer that the Encore attracts, and the UX has quickly run up the sales charts to displace Audi's Q3 in third behind the BMW X1 and Mercedes-Benz GLA-Class, or fourth if we include the Encore in this list, but once again it's priced closer to mainstream volume-branded subcompact SUVs than anything in the luxury sector, so it would be unfair to do so.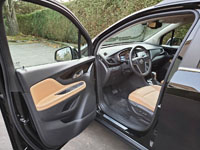 Just the same, with 10,637 Encores sold in Canada last year it continues to do pretty well in the mainstream sector too, placing fifth out of 17 volume-branded subcompact SUVs in 2018, with all others priced cheaper, excepting the near-luxury Mini Countryman that starts at $31,690 and reaches over $50k before adding accessories. That top-line Mini is one of the best performing subcompact SUVs at any price, however, where Buick's buyers are more interested in comfort, quietness, and fuel efficiency, as noted earlier.
If you hadn't already noticed, the Encore is small. In fact, it's smaller than both Countryman generations, the older Mini not as large as the current one, and smaller than all premium-branded subcompact SUVs. Nevertheless, it's larger than Honda's HR-V, Kia's Soul, Ford's EcoSport and a few other mainstream subcompact SUVs, while it's smaller than Nissan's Qashqai, Toyota's C-HR and Jeep's Compass, in fact sized closer to Mitsubishi's RVR, Nissan's Kicks and Hyundai's Kona, and almost identically to Jeep's Renegade and Mazda's CX-3. Yet it's tall, so much so that few will run out of headroom, while its available cargo capacity is surprisingly generous.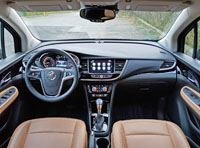 With all seats lowered the Encore can haul up to 1,371 litres (48.4 cubic feet) of gear, and the 60/40-split rear seats lay flatter than most rivals thanks to a folding process requiring each lower rear cushion to be flipped forward first, before manually lowering each headrest, and then tucking each backrest in behind. The process is a bit more labourious than most competitors, but the final result makes it well worth the effort. Buick dedicates 532 litres (18.8 cubic feet) to cargo behind those rear seats, which is about as much as a full-size sedan's trunk. Even better, for those moments when you need to transport something really long and awkward, like some extra 2x4s for the extension you're building or that perfect area rug you saw at the country fair or garage sale, you can lay the front seatback flat as well for up to 2.4 metres (8.0 ft) of extra storage. The Encore's passenger/cargo flexibility truly makes it a practical companion to ease daily life.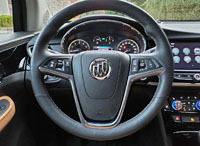 If you want something easy to drive, with excellent sightlines in all directions thanks to a tall ride height and large greenhouse, you can't get much better than the Encore. Its ride is very good, a Buick trademark, soaking up road irregularities with ease, while its MacPherson strut front and compound crank (torsion beam) rear suspension proved agile enough too, not so much as some of its fully independent sprung premium competitors, but easily up to most of its volume-branded rivals. Buick's QuietTuning makes a real difference when it comes to reducing road and wind noise, of course, thanks in part to standard active noise cancellation, but it also adds to the Encore's feel of quality, this process requiring more insulation than average, which results in a sense of solidity and better than average workmanship.
Buick can outfit your Encore with front-wheel drive or all-wheel drive, the latter costing $2,000 and therefore boosting the base model's price up to $28,400, while the standard 1.4-litre turbocharged four-cylinder engine can have its sequential multi-port fuel injection replaced with Spark Ignition Direct Injection (SIDI), which raises output from 138 to 153 horsepower and torque from 148 lb-ft to 177, and its six-speed automatic transmission upgraded to include Start-Stop technology that shuts the engine off when it would otherwise be idling, and automatically restarts it when the brake pedal is let off, all for just $1,030 extra.
My tester included both upgrades and the combination made a massive difference off the line (especially in the wet), when powering up to highway speeds, when exiting corners and during passing manoeuvres, transforming the feel of the little SUV from a eco-commuter SUV into a feisty little pocket rocket. With a curb weight of 1,386 kilos (3,056 lbs) the AWD model doesn't need a lot of power to get moving, while its overall lightness makes the Encore easy to slot through congested city traffic too, not to mention it helps keep fuel costs down.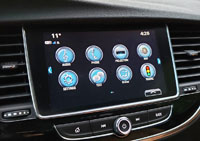 Transport Canada rates the base FWD model at 9.4 L/100km in the city, 7.8 on the highway and 8.7 combined, while the same engine with AWD is good for 9.9 city, 8.1 highway and 9.1 combined. Offsetting the extra power of SIDI with auto idle-stop actually reduces overall fuel use to 8.9 city, 7.5 highway and 8.3 combined with the FWD model or 9.4, 7.9 and 8.8 respectively with the top-line AWD SIDI version, making this upgrade a true "have your cake and eat it too" scenario.
The automatic gearbox, which shifts nicely and is a lot more enjoyable to drive than a continuously variable transmission or CVT, especially when factoring in the thumb-actuated rocker switch that allows for do-it-yourself manual mode after pulling the shift lever to its rearmost position, adds sporty feel to the driving experience, albeit only a little. Rev too high and the engine is a bit on the buzzy side, normal in this class amongst entry-level SUVs. Interestingly, the transmission will hold its gear in manual mode without shifting if you so desire, which does add an element of sportiness that most of its competitors don't allow for, but all said the Encore is best enjoyed at a more relaxed pace, where it makes the most of its compliant ride and overall comfort.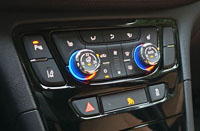 The Encore includes one throwback feature that shows its age, a well-made, sturdy handbrake lever between the two front seats, that's not leather-wrapped incidentally. It'll likely give way to an electromechanical one for the next-generation Encore, but I certainly didn't mind seeing it there and almost used it all week without noticing.
While the handbrake is a non-issue, the rake and reach of the Encore's tilt and telescopic steering column is a definite bonus. It allowed me to set up the driver's position ideally for my long-legged, shorter torso five-foot-eight body, that, when matched up with its power-actuated driver's seat, resulted in a comfortable driving position that also left me fully in control. To be clear, only the lower cushion is powered with the backrest needing manual recline, while the two-way powered lumbar support just happened to meet the small of my back quite well. This said it might not line up with your lower back, or at least not the way you like it, so you may want to check this feature during your test drive. Hopefully Buick will offer four-way lumbar adjustment in the upcoming 2020 model.
As mentioned, those front seats are very comfortable, the driver's even providing a minivan-style folding armrest, but other than their Shale beige leather upholstery (Ebony black or Brandy wine are available too) and nice contrast stitching there's nothing fancy about them. For instance, there's no forced ventilation or even perforations in the leather to cool off during summer, but the three-way seat warmers were downright therapeutic in there hottest setting, and the heatable steering wheel could be set up to automatically turn on with the ignition. I love that, and only wish the seats would do likewise.
Buick simplified the Encore for 2019, with Preferred, Sport Touring and Essence trims, the base model including 18-inch alloy wheels, proximity-sensing keyless access with pushbutton ignition, a large 8.0-inch infotainment touchscreen incorporating a rearview camera with active guidelines, Apple CarPlay and Android Auto, and many other features, while additional standard features include a hard cargo cover and 10 airbags to go along with other passive and active safety features, while the move up to $28,400 Sport Touring trim adds fog lamps, a rear rooftop sport spoiler, and remote engine start.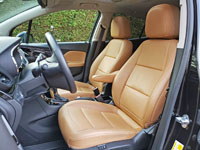 My tester was outfitted in top-tier $31,700 Essence trim, albeit with AWD and the upgraded engine so its base increased to $34,730. Essence features include a heated steering wheel rim, heated (front) leather-upholstered seats with driver's memory, an auto-dimming rearview mirror, a universal garage door opener, and side blind zone alert with rear cross-traffic alert.
The last two items can be had in the two lesser trims as part of a Safety Package, along with a three-prong household-style 120-volt power outlet located at the rear of the centre console, while my Essence trimmed tester was upgraded with the $1,110 New Safety Package II incorporating the above items as well as forward collision alert, lane departure warning, rain-sensing wipers, an air ionizer, plus front and rear parking assist. It also featured the $3,050 Experience Buick Plus Package, which first removes $650 because it includes everything in the just-noted New Safety Package II, while adding special seven-spoke 18-inch chromed aluminum wheels, a navigation system, and a powered glass sunroof.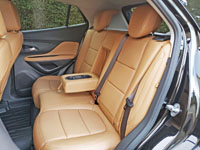 It all made for a nice little subcompact luxury utility, with a better interior than you'll find in most non-premium rivals and only slightly short from achieving the interior finishing of the true luxury set. Details like fabric-wrapped A-pillars set it apart, while its soft-touch dash top and door uppers, both front and back, are nicer than average too, as is the beautifully padded and stitched leatherette instrument panel bolster that begins to the left of the primary gauge cluster before visually continuing below the centre touchscreen and then widening as it crosses ahead of the front passenger.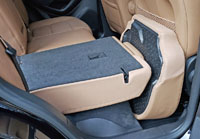 The dash looks elegant and provides a good background for the instruments, the gauge cluster traditional in layout, with an analogue tachometer to the left and speedometer to the right, plus the usual gas and temperature gauges hovering over a nice full-colour multi-information display that's quite comprehensive in its capability, albeit not a more modern fully digital gauge cluster as offered by a number of premium brands.
A sporty, thick, nicely shaped steering wheel frames the gauges elegantly, while the leather it's wrapped in feels very upscale. The attractive satin-silver trim that's added to the lower portion of the wheel feels cool to the touch and therefore comes off as genuine aluminum. There's more on the instrument panel as well as chromed door handles to bling things up, as well as some de rigueur piano black lacquer tastefully applied in key areas.
The centre touchscreen shows off Buick's latest interface design that mimics Chevy's impressive system layout, albeit with fewer colours and a more sophisticated looking blue on black look. Both work well, with this one providing accurate navigation, easy to use audio functions, a good backup camera with aforementioned active guidelines, plus more, but there was no overhead camera option, which was a bit disappointing in this class and price point. Also disappointing was its lack of wireless smartphone charging capability (aren't we getting spoiled), but I suppose it wouldn't have been easy to fit one in as the rubberized tray provided at the base of the centre stack wasn't even large enough to fit my medium-sized Samsung S9 smartphone. Yes, this SUV's age does show through here and there, but at least there were USB charge ports close by, not to mention an auxiliary input and 12-volt charger.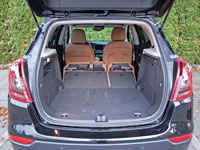 I imagine Buick will take care of wireless charging and the other shortcomings I've mentioned thus far in the upcoming second-generation Encore, but they don't need to update the dual-zone automatic climate control interface, which uses traditional buttons and knobs for all functions, resulting in an easier process than being forced to hunt around for the same features in an infotainment interface.
I've allowed myself to get a bit more granular with this review than I planned to, but the Encore deserves this attention to detail. It might be an old model on its way out, but this little Buick represents very good value in every respect, which is no doubt why it sells so well. You can choose to wait until spring 2002 for the new one, which will likely improve on this aging Encore in every way, or you can opt for tried and tested.
No doubt Buick would be happy no matter which of these two choices you make, but to sway you towards the 2019 they're offering up to $5,390 in additional incentives. To learn more, check out CarCostCanada where you can find pricing on all trims, packages and individual options, plus information on available manufacturer rebates and otherwise hard to get dealer invoice pricing.