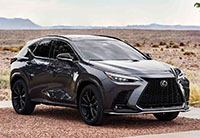 Following its bigger RX brother's lead, the Lexus NX came out of nowhere a half-decade ago to immediately become a frontrunner in the compact luxury SUV class. Currently sitting second in U.S. sales and fourth in Canada, Lexus hopes the new second-generation NX, just introduced last week, will become just as dominant as its mid-size offering, and it really doesn't have far to go in order to catch up to the segment leaders.
Fourth in sales places the NX ahead of BMW's mighty X3, not to mention (in order of popularity) the Cadillac XT4, Volvo XC60, Porsche Macan, Buick Envision, Lincoln Corsair, Infiniti QX50, Jaguar F-Pace, Range Rover Velar, Tesla Model Y, Land Rover Discovery Sport, Alfa Romeo Stelvio, and plenty of slower sellers sporting sweptback coupe-like body styles, like BMW's X4, leaving only the Acura RDX, Audi Q5, and Mercedes-Benz GLC ahead on the sales charts.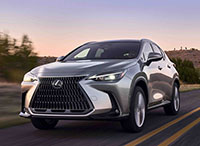 While the RX more than doubles deliveries of its next closest BMW X5 rival in the U.S., and comes close to doing likewise to Mercedes' GLE here in Canada, the gap between NX and X3 sales in the U.S. was narrower than 4,000 units last year, meaning this redesign could push the Japanese model upward enough to claim most popular status. Here in Canada, another 50 sales in 2020 would've ranked it third in its class, leaving it about one thousand units behind the Q5 and slightly more than 2,000 deliveries below the RDX.
Exactly how this redesigned 2022 NX will impact the burgeoning compact luxury SUV market is unknown, but Lexus isn't leaving anything to chance. First off, recently released photos of the all-new model make it clear the premium brand isn't deviating far from the original NX formula that's won it so many fans, with evolutionary new styling that should appeal to current buyers and newcomers alike. Its large spindle grille is as easily defined as ever, despite subtle changes all around including a more three-dimensional effect, while new LED headlights with an optional three-projector upgrade, combine some of the design elements from the previous model's blockier main LED lamps, and the Nike swoosh-style "L-shaped" driving lights, into one curvaceous cluster.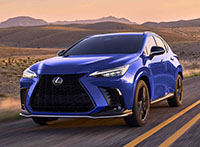 Likewise, the old NX' chunkier side panels have been smoothed out for a more refined look that's still plenty muscular, while the rear design replaces the outgoing SUV's angled individual LED taillights with a set of more organically shaped L-style lenses connected by a thin horizontal strip that spans the entirety of the liftgate, this design, which pulls cues from new UX and IS rear styling, dubbed a "full-width blade rear lamp" by Lexus. New wheels round out the updated package, the F Sport's gloss black rims growing to 20 inches, but not before Lexus literally signed off on the design with five elegantly placed block letters designating its brand, the new NX becoming the first model in its lineup to replace its usual "L" centre rear branding with this new written logo.
Inside, a completely reworked dash panel adds a high-definition 7.0-inch multi-information display to the gauge cluster and projects an available 10-inch head-up display onto the windshield ahead of the driver, while the top half of the centre stack can been optionally taken over by a massive landscape-positioned 14.0-inch touchscreen display (that incorporates controls for the automatic climate control system and more) in top-line conventionally-powered and plug-in hybrid trims, meaning that Lexus finally appears to being giving up on controlling its infotainment systems through a lower console-mounted joystick or trackpad Remote Touch Interface.
Another sign of progress is the Lexus Interface multimedia system within that infotainment system, which has been designed specifically for the North American market. Along with the usual infotainment features, the new interface incorporates over the air updates and untethered smart phone connection to a user's unique profile (that includes a new digital key for opening, starting up and remote parking via smartphone verification that can be shared with up to seven confidants), while a new Virtual Assistant, that incorporates multiple microphones, enhanced noise cancellation capability, plus seat-detection sensors for determining where users are sitting, has been designed to become the primary way users interact with the system. Optional wireless charging will keep devices ready for use, while connectivity via wireless Apple CarPlay or Android Auto comes standard.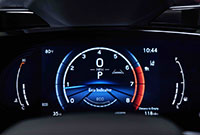 The new NX' standard touchscreen measures 9.8 inches diagonally, incidentally, which is pretty sizeable all on its own, with the end result of both touchscreen displays being a more familiar tap, swipe and pinch user experience for an easier learning curve when Toyota (or other volume-branded mainstream) buyers test this new Lexus SUV for the first time.
Astute readers will have noticed the words "plug-in hybrid" in the previous paragraph, a move that should have been expected by anyone with knowledge of Toyota's RAV4 Prime. The RAV4 and NX have always shared platform architectures, with the new 2022 version now riding on the same TNGA-K (GA-K) underpinnings found in today's RAV (codenamed XA50 for the RAV4 and AZ20 for the new NX), so therefore, incorporating the new RAV4 Prime's PHEV components into the updated Lexus only made sense.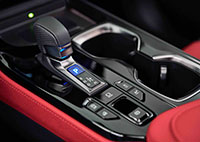 Lexus's new plug-in hybrid, dubbed NX 450h, is the first of its type for the luxury brand. Its EV range is claimed to be 58 km, depending on how it's being driven, exterior conditions, and other factors, while it can achieve much higher speeds in EV mode than any previous Lexus hybrid, the latter of which normally kick into gasoline-assisted hybrid mode below posted city speed limits. The new NX 450h will deliver significantly higher levels of performance than previous hybrids too, or for that matter the upcoming non-plug-in NX 350h hybrid, even going so far as to add more drive bias to the rear wheels than the RAV4 Prime's more comfort and fuel-efficiency focused setup, in order to improve high-speed handling.
Before delving into the regular NX hybrid, the new NX 450h plug-in puts out a fraction more horsepower than the RAV4 Prime it shares components with, with 305 ponies compared to 302, but the more luxurious NX takes 0.2 seconds longer to arrive at 100 km/h from standstill, its time being 6.2 seconds compared to 6.0 seconds flat for the plug-in RAV4, likely due to the extra weight carried by luxury features and refinement-enhancing sound-deadening materials.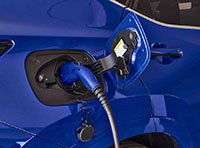 Lexus has achieved shorter charging times by installing a standard high-output, high-efficiency 6.6-kW Expedited Onboard Charger that reduces power loss when converting from AC to DC power, which means the NX 450h can achieve a full charge when hooked up to a 240-volt power source for about two-and a-half hours.
While understandable excitement surrounds this new plug-in hybrid variant, it's important to point out that a total of four power units will be available from the onset of the new NX launch this fall. The base NX 250 model will receive a new 2.5-litre four-cylinder capable of 203 horsepower and 184 lb-ft of torque. A new standard eight-speed automatic transmission with start/stop technology will help maximize fuel-efficiency, yet it won't have any trouble keeping up with traffic either thanks to zero to 100 km/h acceleration of just 8.8 seconds. While hardly neck-snapping, the base NX will be quick enough for most peoples' wants and needs, while this new model could also allow for a more approachable entry-level price point than the current SUV, being that today's 2021 NX comes standard with a 2.0-litre turbocharged four-cylinder making 235 horsepower and 258 lb-ft of torque.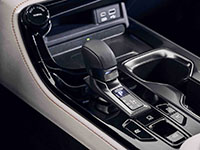 The second engine in the NX hierarchy, which is expected to be "the volume model in Canada" according to a Lexus press release, will be a 2.5-litre four-cylinder mated to a hybrid drivetrain. The NX 350h will make 239 net horsepower, which is 20 percent more than the outgoing NX 300h hybrid thanks to a pair of high-torque electric drive motor-generators (the second motor is in the rear resulting in eAWD). The combination allows for a 7.4-second sprint from standstill to 100 km/h, which is 1.7 seconds faster than the current hybrid model. Even with this performance upgrade, however, Lexus estimates combined fuel economy of 6.5 L/100km, which is an impressive 1.0 L/100 km improvement over the 2021 model.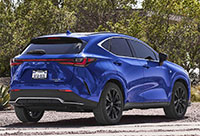 Depending on priorities, you can consider the aforementioned NX 450h or the all-new NX 350 top-of-the-line (although pricing may dictate otherwise), the latter model housing a new 2.4-litre turbocharged four-cylinder good for 275 horsepower and 317 lb-ft of torque. This model's eight-speed automatic is tuned more for performance, the uprated combination resulting in standing-start acceleration times of 7.0 seconds to 100km/h, making it a significant half-second quicker than its turbo-gas-powered predecessor.
Handling should improve further due to a lower centre of gravity and more rigid body construction, Lexus having increased torsional rigidity via laser peening welding and new high rigidity foam, both firsts for the luxury division. Another first for the brand is a twin hood lock that increases front lateral flexural rigidity while also enhancing aerodynamics overall.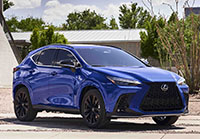 What's more, both turbo and PHEV buyers can upgrade their suspensions with an F Sport Handling package that adds an Active Variable Suspension (AVS) along with front and rear performance dampers, plus the aforementioned 20-inch wheels and all of this trim's usual styling enhancements from the outside in.
Additionally, a new electronically controlled, full-time all-wheel drive system improves NX 350 control both on and off the road. The driver now has the ability to optimize front and rear torque distribution in order to adjust for weather and road conditions, while a high level of standard electronic safety equipment will further keep things in check.
These come as part of Lexus Safety System+ 3.0, which now features a new Risk Avoidance Emergency Steer Assist function that helps to avoid accidents via automatic braking and steering inputs. Another update includes a Left Turn Oncoming Vehicle Detection/Braking technology that does exactly what its name describes, while a new Oncoming Pedestrian Detection/Braking function will brake automatically when a driver turns left in front of pedestrians and/or cyclists.
Additionally, new standard Dynamic Radar Cruise Control features a "curve management" feature that will maintain the NX' cruising speed to align with traffic flow while also keeping speeds in check when cornering. Lastly, a Digital Latch system, that features an electronically-actuated release, opens each door smoothly while scanning the periphery around the SUV with a Safe Exit system that's been designed to prevent passing pedestrian or cyclist accidents.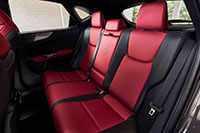 Extra head and legroom should make ingress and egress easier, not to mention more comfortable when seated front to back, while a new panoramic glass sunroof visually opens up the cabin to an airier experience. That revised interior will be quieter too, not to mention more calming thanks to 14 nature-inspired Thematic Ambient Illumination settings. Lexus has also redesigned the front seat heaters, and once again makes rear outboard seat warmers available, while the cargo area can now stow more gear.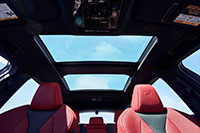 For a final bit of NX news, the redesigned model will now be built in Canada, making the purchase of the new SUV as much of a patriotic move as a smart choice, the latter being a nod to better-than-average dependability and lower depreciation costs. The NX was a runner-up, next to Mercedes' GLC, in the latest 2020 Canadian Black Book Best Retained Value Awards, the compact luxury SUV winner being Porsche's Macan. Considering there are 16 competitors vying for top spot, tying for second is a noteworthy feat.
Lexus also took top honours in the most recent 2021 J. D. Power Vehicle Dependability Study, and while the NX once again failed to achieve best-in-class due to the mighty Macan, it earned a respectable second.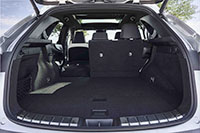 NX quality may even improve thanks to its new home of production in Cambridge, Ontario, where it will be built alongside the RAV4 and larger RX. The Cambridge facility was the first production plant outside of Japan to build a Lexus model, and has earned many awards since it first did so in 1986. As for the new NX, its operations retooling and training efforts began in 2019, while production will start in the fourth quarter of 2021, with deliveries expected shortly thereafter. Pricing will be available closer to this launch date.
If you can't wait that long, you may want to access up to $3,000 in additional incentives for the 2021 model. CarCostCanada members are saving an average of $4,416 when purchasing a new NX model, thanks in part to dealer invoice pricing that given them a significant edge when negotiation their best deal. Find out how the system works, and remember to download the free CarCostCanada app from the Apple Store or Google Play Store, so you can have all their critical info with you when you need it most.
Introducing the all-new Lexus NX (1:36):

Get to know the all-new Lexus NX (2:24):

The all-new Lexus NX reveal (7:30):

Story credits: Trevor Hofmann
Photo credits: Lexus