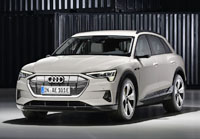 Consider the history of Audi here in North America. The four-ringed brand from Ingolstadt, Germany toiled in the shadows during its nascent years in the North American markets, with solid but relatively unknown models like the Audi 100 LS, Fox, and 5000. It was the 5000, totally redesigned in its third generation as an aerodynamic sedan that really began a sales trend for Audi. The 5000 was large, safe and technologically advanced. After all, the motto for the company for quite some time has been Vorsprung durch Technik (Progress through Technology), and the 5000 was technologically ahead of its time. 
And then a bad thing happened.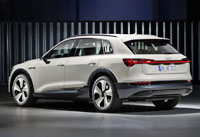 The long running CBS program 60 Minutes aired a report that Audi 5000 cars were accelerating on their own, and started an "Unintended Acceleration" scare that almost sank the company. Audi was ultimately cleared during this unfortunate hysteria, but the damage had been done, sales tanked, and Audi's ship slowly began to sink. 
Thankfully, the bright minds at Audi retooled the brand and came out with the A4, A6, luxury A8 and performance S Car variants, and the sales numbers started to climb again. 
For over 40 years, Audi has also enjoyed special success on many race circuits around the world, with the legendary quattro all-wheel drive system proving its mettle in Rally Racing, Hill Climb events like Pikes Peak, and endurance events like the 24 Hours of Le Mans.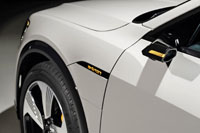 At Le Mans, Audi regularly enjoyed trips to victory lane with the gasoline powered R8, V8 twin turbo and R10 turbodiesel twelve cylinder supercars. The R10 produced 590 hp and 774 lb-ft of torque and was legendary; winning every race at Le Mans it was entered in. And then along came Peugeot, winning in 2009 with their 908 HDi twelve cylinder turbo-diesel endurance racers that had more power and torque than Audi's offerings 730hp/890 lb-ft torque). But Audi would have no part of this short lived dominance by Peugeot, responding with the V10 powered R15, and the winning ways continued, placing first, second and third in 2010 in the vaunted LMP1 group. I was there that year as a guest of Audi, and it was a special experience for me personally and for the company worldwide. Audi's endurance race efforts eventually used V6 "e-tron" hybrid power, and the renamed R18 continued to dominate in endurance racing. Smartly, Audi's technology on the racetrack was used to develop stout powerplants, particularly diesels, and other hi-tech for consumer Audis.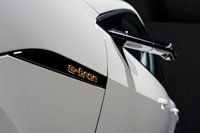 Audi's success with the diesels spread like wildfire, with domestic sales of turbodiesel cars booming with Audi's parent Volkswagen Group. Yes, VW, Audi and Porsche all shared in the success of the extremely fun to drive and super efficient TDI powerplants. 
And then the bottom fell out for Audi again, and for the VW Group as a whole, as the Group was accused of and admitted to goosing software to make their TDI cars and SUVs appear to be cleaner in Environmental Protection Agency Clean Air Act testing.  After paying record fines and buying back many beloved TDI vehicles from owners, like the Audi Q7 TDI, the VW Group abandoned the diesel business here in the North America. Before the scandal, diesels represented 25 percent of all VW sales in the U.S. and an even greater number in Canada, plus a significant percentage of Audi sales.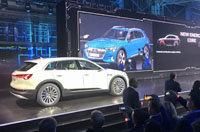 Whether the Group eventually returns to TDI power in the future remains to be seen, but one thing is sure, Audi won't be part of the equation. Why? Because the marque has chosen to stake its future on an entirely electrified lineup of cars and SUVs.  By 2025, every Audi will have some form of electrification. 
Ambitious? Certainly. But other luxury manufacturers like Volvo have made similar proclamations. 
At its shareholders meeting earlier this year, Audi's future strategy was laid out, as the brand plans to sell 800,000 electrified cars in 2025 between 20 different electric models. Audi says that most will be fully electric, with the remainder being plug-in hybrids.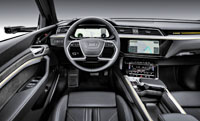 According to an official statement by Rupert Stadler, Chairman of the Board of Management for Audi AG, "Our ambition has always been and will continue to be Vorsprung durch Technik. Our goal is to revolutionize mobility. Also in electric mobility, we want to become the Number 1 among the premium manufacturers – with full suitability for everyday use, no compromises, top quality and driving pleasure for the customer. With our technological excellence, we are utilizing our Vorsprung and lifting electric mobility to the next level." 
Smart? I certainly think so, as Audi can carve out a large chunk of the luxury electric car business, and produce cars and SUVs in a way that electric car innovator Tesla simply can't.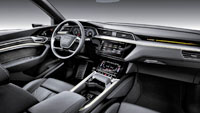 Recently, more than 2,500 Audi dealers and customers and a throng of auto writers from traditional and social media platforms joined Audi in San Francisco for the spectacular e-tron World Debut. 
With the glamour and glitz of a Hollywood production, e-tron rolled into a packed warehouse on San Francisco Bay and "charged" the audience with the same type of hype and emotion of Mayweather/McGregor at the MGM in Vegas. One could say the match was Electric v. Gasoline, and it was quite a show. When the epic event was over and we got a chance to see e-tron up close, Audi's motto rose from whatever ashes the diesel debacle left behind, as Vorsprung durch Technik is reborn with e-tron.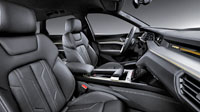 So what is e-tron? It's a sport-ute styled like the Q5 and Q7 that will probably feature the brand's usual trio of Komfort, Progressiv and Technik trim levels when details become known. In the U.S., where trims and pricing were announced as part of the San Francisco event, it comes in base Premium Plus trim starting at $74,800 USD, Prestige trim at $81,800 USD, and as the limited (999 units) "Edition One" starting at $86,700 USD. Premium Plus includes a 9.6kW AC home charger, Bang & Olufsen 3D sound system, Audi "phone box" wireless charger and signal booster, heated and ventilated leather seats, panoramic sunroof and integrated toll module. 
Prestige includes all Premium Plus gear plus a head-up display, driver assistance package, adaptive cruise control, active lane assist, intersection assistant, Audi pre sense 360, traffic sign recognition, power soft close doors, rear window sunshades, dual pane acoustic windows, contour seats with massage, Valcona leather and an air quality package with an ionizer.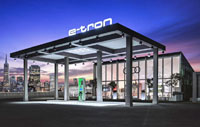 While all trim levels are well contented, Edition One differentiates itself from other trims mostly through unique body and interior trim, and special paint and wheels. 
One super high tech feature Audi hopes will be standard equipment on the e-tron 55 quattro is side cameras to replace traditional sideview mirrors. At a display I visited prior to the world debut called Audi Tech Park, all of e-tron's super cool hardware was on exhibit, including the impressive high-definition sideview cameras. Audi is awaiting U.S. Government safety approval of this exciting new feature, and we assume they're focusing similar lobbying on the Canadian government. 
The e-tron 55 quattro will join the A3 Sportback e-tron hybrid (on sale now) in Audi's whirlwind march toward the model total expected in 2025.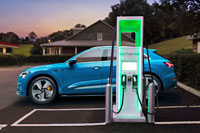 The e-tron 55 features seating for five adults, quattro electric all-wheel drive (one motor at each wheel), air suspension, and a towing capacity of 1,800 kg (4,000 pounds). 
The two electric motors accelerate the e-tron from 0-100 km/h in 5.7 seconds and reach a top speed of 200 km/h (124 mph). 
The Audi e-tron uses an innovative recuperation system encompassing both electric motors, to boost efficiency. With its estimated range of more than 400 km (250 miles), expect as much as 30 percent of the e-tron's range to come from recovered energy, depending on the conditions, terrain and driving style. The e-tron can recover energy in two ways: by means of coasting recuperation when the driver releases the accelerator, or by means of braking recuperation by depressing the brake pedal.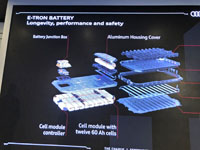 The battery system in the Audi e-tron is located beneath the cabin and comprises a total of 36 cell modules in square aluminum housings, each of which is roughly the size of a shoebox. 
A cooling system of flat aluminum extruded sections divided uniformly into small chambers has the task of maintaining the battery's high-performance operation over the long term. Heat is exchanged between the cells and the cooling system beneath them via a thermally conductive gel pressed beneath each cell module. A special cooling lance provides additional heat reduction to power motors. 
A strong surround frame and lattice-type aluminum structure that holds the cell modules is designed to protect the battery block. A substantial aluminum plate provides protection against damage from flying stones or curbs. These measures demonstrate how Audi's engineers have developed the battery and cooling systems with safety in mind.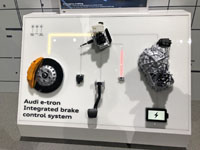 For customers' residential charging needs, a standard 9.6 kW AC capsule charger (Level 2, 240-volt/40 amps) is provided and designed to deliver a full charge overnight.
Audi e-tron buyers will also have the opportunity to experience the first-ever home charging collaboration between online retail giant Amazon and an automaker. "Audi Home Charging powered by Amazon Home Services" will offer e-tron buyers a fully-digital experience for in-home electric vehicle charging installations, designed to make the process of home charging set up as easy as ordering home charging with installation from Amazon. 
E-tron buyers can also define their own personal priorities, such as charging when electricity is less expensive where available. With the myAudi app, owners can plan, control, and monitor e-tron charging and pre-heating/cooling. Owners can set a departure time, for example, so that the Audi e-tron is charged and/or heated/cooled at the desired time. They can even choose to heat or cool certain zones in the car. On cold winter days, for example, owners can turn on optional seat heating. The app also displays charging and driving data.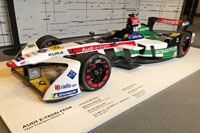 For charging on the go in the U.S., the e-tron will be supported by a nationwide charging network, "Powered by Electrify America." By July 2019, this network will include nearly 500 fast-charging sites complete or under development throughout 40 states and 17 metro areas. Offering advanced charging, Electrify America's chargers are capable of delivering up to 350kW. With the purchase of the e-tron, customers will receive 1,000 kWh of charging at Electrify America sites over four years of ownership. According to reports nothing similar has been finalized for Canadian customers, but sources within Audi Canada believe a similar deal may be offered. 
Take years of German engineering and production know how, and Audi's capacity to produce e-tron on a large scale looks better than Tesla's struggling efforts to meet consumer demand long before the first e-tron hits the street in Q2 of 2019.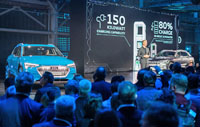 Additionally, Audi left internal combustion engine powered endurance racing, and now competes and wins in the all-electric "Formula E" racing series with the e-tron FE04. Successes with technology in Formula E will certainly trickle down to Audi consumer electric vehicles, in the same way Le Mans successes helped spur their once strong diesel sales. 
The 2019 Audi e-tron 55 quattro seems to have covered all of the bases that make it a safe, well equipped option for luxury electric car buyers. Watch out Tesla. The competition now is real. 
Ready to get yours? Visit audi.ca and place a $1,000 fully refundable deposit. 
And while you're waiting for your car to arrive, check out these great e-tron e55 quattro videos provided by Audi:
Electrified: the world premiere of the Audi e-tron (3:13):  
May we present: the all-new Audi e-tron (4:00):  
A new era of electric mobility: the first fully electric Audi e-tron (2:10):  
Audi e-tron: Electric has gone quattro (0:15):