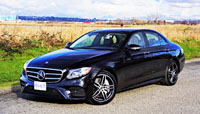 Want a great deal on one of the best cars currently available? Mercedes-Benz is offering up to $7,500 in additional incentives on the outgoing 2020 E-Class, and some quick research shows there are still some new ones available.
Mercedes has given the 2021 E-Class a refresh, updating the entire front fascia with a fresh, sporty take on the brand's classic open oval, replacing the 2020 model's horizontal slats with vertical dividers, while adding redesigned LED headlamps to each side. Updates to the lower front intakes are more subtle, but evident, as are changes to the car's side profile, my E 450 4Matic tester swapping blackened window surrounds for bright metal and vice versa for the door handle trim. Of course, the wheels are new, but not because the 2020 rims were any less attractive.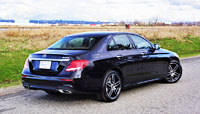 Unlike most refreshes, the 2021 E-Class sedan's taillights were dramatically updated, swapping out the 2020 model's large, somewhat droopy ovoid clusters for a sharp new set of horizontally positioned lenses, these now cutting into the trunk lid, while the rest of the car's hind end looks much the same as its predecessor, excepting some bright metal trim visually tying its tailpipes together. The modifications really make a difference to the E sedan's looks, taking it from attractive to downright stunning, and bringing it up to date with other recently redesigned Mercedes' sedans in the lineup, particularly the entry-level A-Class.
Moving inside, the German luxury brand added a new steering-wheel design and its latest MBUX infotainment system, enhancing what was already a very good interface, while additional advanced driver-assistance technology has been added to the mix too.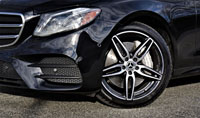 Lastly, the E 450 model says goodbye to its twin-turbo V6 for an entirely new turbocharged inline-six, which is a surprising move back in engine configurations for a brand that once solely made its six-cylinder engines in linear form. Inline six-cylinder engines are inherently smoother than V6s, which should bode well for enhanced refinement levels, not that the V6 is anything to harshly criticize. I should also mention that the 2021 model year sees the E 350e plug-in hybrid enter the fray, providing strong performance, improved fuel economy and the ability to utilize high-occupancy lanes during rush hour (depending on the regulations in your market).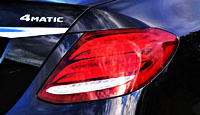 I realize now that calling the 2021 E-Class a refresh is probably an understatement, as it's more of a full redesign, at least in E 450 guise. Still, it's most the same under the skin and inside, and to be fair to this 2020 version, little was needed to smarten up its interior. It starts with the most technologically impressive gauge cluster and infotainment combinations in the industry, Mercedes' aforementioned MBUX display. Nothing looks anywhere near as advanced, with the only negative I could find being my personal need to spend less time in front of smartphone, tablet and TV screens.
The two conjoined displays are graphically stimulating, bright and colourful, high in definition, and impressively configurable, the left-side primary instrument and multi-information combo controllable via steering wheel switchgear, and one on the right incorporating modulated by way of lower console controls. I'd personally appreciate being able to tap, swipe and pinch directly on the display, but I also like having a set of remote dials and buttons closer at hand. As it is, the system's only touch capacitive capability is atop the rotating dial, which was actually very effective.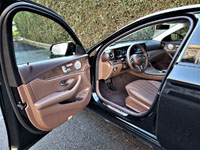 Infotainment features are wide and diverse, some highlights including a dual-screen backup/overhead parking camera, Apple CarPlay and Android Auto smartphone integration, accurate navigation, satellite radio, myriad car setting functions including the adjustment of various coloured mood lighting, HVAC control including plenty of seat adjustments and multiple massage settings, and the list goes on.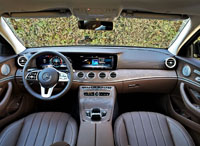 Those seats are fabulous, as you might expect from the planet's best-selling mid-size luxury car. Mercedes has always made superbly supportive and comfortable driver's seats, even going back to my old '72 280SE (how I loved that car). It comes complete with three-way heating, three-way cooling, a powered headrest, an extendable lower cushion, and powered side bolsters that can be set to automatically increase support to the opposite side in which you're turning, plus all the usual fore and aft, up and down, and recline controls. It's even possible to adjust the front passenger's seat from the driver's side switchgear, including its lower cushion extension and all other functions. That's pretty amazing.
The driving position is excellent too, with ample reach from the tilt and telescopic steering wheel, not always the case which can be a problem for some body types (like mine). The seats' leatherwork is beautifully crafted, as are all the open-grain hardwood inlays across the dash, console and door panels, while other niceties include a tasteful assortment of satin-finish aluminum and inky piano black lacquered trim in key areas around the cabin.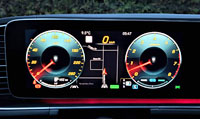 Gorgeous dark brown leather covered the entire dash top and door uppers too, with wonderful beige cream stitching. It was really a feast for cappuccino starved eyes. That Mercedes chose to emulate Rolex' first-generation Explorer for the E's dash-mounted clock is perfectly fitting, the circular time-teller following a similarly round interior theme dominated by a row of aluminum-trimmed air vents across the dash, and drilled aluminum speaker grilles (complete with a centre "f" hole that fans of the Gibson ES 335, Guild Country Gentleman, and similar hollow-body guitars will adore) for the sensational Burmester audio system. Truly, everything about the E 450's interior was impeccably made from the best materials, even including the overhead console and rubberized sunglasses holder, the switches for the LED reading lights, and the rocker switch for the large dual pane powered panoramic sunroof and shade.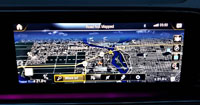 Of course, all roof pillars are fabric wrapped, while each door panel is soft to the touch all the way down to their bottoms. The sides of the centre console are pliable too, so as not to chafe the knees. Unlike some lesser models, the E-Class goes all the way with luxury, not matching the S-Class, of course, but getting very close.
This is true for rear seat occupants too, yet while the S-Class is certainly more accommodating and more luxurious, the E won't doesn't leave anyone wanting for too much more. There should be ample legroom, headroom, and width for most body types, and three-way heatable outboard seats were included in my tester as well. So was excellent venting from the backside of the front console, this hovering above a pop-out panel revealing two USB-A ports and a 12-volt charger, while a folding centre armrest includes a set of complex extendable cupholders as well as a lidded storage compartment under its padded cushion.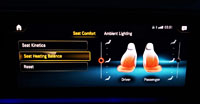 That armrest is attached to a foldable backing that, once lowered, provides a large pass-through from the trunk, ideal for longer cargo such as skis. The seats can be lowered in the usual 60/40 configuration after that, although should really be referred to as a 40/20/40 split. That trunk is nicely finished, by the way, as anyone who's spent time with a Mercedes should expect.
Back up front, I found myself searching online to figure out how to heat up the steering wheel rim. The switch can be found on the end of the tilt and telescopic power steering column stalk. Just give it a twist and it even warms all the way around. The three-way heated driver's seat was easier to source, as it's right on the door panel above the seat controls that incidentally include three-way memory functions.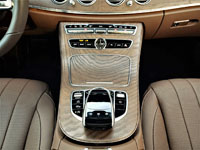 I started my driving impressions with warmth because getting comfortable is what the E 450 is mostly about, at least initially. Following this theme, the E's ride is cloud-like. I hesitate using the word cloud because it denotes the feeling of floating, which reminds me of a particularly nauseating ride to Amsterdam's Schiphol airport as a child, in the back of a Netherlands taxi cab.
Of course, like most European taxis at that time, it was a Mercedes-Benz, similar to the one I expressed my love for earlier in this review. If you know anything about that drive, you'll have memory of the plentiful dikes that need to be passed over along the way. Unfortunately, my dear brother wasn't paying attention to the road ahead and the numerous dikes we repeatedly floated over and became violently car sick. Truly, that Merc's suspension was much more pillowy than the domestic cars we'd grown up with in Canada. Those were car bodies on truck chassis, so it was safe to say we had never experienced anything this smooth before. I think the same could be said for anyone that's never driven a mid- to full-size Mercedes-Benz car, and may be one of the key reasons a luxury buyer might consider purchasing one of the brand's cars over their SUVs, not that the SUVs are particularly harsh.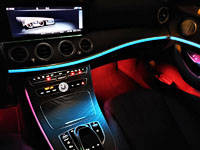 While comfortable beyond measure, the E 450 4Matic also provides shocking good grip when pushed hard around fast-paced corners, no matter the weather conditions. Much of my weeklong test including wet road surfaces, although we also had a day of snow thrown in for good measure. Fortunately, I also experienced this E-Class in the dry, which allows me to attest to the fact this E 450 can manage everything thrown at it with grace and composure. I'd venture to say it's one of the most well-rounded luxury sedans I've ever driven, and I've been behind the wheel of most.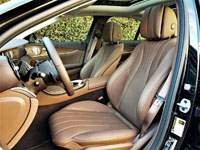 Much of that driving prowess comes from the aforementioned powertrain, which provides impressive forward thrust thanks to the six cylinders mentioned earlier. This 2020 model's engine featured the outgoing V configuration, which is still a force to be reckoned with thanks to 362 horsepower and 369 lb-ft of torque from a twin-turbocharged 3.0-litre V6. To be very clear, output hasn't changed one iota despite the move to a 3.0-litre inline six for 2021, although due to the inclusion of EQ Boost, a 48-volt mild-hybrid assist system featuring a starter/generator that makes 21 horsepower and 184 pound-feet of torque on its own.
Therefore, the new power unit is significantly more efficient, with the 2020 model good for a claimed fuel economy rating of 12.5 L/100 city, 9.1 highway and 11.0 combined, and the 2021 car estimated at 10.4 city, 7.8 highway and 9.2 combined. That's a massive gain, so the step up to the 2021 model is worthwhile for those trying to eke out the most from every drop of premium unleaded, not to mention lessen their environmental impact.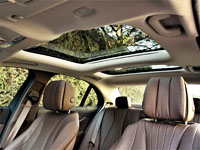 We can be certain the aluminized toggle switch on the lower console wasn't set to Dynamic sport mode when achieving those numbers in either car, while the E 450 includes a Sport Plus mode as well. The latter turns it into a ferocious beast with a much more exhilarating exhaust growl and more of a necessity to use its paddle shifters for swapping gears, at which point it automatically blips the throttle upon downshifts. It's like a Jekyll and Hyde personality change, transforming from an absolutely relaxed luxury liner to I really edgy, thoroughly engaging performer. The regular sport mode simply tightens the E's responses, enhancing transmission shifts albeit upshifting and downshifting without holding a given gear as stubbornly, and while it blips the throttle too, it doesn't noticeably stiffen the chassis. Default Comfort mode is comfortably, quiet, and Eco mode automatically shuts the engine off when it would otherwise be idling, something done less often in Comfort mode. All said it's one of the more intelligent transmissions on offer.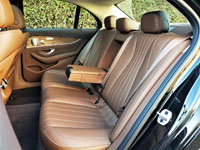 That line pretty well sums up the entire car. It's one of the more intelligent cars in its class, and it's probably one of the smarter purchases from a resale value perspective too. I just happen to like it a lot, and would choose an E-Class over any direct competitor. New 2021 model's styling upgrades and more efficient powertrain makes it even more enticing, although the potential savings on the 2020 might make sense for you too. You'll need to move fast to take advantage of the latter, however, and connect with CarCostCanada to sort out the savings.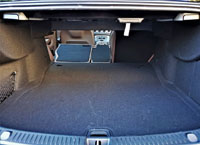 The average CarCostCanada member has been saving about $6,000 on either 2020 or 2021 E-Class models, although Mercedes is only currently offering up to $1,500 in additional incentives for the 2021. Download the free CarCostCanada app to access all the savings on your smartphone, and make sure to check out how their system works here. You'll gain access to info on all available manufacturer rebates, factory finance and leasing deals, plus dealer invoice pricing that can really make a difference when negotiating. It's an absolute no-brainer no matter what you're buying, while the segment's best-selling Mercedes-Benz E-Class makes a lot of sense too.
Review and photos: Trevor Hofmann