Volvo is in the final phase of a brand-wide makeover, ushering in a more distinctive design language highlighted by a contemporary version of its more traditionally rectangular grille that's flanked by signature Thor's Hammer LED headlights, all resulting in a modernized look that delivers a more premium cachet. 
This out with the old, in with the new brand metamorphosis has left few stones unturned, the V60 being the most recently revealed addition to an almost completely transformed lineup. The D-segment sport wagon hit the stage on March 6th at the Geneva motor show wearing stylish new duds, after first debuting on February 21st in is "natural habitat," a suburban driveway in Stockholm, Sweden. That five-door model is expected at Volvo dealerships later this year, with a toughened up V60 Cross Country crossover version likely to appear simultaneously or soon after, so the similarly sized four-door sedan shouldn't be too far behind.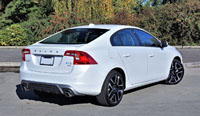 In fact, Volvo has already confirmed the 2019 S60 debut this summer at its new $1B USD manufacturing plant in Berkeley County, South Carolina, which will produce the new sedan along with an additional model yet to be named. The S60 is an interesting choice of vehicle for U.S. production, being that SUVs rule North American roads, but the car should find a strong base of loyal supporters on this side of the Atlantic just the same. 
Still, Volvo was smart to update its XC90 and XC60 first, as these two SUVs are its strongest sellers, not unlike every other premium brand. Car sales, on the other hand, are generally flat or sliding in the opposite direction. No doubt a redesigned S60 will help to boost the model's numbers, much like the updated S90 did for yesteryear's S80, but the hit to Volvo's bottom line probably won't be as dramatic.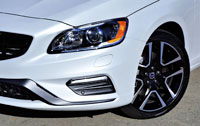 Last year Volvo Canada sold just 361 S60/S60 Cross Country four-doors compared to 454 V60/V60 Cross Country five-doors, which while low numbers on both counts (by comparison the XC60 sold 2,315 units and XC90 2,650), the pair of V60s represented a 20-percent improvement over the two S60s. I doubt another four-door S60 Cross Country will ever materialize, as this reincarnation of the '80s AMC Eagle SX/4 (a.k.a. Spirit SX/4) has been an unsuccessful answer to a question no one outside of Volvo's rather eccentric inner circle was asking, but either way the five-/four-door percentage lead will probably continue into the new model cycle (at least it has for the S90 and V90), and sales will no doubt grow for both.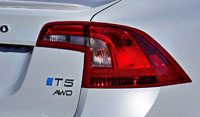 To appreciate how recent the swing in buyer sentiment was toward the five-door V60 models, Volvo Canada sold more S60s than V60s in 2016, and the numbers were significantly higher at 657 to 627 units, while in 2014 when the V60 was introduced it found just 853 sales compared to the S60's 1,063 deliveries. No doubt Volvo is targeting a return to four-figure annual S60 sales when the new model arrives, but until then the brand needs to highlight the current model's attributes while knocking a few thousand off its suggested retail price. 
To be fair, the 2018 S60 is already a very good value at $41,950 plus freight and fees, especially when factoring in its performance, refinement, and feature set. I think most will agree that it's still an attractive looking car, its aerodynamically shaped front fascia filled with nice upscale details, its windswept four-door coupe-like side profile providing a sporty yet elegant shape, and its trademark Volvo taillights finishing the rear end design off nicely.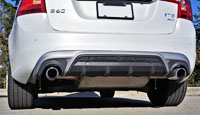 My T5 AWD Dynamic trimmed tester offers an even sportier theme featuring an R-Design lower front fascia, a subtle spoiler discretely perched atop the rear deck lid, an eye-grabbing grey and black diffuser-style rear bumper cap with circular exhaust pipes at each corner, and rounding out the look, aggressive looking 18-inch five-spoke diamond-cut alloys with black-painted pockets, while its standard Polestar Optimization upgrade made all of its outward dynamism inwardly relevant.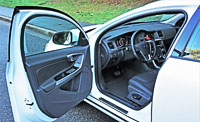 By that I'm not talking about the S60's interior, which doesn't feature any Polestar branding yet continues into 2018 as one of the more refined cabins in its compact luxury class. If you want your S60 interior modified with blue Polestar highlights along with other stylish upgrades, even including sportier exterior enhancements, a smoking hot 367 horsepower engine and significant suspension mods, you'll need to pay $67,050 for an S60 Polestar and call it a day. 
Instead, choosing mid-range Dynamic trim means the S60 T5 AWD comes standard with Polestar Performance Optimization for just $47,900 (you can get the same setup with the T6 AWD powertrain for $51,500), this maintaining the S60's already formidable base engine output yet quickening on and off throttle response plus shift speed, increasing gear hold duration, performance-tuning the electronic stability control and ABS, plus more, while the turbocharged and supercharged S60 T6 AWD model gets a four-horsepower bump up to 310 ponies.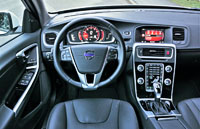 As noted, the S60 T5 AWD's turbocharged 2.0-litre four-cylinder engine's output remains unchanged at 240 horsepower and 258 lb-ft of torque, which while not quite as thrilling as the T6 off the line is nevertheless plenty capable all on its own. With 100km/h arriving in just 6.2 seconds from standstill and its top-speed set to 210 km/h, it will easily exceed posted limits at a much faster rate than you might be prepared for, whether zipping around town, stretching its legs on a curving backcountry road, or letting it fly on the highway.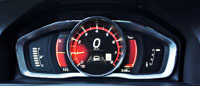 If canyon carving is your thing I'd recommend opting for the $1,850 Sport package that increases alloy wheel size by an inch to 19s, lowers and firms up the suspension, adds paddle shifters behind the steering wheel spokes to extract the most from the S60's already quick yet smooth shifting eight-speed automatic, and bolsters the front seats with a sportier design that comes complete with contrast-stitched black, beige or Beechwood leather. 
Still, my non-Sport packaged model took to corners with confidence inspiring poise thanks to Volvo's Dynamic Chassis setup and grippy torque vectoring all-wheel drive, albeit modern-day Volvos are never lacking when it comes to handling credentials. Its variable-assist electrical power assisted rack and pinion steering is direct and responsive, front MacPherson strut and rear multilink suspension stable yet reactive, and overall feel ideal for those seeking reassuring feedback without punishing rigidity.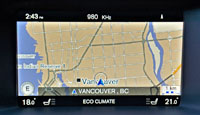 Yes, the S60 isn't as tightly sprung as some premium rivals, its ride/handling bias focused more toward the type of cosseting comfort that luxury buyers tend to prefer. This, combined with two of the plushest yet supportive front seats in the class, results in a car I could drive all day long without growing weary, which is saying something considering my all too regular lower back problems. 
I previously referred to the S60 as a compact luxury sedan because the D-segment covers a lot of area, but generally it's larger than the mainstream volume-branded compact class and smaller than a traditional North American-market mid-size four-door, which are sized closer to Euro E-segment cars like Volvo's S90. While the S90 is considerably larger and more spacious inside, the S60 provides plenty of room for most body types and sizes.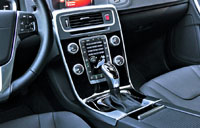 My five-foot-eight medium-build frame certainly had no problem fitting inside with inches to spare in every direction, whether seated up front or in behind where its rear outboard seats provided nearly as much comfort and support as those up front, especially with the available heaters turned on, while rear materials quality and fit/finish is equal to the frontal seating area as well. 
Everything above the waistline is made from high-quality soft-touch synthetics and leathers, with the doors even pliable down to their bottom panels. The lower dash and glove box are not, nor are the sides of the centre console, but such is the case for many in this class so it's not an issue. What matters is all of the harder composites are nicely done, especially the floating centre console that's always being one of my favourite Volvo design details. It's filled with myriad dials and buttons like a high-grade albeit now classic Nakamichi stereo component, while the beautiful metal-edged dials are stunning.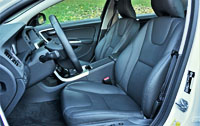 This model gets piano black lacquer for the centre stack backing, which is much denser than the usual plasticky garnish found in competitors. It continues onto the door panels, while satin-silver trim surrounds the centre stack and decorates the doors as well as the steering wheel, the latter a nice, shapely, leather-wrapped design. 
The S60's fully configurable digital gauge package continues to show off Volvo's early leadership in high-tech electronics, although the S60 doesn't yet offer one of the large tablet-style centre touchscreen displays used in its recently redesigned models. Nevertheless its 7.0-inch display is serviceable enough with plenty of high-grade functions included, such as navigation with detailed mapping, audio/media system controls, phone set up, vehicle instructions, internet access, and a reverse camera you can choose to use even if the S60 isn't backing up. The parking monitor even includes rearview zoom if you'd like to see something close up, while the regular camera includes handy dynamic guidelines.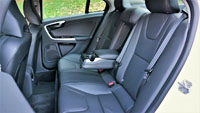 Of course, dual-zone automatic climate control is standard, made better via Volvo's Clean Zone air quality system, while over and above everything already mentioned the S60 T5 AWD Dynamic model's features list is further enhanced with remote engine start, approach/puddle lamps, active bending HID headlights, headlight washers, LED daytime running lights, a laminated windshield, rain sensing wipers, an electromechanical parking brake, pushbutton ignition, heatable powered front seats with two-way powered lumbar support, three-way driver's seat and side mirror memory, leather upholstery, an auto-dimming centre mirror, a powered moonroof, advanced voice control, Bluetooth phone with audio streaming, satellite radio, auxiliary and USB ports, front and rear parking sensors, Volvo On-Call (including remote start and vehicle tracking), blind-zone alert with rear cross-traffic alert, hill start assist, City Safety autonomous emergency braking, all the usual active and passive safety features, power-folding rear headrests, 60/40 split-folding rear seatbacks with a centre pass-through, and more.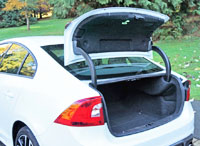 The S60 also includes standard engine start/stop that shuts the engine off when it would otherwise be idling, this helping to reduce emissions and fuel consumption. Set to its most efficient driving mode the S60 T5 AWD is good for a claimed 11.0 L/100km in the city, 8.1 on the highway and 9.7 combined, while it saves even more by only requiring less expensive regular unleaded fuel. 
My test model's extras included $900 Crystal White Pearl metallic paint; a $650 Convenience package featuring power-folding auto-dimming side mirrors, high-level interior illumination, a garage door opener, a compass, and a grocery bag holder; a $1,350 Climate package with heated washer nozzles, a heated windshield, a heatable steering wheel, and heated rear outboard seats; plus a $1,600 Technology package that adds Adaptive Cruise Control (ACC) with Queue Assist and Distance Alert (DA), upping the total asking price to $54,415. 
Not included were $135 rear window sunshades, a $1,500 Harman/Kardon premium audio upgrade with 12 speakers and 650 watts of power, and a $315 Protection package with four all-weather floor mats. 
While I'm excited to get into the new 2019 S60 when it finally arrives, I can certainly understand why someone would want to take advantage of the deals to be had on the current model. The 2018 S60 is still an excellent car that's highly competitive within its compact luxury segment, plus you'll certainly be able to coax your local dealer into moving its already fair price downward significantly.