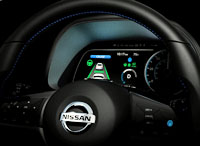 The world's most popular plug-in electric vehicle will soon receive a complete redesign, which is compelling news in itself, but being that Nissan hasn't shared much about the upcoming model thus far, we'll take anything we can get.
Along with one solitary image of the new EV's primary gauge cluster comes news about a single new feature, ProPilot Assist, which is the Japanese brand's proprietary driver-assistance technology designed to reduce "the hassle of stop-and-go highway driving," says Nissan in a June 22, 2017 press release.
Reportedly, ProPilot Assist will benefit 2018 Leaf drivers by controlling acceleration, braking and steering during single-lane highway driving. Along with the announcement, Nissan included a short explanatory video that we've attached within this report, which clearly shows how the state-of-the-art technology will assist drivers.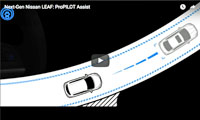 Nissan was clear in its release that ProPilot Assist will evolve to include "increasing levels of autonomy" in coming generations, with the ability to also "navigate city intersections".
ProPilot Assist is part of the Nissan Intelligent Mobility suite of technologies, which is the automaker's "blueprint for transforming how cars are driven, powered and integrated into society."
Nissan has sold more than 270,000 Leafs globally since it became the world's first mass-market electric vehicle in 2010. The next-generation 2018 Leaf will debut in Tokyo on September 6th (Sept 5 here in Canada).
Check out the video…