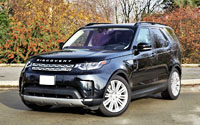 Land Rover sold 686 examples of its Discovery in Canada from its first month of May 2017 to December of that year, increasing deliveries by 47.2 percent over the same seven months of 2016 when its mid-size seven-passenger challenger was the extremely well-proven yet still cult favoured LR4. 
Guilty as charged, I'm part of that LR4 cult. Yet, its once traditional SUV shape has now become a radically unconventional box, and therefore it's made way for an entirely new, thoroughly modernized, sleeker, sportier, and yes, now more conventional luxury SUV that has truly won me over, the new fifth-generation Discovery so much more livable than its predecessor it became plain silly to stay loyal to the old beast.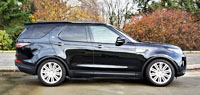 Driving a regular route from my home in Richmond, BC to Vancouver, and less often across the Lions Gate Bridge to the North Shore mountains, it looks as if 600 of those 686 Discoverys found their way here, but no doubt a good assortment have been snapped up in other premium SUV hotspots around Canada as well. Either way the Discovery is gaining sales traction where the LR4 was losing ground, and that momentum should continue to pick up as more families realize this new kid on the luxury block is now available and that it's well worth their attention.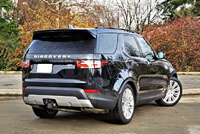 Despite only being in its second model year, the 2018 Discovery comes to market with some important updates to make sure such interested parties are as impressed as possible, starting with changes to its base SE trim that now gets a two-inch larger 10-inch infotainment touchscreen as standard equipment (don't believe LR Canada's website as it hasn't been updated), a move that makes this display standard across the entire Discovery range. What's more, autonomous emergency braking is standard too, while that base SE model now gets the optional advantage of Land Rover's highly efficient Td6 six-cylinder turbocharged diesel.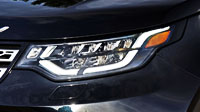 The standard SE model's improvements have pushed its base price up from $61,500 last year to $63,900 today, a difference of $2,400, but I'm sure most will agree that improved infotainment and potentially lifesaving advanced safety are well worth the extra cost. 
Moving up through the range, both HSE and HSE Luxury trims can now be upgraded with Land Rover's new second-generation head-up display system, which was much appreciated in my tester, as well as a 12.3-inch configurable TFT primary gauge cluster. Additionally, the British brand's innovative Activity Key is available for adventurous owners who'd rather leave their key fob safely and securely in their SUV while wearing a waterproof digital bracelet with proximity-sensing keyless access capability around their wrist.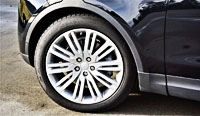 My 2018 Discovery Td6 HSE Luxury tester came equipped with the more economical turbo-diesel, this engine's very reasonable $2,000 increase making it financially justifiable due to fuel savings that should be recoupable over a few years of ownership. The numbers speak for themselves, with the alternative powerplant good for a claimed 11.2 L/100km in the city, 9.0 on the highway and 10.2 combined, compared to 14.7 city, 11.2 highway and 13.0 combined with the base gasoline-powered V6. Depending on how much you drive, the annual savings could be in the high hundreds. On that note both look downright stingy compared to the old LR4, which was soldiering along with a five-cycle Transport Canada rating of 16.2 city, 12.1 highway and 14.3 combined before its era came to a complete stop last year.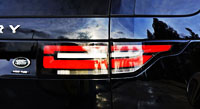 Like with all diesel powerplants, high-speed thrust gets traded for low-speed twist, the base 3.0-litre supercharged V6 good for 340 horsepower and 332 lb-ft of torque compared to 254 horsepower and 443 lb-ft of torque for the 3.0-litre turbo-diesel, while both come mated to a ZF-sourced eight-speed automatic transmission that sends power down to all four wheels via Land Rover's renowned Terrain Response off-road system.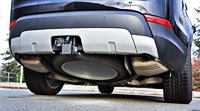 A noticeable difference between the two engines is off the line jump, with the gasoline-powered base engine putting more power down faster for a quicker 7.1-second sprint to 100km/h, and the turbo-diesel taking a full second longer to achieve the same result, at 8.1 seconds. Unless you're always in a hurry or simply enjoy the occasional (or regular) adrenaline rush that comes when dashing away from stoplights this one-second discrepancy won't be an issue, as both provide plenty of highway passing power and can cruise at speeds up to 209 km/h (130 mph).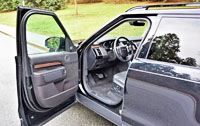 I happen to like the leisurely lope of a diesel and fully appreciate their savings at the pump, and I must say the Td6 performed flawlessly throughout my test, just like the 2017 Discovery Td6 I spent a week with last year. The two SUVs were optioned out similarly too, both in top-tier HSE Luxury trim, albeit this latest one finished in $870 Santorini Black instead of $870 Indus Silver, while improved with a few more upscale goodies as well.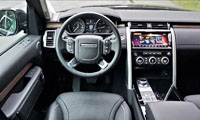 My previous tester was missing this 2018 model's $1,740 optional 21-inch alloys that look superb and enhance lateral grip, while additional enhancements included some chrome edging on the otherwise body-colour door handles, a $2,350 Drive Pro package that builds upon the aforementioned standard Autonomous Emergency Braking system by adding Adaptive Cruise Control with Queue Assist, Blind Spot Monitor with Reverse Traffic Detection, Blind Spot Assist, Lane Keep Assist, a Driver Condition Monitor and Traffic Sign Recognition with an Adaptive Speed Limiter, the Drive Pro upgrade automatically necessitating the addition of $190 worth of auto-dimming side mirrors, which are always welcome during night driving.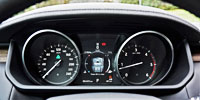 Additionally, my 2018 Discovery tester included a $2,040 optional rear seat entertainment system that features dual 8.0-inch monitors on the backsides of the front headrests, instead of last year's left-side tablet holder and right-side coat hanger, plus a DVD changer, a really fancy looking remote, two WhiteFire digital headphones, and a secondary device interface on the backside of the front console (joining another one housed within that console) that gets fitted with two HDMI slots and two USB ports.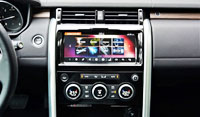 This latest Disco also came with a power-folding seat system that's capable of automatically lowering and/or raising individual sides of the 50/50-split third row as well as either the 60 or 40 percent portion of the second row, or both simultaneously, this standard on HSE Luxury trim. What's more, you can also power all seats up and down via the infotainment system or a smartphone app. This is the best of such systems I've ever experienced, and as helpful as the obvious convenience this provides, it goes about its business quickly compared to other powered seat systems I've used.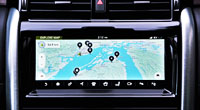 Right next to these buttons is switchgear for the powered liftgate and unique powered tailgate, the latter a beautifully finished carpeted shelf that folds down to provide a convenient place to load up to 300 kilograms (661 lbs) of heavier items on before sliding them inside the sizeable cargo hold, while it also stops items from falling out when opening the liftgate, important being that cargo has a habit of shifting during travel. And by the way, if upgraded to the available air suspension, which comes standard with HSE Luxury trim, you can lower the rear of the SUV via that panel of buttons to make the tailgate's lift-over height a bit easier to deal with. Either way the Discovery provides 980 litres (34.6 cubic feet) of cargo space behind the third row, 1,231 litres (43.5 cubic feet) aft of the second row, and 2,500 litres (88.3 cubic feet) with both rear rows lowered.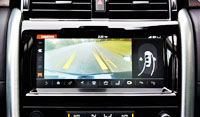 Both 2017 and 2018 models came with sumptuous Ebony (black) Windsor leather upholstery thanks to HSE Luxury trim, the more conventional choice from four total colourway options that include a Glacier (light grey) and Ebony split, a caramel coloured Vintage Tan and Ebony split, and a Nimbus (light beige) and Ebony combination, but take note this year's Ebony interior adds a touch of class by including Nimbus piping, which matches the same coloured standard headliner (an Ebony headliner is $410 extra), while standard open-pore Natural Shadow Oak veneer warmed up both cabins. Inlay options include no-cost Dark Satin Brushed Aluminum and Natural Charcoal Oak, while High Gloss Charcoal Oak adds $620 to the bill. 
The 2018 model was devoid of side steps, making the reach up a bit more of a stretch, and didn't come with the $310 optional 360-surround overhead parking aid, but its $1,940 7 Seat Luxury Climate Comfort package was a major bonus as it boasts 16-way power-adjustable front seats with massage, heated and cooled front and second-row outboard seats, heatable third row seats, and four-zone climate control with a comprehensive interface added to the backside of the front console.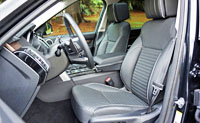 Some other features found on both SUVs included a $410 set of black roof rails, $140 for lane departure warning, and $110 for cabin air ionization, while this 2018 model included a $1,020 head-up display that projected speed, gear selection, and navigation directions onto the windshield, $410 for Advanced Tow Assist that literally backs the Discovery up to a trailer for you, which made the $670 Tow Equipment package prerequisite, upping trailering capacity to 3,720 kg (8,201 lbs), plus a $1,275 Capability Plus Package featuring All Terrain Progress Control (ATPC), Terrain Response 2, and an Active Rear Locking Differential. All of these extras increased the price of my tester to $93,360 before freight and fees, which is $29,460 more than the base Discovery yet starting to approach full-size Range Rover levels of features and functions for a fraction of that model's $113,000 starting price.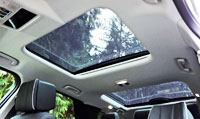 I bring up the big Range Rover because this new Discovery and that legendary luxury utility share the same underpinnings, as does the mid-size Range Rover Sport. This means the brand's Integrated Body Frame (IBF) platform architecture has made way for an all-aluminum monocoque body shell and aluminum suspension design, allowing 480 kilos (1,058 lbs) less curb weight than the LR4. As you can likely imagine the new Discovery is not only more efficient than its predecessor, as noted earlier, but a great deal more enjoyable to drive.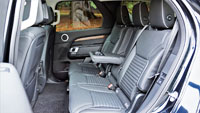 While the base SE comes standard with a fully independent coil-spring suspension setup and 19-inch alloys, my tester's aforementioned 21s benefited from an air suspension upgrade that as mentioned comes standard with HSE Luxury trim. This made the most of the new Discovery's lighter curb weight for an altogether more agile SUV, with sportier response during fast-paced curves that was especially noticeable when the weight shifted amid transitional corners. Of course, the Discovery remains a large SUV that's never going to feel as athletic as something smaller like the Discovery Sport or Range Rover Evoque, but basing the new model on the same architecture as the amazingly capable Range Rover Sport has done wonders for the Disco, while it bodes well for a future SVR version of the latter.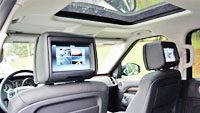 On that note I didn't have opportunity to test the 2018 Discovery's ability off pavement, but having driven other SUVs based on this architecture through mud, muck and over sand and rock I can only imagine it holds its own and then some. The Discovery includes the Land Rover brand's legendary full-time four-wheel drive system featuring a locking centre differential and optional rear locking diff, which as mentioned was included with my loaner, while its driver selectable Terrain Response system makes choosing the ideal setup for a given road/trail condition ultimately easy. Basically, Terrain Response provides a rotating dial for selecting Normal, Grass/Gravel/Snow, Mud and Ruts, Sand, and Rock Crawl, while the upgraded Terrain Response 2 allows the vehicle to sense and adjust the driveline setup to best respond to changing conditions automatically. That's my kind of off-roading.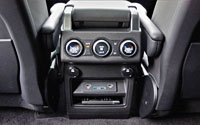 A compliant suspension is especially important when crawling over rocks and stumps, but it can be just as useful when trying to negotiate some of the back alleyways in my city. Whether blaming constant construction or sheer neglect, the Discovery's air suspension made potholes and bumps less intrusive than they'd otherwise be, while good sound deadening and plenty of soft synthetic surfaces kept noise, vibration and harshness levels to a minimum. Still, a full-size Range Rover it's not, which can be said of any SUV, as the priciest Landy would be my choice when it comes to full-on luxury. Considering the savings, however, the Discovery is finished very well, and once again better than its forebear.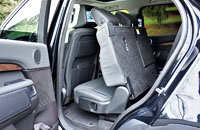 What's more, the seats were sensational, and not just the aforementioned massage function. Easy to set up for my body size and shape as well as various preferences like squab height and angle, seatback angle and more, they were inherently comfortable, plus on top of this I was able to power-adjust the side bolsters to snuggly pinch my backside, and manually adjust the headrest via airline-style butterfly wings. The Discovery provides ample steering wheel reach as well, powered in HSE trims and above, so my long-legged, short-torso frame was able to fit in ideally for optimal comfort and control.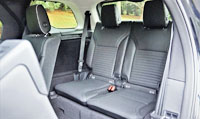 All switchgear, which is very high in quality, was easy to reach, including the infotainment touchscreen, which I must say is an impressive high-resolution system with beautiful depth and contrast of colours, superb graphics and functions galore, one of my favourite features being the sonorous 14-speaker 825-watt Meridian audio system. Without getting granular, some HSE Luxury features not yet mentioned include that stereo, a heatable steering wheel, heated second-row seats, a standard third row for seven-passenger occupancy, extended stitched leather on the dash top and door uppers, interior mood lighting, chromed outer door handles, fog lamps, a high and low range two-speed transfer case, and more.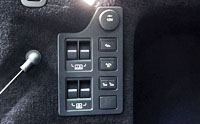 Features pulled up from lesser trims include LED headlights with signature DLRs, 20-inch alloys, tri-zone auto climate control, in-dash storage behind the climate-controls (it actually powers open), satellite radio, front seat memory, the powered panoramic sliding moonroof (the base SE gets a fixed panoramic sunroof), hardwood inlays, front parking sensors, the powered inner tailgate and more from the HSE, plus proximity keyless access, pushbutton ignition, an electromechanical parking brake, power-folding heatable side mirrors with approach lights, rain-sensing wipers, a colour TFT multi-information display, an auto-dimming rearview mirror, rear parking sensors, a reverse camera, navigation, the InControl Remote phone app, Wi-Fi (for up to eight devices), a garage door opener, overhead sunglasses storage, a foot-activated powered gesture tailgate, hill descent control with off-road ABS, Hill Launch Assist, Gradient Acceleration Control (GAC), all the usual active and passive safety features, and more from the base SE.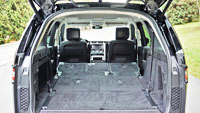 I haven't mentioned half of what's standard or available, but suffice to say the 2018 Land Rover Discovery provides even more value within its mid-size luxury segment than the 2017 version, combined with excellent build quality, two highly efficient yet formidable powertrains, much improved high-speed handling, unsurpassed off-road performance, confidence-inspiring standard and optional safety, and the list goes on. Being an adventurer at heart I find it very easy to recommend.