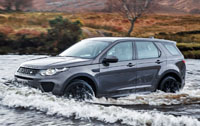 Once again Land Rover has earned "Best Premium Brand" in the U.S. ALG Residual Value Awards, this 2018 recognition being the fifth of such awards bestowed on the British luxury sport utility brand.
ALG is considered an industry benchmark for residual value forecasting and other types of depreciation data, in both the U.S. and Canada. Of note, last year Land Rover earned the same award for the Canadian market by taking home a Residual Value Award in every segment it competed in, 2017 being its third consecutive win. The third-party analytical firm has yet to announce its Canadian results, but Land Rover's success in the U.S. is newsworthy just the same.
As part of its 2018 Best Premium Brand win, Land Rover's U.S. division was awarded top accolades in four separate categories including "Best Premium Compact Utility" for the Discovery Sport, "Best Premium Mid-Size Utility 2nd Row Seating" for the Range Rover Sport, "Best Premium Mid-Size Utility 3rd Row Seating" for the new Discovery, and "Best Premium Full-Size Utility" for the full-size Range Rover.
This is the eleventh consecutive year for the ultra-popular Range Rover Sport to take home its award, making it an excellent bet for premium SUV buyers who want to retain as much value as possible in their new vehicle purchase after three years of ownership.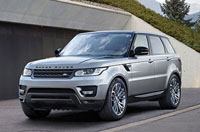 The annual ALG Residual Value Awards are given to a vehicle based on its predicted ability to retain its original price after three years of purchase. Awards are meted out in 26 categories, while one mainstream volume brand (Subaru for 2018 in the U.S. and 2017 in Canada) and one premium luxury brand get overall awards too.
"Land Rover continues to push the envelope with innovative new products, and design and technology that keeps the brand at the front of the pack in the competitive luxury utility space," said Jim Nguyen, president of ALG. "Consumers have responded to Land Rover leadership with demand that continues to outpace supply, resulting in top residual values in the premium space."
ALG award winners are chosen after carefully studying all the competitors in each category, including their historical performance and industry trends. Other deciding factors include model and brand quality, production levels relative to market demand, plus pricing and marketing strategies.