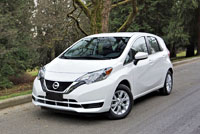 How do factory leasing and financing rates from zero percent sound to you? That's what Nissan is offering in order to entice you into a new 2019 Versa Note.
Yes, I know the Versa Note was recently discontinued, but that doesn't mean it's not a good car. In fact, Nissan's second-smallest hatchback is a great little runabout that provides more interior room than most subcompact competitors. It's just passed its best-before date, and is therefore being replaced by an all-new subcompact sedan for 2020.
If you haven't seen the new four-door Versa yet (and you may not have as it's only being offered in the U.S. so far), imagine a shrunken 2020 Sentra or a smaller version of the recent Altima crossed with Nissan's newest Leaf. If you're not sure what the Altima looks like, Nissan's mid-size family car was recently redesigned to look like a smaller, less dramatic Maxima sedan, the latter being Nissan's ultimately stylish flagship four-door (it really is a nice looking car), while the current second-generation Leaf was recently normalized in order to appeal to a larger audience (the first one was a bit whacky). All in all the new Versa sedan looks fresh and modern, and the outgoing Versa Note doesn't.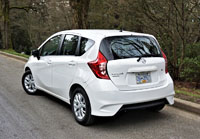 While not the latest, greatest Nissan on the block, this final Versa Note nevertheless incorporates most of the brand's newest frontal design trends for much more attractive styling than the original version sold here, which was in fact the second-generation sold elsewhere. That car ended up replacing the even blander Versa sedan as well as the unorthodox (but brilliantly cool) Cube crossover, and actually did rather well on the sales charts when first arriving on the scene in late 2013.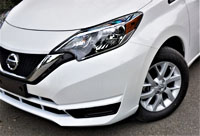 To be clear, the 12,297 Versas sold in 2013 and 13,314 delivered in 2014 were a combination of the Note hatchback and Versa sedan, the latter cancelled in Canada after the 2014 model year. Thus calendar year 2015 resulted in just 9,120 Versa Note unit sales, which by hindsight should have been celebrated as a banner 12 months being that Canadian sales slipped to 7,417 units the following year and only climbed up to 7,865 in 2017, before dropping all the way down to 5,385 examples in 2018 and only 2,369 last year.
Despite losing favour with the buying public as the years continued, which was partially due to the extremely well received Micra city car that arrived in 2014, and also because of Canadian consumers' continued purge of cars for crossover SUVs (Nissan currently leading the market's small SUV charge with its popular Kicks and Qashqai subcompacts and Rogue compact), the Versa Note is a well-designed four-door hatchback that delivers big in space and comfort.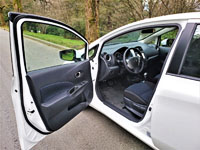 The Note offers loftier occupants an incredible amount of headroom thanks to a tall overall design that makes it feel more like a subcompact SUV or a mini-minivan than an economy car. The seats are especially comfortable too, thanks to memory foam that really cushions and supports the backside, and the upholstery is attractive as well, with a nice blue fleck on black cloth. The driver even gets a folding armrest attached to the right-side bolster for added comfort.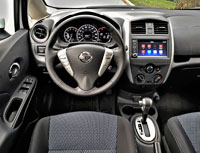 Other nice details include a leather-wrapped steering wheel with tilt function, and some attractive satin-silver detailing on its spokes. The silver treatment circles around each HVAC vent too, plus it adorns the centre stack and surrounds the shift lever. What's more, the gauge cluster is particularly impressive, with backlit dials and some great looking digital displays. In fact, it's so nice that it makes the infotainment touchscreen seem dated by comparison. The truth is that the centre display does look a bit behind graphically, especially when compared to interfaces in Nissan's newer more recently updated models, but it's nevertheless plenty functional and easy to use, plus at 7.0 inches in diameter it's quite large, which works well for the backup camera.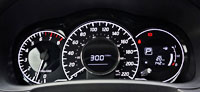 Due to the lack of telescopic steering, the Versa may not fit your body type ideally however, my long legs and short torso necessitating a seat position that was closer to the pedals than I would've liked, causing me to compromise with a more upright backrest than normal. I managed to get reasonably comfortable after spending some time setting it up, after which it also provided an adequate driving position for decent control.
On the positive, the rear seating area is spacious with more legroom than average for this class (Natural Resources Canada actually classifies the Versa Note as a mid-size car), so like I mentioned a moment ago, this little car (with a long wheelbase) is perfect for large people on a budget. A flip-down rear centre armrest gets filled with dual cupholders, plus there are two cupholders on the backside of the front console that are easy to access for rear passengers, while a magazine holder gets added to the backside of the front passenger's seat.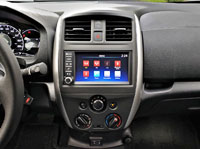 The Versa Note is good for those that haul a lot of cargo as well. It includes 60/40 split-folding rear seatbacks, which is normal in this class, but unusually welcome is the fancy Divide-N-Hide adjustable cargo floor that moves up and down as needed. It's good for stowing tall cargo when left at the bottom, or when lifted allows for a totally flat loading area once the seats are lowered. The Note's dedicated cargo volume measures 532 litres (18.8 cubic feet) behind the rear seats, while laying the seatbacks flat results in a really generous 1,084 litres (38.3 cu ft) of maximum space.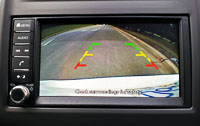 All of that spacious interior volume comes well stocked with features, but of course its content will depend on which trim you choose. Take note, Nissan dropped the model's sportiest SR trim for 2019 and its most luxurious SL trim for 2018, but they introduced the $700 SV Special Edition package for the model's final incarnation, which adds fog lamps, a rear rooftop spoiler and Special Edition badging to the exterior, plus proximity-sensing keyless access to get you inside and a pushbutton ignition system to turn on the engine, while the cabin includes upgraded NissanConnect infotainment with Apple CarPlay and Android Auto as well as SiriusXM satellite radio.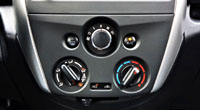 One glance at my tester's lack of fog lamps and it's easy to see that it's not an SV Special Edition, but instead its 15-inch alloy wheels make its regular $18,398 SV designation clear (the base Note S comes with wheel covers over 15-inch steel rims). The SV also adds the impressive instrument cluster and leather-wrapped steering wheel I mentioned earlier, plus power door locks with remote keyless entry, powered windows, a continuously variable automatic transmission (CVT) as standard equipment, cruise control, a six-way manual driver's seat (that now includes height adjustment), heatable front seats, a cargo cover, and more.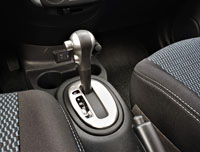 The $14,698 base S model is the only trim available with a five-speed manual transmission for 2019 (it came standard in the SV as well for 2018), but the CVT can be had for $1,300 more. No matter the transmission, the base model also includes power-adjustable heated side mirrors, a four-way manual driver's seat, air conditioning, the aforementioned 7.0-inch infotainment touchscreen, Bluetooth hands-free phone connectivity with audio streaming, audio and phone switches on the steering wheel spokes, a hands-free text messaging assistant, Siri Eyes Free, aux and USB inputs on the lower console, a four-speaker audio system, and more.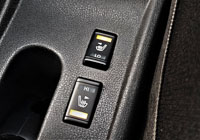 Of course, all the expected active and passive safety features are included too, but if you want the latest advanced driver assistive systems such as collision warning with automatic emergency braking, blind spot monitoring with lane departure warning, or dynamic cruise control with Nissan's semi-autonomous ProPILOT assist self-driving technology, it's best to look toward one of the newer SUVs in the Japanese brand's lineup.
The Versa Note is more traditional than those trendier utilities, and in this respect it does everything that most practical consumers need. It's not quite as fancy or edgy as the newer Nissans, yet along with its comfortable seats, and thanks in part to its aforementioned long wheelbase it provides an extremely nice ride for its subcompact price, plus adequate performance off the line or when passing, while its CVT is very smooth if not particularly sporty.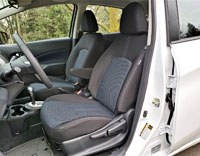 The same 1.6-litre inline four-cylinder found in the tiny Micra puts out an identical 109 horsepower and 107 lb-ft of torque in the Note, which means the larger, heavier car doesn't feel as enthusiastic when going about its business. Of course, the focus is more on fuel-efficiency in this class, and to that end the Versa gets a Transport Canada five-cycle fuel economy rating of 8.6 L/100km in the city, 6.6 on the highway and 7.7 combined with the manual, or 7.6 city, 6.2 highway and 7.0 combined with the CVT, which doesn't sound all that good until comparing it to the just-mentioned Micra that when fully loaded has an identical 1,092-kilo curb weight as the base Versa Note's starting point (the as-tested Note SV weighs in at 1,124 kg), yet nevertheless manages just 7.9 combined with its manual and 8.0 combined with its less advanced four-speed auto. A better comparison is the similarly roomy Honda Fit that's good for 7.0 L/100km combined with its six-speed manual or just 6.5 with its most efficient CVT.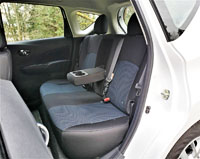 The Note is a tall hatchback as mentioned, so its high centre-of-gravity works against performance when pushing hard through the corners, but if you don't mind a little body lean when trying to make up time, it manages fast-paced curves reasonably well. This said, if you're looking for a sportier runabout and don't mind slightly less room, the considerably less expensive Micra that I mentioned a moment ago is a very good bet. The Versa Note, on the other hand, is designed more for comfort than speed, and therefore does a great job of shuttling one to five adults around town with ease, and would likely make a decent road trip companion as well.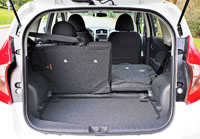 If you'd like to take advantage of the zero-percent financing noted earlier in this review, and think this little Nissan might suit your lifestyle and budget, I'd recommend checking out CarCostCanada's 2019 Nissan Versa Note Canada Prices page where you can go over all trims and packages in detail, not to mention quickly scan the available colours within each trim, while also learning about the latest manufacturer rebates that could save you even more.
Best of all, however, is a CarCostCanada membership that provides access to dealer invoice pricing that could save you thousands upon purchase. All of the above is available online at CarCostCanada's website or via a new CarCostCanada app downloadable for free from your phone's app store. So before you call your local Nissan retailer or connect with them online (it's probably a good idea to deal with them remotely during this time of crisis) make sure you've first done your homework at CarCostCanada, so you can get the best deal possible on your new Versa Note.