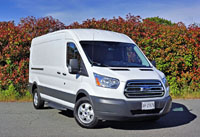 I bet you can think of a dozen or more things you could do with this full-size Transit 350 Diesel cargo van if it was in your possession for a week. Whenever a commercial van maker provides us with one of their wares for a weeklong test we go through our own mental lists, which sometimes turn into long, detailed to-do menus.
The van in question makes the just noted term "full-size" seem understated, as it's a bit too big for our garage. It's sitting on the long patch of gravel in front of our office, although it's sheer mass has us a bit worried it'll cave the side of an adjacent ditch in and we'll walk out to find it lying on its side. We'll let you know how that goes.
As it is, we'll keep this "In Our Garage" segment (or rather "Out On The Street" segment) short, as we've literally got loads of errands to complete and just six days left to accomplish them.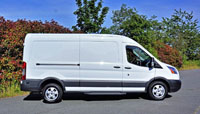 Our Transit 350 Diesel should have no problem accommodating our every wish, mind you. My tester's massive passenger side-slider and tall 50/50-hinged rear doors provide access to a cavern of cargo capacity, while its rubberized floor and finished sidewalls mean our various loads won't scratch any inner paintwork or vice versa.
Without further hesitation, Ford makes two Transit models and three trims for 2017, the base unit simply dubbed Van due to its cargo hauling focus, whereas the Passenger Wagon XL and XLT trims are ideal for hotel/airport shuttles, sightseeing tour companies, or any other duty that requires comfortable seating for eight to 12 people.
Within these categories there are three different roof heights and another three lengths to consider, the former named Low, Medium and High, and the latter dubbed Regular, Long and Extended. Yes, Ford's commercial sector doesn't get fancy with nomenclatures (like we do), but that's not to say our Long-length, Medium-roofed 2017 Transit 350 Diesel Van wasn't nicely equipped.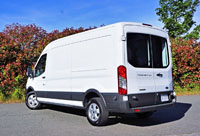 Incidentally, the passenger side-sliding door comes standard with Medium and High roof models, replacing the base Low roof Transit Van's 60/40-hinged side doors, whereas the 50/50-hinged rear doors swing open to 180 degrees in base Low roof guise or open all the way to 237 degrees with the Medium and High roof upgrades.
Before delving into all of the Transit's details, take note that Ford gives its commercial buyers 64 choices when it comes to configuring the 2017 Transit, which is up from 58 last year. Considering 2017 is only the model's third year of availability, that's a lot of variety that will no doubt keep increasing as its popularity grows. Ford claims the van's many fleet buyers were influential in the upgrades made since it arrived on the scene, one of which is a new lower-profile centre console that reportedly makes stepping directly from the driver's seat into the rear cargo area easier.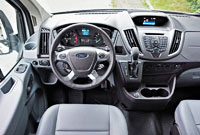 Heatable front seats are now on the options menu too, whether upholstered in leatherette or fabric, while choosing the plusher material allows for available 10-way powered seats as well. What's more, the stereo is now made up of four speakers instead of just two, with tweeter and woofer included.
On a purely practical point, the Dearborn-based automaker relocated the 2017 Transit's electrical connections for more convenient access, this change thanks to feedback from upfitters who customize commercial vehicles for fleet buyers.
Powertrain choices, which were carried over from last year, are included in Ford's list of 64 possible Transit configurations, with the van's three available engines including a base 275 horsepower 3.7-litre V6 good for 260 lb-ft of torque, a 3.5-litre turbocharged and direct-injected EcoBoost V6 capable of 310 horsepower and 400 lb-ft of torque, and lastly the as-tested 3.2-litre five-cylinder turbo-diesel capable of 185 horsepower and 350 lb-ft of torque. All of that output gets fed to the rear wheels via a proven six-speed automatic transmission, with no four-wheel drive option available (look to the Mercedes-Benz Sprinter or Nissan NV for 4×4 capability).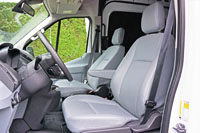 Being that most Transit buyers will never set foot in one (the majority being fleet buyers for large companies), don't expect to find a lot of fancy features. Nevertheless, base models won't cause you to roll your own windows, as the standard features list includes powered front side glass, as well as powered locks with remote access, power-adjustable side mirrors, tilt and telescopic steering, variable intermittent wipers, air conditioning, a backup camera with Trailer Hitch Assist, an AM/FM stereo with an aux input, vinyl flooring, a fabric front cab headliner, two-way manual front seat adjustment, 16-inch steel wheels, an engine block heater, and more.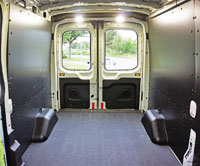 I won't bother going into passenger model features, because that's not the van we're dealing with this week, but suffice to say they're a bit more plentiful in XL trim and much more so in XLT.
Come to think of it, I've already said too much for a garage review, so catch up with me soon for the full road test review at which point I'll talk about general comfort, ride quality, handling, low-speed manoeuvrability, performance, fuel-economy, overall ease of use, capability during loading, and anything else I can come up with.
Now we've got some stuff to haul. Keep your eyes peeled to these pages for more…