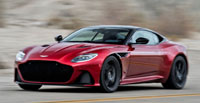 Aston Martin has been ultra active so far this year. Some time ago they promised to produce at least one new model every 12 months for the next seven years, so being busy certainly makes sense. This said, no one expected they'd bring three cars to market this year alone. 
No wonder Aston Martin has become the world's fastest growing carmaker as per percentage sales growth, which is a big change from a few years ago when it seemed more like of an alternative to more developed names like Porsche, Ferrari, and even Maserati.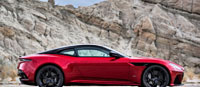 We all know there's an Aston Martin supercar on the way at some point in the future, but until that mid-engine exotic arrives the Gaydon, England manufacturer has something considerably more practical yet every bit as enticing on the offing. 
Meet the 2019 DBS Superleggera, 007's next ride and potentially your next love. It's a credible foe to Ferrari's 812 Superfast and a worthy replacement for James' previous Vanquish, while it's also one of the lightest and certainly meanest Astons to ever hit the street.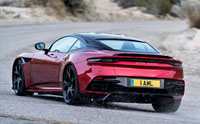 The name DBS should be well known to Aston Martin fans, as the Marek Reichman and Henrik Fisker designed model was the brand's flagship model from 2007 through 2012, its predecessor the 2001 through 2007 first-generation Vanquish S. The DBS nameplate first appeared on in 1967, while the name Superleggera pays homage to the historic super lightweight construction technology of revered Italian coachbuilder Touring. 
Like the Vanquish, which was based on the previous DBS that was originally sourced from DB9 roots, the new DBS Superleggera rides on the current DB11 platform architecture. This means it gets a 2+2 layout, the practical element referred to a moment ago. It's no Rapide as far as rear seat roominess goes, but the two seatlets allow the possibility of a double date downtown if the rear passengers are smaller in stature, or more realistically the ability to drop kids off at school on the way to the office.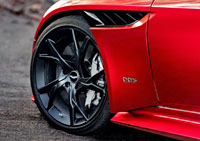 Continuing on the practical theme, a rear liftback provides more room than most supercars for gym bags, office gear, or the beautifully crafted four-piece Aston Martin branded set of available matching leather luggage. 
The brown and black luggage shown is gorgeous, but interestingly it doesn't match the DBS Superleggera's black and red interior at all. Then again this is an Aston Martin, which means that red highlights on black aromatic Caithness leather and Alcantara is hardly the only interior combination on offer, but rather almost anything imaginable can be handcrafted by the skilled artisans on the Gaydon factory floor. The leather and Alcantara come standard, as does the race-inspired flat-bottom Obsidian Black steering wheel and gorgeous quilted Sports Plus performance seats with DBS embroidered logos in the headrests.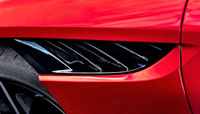 Basing the DBS Superleggera on the new DB11 also means that the gauge cluster and infotainment interface are as modern and up-to-date as anything in the industry, which actually might be a saddening story to lovers of the stunning analogue dials in the outgoing Vanquish S. Take some relief in the digital tachometer continuing to spin counterclockwise, and rejoice in the standard centre-mounted tablet-style 8.0-inch display that's eons more advanced than the outgoing system, including its standard 360-degree parking camera with Parking Distance Display and Park Assist, navigation with detailed mapping, Bluetooth phone connectivity with audio streaming, Wi-Fi, and more. It's all controlled by a knurled metal-edged rotating dial that sits under a comfortable palm rest on the front portion of the lower console, that's both easy to reach and operate.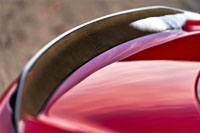 Now that we're talking features, each DBS Superleggera also comes standard with full LED headlamps, signature LED taillights, a gloss carbon fibre exterior body pack, a quad of exhaust pipes with matte black finishers, 21-inch forged Y-spoke alloy wheels, a black cross brace under the hood, keyless entry, Piano Black interior trim inlays, side mirror tilt down on reverse, an electromechanical park brake, dual-zone automatic temperature control, front and rear parking sensors, heatable memory-infused front seats, tire pressure monitoring, and much more for a base price of just over $365,000.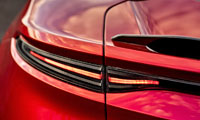 The options list is even longer and more varied, and is by no means limited to exterior paints, the various body pack, roof panel, roof strake, hood louvre, side louvre, and mirror cap finishes, alloy wheels, black, red, grey or yellow brake calipers, and available titanium exhaust on the outside, or leathers, quilted or perforated upholstery, carpeting, trim inlays, interior jewellery, seatbelt colours, embroidery, and seatback veneers on the inside. 
Some functional options that can add to the DBS Superleggera's daily livability include ventilated front seats, a garage door opener, Bang & Olufsen BeoSound audio, Aston Martin tracking, and more.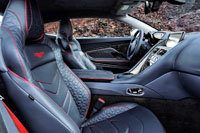 Saving the best until last, all of the DBS Superleggera's beautifully sculpted Reichman-designed bodywork is made from carbon-fibre composite, whereas an extruded bonded aluminum framework is hidden below. This keeps its curb weight down to just 1,693 kilograms, distributed 51:49 front to rear for optimal balance. The various exposed carbon-fibre aero bits are designed to maximize downforce while minimizing drag, critically important for such a lightweight car traveling at speeds of up to 340 km/h (211 mph).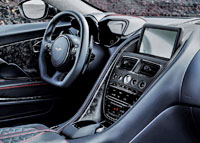 Amazingly, the DBS Superleggera's bodywork generates 180 kilograms of downforce at VMAX (maximum velocity), which is the highest figure ever registered for a series production Aston Martin. Even better, the increased downforce doesn't cause any extra drag. Could it be the F1-inspired double diffuser or the modified DB11 curlicue and Aeroblade aerodynamics that allow such impressive aero characteristics? No doubt a combination of all three, plus this super GT's beautiful shape from imposing nose to upswept tail.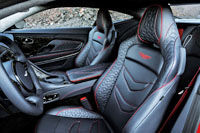 Zero to 100km/h takes just 3.4 seconds while 0 to 160 km/h arrives in a mere 6.4 seconds, so inhale deeply before takeoff or you might end up feeling lightheaded from breathlessness. Likewise, Aston claims class-leading in-gear acceleration of 4.2 seconds from 80 to 160 km/h while using fourth gear, this showing the overall tractability of the powertrain. 
The engine is Aston Martin's in-house designed and built 5.2-litre twin-turbo V12, capable of spooling up a sobering 715 horsepower and 664 lb-ft of torque from just 1,800 rpm. All of that power exits the rear wheels via an alloy torque tube filled with a carbon-fibre propeller shaft, a new rear mid-mounted ZF eight-speed automatic gearbox, a mechanical limited-slip differential, dynamic torque vectoring, and a lower 2.93:1 final drive.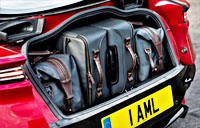 Taming this beast of an engine is a chassis that Aston evolved from the DB11, featuring forged double wishbones up front and a multi-link setup in back. The newest version of Aston's adaptive damping system comes standard, comprised of sensors that detect road conditions as well as driver inputs before instantaneously making adjustments, all predicated via three dynamic driving modes dubbed GT, Sport and Sport Plus. 
The speed-dependent electric power assisted rack and pinion steering is reportedly sharp thanks to a 13.09:1 ratio and just 2.4 turns lock-to-lock, while making contact with the road below are 265/35 front and 305/30 rear Pirelli P Zero performance tires mounted on 21-inch forged alloy wheels that frame 410 mm front and 360 mm rear ventilated carbon ceramic brake discs.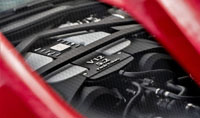 "DBS Superleggera not only marks the return of a great Aston Martin name, but signals our return to the very pinnacle of the Super GT sector," said Dr. Andy Palmer, Aston Martin President and Chief Executive Officer. "Handsome beyond measure, its lightweight carbon composite and aluminum body is sculpted into a shape with tremendous presence and charisma. Thanks to the remarkable torque available from its twin-turbo V12, DBS Superleggera also packs a breathtaking punch, yet its dynamics have been carefully honed to engage drivers of all ability levels. Immaculately styled, obsessively engineered and outrageously potent, the new DBS Superleggera is every inch the Aston Martin flagship." 
A credible replacement for the Vanquish S and new flagship for the Aston Martin brand, the new 2019 DBS Superleggera is now available to order from your local Aston Martin retailer. I'd say don't miss out, but its stunning design, superb performance, and limited supply make such a statement too obvious to mention.