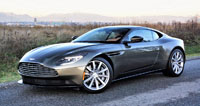 More than a year has passed since I drove Aston Martin's then new 2017 DB11 Launch Edition, but the memory remains indelibly stamped in my limbic system.
It's easy to recall the animalistic snarl of its 600 horsepower twin-turbo 5.2-litre V12, not to mention its otherworldly 3.9-second sprint to 100km/h, which happens to be 0.7 seconds quicker than the wonderful DB9 I remember fondly as well. I'll still have to take Gaydon at its word regarding top speed, as my city's local racetrack wouldn't even be capable of speeds up to 322 km/h (201 mph), that number 27 km/h faster than the DB9 that I also enjoyed fully at moderate speeds yet never experienced at full flight. So with a powertrain like that, what's all the fuss about a downgraded V8 variant?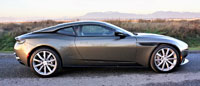 The new 4.0-litre twin-turbocharged V8 makes a sizeable 503 horsepower and 498 lb-ft of torque, which might be a step down from the V12, but is a major move up from Aston's outgoing 4.7-litre naturally aspirated V8 that put out 430 horsepower and 361 lb-ft of torque in top-line "S" guise. Interestingly, this allows a zero to 100km/h sprint time of 4.0 seconds, which as you'll note above is near identical to the V12-powered DB11, while the V8's top speed (that I'll likely never see) is rated at 301 km/h (187 mph).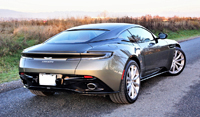 This one hails from Mercedes' AMG headquarters, unlike the in-house engineered and produced V12 that remains an upgrade, but it nevertheless continues to be individually hand-built. At this point, purists might begrudge Aston for deriving its entry-level engine from an outsider, but keep in mind the old AJ37 V8 was initially sourced from Ford before being thoroughly massaged and hand-built for A-M application. Also notable, excuse the pun, the new engine's mechanical melody and exhaust system's bellow are wholly unique when compared to the old V8 and either old or new V12, moving away from higher pitched tenor-like lightning cracks to a baritone's thunder, albeit both fully capable of stimulating adrenal releases from enthusiasts.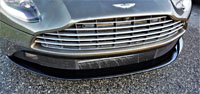 As a bit of an historic aside, Aston Martin has had a V8 in its lineup since 1969, the original DBS V8 and even more appealing (in my opinion) V8 series 1 through 5 models that followed being personal favourite Astons, likely due to their prominence in my formative years. Aston built just over 4,000 V8 examples within a 20-year tenure (a tiny figure considering the company delivered more than 5,000 cars last year alone), including high-powered Vantage and drop-top Volante versions, not to mention the unorthodox 1986–1990 V8 Zagato. V8 power continued in the 1989–2000 Virage and then came back for the 2005–2017 Vantage we all know and love, now replaced by an all new 2018 Vantage with the new DB11 V8's mill behind its radically reworked A-M grille.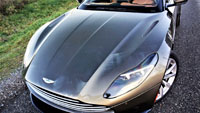 As for DB models (DB incidentally short for Sir David Brown, Aston Martin's owner as of 1947, and DBS for David Brown & Sons, his great uncle's gear manufacturing business (that supplied Aston Martin amongst others) who's sons first gave him an apprenticeship at age 17, before he eventually became its managing director), only the DBS used a V8, making the return of V8 power in a DB series car eventful.
While the engine comes completed from AMG, Aston adds its own air intake, exhaust system, and slimline wet sump lubrication design, the latter allowing a lower centre of gravity. A-M also created new ECU software and reprogrammed the engine and throttle mapping, giving it performance characteristics and sound qualities more familiar to the brand, all before fastening it into the DB11's engine bay via bespoke engine mounts (you really need to take a look around under its clamshell hood as you not only get an excellent view of the nicely finished engine and robust aluminum strut tower braces, but also get to peak at the suspension bits below some wafer-thin racecar-like CFRP fender panels).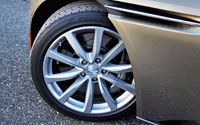 I'd like to think Aston Martin owners are environmentally conscious, although such issues probably don't matter as much to the brand's performance- and luxury-oriented clientele as to the automaker itself, which is forced to deal with a literal world of regulating bodies that are forever increasing their emissions restrictions. It therefore only makes sense for A-M to be proud of the new V8's CO2 figure of 230g/km, which allows for lower taxation rates in key growth markets like China.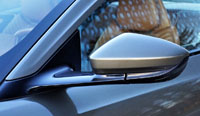 Likewise, the V8 is considerably more fuel-efficient than the V12, its Transport Canada numbers being 13.0 L/100km in the city, 9.8 on the highway and 11.5 combined compared to 15.5 city, 11.4 highway and 13.7 combined. These figures reflect the use of the DB11's standard auto start/stop system, which alternatively can be shut off if you'd rather listen to the engine/exhaust rumble at idle.
Both engines use an eight-speed ZF automatic transmission mounted mid-ship for better weight distribution, and it's by far the smoothest Aston gearbox I've ever experienced, yet it transitions through cogs at a wickedly quick rate when switched to Sport Plus mode. Alternative default GT and Sport modes provide less aggressive application, while you've got the choice of DIY steering wheel paddles or complete automation.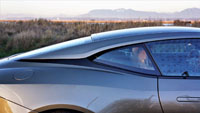 After time well spent with the new 2018 DB11 V8 I can attest that most buyers should be completely satisfied with its everyday performance. Even slight dabs at the throttle produce instant response, this aided by a lightweight, extra rigid carbon-fibre driveshaft, yet acceleration ramps up smoothly and effortlessly, while that sonorous growl is ever-present, albeit never overwhelming.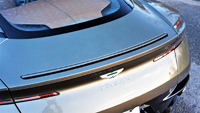 Yes, leave any thoughts of supercar extremism to the new Vantage, as the DB11 is a brilliantly capable grand touring car that's big on refinement, comfort and ease of use. In fact, it's one of the easiest ultra-luxury GTs I've driven around busy city streets. The evenly weighted yet wonderfully reactive Bosch electric steering is near effortless to direct even when negotiating confining parking spots or tooling around town, which is surprising considering how meaty the rubber is underneath and how unfathomably capable it is through the corners.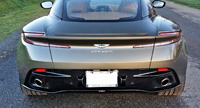 It really does feel more agile through tight figure-hugging curves and more stable at high speeds, Aston attributing this to "detailed revisions to the suspension bushing, geometry, anti-roll bars, springs, dampers and ESP software," or so it said in the DB11 V8 press release. It's all aided by a smaller engine that's 115 kilos (254 pounds) lighter than the V12, while the entire car weighs in at just 1,760 kilograms (3,880 lbs). Of course the lighter engine reduces mass over the front wheels, plus the V8 gets pushed rearward behind the front axle for better weight distribution. It all makes for a thoroughly sporting GT that never forgets that comfort is king.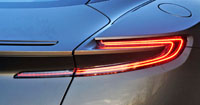 On that note, there is no difference between V8 or V12 cabins, as each DB11 receives an identical list of standard features and the same extensive menu of available colours and optional trims. My tester, finished in elegant Arizona Bronze, including its mirror caps, door handles, roof strakes and top panel, plus black mesh hood duct finishers, gloss black lower extremities with bright details elsewhere, and rounded out by standard 20-inch 10-spoke alloy wheels framing subtle light grey-painted calipers, was fitted with a gorgeous saddle tan leather interior featuring beautiful quilting and ornately decorated perforations, not to mention oh-so British brogue detailing highlighted by lovely cream leather underlay below.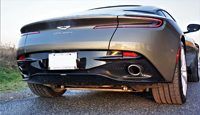 I need to stop right here to explain how incredibly soft the leather is. It's exquisitely finished, while the detailing of the perforations and stitching are like nothing else I've ever seen. Aston Martin truly does some of the best leatherwork in the industry, and the DB11 pays the utmost respect to this tradition.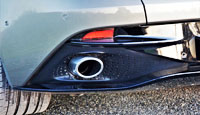 The stitched leather continues onto the dash top, instrument panel and most everywhere else inside, Aston even wrapping the steering wheel in matching hides for a look that was more about country club class than racetrack flash. A unique swath of black Satin 2×2 Twill Carbon vertically split the dash top into two before surfacing the centre stack background as well as the door inserts, the latter panels enhanced with yet more tan leather and satin aluminum detailing even including the speaker grilles, the genuine lightweight metal similar to other brightwork throughout the interior, which Aston collectively calls its "Jewellery Pack" (alternatively available in a "Dark" tone). The roof pillars and headliner were covered in black suede-like Alcantara for a rich look and sumptuous feel, not to mention a hushed overhead ambience.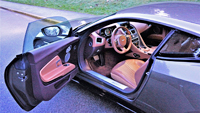 All in all, I believe this is Aston's best work to date, as it combines the old world charm its cars have been lauded for since the marque was created 105 years ago, with a completely new level of refined modernity.
On that note, Gaydon did its level best to keep up with industry-wide in-car infotainment developments with its previous DB9 and Vantage models, but when production runs last a dozen years or so it's nearly impossible to meet the demands of new consumers being weaned on iPads and Android tablets. Fortunately the DB11 relegates small displays with simple graphics and rudimentary controls to the past, not to mention Aston's glorious analogue primary gauges.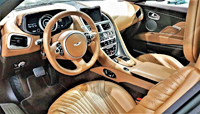 The new model replaces the mechanical wizardry of whirring dials, the tachometer of which always spun in the opposite direction to anything else on the market, with a colourful display of fully configurable readouts, each rich in contrast, high in resolution, and graphically artistic. It'll be an impressive sight for anyone stepping up from an older model, and truly adds to the driving experience thanks to loads of functionality, but something tells me that one day in the not too distant future Aston will be reoffering analogue gauge clusters as multi-thousand-dollar upgrades, in similitude to the move up from a quartz-infused luxury timepiece like the Omega Speedmaster Skywalker X-33 to a mechanical one such as the same Swiss watchmaker's Professional Moonwatch.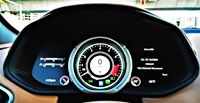 Unless you've spent time in Mercedes' more recent models you probably won't notice where Aston sourced its electronics, the gauge cluster less obvious yet the 8.0-inch tablet-style infotainment display atop the centre stack and palm rest/knurled metal rotating selector on the lower console dead giveaways. The latter is infused with all the latest functions, such as character recognition, multi-touch responsiveness, gesture capability, etcetera, while the former displays an entirely new level of clarity, artistry, and processing speed. The result is an easily sorted system with superb navigation accuracy, wonderfully detailed mapping, split-screen backup and overhead 360-degree surround parking cameras, and plenty more, while the audio system delivered good sound quality, albeit not as impressive as the optional Bang & Olufsen BeoSound system tested in last year's DB11 V12.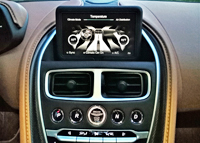 Along with the enhanced displays is much improved centre stack switchgear, the topmost circular buttons set aside for Aston's pushbutton ignition and trademark gear selection, the midsection for the dual-zone auto HVAC interface, which included heated and ventilated seat controls, those just below for infotainment, audio, parking sonar, camera, the aforementioned auto start/stop system, locks, etc. It's a tidier assortment of buttons, knobs and toggles, still enhanced by stylish satin silver anodized metal yet no longer overwhelmed by big billet aluminum knobs. Consider it gentrified, if you can say such about an Aston Martin, thanks to touch-sensitive switchgear, crisp, clear backlit script and displays, plus more, but it's still oozing with character.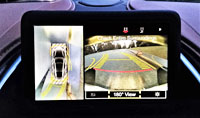 The 2018 DB11 V8 starts at $233,650, a significant $20k and change more affordable than the V12 version, while standard features on each include simpler full-grain leather upholstery than noted above, the Alcantara headliner, pushbutton ignition, configurable gauges, 8.0-inch infotainment display, navigation, 360-degree camera, and dual-zone auto climate control mentioned earlier, as well as Wi-Fi, two USB ports, front and rear parking sensors, and much more.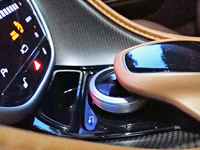 Myriad exterior and interior colourways and trim options are available, while additional extras include multiple wheels, various leather textures and inlays, seat embroidery and/or embossing, a mid-grade Premium audio upgrade as well as the top-line B&O system, a universal garage door opener, blindspot monitoring, auto park assist, and more.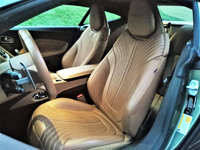 From a livability perspective, the driving position is superb, with excellent reach and rake from the steering column, and wonderfully comfortable, multi-adjustable seats. Their three-way warmers and coolers improve comfort yet further, while everything else about the DB11 is much more user-friendly than the previous model. What's more, the steering wheel has a slightly flat bottom, making ingress and egress easier.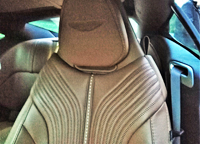 Continuing this practical theme, the powered seat system only requires a slight tug on a strap up top to tip the seatback forward before it glides in the same direction via its own power, allowing relatively easy access to the rear seats. You probably already guessed those rear seats are very small, but they're good enough for children. This makes the DB11 a good GT choice for someone with a young family or for grandparents with grandkids, although anybody regularly transporting larger teens or adults might want to consider the longer and more accommodating four-door Rapide S.
If you're fortunate enough to see a DB11 parked at the side of the road or witness one pass by, or better yet if you're in the dealership preparing to go for a drive, an easy way to differentiate the new V8 from the V12 are the nostril-style engine vents atop the hood, the V8 removing two from the centre panels for what I think is a cleaner look, while darkened headlamp bezels and unique wheels help to set it apart further.
This last point probably summarizes the new DB11 V8 quite well. While most of us would probably gravitate to the V12 if money were no object, if only because it's higher up the pecking order, it's not necessarily the better car. Both models thoroughly impress in their own unique ways, and each is different enough to be preferred over the other. I can also attest to these being the best Aston Martin GTs ever made.