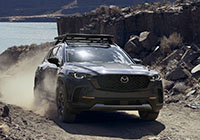 You've mostly likely heard of the CX-5, Mazda's popular compact crossover SUV, and maybe you've even taken notice of the little CX-3 subcompact crossover, not to mention both models' larger CX-9 mid-size seven-passenger utility. If you're really car savvy you'll also know that Mazda offers the sporty CX-30 between the CX-3 and CX-5, not to mention the new MX-30 electric crossover that's sized similarly to the CX-30, but were you aware the new compact CX-50 is on its way?
If you're CX-confused right about now we'll understand, because the independent Japanese automaker hasn't exactly tiptoed lightly into the crossover SUV sector, even having a long-discontinued model (in our market) dubbed CX-7 to its credit. So far, all CX models (including the lone MX-30) have been for pavement and light-duty off-road use only, but Mazda is changing things up with the new 2023 CX-50, and beefing up the brand's styling while they're at it.
New CX-50 offers plenty more SUV for many more dollars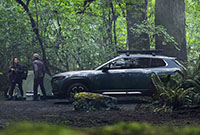 Ushering in a new look for Mazda's SUV lineup, the CX-50 joins the CX-30 in previewing an entirely new naming scheme for Mazda's SUV lineup, which will eventually be followed by the two-row CX-70 and three-row CX-90 mid-size models. The compact CX-50 is sized similarly to the current CX-5, yet it's priced higher at $37,900 in base GS-L trim, making it $7,700 pricier than today's base CX-5. Likewise, the CX-50 GT will start at $42,850, which makes it $3,900 more expensive than the equivalent 2022 CX-5 GT AWD.
For that we can expect even more premium finishings and features, plus, as noted earlier, the ability to venture farther off the beaten path than its more city-centric sibling. Some standard 2023 CX-50 GX-L features include LED headlamps, 17-inch alloy wheels, a rear rooftop spoiler, a 7.0-inch driver's display, a 10.25-inch Mazda Connect infotainment touchscreen with wireless Android Auto and Apple CarPlay, a dual-zone automatic climate control system, heatable front seats and a heated steering wheel rim, a 10-way power-adjustable driver's seat, leatherette upholstery, a panoramic glass sunroof, and a powered rear liftgate. Additionally, standard driver assist systems will include emergency front braking, blind-spot monitoring, lane-keep assist, rear cross-traffic alert, adaptive cruise control, and automatic high beams.
GT and Meridian Edition trims should be popular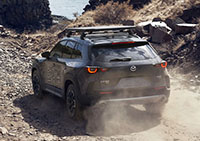 The CX-50 GT further adds adaptive cornering headlamps, a head-up display system, an auto-dimming rear view mirror, a 360-degree surround parking camera, ventilated front seats, a powered front passenger seat, leather upholstery, premium audio, a navigation system, wireless phone charging, and rear emergency braking.
Later this year, Mazda will also offer a CX-50 Turbo Meridian Edition, featuring exclusive 18-inch rims on all-terrain rubber, beefier headlight and rocker panel protective cladding, and available "outdoor-specific" accessories. We can expect pricing for this model to arrive closer to its availability.
Longer and leaner CX-50 provides an athletic stance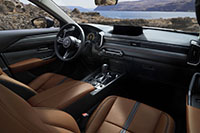 While some literature claims the CX-50 as a mid-size model, in North America it will be considered a compact as it's only slightly larger than our current CX-5 and shares the compact model's transverse platform underpinnings, which also gets utilized by the even smaller CX-30 and fourth-generation Mazda3. All in all, the CX-50 measures 4,719 mm (185.8 in) long with a 2,814-mm (110.8-in) wheelbase, plus it's 1,852 mm (72.9 in) wide and between 1,613 and 1,623 mm (63.5–63.9 in) tall, depending on the trim.
This makes the CX-50 169 mm (6.6 in) longer than the CX-5, with 116 mm (4.5 mm) of added wheelbase for significant growth from nose to tail, but it's only 10 mm (0.4 in) wider, the key measurement when comparing compact to mid-size models. What's more, even at its tallest the CX-50 is a considerable 57 mm (2.2 in) lower than the CX-5, which helps make it appear longer, leaner and thus, sportier.
CX-50 performance and fuel economy should remain similar to the CX-5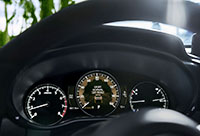 Whether it actually feels sportier off the line will be another story, being that the CX-50 utilizes the same standard 2.5-litre Skyactiv-G four-cylinder engine as the CX-5, rated at an identical 187 horsepower and 186 lb-ft of torque, although it comes standard with fuel-saving cylinder deactivation. It also features the same six-speed automatic transmission and standard i-Activ all-wheel-drive system, yet the CX-50 weighs in at 1,681 to 1,772 kg (3,706–3,907 lbs), depending on trim, a weighty 176 to 113 kg (388–249 lbs) more than the lightest and heaviest CX-5.
In GT Turbo trim, the CX-50 will receive the CX-5's optional 2.5-litre turbocharged four-cylinder engine capable of 256 horsepower and 320 lb-ft of torque, and thus should help minimize any performance differences, although take note that engine output is reduced to 227 hp and 310 lb-ft when running 87-octane regular unleaded fuel.
Standard "Mi-Drive" system includes Off-Road driving mode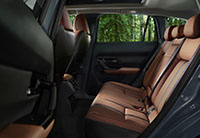 The 2023 CX-50 GT Turbo will start at $45,350, and like the other trims will receive various standard "Mi-Drive" driving modes including Sport, Off-Road and Tow settings, while the CX-50's trailering capacity is average for the class at 907 kg (2,000 lbs) when fitted with the naturally aspirated engine, but up to 1,587 kg (3,500 lbs) with the turbo.
As for fuel economy, the CX-5 may not offer greater relief at the pump unless the 2023 model receives some transmission updates, because the current cylinder-deactivated all-wheel drive model is rated at 9.8 L/100km in the city, 7.9 on the highway and 9.0 combined, compared to the CX-50's claimed estimate of 9.7 L/100 km city, 7.9 highway and 8.9 combined. Yes, you read that correctly. The new CX-50 is thriftier on fuel than the much lighter CX-5. Let's see how these two come out in the wash, so to speak, because the CX-50 really should go through slightly more fuel, unless its longer, lower shape allows for big aerodynamic improvements on the highway.
New U.S.-built CX-50 to arrive in May
All said, the 2023 CX-50, which will be built on a separate line alongside the 2022 Toyota Corolla Cross at the new Mazda Toyota Manufacturing joint-venture plant in Huntsville, Alabama, will go on sale in May of this year. The new plant will be capable of building up to 300,000 units per year, split between the two automakers.
Introducing the first-ever Mazda CX-50 | Mazda Canada (1:25):

Introducing the First-ever Mazda CX-50 | First Look | Mazda USA (1:42):

The First-ever Mazda CX-50 | For Collectors of Rare Experiences (0:15):

The First-ever Mazda CX-50 | Beautifully Capable (0:15):

The First-ever Mazda CX-50 | Every Road Is an Invitation (0:15):

Story credits: Trevor Hofmann
Photo credits: Mazda