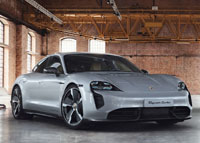 Thirty-seven years ago a skunkworks division at Porsche transformed a 409-horsepower Type 935 race car into a handcrafted, slant-nose, big-winged, one-off road-going supercar filled with cream coloured leather and rich hardwood inlays. It was exclusively made-to-order for Techniques d'Avant Garde (TAG) owner Mansour Ojjeh, a company now best known for its popular TAG Heuer luxury wristwatch brand.
This innovative team became known as Porsche's "Personalisation Programme" as it continued building unique versions of its iconic 911 sports car for individual clients, one of which was a wealthy sheikh that ordered six identical custom 959 super cars, plus this division also created low run special editions before being renamed Porsche Exclusive in 1986. They developed a special Panamera Exclusive series soon after, plus a modified Macan, a special version the new Cayenne Coupe and more, while in 2017 they took on the name of the Zuffenhausen-based special projects team's headquarters, Porsche Exclusive Manufaktur.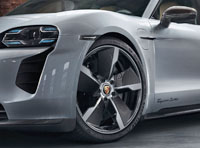 Now, at the beginning of Porsche's era of electrification, it makes perfect sense to provide Exclusive Manufaktur upgrades to its upcoming Taycan electric four-door sports car, with this first foray resulting in in 90 customization options including three different Sport Design packages.
These packages "differ with respect to the inlays in the lower front apron, in the sill panels and in the side fins of the diffuser," said Porsche in a press release. A bigger aero piece than previously shown was added under the headlights, while each Exclusive Manufaktur model also showed a more sculpted front fascia. The side fins can be painted body-colour too, or, depending on the package chosen, left as woven carbon fibre.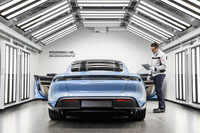 Porsche Exclusive Manufaktur will also provide Taycan owners with LED matrix headlights featuring "a three-dimensional circuit board graphic in the headlight housing as well as daytime running light elements in Glacier Ice Blue or other colours," continued Porsche, while the headlamps will also include Porsche's Dynamic Light System Plus. Enhancing the exterior design further, gorgeous 21-inch Exclusive Design wheels boast aeroblades formed from forged and milled carbon, these chopping 3.2 kg (6.6 lbs) from each standard alloy wheel's weight.
Porsche Exclusive Manufaktur offers modifications to the Taycan's interior too, one of which is a Carbon Interior Package featuring a variety of contrasting colour motifs, seatbelts available in eight different colours including Blackberry, Bordeaux Red, Crayon, Graphite Blue, Lime Beige, Meranti Brown, Slate Grey, and Truffle Brown, and matte carbon fibre trim on the front and rear doors plus the centre console.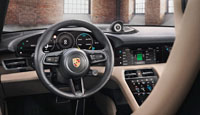 Additionally, Porsche announced an expansion of its Exclusive Manufaktur factory so as to manage expected growth. The once 2,000 square-metre (21,528 sq-ft) facility has increased in size by a third, with the updated floor plan now including four new lifting platform workstations, increased storage space, and a direct line to the finished-vehicle loading platform.
So if you'd like to have your new Taycan, or any other Porsche model "painstakingly hand-finished with high-quality components and special equipment packages for the exterior and interior to achieve an even higher degree of personalization," make sure you talk to your local Porsche retailer about the Exclusive Manufaktur program.
Pricing and features information for the new 2020 Taycan can be seen at CarCostCanada, where you can also learn how to save on available manufacturer rebates, in-house financing/leasing options, and access otherwise difficult to find dealer invoice pricing that could save you thousands on a new vehicle. Check out CarCostCanada for all the details.