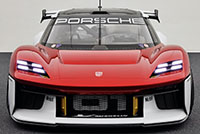 With an automotive world shifting away from gasoline- and diesel-powered internal combustion engines, and toward battery electric or other types of alternative fuels like hydrogen, plus major FIA-sanctioned motorsport series, such as Formula One, its Formula E offshoot, and sports car prototypes competing in the World Endurance Championship, utilizing various degrees of hybrid to full-EV powertrains, it was only a matter of time before Porsche, one of the globe's leaders in customer racing car production, started looking at electrifying on a smaller scale.
Enter the Mission R Concept, a very real prototype of a possible future customer racing car that just might end up filling the well-worn shoes of Porsche's 718 Cayman, which, along with the 718 Boxster and venerable 911, have become ideal track cars for "one-make" spec series, such as the Porsche Supercup that supports F1, and a Cayman GT4 Clubsport-spec series that ran ahead of the British Touring Car Championship (BTCC) and British GT series in 2019.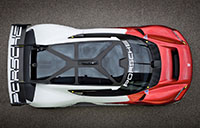 Certainly, something along the lines of the Mission R Concept could support any one of the just-noted motorsport events, especially now that Porsche is rumoured to be interested in powering the next-generation of F1 cars, although it's more likely the new model would support Formula E, in which the German performance brand currently competes with its TAG Heuer Porsche Formula E Team.
The Mission R Concept casts a similarly sized shadow as the 718 Cayman too, other than being slightly wider and significantly lower than the road-going model. It's not a mid-engine sports car either, instead incorporating an electric motor at each end to provide equal balance and all-wheel drive. These receive power from a 80.0-kWh battery, the resultant energy combining for a maximum of 429 horsepower at the front axle and 644 at the rear. To save you the trouble of calculating in your head, that's 1,073 horsepower, albeit this lofty number is only available in Qualifying mode, with Race mode "only" providing 671 horsepower.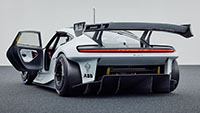 According to Porsche, the Mission R Concept can maintain race pace for 30 to 45 minutes, depending on many variables including track battles, while it'll actually beat one of today's F1 cars off the line, the svelte newcomer capable of sprinting from standstill to 100 km/h in just 2.5 seconds, compared to 2.6 seconds for the open-wheel racer, not to mention 2.8 seconds for a Formula E car.
It had better be careful not to embarrass the latter open-wheel car on its own turf, either, because the Mission R's top track speed exceeds a Formula E car's 280 km/h (174 mph) capability with a terminal velocity of 299 km/h (186 mph)—F1 doesn't need to worry about being upstaged, however, with the fastest on the grid capable of speeds upwards of 360 km/h (224 mph). Porsche also claims the Mission R Concept can match one of today's 911 GT3 Cup cars on a road course, so it's easily up to the job of a customer race car, let alone outperforming any potential competition.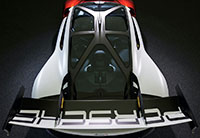 "Porsche is the brand for people who fulfil their dreams," commented Oliver Blume, Chairman of the Executive Board of Porsche AG, in a press release. "This is also true in motorsports. We experience our innovative strength on the race track, demonstrate courage in pursuing new avenues and delight car owners with sporting performance. In addition to our involvement in the Formula E World Championship, we are now taking the next big step forward in electric mobility. The concept study is our vision of all-electric customer motorsports. The Mission R embodies everything that makes Porsche strong: performance, design and sustainability."
The Mission R is not only quick around the track, but its 900-volt electrical system and the Porsche Turbo Charging setup makes it lightning quick during charging. A nearly depleted battery only takes 15 minutes to replenish from five to 80 percent, making the Mission R's storage cell even faster to refill than the 22.5-minute duration required when recharging a Porsche Taycan from five to 80 percent via its 800-volt system.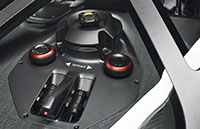 Introduced earlier this month at the IAA motor show in Munich, the Mission R was purely designed for the track. This is made clearly evident by its exposed carbon-fibre composite exoskeleton, which is completely integrated into the car's structure in order to improve rigidity. The purposeful appearance is the result of Porsche's engineering and design teams working together on the project from the start, the lead designer having also worked on the Vision Spyder concept we covered in detail last year.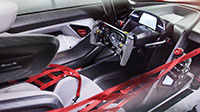 Speaking of a purposeful appearance, the Mission R's bevy of cooling ducts aren't just for show, but instead are vitally important for maintaining a stable battery temperature when the electrical system is being pushed hard. The large frontal grille even features active louvred air intakes that open and close as needed, while the rear wing incorporates a Drag Reduction System (DRS) that can be opened to minimize drag on straights, and then closed to add downforce when corners arrive.
Additionally, the materials used to make the Mission R's key components have sustainability in mind, with the front lip spoiler, side skirts, and the diffuser made from natural fibre reinforced plastic (NFRP) utilizing farmed flax. NFRP makes up much of the cabin too, while special 3D-printed foam components add another element to the design.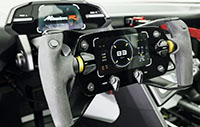 Yet more intelligent tech can be found in the Mission R's digital primary display that's incorporated into the steering wheel's centre hub, while just above and slightly behind is another monitor for the side and central/rear cameras. Even more unexpected are remotely adjustable interior cameras that allow fans to see all the livestreaming action in the cockpit during a race. What's more, a touch display beside the driver's seat allows for biometric data information.
While all of this "concept" talk is exciting, news that the Mission R might be more than just a design study will be welcoming news to anyone that's made it this far into today's story. In fact, Porsche has been testing a running prototype on the track with hopes of delivering a customer race car by 2025 or 2026. This said, the Mission R has not been cleared for production yet, but the concept definitely lines up with the brand's future EV strategy, while such a car makes a lot of sense considering Porsche's customer race cars legacy.
Notably, Porsche's motorsport division has built and sold more than 4,400 Cup cars over the last three decades, the Porsche Carrera Cup Deutschland event being the first spec-series when it was launched 31 years ago. Now, a total of 30 one-make Porsche cup series are held globally each year, with the latest 911 GT3 Cup, featuring 992-series 911s, already underway for the 2021 season. If the Mission R Concept comes to reality, we certainly have a lot to look forward to.
Story credits: Trevor Hofmann
Photo credits: Porsche