With fuel prices once again soaring in most Canadian cities, the long-in-tooth Lexus CT 200h just might be one of the most relevant entry-level luxury models available today. Only Audi's A3 e-tron can give it a run for its money regarding fuel economy, although the German is initially much more expensive than the $32,750 CT.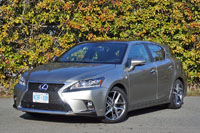 Updated just a few years ago, the CT remains fresh looking thanks to Lexus' new spindle grille and aggressive frontal body cladding, while its profile and sporty five-door body style has always been good looking.
A 134 horsepower 1.8-litre Atkinson-cycle four-cylinder engine drives the front wheels via a continuously variable transmission (CVT), while a proven (a.k.a. old-school) Ni-MH battery pack powers an electric motor that more often than not is used to assist the gasoline engine in true hybrid form, although the CT can drive under pure EV power for short distances at low speeds (bumper-to-bumper traffic, parking lots, etc). If the power unit sounds familiar, it's identical to that used in the previous Toyota Prius, and like the Prius the CT delivers superb claimed fuel economy rated at 5.5 L/100km city and 5.9 highway.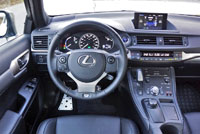 While the drivetrain is pulled from the Prius, the platform architecture is sourced from Toyota's global compact car line, which made sure a fully independent suspension lived up to Lexus' handling and ride quality standards. Its handling is even more engaging in as-tested F Sport trim.
Stay tuned for a detailed review of the 2017 Lexus CT 200h F Sport shown here…