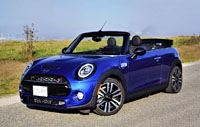 Mini is one of those brands that I almost completely forget exists until one of their cars is parked in my driveway, and then all of a sudden I can't get any work done because I'm thinking about little else. It's not really a brand. Mini is a driving obsession… literally. 
Fortunately I don't get many Minis each year, or I'd get nothing done. Truly, their cars are so much fun they're addictive, especially when the one loaned out is tuned to "S" trim and its roof has been chopped off to make way for a power-retractable soft top. 
The car before you is the 2019 Mini Cooper S Convertible, upgraded with this year's special $2,900 Starlight Blue Edition Package. This means it gets an exclusive and eye-arresting coat of Starlight Blue Metallic paint, plus a unique set of 17-inch machine-finished Rail Spoke alloy wheels with black painted pockets on 205/45 all-season runflat tires, and piano Black Line exterior trim replacing much of the chrome, including the grille surround and the headlamp/taillight surrounds, plus the side mirror caps.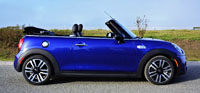 The improvements continue with rain-sensing auto on/off LED headlamps boasting dynamic cornering capability, plus LED fog lights, piano black lacquered interior trim, dual-zone automatic climate control, a really accurate Connected Navigation Plus system within the already excellent infotainment system, great sounding Harman Kardon audio, satellite radio, attractive Carbon Black leatherette upholstery, and heatable front seats, while my tester's only standalone option was its $1,400 automatic transmission, all of which brings the Mini Cooper S Convertible base price of $33,990 up to $38,290, plus of course freight and fees. 
To clarify, you can get into a new 2019 Mini Cooper Convertible for as little as $29,640, or you can spend the just noted higher price for my test model's "S" trim. Then again, you can also acquire a base 3-Door hardtop for as little as $23,090. Of note, the Mini 5-Door starts at $24,390, a six-door Clubman can be had for $28,690, and the Countryman crossover starts at $31,090, again plus a destination charge and other fees.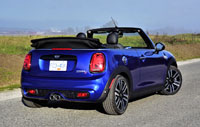 All 2019 Mini Cooper prices, including trims, options and standalone features, were sourced from CarCostCanada, where you can also get otherwise hard to find manufacturer rebate info as well as dealer invoice pricing that could save you thousands. 
Before delving into all the fun I teased at the beginning of this review, I've got to mention how well made Mini models are. Whether or not you're willing to call Mini a premium brand, and it's difficult to do so when you can get into one for just over $23k, the level of quality going into each and every Mini model is way above par, unless of course we're comparing one to a premium subcompact or compact competitor.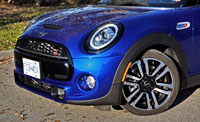 This said, mainstream compact models have been improving in recent years, with the new Mazda3 a real standout, but like its compact sedan and hatchback rivals the 3 is significantly larger than all Minis but the Clubman and Countryman, and when comparing a regular Cooper to any mainstream subcompact rival, its build quality and drivability stands heads and shoulders higher. 
This little Cooper S Convertible, for instance, is extremely well put together, from its exterior fit to its interior finishings. The paintwork is superb and detailing fabulous, from my tester's intricately designed LED headlights and Union Jack-imprinted taillights to its high-quality leather-wrapped steering wheel and stitched leather shift knob, not to mention the pod of primary instruments hovering over the steering column, the ever-changing ring of colour encircling the high-definition 8.8-inch infotainment display, the row of dazzling chromed toggles (and red ignition switch) on the centre stack, and the similar set of switches on the overhead console, these latter two eccentricities happily gracing every Mini model. If you're into retrospective design and wonderful attention to detail, even to an artistic level, you're going to love a modern-day Mini.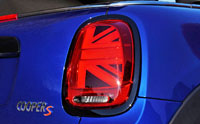 As good as all of this is, I need to go back to that one Mini attribute that's probably most agreeable, its on-road character. In S trim it starts with a wonderfully high-revving 16-valve twin-scroll turbocharged 2.0-litre four-cylinder engine making 189 horsepower and 207 lb-ft of torque, which is a considerable 55 horsepower and 45 lb-ft more than the entry-level Mini's three-cylinder turbo mill. This helps the S shave 1.6 seconds from the base car's zero to 100km/h sprint time, reducing it from 8.8 seconds to 7.2 in six-speed manual form, or 8.7 to 7.1 with its as-tested six-speed automatic. 
If you still need more speed, you can opt for a John Cooper Works (JCW) Convertible, which drops the sprint time down to 6.5 seconds via a more potent 228 horsepower version of the 2.0-litre four-cylinder engine, featuring a sizeable 236 lb-ft of torque. That will set you back a cool $41,490, but thanks to suspension upgrades including larger rims and rubber, plus additional styling and convenience features, it's well worth it for Mini performance purists.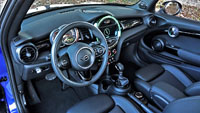 I know, that's not the type of fire-breathing performance to cause Honda Civic Type R owners to quake in their snug fitting Recaro race seats, but drop the top and clutch of the JCW or Cooper S Convertible consecutively and you'll soon be having more fun than the numbers suggest, not to mention very livable fuel-efficiency thanks to a claimed 10.2 L/100km in the city, 7.4 on the highway and 9.0 combined with the manual, or 9.4 city, 7.2 highway and 8.4 combined with the as-tested autobox in upgraded S trim. If economy matters more to you than performance, the base Cooper Convertible is good for an 8.4 city, 6.3 highway and 7.5 combined rating with the manual, or 8.8, 6.8 and 7.9 with its auto.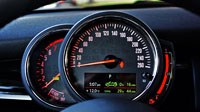 Along with the power upgrade, the move from base to Cooper S trim also means that some performance-oriented features get added, such as selectable driving modes that include default "MID", eco "GREEN" and self-explained "SPORT", the latter for enhanced acceleration and steering response, plus Mini improves the front seats to a more heavily bolstered sport design with heatable cushions, while hardtop versions get a panoramic sunroof, just in case going totally topless isn't your thing. 
Sport mode does a good job of upping the Cooper S Convertible's straight-line acceleration and improving the quick-shifting experience thereof, while torque never overpowers the front wheels, even when taking off from a corner. While I'd prefer the manual with this little wonder—a gearbox that I really enjoying rowing from cog to cog—the automatic performs well with just-noted speedy gear swapping increments and shift lever-actuated manual mode.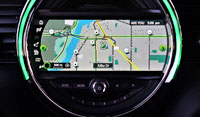 Oddly there are no steering wheel mounted paddles, however (Mini will be adding paddle-shifters to a new eight-speed automatic in the Clubman and Countryman JCWs next year, with a reported 301-hp and 331 lb-ft of torque plus AWD, so hopefully we'll eventually see them in the S as well), so I left the autobox to its own devices more often than not, being that it shifts smoothly and was therefore ideal for congested city streets. Still, when the road opened up and consecutive curves arrived I found manual mode significantly increased the fun factor, while helping to increase control. 
As with all Mini models, the Cooper S Convertible seen here gets a fully independent front strut and rear multi-link suspension system that's capable of out-manoeuvring most front-drive challengers (previously noted Civic Type R exempted), whether taking it to the streets of a busy metropolitan area, or flinging it through the types of undulating, spiraling twists and turns performance fans love as if it's some sort of front-wheel drive BMW.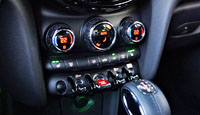 It is, of course. Most that follow the auto industry already know that the latest second-gen Minis share their UKL platform architectures with a handful of today's smaller BMW models. In actual fact, UKL underpinnings are divided between UKL1 and UKL2 platforms, the first only used for the Mini brand so far, including its 3- and 5-door (F56) Hatch plus the Cooper Convertible line (F57), while the second architecture is used for bigger Minis including the Clubman (F54) and Countryman (F60) as well as the global-market BMW 1 Series Sedan (F52), 1 Series 5-door hatchback (F40), 2 Series Active Tourer (F45) MPV-style hatchback, slightly longer 2 Series Gran Tourer (F46), X1 (F48) crossover, sportier X2 (F39) crossover, and the Brilliance-BMW Zinoro (60H), a re-skinned Chinese-market crossover SUV based on the X1.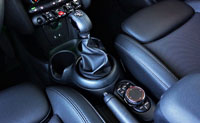 Being that we don't have the 1 Series or 2 Series Active Tourer models in Canada, and I haven't yet been able to get behind the wheel of these in my second home of Manila, Philippines, I can't comment on the driving dynamics of these BMW models compared to their Mini counterparts, but I can't see them being much better than anything wearing the winged badge. I can say, however, that all Countryman S models tested so far (including the new Countryman S E ALL4 plug-in hybrid) have been more capable at the limit than the current-gen BMW X1 xDrive28i I recently tested. 
Of course, the Cooper S Convertible is hardly large, its interior smallest within the Mini lineup, especially in back where its seats are best left to abbreviated adults and/or kids, not to mention the trunk that measures just 160 to 215 litres (the larger number if the top is upright and movable divider positioned higher) and can only be accessed via a narrow opening, albeit aided by a cool wagon-like fold-down tailgate that holds items before loading in, plus expandability for longer gear such as skis/snowboards via 50/50-split rear seatbacks. Small yes, but pretty flexible for passengers and cargo when compared to most drop-top challengers.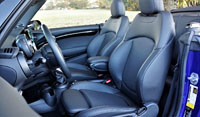 Speaking of the convertible top, its "3-in-1" fabric roof design is ultra-quiet and quick to retract or put up via full automation in just 18 seconds, only requiring a tug or push (and hold) on one of the aforementioned overhead toggle switches. It first opens into a large sunroof, which can be left that way if you don't want to go completely al fresco, or with a second push completely folds down. Repeating the process in reverse closes the top. You can open or close while driving at speeds of up to 30 km/h, so you never have to worry about not having enough time at the stoplight to start the process. You can also put the top up or down via your key fob.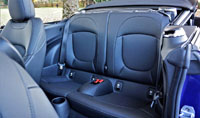 Unlike some of the other models in the Mini lineup (like the Clubman S or JCW that could arguably go up against other sport compacts like the VW GTI), this Cooper S Convertible really doesn't have many direct competitors. Certainly some might choose a Mazda MX-5 or its Fiat 124 Spider variant over this British-German entry, both being sporty yet affordable options, a description that also includes Ford's Mustang Convertible and Chevy's Camaro Convertible, but the first pairing are two-seat roadsters and latter duo much larger, heavier vehicles rooted in American muscle car heritage, and therefore wholly different than the wee Mini.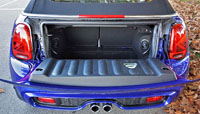 Therefore, only the VW Beetle Convertible and Fiat 500 Abarth Cabrio are true rivals, but the Beetle is not as sporty (only making 174 hp) and due to slow sales (2,077 in both coupe and convertible body styles last year) and an aging architecture has been cancelled for 2020, whereas the Italian offering is fun to drive due to its great exhaust note and lightweight city car size (it only has 160 hp, but doesn't need more), but it takes the word "slow" to new levels when sales are factored in (269 units for all 500 trims last year, excluding the 500X), making me wonder just how long the entire Fiat brand will be sustainable in Canada or the U.S. at all (there were only 5,370 unit sales of the 500 line in the U.S. through 2018, not including the 500L or 500X).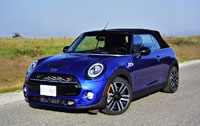 By comparison, the Mini Cooper line (made up of the 3-Door Hatch, 5-Door Hatch, Convertible and Clubman) sold 4,466 units in Canada and 26,119 in the U.S. These numbers are by no means large (VW Golf/Jetta/GTI sold 36,606 units in Canada and 133,065 in the U.S., while the Honda Civic sold 69,005 units in Canada and 325,760 in the U.S.), but they're definitely higher than Fiat's. Mini, a brand filled with models that should allow for good profits once options are added on, backed by the much more powerful BMW group that now utilizes the same platform architectures and engines throughout its global small car/crossover lineup, should be able to weather any future financial storms just fine (fingers crossed). 
So there you have it, a fabulous four-seat convertible with reasonable cargo capacity, premium levels of build quality, very good infotainment, great economy, and brilliantly fun performance, not to mention a certain classic retrospective British coolness, all for a pretty decent price when factoring in all the positives. For those who want to enjoy each and every moment behind the wheel, it's hard not to recommend the Mini Cooper S Convertible.