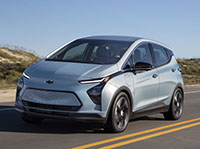 The Bolt EV, which currently combines subcompact-sized hatchback practicality with a zero-emissions plug-in battery-powered electric drivetrain that's more fun to drive than anything available at its entry-level size, is getting a major update for 2022, including an even more practical EUV crossover variant.
Think of the latter as the modern-day version of the now defunct Prius V, which was a good idea from a practical standpoint, albeit the EUV is purely electric instead of hybrid powered, and arguably more attractive to a broader consumer base. The two Chevy EVs are also smaller than anything that currently wears the Prius nameplate, with even the updated regular variant sized closer to the subcompact Prius C, which was also discontinued for lack of sales.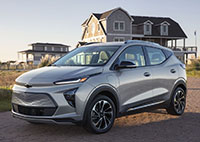 Despite mighty Toyota failing to create a brand within a brand with its highly successful Prius nameplate, now only offering two slightly different looking versions of the same compact/mid-size hatchback, one hybrid-powered and the other upgraded with a larger battery and plug-in capability, General Motors' most popular brand will take a stab at the sub-brand business model, but to Chevrolet's credit their new EUV actually looks like a subcompact crossover, so maybe it will fare better in this daunting quest than Toyota.
The current first-generation Bolt is a raised hatchback as well, and therefore similarly crossover-like. In another attempt to give it crossover status, the new version, shown on a sandy beach in some of its press photos (which is never a smart place to park without four-wheel drive), once again gets a slight lift along with blacked out trim around its lower regions and wheel cut outs, with only a set of black roof rails needed to finish off the SUV look. Alas, you'll need to step up to the new EUV to get those.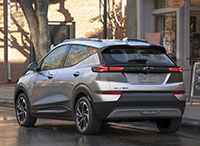 The Bolt EUV also grows the regular model in every dimension, although it's really only adding 161 mm (6.3 in) of length, being that it's just 5 mm (0.2 in) wider with 10 mm (0.4 in) more track, plus 5 mm (0.2 in) taller. This improvement, which adds 75 mm (3 in) of wheelbase, allows the EUV to gain 78 mm (3.1 in) of legroom in back, but oddly cargo space is down a fraction, from 470 litres (15.6 cu ft) with the seats up and 1,614 litres (57.0 cu ft) when lowered, to 462 and 1,611 litres (16.3 and 56.9 cu ft) respectively in the larger EUV.
Despite the increase in height, the EUV's headroom is also lower by a literal 0.2-mm (0.1-in) hair front to back, while it loses 24 mm (0.9 in) more up front when the sunroof is added. Shoulder room gets reduced nominally in the second row too, whereas hip room increases by a similarly wafer-thin sliver up front yet decreases by slightly more in back, so therefore the move up to the larger EUV really only benefits rear passenger legroom, an issue that reportedly causes complaints from current Bolt owners. At least the little crossover's curb weight only increases by 41 kilos (90 lbs).
The added weight won't likely be felt by EUV buyers thanks to the aforementioned performance of today's Bolt, a power unit that Chevy saw no need to upgrade, although it will shave approximately 15 km (9 miles) from the larger model's estimated range, from 417 km (259 miles) to 402 (250). This means the new 2022 Bolt EV and EUV will both be powered by a permanent magnetic electric drive motor and 65-kWh, 288-cell lithium-ion battery that combine for a very healthy 200 horsepower and 266 pound-feet of torque. Both models will be front-wheel drive only, like a number of other small crossover SUVs currently available.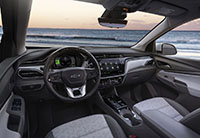 DC fast charging capability is standard, which provides about 150 or 160 km (100 or 95 miles) of respective EV or EUV range after a 30-minute recharge, while a new dual-level charge cord allows its owner to hook up to either a 240-volt charging station or 120-volt household-type three-prong outlet.
Anyone familiar with the current Bolt will see the new models' most significant changes inside, where both the EV and EUV receive cabins featuring a more horizontal theme to create a wider visual presence. The new layout is more conventional too, with a less pod-like centre stack that flows downward into a traditional lower console. It remains filled with the same standard 10.2-inch touchscreen, which is not only large for the subcompact class, but has been refreshed with new graphics. The system continues to offer a full assortment of functions, including standard Android Auto and Apple CarPlay, plus available navigation, while it's now supported by standard wireless charging. On the contrary, the fully digital primary instrument cluster appears identical to that in the outgoing car.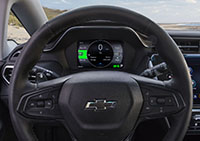 Along with the current Bolt's previously noted rear legroom shortcomings, customers also complained about seat comfort and substandard interior materials quality. While there's never an excuse for the former, the latter wouldn't normally be an issue amongst subcompact vehicles, but being that the Bolt EV nudges up against $45,000 before any government rebate programs, more soft-touch synthetics probably should have been part of this EV's offering all along. Therefore, 2022 variants will reportedly get better perceived quality, with some dash-mounted faux leather even appearing in the press images. Interior switchgear has also been improved, although nothing appears premium-like in its design or execution.
The redesigned lower centre console features a new gear selector, however, ditching the conventional shift lever for a narrow row of Acura/Honda-like push and pull buttons. A green-lit button closest to the driver engages one-pedal driving, which is a more effective way than sliding the shift lever into the "L" position, a system used for the current Bolt and other GM EVs and plug-ins. More familiar to Bolt and Volt users are paddles on the backside of the new flat-bottom steering wheel, which can be used to assist braking and recharge the battery via regenerative kinetic energy.
Speaking of tech, the top-tier EUV Premier will be the first Chevy to offer GM's Super Cruise hands-free semi-self-driving technology, functional on median divided highways. The EUV Premier also boasts adaptive cruise control and an HD 360-surround parking camera.
As for new Bolt family styling, most should find the smaller EV more attractive than its already reasonably handsome (for a subcompact hatchback) predecessor, unless its prospective owners would rather look at a more traditional grille-filled front fascia. The new car does away with the black mesh grille insert for a grey-painted and patterned panel within an ovoid outline, a very slender opening slotting below being the only real opening. This at least creates a familiar face compared to the Tesla Model 3 that looks as if it's one of those non-branded cars used for insurance company advertising (and the like).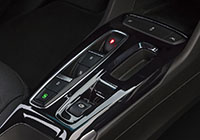 Chevy once again ties a black strip of fender trim into the headlight clusters, which are now LEDs to enhance forward visibility and potentially lead to a higher IIHS Top Safety Pick rating, but those lighting elements are much more complex than the ones departing. The main lenses are narrower, thanks to the just noted LEDs within, while the old car's traditional fog lamps get replaced by an extension of said black trim, not unlike today's Cadillac front fascia designs.
The EUV gets a different frontal look, separating the headlamps and vent-like fog lamp bezels, and providing a deeper air intake at the base of the solid grey grille insert. The aforementioned black fender trim piece flows into the mirror caps of both cars, and appears to follow the black-painted window trim around the glass to a floating roof, similar to the car it replaces and other Chevy vehicles. While the backsides of both models are quite different in execution, they have similar designs overall, with neat, horizontally-shaped LED-infused taillights at each corner, plenty of glossy black composite in between, and big matte black bumpers at the bottom, the EUV a bit dressier thanks to a set of aluminum-look faux skid plates front to rear.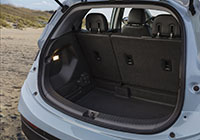 Pricing for the 2022 Bolt EV will start at just $38,198 plus freight and fees, which is an impressive $6,800 less than the outgoing 2021 Bolt EV, whereas the new Bolt EUV will be available from only $40,198. Just as importantly, loading them up should keep their end numbers below $45k, which if exceeded disallows them from government rebate programs. Currently, only the base 2021 Bolt LT, at $44,998, qualifies for the most generous government handout, while the better equipped Bolt Premier's $50,298 MSRP disqualifies it from any rebates. The new models are expected to arrive at GM retailers this summer, so we expect GM to offer ever-increasing incentives in order to rid dealerships of the current model.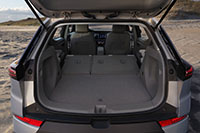 So far CarCostCanada is only showing up to $1,000 in additional incentives on 2021 Bolts, and up to $2,000 on 2020 models, but you'll need to become a member to find out the details. CarCostCanada's inexpensive membership provides the latest info on manufacturer rebates, when available, plus up-to-date details on factory leasing and financing deals, while best of all you'll receive dealer invoice pricing to help you get the optimal deal on any new vehicle.
It's all available from their website or via a smartphone app you can download from the Google Play Store or the Apple Store. CarCostCanada members are currently averaging $3,000 in savings from the 2021 Bolt, so make sure to find out how the CarCostCanada system works in order to get the best possible deal on your next new car.
Also, make sure to check out our complete 2021 Bolt EV and EUV photo gallery above, and enjoy the following videos from Chevy's YouTube page:
Magic is Electric | Bolt EUV Reveal | Chevrolet (1:30):

Behind the Magic | Bolt EUV Reveal | Chevrolet (14:25):

Super Cruise | Bolt EUV | Chevrolet (0:30):

Story credits: Trevor Hofmann
Photo credits: Chevrolet