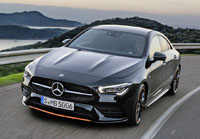 Mercedes' CLA has been a strong seller in its subcompact luxury segment since being introduced to Canadians in 2013, dueling it out with Audi's A3 for top spot while up against its own B-Class, Acura's ILX, BMW's 2 Series, and others in a traditional car category that's now under threat by an ever-burgeoning class of subcompact luxury SUVs. 
Still, while Mercedes-Benz has always offered a bevy of industry segment stalwarts, it's also become the brand of micro-niches, having invented the four-door coupe body style, so it would be highly unusual behaviour for its leadership to say so long to its plentiful car lineup just because its utilities are currently experiencing more growth. After all, Mercedes has been around longer than most of its competitors, and therefore has endured all the trends the automotive industry has ever weathered.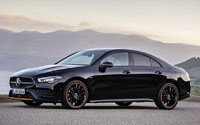 Speaking of endurance, or lack therefore, Lexus said goodbye to the entry-level luxury car market by cancelling its CT, Acura hasn't bothered to update its ILX in too long to remember, everyone's still wondering if BMW will ever offer North Americans anything in this class with four doors, and all other premium brands haven't even bothered showing up at all, but take note that Mercedes has been selling its brand new A-Class Hatchback for two months already, and plans to add the completely new A-Class Sedan that more specifically targets the most popular four-door version of the segment-leading A3 (and will become the most affordable Mercedes model) later this year, while the fall of 2019 will also see the arrival of a fully redesigned CLA-Class four-door coupe that promises a serious move up the desirability ladder, not that the current model is particularly lacking.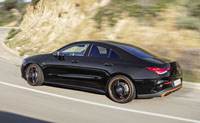 "With the first CLA we celebrated a huge success by selling some 750,000 vehicles and created a totally new segment with a four-door coupe in the compact class," says Britta Seeger, Member of the Board of Management of Daimler AG, responsible for Mercedes-Benz Cars Marketing & Sales. 
Of those new CLA buyers in Canada, more than two thirds were new to Mercedes-Benz at the height of the model's popularity, while also important, these new Mercedes owners averaged seven years younger than the brand's typical customer at the time. Starting this fall, Mercedes will offer Canadian entry-level luxury consumers the choice of three recently redesigned or all-new subcompact car and SUV models (four if you split the A-Class into its hatchback and sedan body styles, and five if you count any potentially remaining stock of B-Class models still around when Mercedes wraps up its tenure at the close of this model year), the CLA being the sportiest, most expressive of the bunch, and many of these customers will likely move up to pricier more profitable models within the automaker's lineup as their careers and personal finances progress.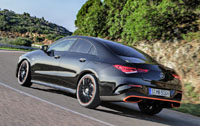 "The new CLA is even more emotional and sportier than its predecessor," added Seeger. "Coupled with new operating systems, it sets a new benchmark for the entire class." 
First shown at Las Vegas' Consumer Electronics Show (CES) earlier this year, an apropos venue considering the ultra-advanced MBUX (Mercedes-Benz User Experience) infotainment interface that together with the integrated digital instrument cluster covers more than half the dash top, the new CLA looks a bit more grown up thanks to a more serious, almost frowning and forward-slanting M-B sport grille which, in its release, Mercedes claims is "reminiscent of a shark's nose." 
The new grille, found ahead of a longer hood topped with classic Mercedes "powerdomes", is flanked by sharper, narrower and more complex LED Multibeam headlamps featuring 18 individually-controllable LEDs, all of which is underscored by additional complexity in the lower front fascia, while the updated model sees more muscular lower haunches and its greenhouse moved rearward for a more traditional GT profile. It continues this grand touring tradition with squarer more conventional trunk cutout as part of a revised rear end design featuring narrower, more horizontal LED taillights that sit higher up above the back bumper and therefore add more visual width to the design, its slipperier sheet metal registering a wind-cheating 0.23 coefficient of drag.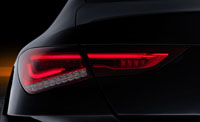 "As a four-door coupe, the new CLA intrigues with its puristic, seductive design and sets new standards in the design DNA of 'sensual purity'. It impresses with its perfect proportions reflecting the first design sketch: a long, stretched hood, a compact greenhouse, a wide track with exposed wheel arches and our typical GT rear with a strong distinctive 'Coke-bottle shoulder'," said Gorden Wagener, Chief Design Officer of Daimler AG. "In short, the CLA Coupe has the potential to become a modern design icon."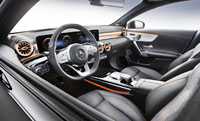 Inside, it's easy to see that Mercedes is targeting the younger market mentioned earlier, thanks to an edgy, sporty look including bright colours, plus those all-in-one digital displays that are large enough to cause screen envy amongst owners of the latest Apple, Microsoft and Samsung tablets. That fixed freestanding gauge cluster and central widescreen display unit eliminates the need for a cowl to shield instruments, with the rest of the completely dash panel including a sporty paddle-shifter-infused leather-wrapped flat-bottom steering wheel ahead of the driver, a very narrow, near retro HVAC interface at centre, and an uncluttered floating-style lower console featuring Mercedes' exclusive palm rest and new infotainment touchpad controller within easy reach. Only the circular dash-mounted air vents appear carryover, but of course their "avant-garde" turbine-like jet-engine design is entirely new and particularly striking. 
That MBUX infotainment system, which debuted in the new A-Class a year ago, after a similar system was first integrated into the E-Class, is more than just a very large pretty interface with impressive high-resolution graphics capable of Augmented Reality navigation and fully customizable displays, it also provides serious computing power with integrated software that can even "learn and respond to natural speech," says Mercedes. 
This will be good news to anyone who has ever been frustrated by the majority of voice recognition systems past and current, which need very precise and often not intuitively thought out commands. Instead, Mercedes' voice assistant reportedly communicates similarly to Amazon's Alexa system, only needing an occupant to say "Hey Mercedes" in order to prompt any number of functions via less direct questions, plus it's smart enough to recognize the person asking the question, rather than others in the car that might be having a separate conversation.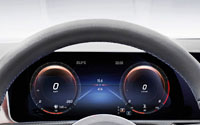 "The latest version of voice control for MBUX – the Mercedes-Benz User Experience – can be experienced in the new CLA. For example, the voice assistant 'Hey Mercedes' is able to recognize and answer considerably more complex queries," said Sajjad Khan, Member of the Divisional Board of Mercedes-Benz Cars for CASE and Head of Digital Vehicle & Mobility. "What's more, the voice assistance no longer gets confused by other passenger's conversations. Instead it only responds to the commands of the person who last said 'Hey Mercedes' to activate the system." 
According to Mercedes, the updated voice assistant is now capable of recognizing and responding to more complicated questions than previous voice recognition systems offered, citing the example, "Find Italian restaurants with at least four stars that are open for lunch but exclude pizza shops."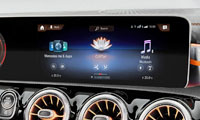 MBUX can also cover a broader range of topics than previous hands-free voice systems, with an example of a sports query being, "Hey Mercedes, How did the Toronto Raptors play?" The question, "How has the Apple share price performed compared to Microsoft?" may be more concerning to Mercedes drivers these days however, stock market information being one of the subjects MBUX is well versed in. Alternatively, maybe you need a simple calculation performed while driving. Mercedes' example might be a bit rudimentary for anyone old enough to be behind the wheel of the CLA, but possibly a child in the back seat might ask, "What is the square roof of 9?" or for that matter "How big is Texas?" when it comes to a general knowledge question, but it's fair to expect that plenty of health-conscious Mercedes owners may want to ask, "What is the fat content of avocados?"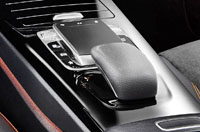 Also designed make life with a new CLA easier and more accommodating, the upcoming model grows by 48 millimetres (1.9 inches) to 4,688 mm (184.5 in) from nose to tail, and rides on a 30-mm (1.2-in) longer wheelbase that now measures 2,729 mm (107.4 in), while it's also 53 mm (2.1 in) wider at 1,830 mm (72.0 in), not including the side mirrors, and fractionally (2 mm/0.1 in) lower overall at 1,439 mm (56.6 in). 
According to yet more measurements provided, the result of its mostly increased exterior dimensions is a roomier and therefore more comfortable cabin, with front occupants getting 17 mm (0.6 in) more headroom, rear occupants benefiting from a hair's-width (+3 mm/0.1 in) of additional head space, and width measurements experiencing the greatest improvement thanks to shoulder room up 9 and 22 mm (0.3 and 0.8 in) respectively front to back, and front to rear elbow room increasing by 35 and 44 mm (1.4 and 1.7 in) apiece.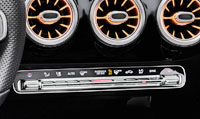 Despite the new CLA's longer wheelbase and greater overall length, front legroom is actually down by a millimetre while rear legroom grows by the same nominal measurement, plus the trunk is also surprisingly smaller, albeit by just 10 litres (0.3 cubic feet) to a nevertheless still commodious 460 litres (16.2 cu ft), but this said the load compartment opening's width expands by a considerable 262 mm (10.3 in), while the load floor is now 113 mm (4.4 in) wider and 24 mm (0.9 in) deeper.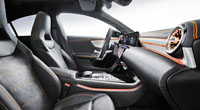 Under the opposing deck lid, the updated CLA will once again come standard with Mercedes' 2.0-litre turbocharged four-cylinder engine, currently featuring 208 horsepower and 258 lb-ft of torque yet making the same twist and 13 horsepower of additional thrust in the new A-Class, which will more than likely be the go-to powerplant for this future CLA. It will come mated to the premium brand's in-house developed and produced 7G-DCT twin-clutch automated transmission, while both front- and 4MATIC all-wheel drivetrains will be available. An AMG-powered version is expected after the base CLA 250 debuts, with performance that will likely match or exceed the current model's 375 horsepower and 350 lb-ft of torque.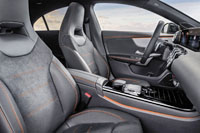 The new CLA's increased width makes a difference to the chassis' track too, widening it by a substantive 63-mm (2.5-in) up front and 55-mm (2.1-in) in back, while it also receives a reduced centre of gravity for what should be especially sporty driving dynamics. Suspension specifications include Mercedes' Direct-Steer system and front hydromounts, plus a decoupled multi-link rear axle that minimizes noise, vibration and harshness levels, while larger stabilizer bars help reduce body lean when pushed hard. The standard tires should measure 225/45R18, with 225/40R19s being optional.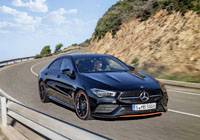 As with all new Mercedes-Benz passenger vehicles, plus most luxury competitors, advanced driver assistance systems play a big part in enhancing ease-of-use and safety, so the CLA will include standard Active Brake Assist automatic braking, and included in the optional Intelligent Drive Package is Active Lane Keep Assist that helps drivers remain centered in their chosen lane while also keeping them from wandering off the road, plus additionally it will include Pre-Safe Plus with rear traffic warning and automatic reverse braking. 
The Intelligent Drive Package, pulled from the ultra-advanced Mercedes S-Class, does more than that, mind you, thanks to its ability to drive the CLA autonomously for short distances. This is a semi-autonomous system requiring "cooperative driver support," says Mercedes, but in certain situations it can drive itself.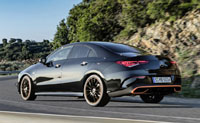 The redesigned 2020 Mercedes-Benz CLA, which will be built at the Kecskemét assembly plant in Hungary, will arrive this coming fall, at which time it just might reclaim top spot in the subcompact luxury car hierarchy, although Mercedes' more traditionally sedan-style A-Class will more than likely assume that position. After all, the more upright four-door will start at just $34,990 (see all new A-Class Hatchback and Sedan prices and features on CarCostCanada), about $4k less than the current CLA, so it has a significant advantage in the sales department. Still, with all the big upgrades made to the new CLA it should easily reclaim its loyal following while attracting a fresh set of adventurous newcomers to the Mercedes-Benz brand. 
Until the new model arrives, be sure to check out our comprehensive photo gallery above and these six Mercedes-Benz-supplied videos below: 
Mercedes-Benz CLA Coupé (2019): World Premiere | Trailer (1:21):

 
Mercedes-Benz CLA Coupé (2019) World Premiere at CES in Las Vegas | Re-Live (18:40):

 
Mercedes-Benz CLA Coupé (2019) World Premiere at CES | Highlights (1:50):

 
Mercedes-Benz CLA Coupé (2019): The Design (1:06):

 
Mercedes-Benz CLA Coupé (2019) and Jan Frodeno: In the Wind Tunnel (1:41):

 
Mercedes-Benz CLA Coupé (2019): Mercedes-Benz User Experience (MBUX) (1:03):