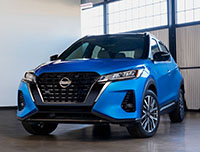 Remember the Micra? How about the Versa Note? Both were subcompact hatchbacks from Nissan, and both were discontinued from our market in 2019, at least partially due to our collective love affair with SUVs.
While probably more profitable for Nissan, this is not necessarily great news for entry-level car buyers, as the days of new $10,500 Micras and $14,500 Versa Notes are long gone. As it is, today's $16,498 Versa sedan is the Japanese brand's least expensive option.
Nissan's entry-level hatchback is in fact the Kicks SUV, available from $19,398 plus freight and fees last year, and soon starting from $19,898 in refreshed form for 2021. They should be arriving at Canadian Nissan retailers soon, at which point Nissan will likely update its website to reflect their availability (only 2020 models were showing at the time of publishing).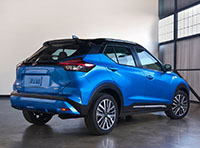 A quick glance at the new 2021 Kicks and it will be easy to see that the auto industry's bigger is better trend doesn't seem to be slowing down, with the new models' grille augmented significantly over the original design it replaces. This makes for a more imposing visual presence, albeit with a feistier, more impish attitude than the brand's larger SUVs. The chromed grille surround nicely flows up and outward into a sharply shaped set of horizontal headlight clusters, while new LED fog lamps can be found just below on the model's sportiest and priciest SR trim line. Changes are less noticeable down each side and in back, the former including new LED turn signals integrated into the side mirror caps, and the latter including a redesigned bumper.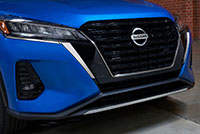 Making the slight bump in pricing still more palatable, new standard exterior features include automatic on/off headlights, heated side mirrors, and a rear wiper/washer, while updates to the interior include a new standard 7.0-inch infotainment display with standard Android Auto and Apple CarPlay smartphone integration. This gets upgraded to a larger 8.0-inch touchscreen in mid-range SV and top-line SR trims, while additional options include a leather-wrapped steering wheel rim and shift knob, a single-zone automatic climate control system, plus Bose audio.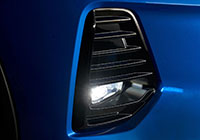 Those wanting more power will need to be satisfied for the time being, as the Kicks' sole 122 horsepower 1.4-litre four-cylinder engine remains unchanged, including its 114 lb-ft of torque. This entry-level model is more about fuel economy than all-out performance anyway, aided by an efficient continuously variable transmission (CVT) the continues into 2021 as standard equipment. Although fuel economy details have yet to surface for the 2021 model, today's Kicks is rated at 7.7 L/100km in the city, 6.6 on the highway and 7.2 combined with its front-wheel drivetrain, and take note Nissan doesn't offer an all-wheel drive upgrade for this model.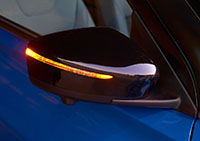 Along with excellent fuel economy, the 2021 Kicks comes well equipped with advanced safety and convenience features including standard automatic emergency braking, rear automatic braking, lane-departure warning, blind spot warning, rear cross-traffic alert, and high-beam assist. Moving up to SV or SR trims adds driver alertness monitoring and a rear door alert system that warns when something or someone may have been left in the rear seating area, while top-line SR Premium trim includes a 360-degree surround parking camera.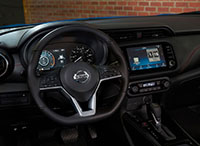 At nearly $20k, the 2021 Kicks is priced right for a small SUV. In fact, the Kicks remains one of the most affordable new sport utilities on the Canadian market. Then again, the Kicks is now the entry point for a Nissan hatchback, which means Nissan no longer has anything to compete with the likes of Chevy's super-cheap $10,198 Spark (which replaces the Micra as Canada's most affordable car), Mitsubishi's $13,858 Mirage, Hyundai's $14,949 Accent, Kia's $17,295 Rio 5-Door, or Honda's now discontinued $16,390 Fit and Toyota's similarly cancelled $17,290 Yaris Hatchback (2020 models of each are still available at some retailers), these last two joining Ford's Fiesta that was shuffled out of blue-oval showrooms the year prior. Can you see a theme here?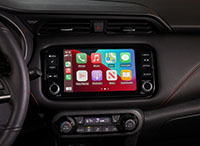 Giving the Kicks a serious run for its SUV money is the Hyundai Venue, a direct hit at $17,599, while Kia's $21,195 Soul, Hyundai's $21,299 Kona, Mazda's $21,300 CX-3, Nissan's own $21,598 Qashqai, and Chevrolet's $21,998 Trax don't cost much more, nor for that matter does Kia's $23,095 Seltos, Mitsubishi's $23,198 RVR, Subaru's $23,795 Crosstrek, Chevy's $23,798 Trailblazer, or Toyota's $23,950 C-HR.
If you think this market segment is packed full of competitors, consider that Ford's EcoSport, Honda's HR-V, Jeep's Compass and Renegade, plus Fiat's 500X and Mini's Countryman (arguably a premium subcompact SUV) weren't even mentioned because they're all priced over $25k (some well over), while Dodge and Volkswagen don't even offer anything in this category, but the domestic and German brands should ante up something soon if they want to build their brands with first-time new car buyers, and thus remain relevant.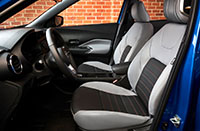 Look for the 2021 Kicks to arrive at Nissan Canada retailers later this month, or if you're hoping to get a great deal you may want to check out the 2020 Kicks that's not only priced lower, but can currently be had with up to $3,000 in additional incentives. Go to the 2020 Nissan Kicks Canada Prices page at CarCostCanada to find out how you can save big time, whether on manufacturer rebates as well as factory leasing and financing deals when offered, plus dealer invoice pricing all the time, the latter potentially saving you thousands off of any new vehicle. What's more, make sure to download the free CarCostCanada app from Google Play Store or the Apple Store, so you can have all of this vital money saving information at your fingertips when you need it most.
Also, make sure to check out the complete photo gallery above, and enjoy the official Nissan-supplied videos that follow.
2021 Nissan Kicks Connected Technology (1:15):

2021 Nissan Kicks Safety and Driver Assistance Technologies (1:08):

2021 Nissan Kicks Overview (2:24):

2021 New NISSAN Kicks LIVE Walkaround & Review (4:44):

New 2021 Nissan Kicks | Limitless Possibilities (0:15):

2021 Nissan Armada and Kicks Walkaround with Nissan U.S. CMO Allyson Witherspoon (9:58):

Live: New Nissan Kicks Japan Premiere (48:25):

Story credits: Trevor Hofmann
Photo credits: Nissan