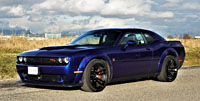 Is there a meaner looking sports car available anywhere? OK, an argument can be made for some multiple-six-figure sports and supercars, but within the more affordable mainstream volume-branded sector, the Challenger is one tough looking customer.
Of course, Dodge follows up the Challenger's menacing appearance with a range of powertrains that borders on the otherworldly. There's nothing particularly exciting about its base 3.6-litre V6, except for the ability of a budget-conscious buyer being able to get into this fabulous looking car for just $36,265 (plus freight and fees), the SXT and GT models' 303 horsepower and 268 lb-ft of torque just barely capable of making their respective 1,750-kilo (3,858-lb) and 1,772-kg (3,907-lb) curb weights feel sporty. It gets even more challenging to do so when all-wheel drive is added to the mix, due to the just-noted models' curb weights bumped up to 1,840 kg (4,057 lbs) and 1,847 kg (4,072 lbs) apiece, but muscle car fans wanting more get-up-and-go can always opt for a V8.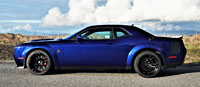 RT trim is the most affordable way to get into Dodge's 5.7-litre Hemi, which is good for a healthy 372 horsepower and 400 lb-ft of torque through the rear wheels, while only adding 117 kg (258 lbs) to the rear-wheel drive GT. The mind-blowing SRT Hellcat, on the other hand, and downright insane Hellcat Redeye make concerns about mass less of an issue, at least in a straight line. The former makes a sensational 717 horsepower and 656 lb-ft of torque from a 6.2-litre supercharged Hemi V8, while the latter puts out an absolutely outrageous 797 horsepower and 707 lb-ft of torque from a higher output version of the same engine, both of which are available in either the Challenger's regular body style or the Widebody design introduced for 2018.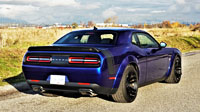 The R/T Scat Pack 392, also available in both body styles, splits the difference between the regular R/T and Hellcat with a 6.4-litre supercharged Hemi V8 making 485 horsepower and 475 lb-ft of torque, an engine that adequately compensates for the car's 1,924 kg (4,242 lb) curb weight by launching it from standstill to 100 km/h in about four seconds before attaining a top track speed of 273 km/h (170 mph). My Scat Pack 392 Widebody tester adds a bit more mass, 33 kg (73 lbs) to be exact, resulting in 1,957 kg (4,314 lb), but once again this additional weight more than makes up for itself in handling performance, thanks to meatier 305/35 ZR-rated Pirelli P Zero rubber on 20×11-inch Devil's Rim forged aluminum wheels, which compare well against the regular Scat Pack 392's 245/45ZR20 performance tires.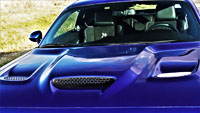 To be clear, Widebody Challengers only add a competition suspension with active damping, plus fender flares to allow for beefier tires, which means the track of both body styles maintains a sizeable 1,610 mm (63 in) up front and 1,621 mm (64 in) in back. All that extra rubber combines ideally with the 392's well-sorted independent short/long arm front and multi-link rear suspension setup, making for mostly confidence-inspiring stability through fast-paced corners.
Mostly? I won't lie, this isn't a car for the faint of heart. What I mean is, you'll be able to feel the Challenger's transitional weight when flinging it through sharp curves, and while much of that mass is up front, therefore causing a tendency for the car to understeer, or push out at the front, unless getting too hard on the throttle mid-corner and breaking rear grip, it's the exact opposite of the performance spectrum than something extremely lightweight, like the Alfa Romeo 4C (also under the Stellantis group umbrella).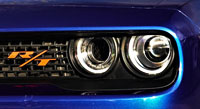 This said, I pushed my Challenger R/T Scat Pack 392 Widebody tester hard around some very tight sets of mountainside curbs and never had an issue. It actually feels pretty well balanced, with that just-mentioned slight tendency to push out at the front wheels in fact confidence-inspiring, as it informs a driver of its breaking point before it's too late, and due to this feedback, much attributed to the car's electrically-assisted rack and pinion steering system, I was able to instantly compensate by applying a bit of input at the wheel to make the rear step out ever so slightly. So, it's not that this car can't perform with the best in this pony car crowd, but instead it comes down to the sensation of its mass transitioning from side-to-side so obviously, that might make some drivers feel a bit uneasy.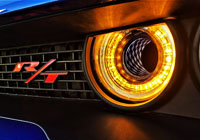 Of course, Dodge provides all of the latest traction and stability control functions, which help to keep the rear end in check if it were to suddenly let go, while the big fat Brembos at each corner provide plenty of stopping power with very little fade, so my only advice to new owners would be to keep the traction and stability control systems on as you gradually get familiar with those breaking points, and then when finally ready to test its boundaries, make sure it's not on a circuitous canyon road with a rock wall on one side and cliff on the other. A local autocross course in a parking lot, where you'll only be destroying orange cones might be a better idea, but I digress.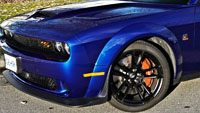 I've delved pretty deep into this review without mentioning anything about the Challenger's transmission choices, so here goes: all V6-powered Challengers are only available with an eight-speed automatic dubbed TorqueFlite, a name that's been used for branding all of Chrysler group's in-house autoboxes since 1956 (when it replaced the two-speed PowerFlite), but this unit, and all eight-speeds currently available from Chrysler, Dodge, Jeep, or Ram, are in fact rebranded versions of the ZF 8HP, albeit built under licence at Chrysler's Kokomo, Indiana casting plant since 2013.
Incidentally, the first vehicle in the four-brand lineup to receive ZF's 8HP was the 2011 Chrysler 300, but it soon expanded to the 2012 Dodge Charger, 2013 Jeep Grand Cherokee and 2013 Ram 1500, and now encompasses all vehicles in the four brands' ranges using longitudinally-mounted V6 or V8 engines in RWD and AWD applications (hybrid transmissions included).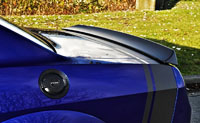 To say this was a good decision would be a massive understatement, as most familiar with the multitude of multi-speed automatic gearboxes on the market would claim ZF's 8HP as the best compromise between quick-shifting performance and overall smooth-operating civility, not to mention superb reliability. The aforementioned four brands have sold well over one million vehicles equipped with the TorqueFlite eight-speed, and thanks to said dependability and just how thoroughly engaging it is use, especially when employing its Sport mode along with manual mode and its steering wheel-mounted paddle shifters, I can attest that it's a key reason you should consider the Challenger over its competitors. Then again, you might want to opt for the available six-speed manual, a gearbox I thoroughly enjoyed in a 2015 Challenger R/T 392 Scat Pack Shaker, way back in the day.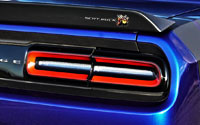 As yet one more side-note, I can't just mention Sport mode without adding that it turns off the traction control (and includes a warning in the gauge cluster), so those who aren't accredited professional drivers may want to put some track or autocross time into learning the car's boundaries before doing so (as noted a few minutes ago). This said, you can modify Sport mode from the infotainment system, by entering the Apps page, then the Drive Mode Set-Up button, then Sport-Mode Set-Up, at which point you can reconfigure Sport mode to include traction control. This means you can use most of the power without constantly lighting up the rear tires at takeoff, or overcooking them when applying too much throttle in tight corners.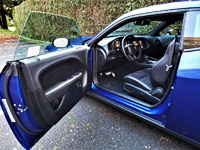 You can do the same to decrease engine response and the transmission's high-performance shifting mode, but I can't think of many applications I'd want to do that, or for that matter disengage the paddles, which is also possible. Likewise, you can make Sport mode's more direct steering-feel less engaging via either Normal or Comfort modes, which hardly makes sense either, but I suppose it's nice to have the option. These features are helpful in default mode, however, where you can leave engine/transmission in normal mode while making sure the paddles are still working, plus leave traction control on, and steering in mid-range Normal mode.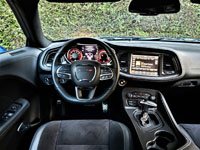 You can quickly review your personalized setup on the Performance Control page within the infotainment system's Performance Pages section, the latter being a real bonus as it's filled with active graphical info designed to get the most out of your driving experience, including digital coolant temp, oil temp, and oil pressure gauges on page one, boost pressure, air fuel ratio, intercooler coolant temp, and intake air temp gauges (plus battery voltage and trans temperature for the automatic) on page two, a timer page for keeping track of your reaction time off the line, as well as lap times and more (you can save this info to a USB to review on another device later), a g-force page for graphically displaying the amount of lateral and longitudinal force (current and best) your car is experiencing through curves, and an engine page for horsepower, torque and engine related info.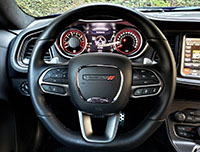 Right next to the Drive Mode button is one for "LAUNCH" control, a feature that'll make sure driver error doesn't impede any future drag races. After setting it up in the infotainment system by going to the same Performance Control page used for reviewing your personalized driving mode setup, go to the Launch RPM Set-Up page, set your launch revs between 1,500 and 3,500 rpm (you can also set the Shift Light rpm on this page), and then activate the Launch mode. Next, press your left foot hard on the brake to hold the car in place, floor the throttle with your right foot, and then release the brake, after which Launch control takes care of the rest, automatically optimizing traction and wheel spin balance along the way.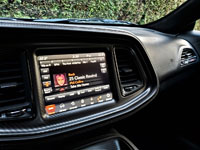 Just be smart about launching your Challenger R/T Scat Pack 392 on public roads. It's a sure-fire way to get a ticket or worse, and remember, if the steering wheel isn't straight, or you don't completely floor the throttle, it'll automatically kick out of launch mode and you'll be on your own. If you want to deactivate the program manually, you can do so within the same performance page, and it goes without saying you should be in Sport mode to get the most out of Launch mode. Just in case you're sitting in a six-speed manual-equipped car while reading this review, launch mode works the same, but instead of releasing the brake pedal you'll be releasing the clutch. The only difference is in setup, where you'll be setting your engine revs between 2,000 and 4,500 rpm.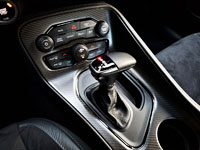 As far as non-performance equipment goes, all Challengers come well-equipped with items like automatic halogen headlamps featuring halo LED accent lighting, LED taillights, proximity access and pushbutton ignition, a 7.0-inch full-colour customizable in-cluster driving display (set between two gorgeous analog dials), a tire pressure monitoring display, a centre touchscreen (7.0 inches for the base model and 8.4 inches for all other trims), Apple CarPlay and Android Auto smartphone integration, two USB ports, six-speaker audio, a leather-wrapped steering wheel (flat-bottomed in the Widebody) and shift knob, dual-zone automatic climate control, an auto-dimming rearview mirror, a 10-way powered driver's seat with four-way lumbar adjust, and much more.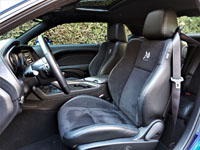 Moving up through the trims will provide exterior upgrades like larger wheels and tires, an SRT front splitter, fog lamps, a functional hood scoop (or performance hood with dual heat extractors for the 392), active exhaust (V8 only), remote start (with the automatic), paddle shifters, bright metal foot pedals, heated front seats and steering wheel rim (that get quite toasty), cooled seats, navigation, a 276-watt amplifier (in the 392), satellite radio, and more, while options include a powered glass sunroof, Harman Kardon or Alpine audio, etcetera, plus loads of packages.
My Challenger R/T Scat Pack 392 tester reached near-premium levels of interior finishing too, with soft-touch surfaces almost everywhere. Even the front roof pillars are wrapped in plush Alcantara-like pseudo-suede, the same as used for the perforated seat inserts. This came as part of the Carbon & Suede Interior Package, the psuede also covering the roof liner, while the carbon fibre trim looks fabulous.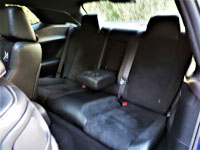 Those seats are wonderfully comfortable, with excellent side bolstering. The driver's seat has superb adjustability, including the four-way power lumbar support noted above, which is highly unusual in this class, and not even available in some entry-level luxury models from brands like Lexus. The driver's position is excellent too, with generous reach from the upgraded powered tilt and telescopic steering wheel, plus there's plenty of room for larger drivers.
Rear spaciousness isn't quite as good as the four-door Charger sedan, but there's not all that much difference between the two cars. Headroom is actually better than you might expect, despite the narrow side windows, although rear passengers might feel a bit claustrophobic due to small rear quarter windows, but they won't be uncomfortable. Dodge includes a flip-down centre armrest with dual cupholders, standard across the line, while the trunk is fairly large, but access is not all that easy due to a high lift-over. The rear seats fold down in the usual 60/40 configuration, making the near full-size coupe quite practical.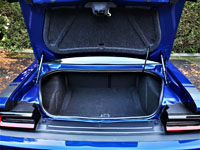 Yes, there are a lot of reasons to love the Challenger, especially when putting out the kind of power my tester came with. It might be big, bold, brash and some might say brutish looking, but it's wonderfully refined inside and surprisingly easy to live with.
Sure, it's a glutton on fuel, although its eight-speed auto helps reduce its claimed 15.9-L/100km city rating to a pretty decent 9.6 on the highway, leaving its combined rating at an estimated 13.1 L/100km. With fuel prices rising that might matter to some, but most buyers nevertheless love their Challengers. In fact, the Challenger won its "Sports/Sporty Car" category in AutoPacific's 2020 Ideal Vehicle Awards, which recognize vehicles that best meet owners' expectations. It also achieved runner-up status alongside the Mustang in the Canadian Black Book's 2020 Best Retained Value Awards, so you'll be able to hold on to more of your money when it's time to sell.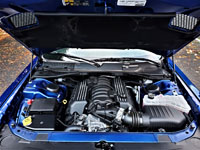 Of note, Dodge is providing 2021 Challenger buyers factory leasing and financing rates from 3.49 percent, while CarCostCanada members are saving an average of $2,250 upon purchase, thanks to acquiring dealer invoice pricing information before negotiating their deal. Check out CarCostCanada to find out how their system works, and remember to download their free app from the Google Play Store or Apple Store, so you can have all their valuable info on hand when visiting your Dodge dealer, or when checking out any other brand.
While the base model starts at just over $36k, as noted earlier in this review, the Challenger R/T Scat Pack 392 will set you back $54,465 (plus freight and fees), a very reasonable price considering all the performance and refinement included. My R/T Scat Pack 392 Widebody pushed the price up to $62,465, still a good deal for such an impressive car, and significantly less than the $79,215 Hellcat. The top-line Hellcat Redeye Widebody costs a cool $105,215, incidentally, but once again, for a muscle car that'll take off like a supercar, it's hard to beat both literally and from a value perspective.
Review and photos by Trevor Hofmann