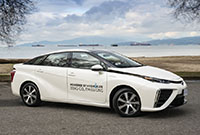 Together with Toyota Credit Canada, Toyota Canada just announced a deal to supply 24 zero-emission Mirai hydrogen fuel-cell cars to Lyft in B.C., a ride hailing company, which will be rentable to a select group of Lyft drivers through Toyota's new KINTO Share program.
KINTO Share is an app that will allow eligible Lyft drivers to pick up a Mirai at one of three Toyota dealerships across Vancouver's Lower Mainland (metropolitan area), for a weekly rental rate of $198 plus taxes and fees, inclusive of insurance, scheduled maintenance, and unlimited kilometres.
"Toyota's KINTO Share program is proud to partner with Lyft to demonstrate a zero-emission mobility-as-a-service model in another important step toward achieving our global sustainability objectives," said Mitchell Foreman, Director of Advanced and Connected Technologies at Toyota Canada. "This proof-of-concept project also allows more Canadians to experience hydrogen fuel cell electric vehicles first-hand, demonstrating their viability and efficiency, especially for fleets."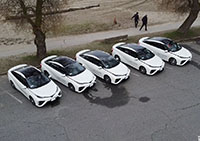 The deal, announced Wednesday, is a trial program that Toyota hopes to roll out across Canada in the near future, while also an opportunity to educate Canadians about hydrogen fuel-cell vehicles.
"Everybody who sits in the back seat [of a Mirai] is going to be able to learn a little bit more about hydrogen technology," said Stephen Beatty, Toyota Canada's Vice President, Corporate. "There's no way that we could do that on our own."
While good for Toyota, the partnership also shines brightly on Lyft, a company that competes directly with Uber for ride hailing customers that hire chauffeured cars via apps on their smartphones. Lyft not only gets visibility for engaging in the program, but wins accolades for increasing its zero-emissions fleet.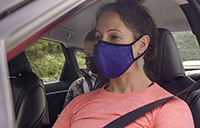 "Lyft's mission is to improve peoples' lives with the world's best transportation, and to achieve this, we need to make transportation more sustainable," said Peter Lukomskyj, General Manager, Lyft in B.C. "This partnership will better serve current drivers and those who don't have a vehicle, but want to drive with Lyft for supplemental income, while moving us toward our goal of reaching 100-percent electric vehicles on the platform by 2030."
Toyota's Mirai, which features a 151-horsepower electric motor with 247 pound-feet of torque, was the world's first mass production hydrogen fuel-cell-powered EV when launched six years ago. Compared to regular plug-in electric vehicles, which can take multiple days to fully charge via a regular 12-volt household outlet, or at the very least hours when using a fast-charging system, the Mirai can be refuelled in about five minutes at specially equipped hydrogen refuelling stations located throughout the Greater Vancouver area. Once filled, the Mirai has up to 500 kilometres of range, while only emitting water from its tailpipe. What's more, the car's zero-emission status makes it eligible for BC's HOV lanes, thus reducing commuting times during peak hours. This bonus feature can be especially important for the profitability of a ride hailing driver.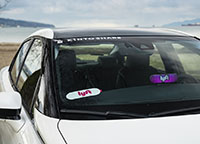 The road to practical hydrogen fuel-cell usage in the automotive market has been slow but steady, with plenty of automakers, including Chevrolet (GM), Daimler-Benz, Ford, Fiat, Kia, Lotus, Mazda, Nissan, PSA and Renault initially taking on the challenge, albeit amongst mainstream automakers Toyota, Honda, Hyundai and BMW are leading the charge now.
Toyota was first on the market with this Mirai sedan, now being used for the Lyft program, but Hyundai currently offers its hydrogen fuel-cell Nexo crossover SUV to early adopters, plus a domestic market commercial truck dubbed Xcient. Of note, Honda offers its Clarity Fuel-Cell sedan to lessors in California, while BMW has announced a hydrogen fuel-cell powered X5 SUV for 2022. Additionally, a number of smaller players produce hydrogen fuel-cell alternatives, including China's Roewe (in partnership with SAIC-GM-Wuling and based on a 2010 Buick Lacrosse), the UK's Riversimple, and Germany's Gumpert.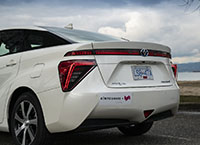 Toyota will soon replace the version of the Mirai provided to Lyft with a more conventionally designed second-generation model introduced last year, which reportedly provides greater range. This updated Mirai will likely be used for expanding the Lyft program across Canada.
While the current Mirai's styling won't be to everyone's taste, its relatively low sales of 11,100 units worldwide have more to do with consumers' inability to easily refill the car, than anything to do with aesthetics. Therefore, key to hydrogen fuel-cell adoption is the expansion of a refuelling infrastructure (BC only has four refuelling stations, three of which are in Vancouver, claims HTEC — Hydrogen Technology & Energy Corporation, which operates all four stations), and Canada's federal government has helped further this cause.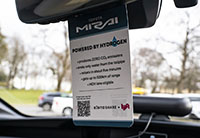 "Hydrogen will play a significant role in B.C.'s clean energy future, generating environmental and economic benefits across the province," said Bruce Ralston, Minister of Energy, Mines and Low Carbon Innovation. "This new partnership will help demonstrate these benefits, move us toward our CleanBC goals and put B.C. on the road to a clean energy future."
The government of Canada's Hydrogen Strategy for Canada program was designed to make Canada a global hydrogen leader, while the province of British Columbia has been helping to promote hydrogen usage via its 2018 CleanBC plan and the 2019 Hydrogen Study, which emphasized transportation fuels with a focus on fuel-cell electric and other zero-emission vehicles.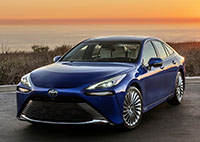 "Reducing emissions from transportation is a critical part of our plan to create a cleaner, healthier future for our children and grandchildren," commented The Honourable Jonathan Wilkinson, Minister of Environment and Climate Change, P.C. M.P. "The Government of Canada is pleased to see collaborations like this one between Lyft Canada and Toyota Canada, which will not only benefit our environment, but also help position Canada as a world leader in the uptake of hydrogen technologies."
It should also be noted that Vancouver has played an important role in the development of hydrogen fuel-cell technology, with firms like Ballard Power Systems (a leading developer and manufacturer of proton exchange membrane fuel cell products), Fuelex Energy (distributor of Esso Fuels, Mobil Lubricants and hydrogen), Loop Energy (a leading designer of fuel cell systems for commercial vehicles), and OverDrive Fuel Cell Engineering (hydrogen fuel cell stack engineering and manufacturing) all situated in the adjacent suburb of Burnaby.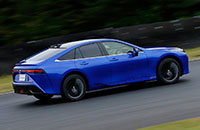 Additionally, firms like Carbon Engineering (that develops technology to capture carbon dioxide directly from the atmosphere), HTEC Hydrogen Technology and Energy Corporation—which develops and manufactures hydrogen refuelling pump/station infrastructure), and Powertech Labs (which also designs and constructs modular compressed hydrogen refuelling stations) are located nearby. The Canadian Hydrogen and Fuel Cell Association (CHFCA) is headquartered in Vancouver too, as is the Ocean Geothermal Energy Foundation, which is focused on generating clean hydrogen power.
"Hydrogen BC is about collaboration with the private and public sectors to accelerate our transition to a new zero emission paradigm," said Colin Armstrong, Chair of Hydrogen BC and CEO of HTEC. "This collaboration is a market changing event that will rapidly increase the amount of hydrogen and fuel cell electric vehicles in operation. The KINTO Share program will also allow vast numbers of people to experience these vehicles first hand."
Notably, the Canadian government unveiled a hydrogen strategy in December, hoping to grow the clean fuel sector. As part of the program, a $1.5 billion CAD low-carbon fuel investment fund was created.
Story credits: Trevor Hofmann
Photo credits: Toyota